FOR decades Florida has been the desired golf getaway destination for amateurs and professionals from all over the world. Many of the leading professionals on both The European and US PGA Tours have made Orlando their home from home and with The Sunshine State's warm, sunny all-year-round weather plus its multitude of excellent golf courses on offer to suit all levels of golfer it's easy to understand why. Emirates Airline now flies daily to Orlando and we've picked 10 of Florida's finest within less than an hour's drive of Orlando International Airport to serve up a feast of fascinating world-class and fun golf.
Orlando is home to a number of legendary courses and many testing tracks that are easy on your wallet. From Arnold Parlmer's renowned Bay Hill to the $40 a round Ventura Country Club we sample ten great golf courses within easy travelling distance from Orlando's International Airport to give you a taste of what's on offer.

– By Ben Cramer
With Mickey Mouse Ears and more than a dozen theme parks dotted around the region, it is little wonder why Orlando is considered by many to be the entertainment capital of Florida. However, the largest city in Central Florida can justifiably also lay claim to another title: Capital of Golf with nearly 100 different courses in the area. Since 1966, Orlando has been able to count golf's elite among its many annual visitors. The famous Arnold Palmer Invitational tournament at Arnold Palmer's Bay Hill Club and Lodge can boast of past champions which includes legends of the game like Tom Kite, Payne Stewart, Fred Couples, Phil Mickelson and eight-time champion Tiger Woods. Some giants of golf have found Bay Hill's allure so strong that they have taken up permanent residence there. The club's namesake also calls the surrounding neighborhood home. It's not often during a round of golf you might bump into a seven-time Major champion like the 'People's Champion,' Palmer.
"I feel that Bay Hill's topography and water is good," says Palmer. "This was all orange groves when we started and the roads were just two-lanes – and that was it. When I first saw Bay Hill I really fell in love with the whole place."Many in the golf community share Palmer's love of the course. However, Bay Hill is just the tip of the proverbial golf iceberg in the Orlando area. From courses that meander through pine forests and native wetlands, to links-style layouts that would seem more at home in the British Isles, Orlando offers a wide variety of courses to fit any skill level and budget.
BAY HILL
By far the area's most famous course, Arnold Palmer's Bay Hill and Lodge has played host to the Arnold Palmer Invitational for the last 36 years. The par-72 course is 7,381 yards from the furthest tees. The course is straightforward in the sense that what you see is what you get. There are few tricks or secrets hidden away. The amount of trouble you'll find is dependent upon how aggressive you dare to play. Though the beautiful lakes around the course give the impression that a watery grave awaits your shots, the hazards only come into play on a few holes. However, the hazards must be respected when in play as John Daly discovered in 1998 after hitting six consecutive tee shots into the pond surrounding the 558-yards Hole No. 6. The amount of mounding and bunkering around the greens places a premium on well thought-out and well executed approach shots. This illustrious course is only open to members and guests of the 64-room Lodge on site, but the extra cost of staying at the Lodge is negligible for someone who has dreamed of teeing it up on the same course as the biggest names in golf. Bay Hill is located just 20 minutes' drive from Orlando Airport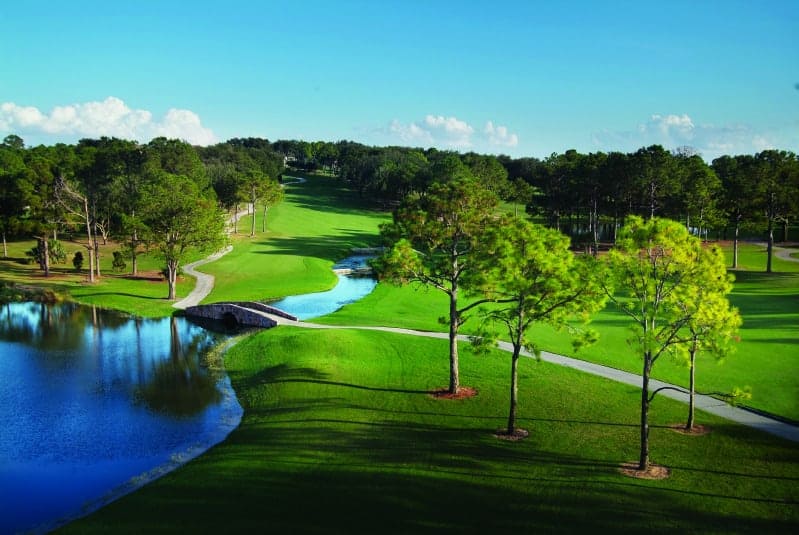 El Campeon
Built in 1917, El Campeon at Mission Inn Resort holds the distinction of being one of the oldest golf courses in the southern United States. With more than 85 feet in elevation changes (a virtual mountain in flat Florida) the course features sloping fairways and undulating greens that are atypical of the area. The mature palm and oak trees lining the course not only enhance the scenery but they also encourage players to stick to the fairway in order to avoid serious trouble. The 556-yard par-5 seventeenth hole is undoubtedly the course's signature. Known as "Devils Delight" the double dog-leg features a live oak positioned in the centre of the fairway. Shots should be placed to the right of the tree to have the best line to carry the water into the green, which features a severe slope from back to front. Situated 40 minutes from Orlando airport, guests should visit during the summer months for rates as low as $50 per round.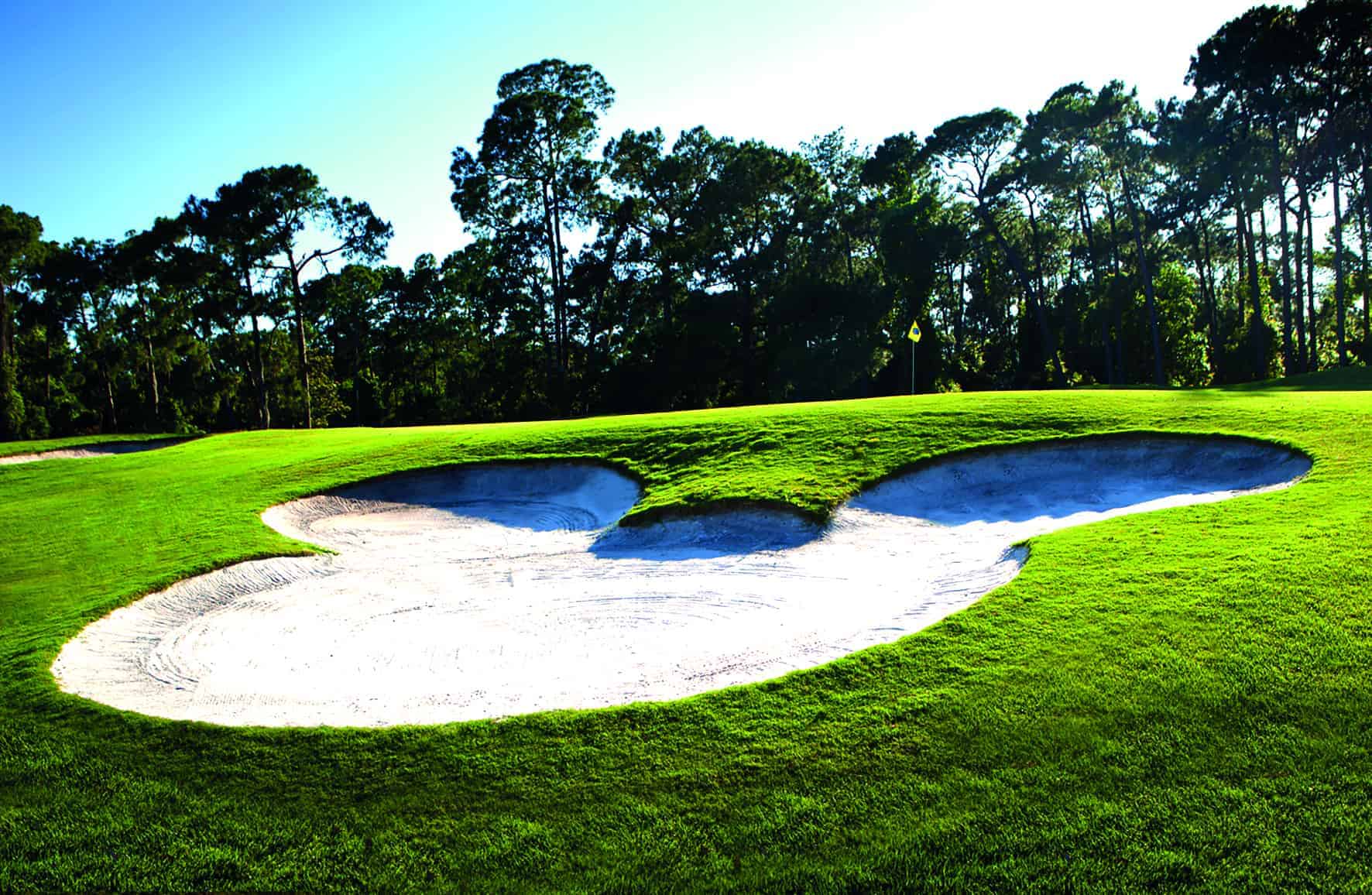 Disney's Magnolia Golf Course
Anyone's first trip to Orlando is incomplete without some variation of a Disney experience. So why not make sure that your experience includes golf? Disney's Magnolia Golf Course, named for the magnolia trees that line the fairways, offers enough of a challenge for the serious golfer but still provides fun for all skill levels. Playing 7,516 yards from the back tees, large fairways and spacious greens are part of the course's design. However, caution should be taken off the tees. There are a total of 97 bunkers and water hazards throughout 11 of the 18 holes that guard the inviting fairways. Two features of the Magnolia course separate it from every other golf course in Orlando: The first is the course's unique distinction as a Certified Cooperative Wildlife Sanctuary by Audubon International. The second is the bunker guarding the front of the green of the par-3 sixth hole, which is shaped like Mickey Mouse's head. Located only 30 minutes from Orlando airport in the middle of Disney's Grand Floridian Resort, this golf course represents the perfect choice to incorporate into any family vacation. Rates vary from $39-$130 depending on times and days.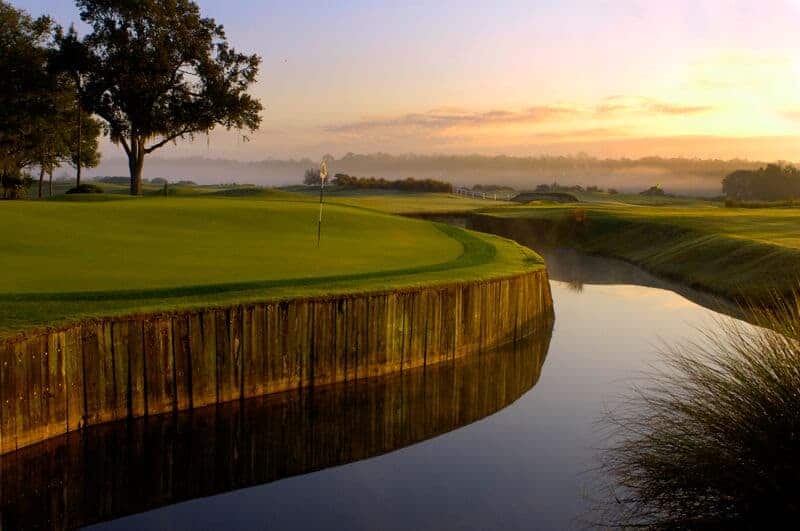 New Course at Grand Cypress Golf Club
The New Course at Grand Cypress Golf Club is one of the unique golfing experiences in the entire state of Florida. Jack Nicklaus designed this course in 1988 as homage to the famed Old Course at St. Andrews in Scotland. Featuring elevated tees and greens, burns, and 150 pot bunkers, some as deep as 12 feet, it plays like a true Scottish links course. Though little water comes into play when it does, it will challenge players to make smart choices to avoid disaster. Playing 6,720 yards from the furthest tees, the course also features seven enormous double greens. When combined with the North, South, and East nines, Grand Cypress Golf Club offers 45 holes of championship golf. Located less than 30 minutes from Orlando airport, typical rates are close to the $120 range.
Timacuan Golf & Country Club
Situated 40 minutes, drive north of Orlando airport, and with rates from $25-$69 depending on times and days, this course offers a stiff test for the average golfer, which should come as no surprise from a former US Open qualifying venue. With six sets of tees, however, the course has something to offer for all skill levels. Built in 1989 and renovated in 1996, Timacuan's front nine features a rolling links-style layout while the back nine, with its abundance of pine trees, gives the impression of being in the lowlands of Carolina. If the sight of water tests your nerves then make certain you have plenty of golf balls before teeing it up on the 421-yard par-4 No.2 hole with its fairway that appears from the tee to be an island. In reality it is sand and not water that causes trouble on much of the course, including the par-3 No.7 and its giant bunker encircling the entire green.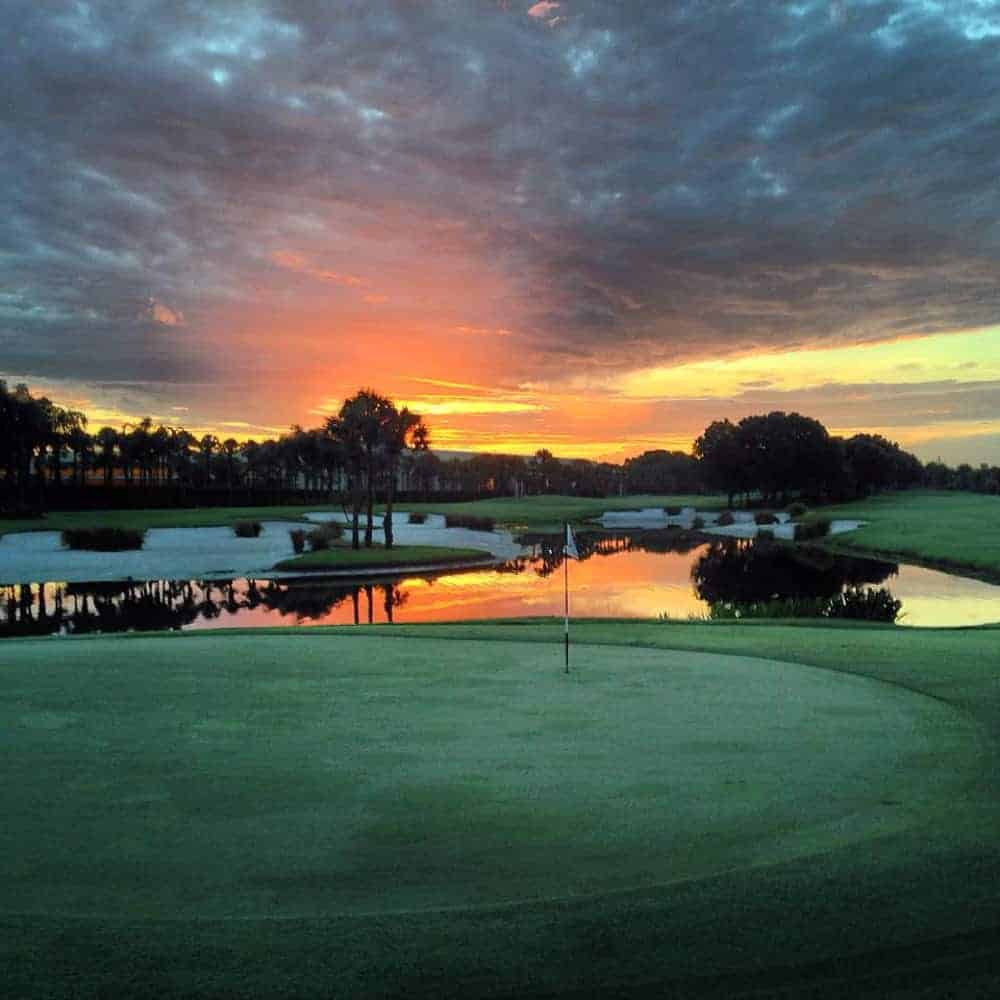 Hawks Landing Golf Club
At 6,810 yards from the furthest tees and with relatively flat topography, Hawks Landing may appear like a walk in the park, on paper. But don't let the ample wildlife and beds of vibrant azaleas fool you. With native grasses, significantly undulating fairways, and water in play on 15 holes, the course provides plenty of challenges. Hawks Landing makes its signature challenge early in the round with the par-4 8th. At only 353 yards, distance should be no issue. However, with fairway bunkers to the left and trees to the right, there is still sufficient trouble ahead. If the tee shot finds the fairway, club selection is crucial when hitting into the 46 ft. deep green in order to avoid a three-putt. Located on the site of the Orlando World Center Marriott Resort, it is only a 20-minutes' drive from Orlando airport. Twilight rates can be as low as $50.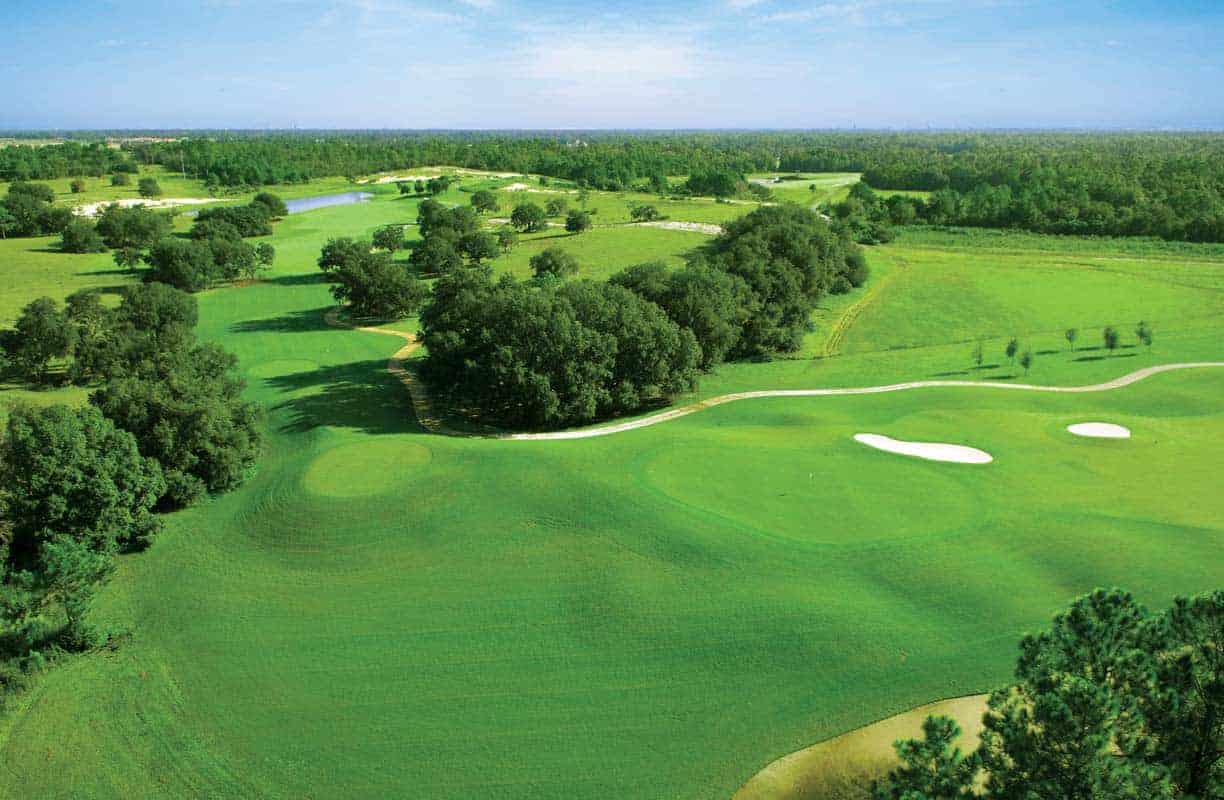 Providence Golf Club
Located 40 minutes from Orlando airport, Providence Golf Club is steadily becoming one of the best-kept secrets in Orlando. Designed by architect Mike Dasher, the course takes you on a journey through several styles from old Florida and from parkland to prairie, providing a memorable experience for all who play it. Topping out at 6,929 yards from the furthest tees, Providence places an emphasis on strategic shot selection over power. The par-4 seventh hole with its large waste bunker guarding the left side of the fairway and even larger pond guarding the right, offers the kind of risk-reward play any golfer will love. The course's immaculate condition, paired with its low price (twilight rates are as low as $25 in the summer), make Providence Golf Club not only one of the best value courses in Orlando, but one of the best in all of Florida.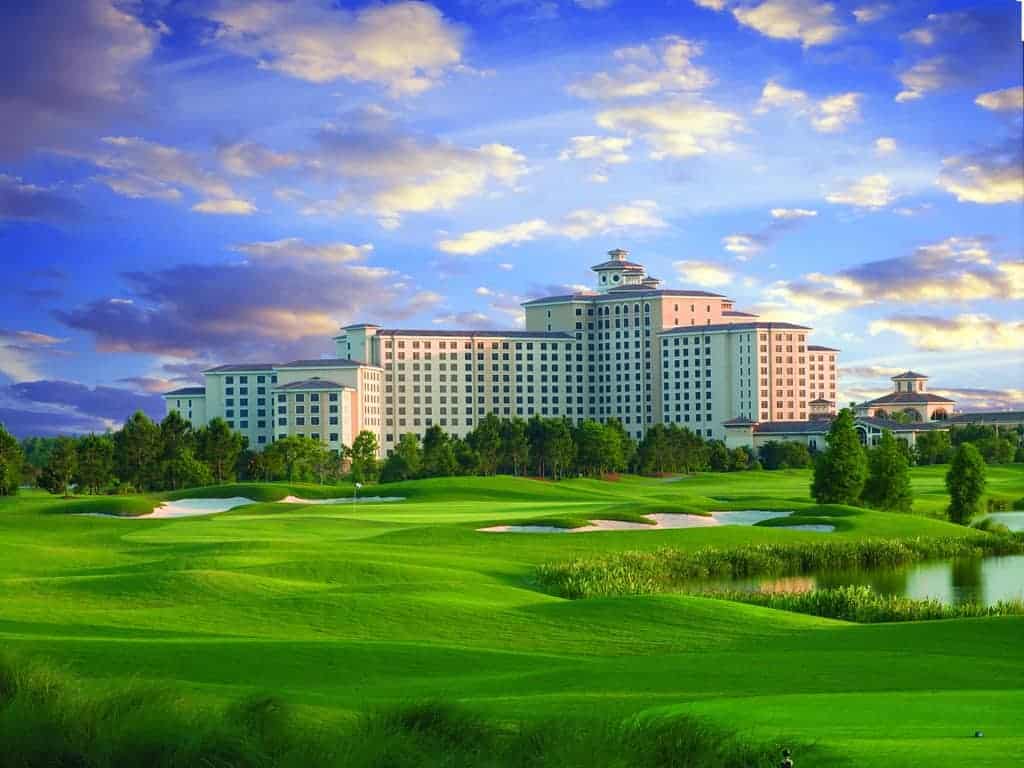 Shingle Creek
Consistently rated as one of the best courses in the area since it opened in 2003, this Dave Harman masterpiece is a terrific example of Florida golf. Meandering through natural wetlands, visitors will be struck first and foremost by the course's beauty. Featuring plush fairways and large undulating greens, shots will need accuracy more than power in order to avoid the vast expanses of water that weave throughout the property. The 353-yard Hole 9 stands out as one of the most challenging on the course. From the fairway, shots must first avoid the large oak tree guarding the right before carrying the water, all the while keeping safely away from the massive bunker guarding the left side of the green. Players can prepare for this tough test of golf by warming up at the 70,000 sq. ft. driving range or on one of the three practice putting greens on site. Located less than 15 minutes from Orlando airport and with rates available at under $70, Shingle Creek is an excellent option for someone who does not have a lot of time to spare in the Orlando area.
Panther Lake
Panther Lake offers some of the most natural scenic beauty of any course in the area. It is unique to Florida golf in that there is no development surrounding the course. Featuring rolling-meadows and natural water hazards, the Dave Harman design has no two holes that play the same. From flat open-air holes dotted with bunkers, to the heavily-sloped and elevated southern sections of the course, it offers something for everyone. Playing 7,350 yards from the Tour tees, Panther Lake simply rewards good shots and punishes poor ones, as many players at the US PGA Tour Q-school have learned to their cost. Part of Orange County National it also features an additional 18-hole course, Crooked Cat, a 9-hole short course called Tooth, a massive 360 degree driving range and practice facility, and a 50 room lodge, making it a one-stop shop for golf enthusiasts. Just 30 minutes from the airport and even closer to Disney's north entrance, OCN is the perfect Orlando golf destination with rates from $39-$89 depending on times and days.
Ventura Country Club
Located less than15 minutes from Orlando airport and with rates under $40, Ventura Country Club offers arguably the best value for travellers of any course in Orlando. Designed by Mark Mahannah in 1981, VCC offers the best of risk and reward golf. At only 5,467 yards, the par-70 course is one of the shortest in the area. Having said that, there are still plenty of obstacles to overcome, including water on all but three odf the holes. Take Ventura's signature hole 13, a 467-yard par 5, for example. The dogleg left features a forced carry over water, a thicket of palm trees, and a fairway bunker that requires diligent course management. Eagles are as easy to come by as double bogeys and a round can be made or broken here.