Niclas Weiland continued the trend of debutants taking the MENA Tour by storm as the young Swede took a one-shot lead with a sparkling bogey-free seven-under par 65 on an extremely windy opening day of the Abu Dhabi Open by Arena. After a day one masterclass, Weiland received a congratulation message from a childhood hero. 
What a way to make your debut. Not only did Weiland shoot a bogey free 65 in tough conditions around Yas Links, the young professional received a congratulation post from fellow Swedish European Tour legend Henrik Stenson.
Just how cool is this?

A young Swedish pro, @NiclasWeiland, shoots a 65 in treacherous conditions to lead in his debut @theMENATour event.

His idol @henrikstenson sends him this message… pic.twitter.com/CZq5DvlfX8

— Joy Chakravarty (@TheJoyofGolf) October 7, 2019
At Yas Links Abu Dhabi on Monday, Weiland was one ahead of England's James Allan, who could not have asked for a better celebration on the occasion of turning 25. The southpaw from Chelmsford, England, submitted a six-under par 66 card.
Another debutant, England's Mitchel Sarling, made an eagle on the 18th hole to finish on five-under par 67, where he was joined by Italian veteran Alessandro Tadini and Sweden's Gabriel Axell. In-form South African MG Keyser, leader in the Journey To Jordan, played early in the morning when the wind was at its peak, but did very well to shoot a 68, where the English duo of Harry Konig and Matt Killen joined him later in the day.
Dubai-based 15-year-old Josh Hill rediscovered his form with the driver and reaped rich dividends with a three-under par 69 that put him on top of the amateur leaderboard. England's Jack Floydd, who finished second last week in Journey To Jordan-2, came in with a 70. Robin 'Tiger' Williams, who sensationally won last week by eight shots, started his campaign with a 73.
The 24-year-old Weiland turned professional this year after finishing his college at Barry University in the US. He played a few events on the Nordic Golf League where his best finish was a T-6 in Landeryd Masters. His mother took up a new job in Abu Dhabi recently, and Weiland was quick to request the Tour for spots in a few events on the Autumn Schedule.
Sweden's 24-year-old Niclas Weiland leads the Abu Dhabi Open by Arena, his debut MENA Tour event, after a brilliant 65 at Yas Links.

So who is @NiclasWeiland?

We hear it from the man himself… pic.twitter.com/imiOxRxF94

— MENA Tour (@theMENATour) October 7, 2019
"I played solid and made very few mistakes. I made good putts on the first three holes. After that, I was able to recover well whenever I made any mistake," said Weiland, who will become the second straight debutant to win on the Tour after Williams last week if he holds on to his lead.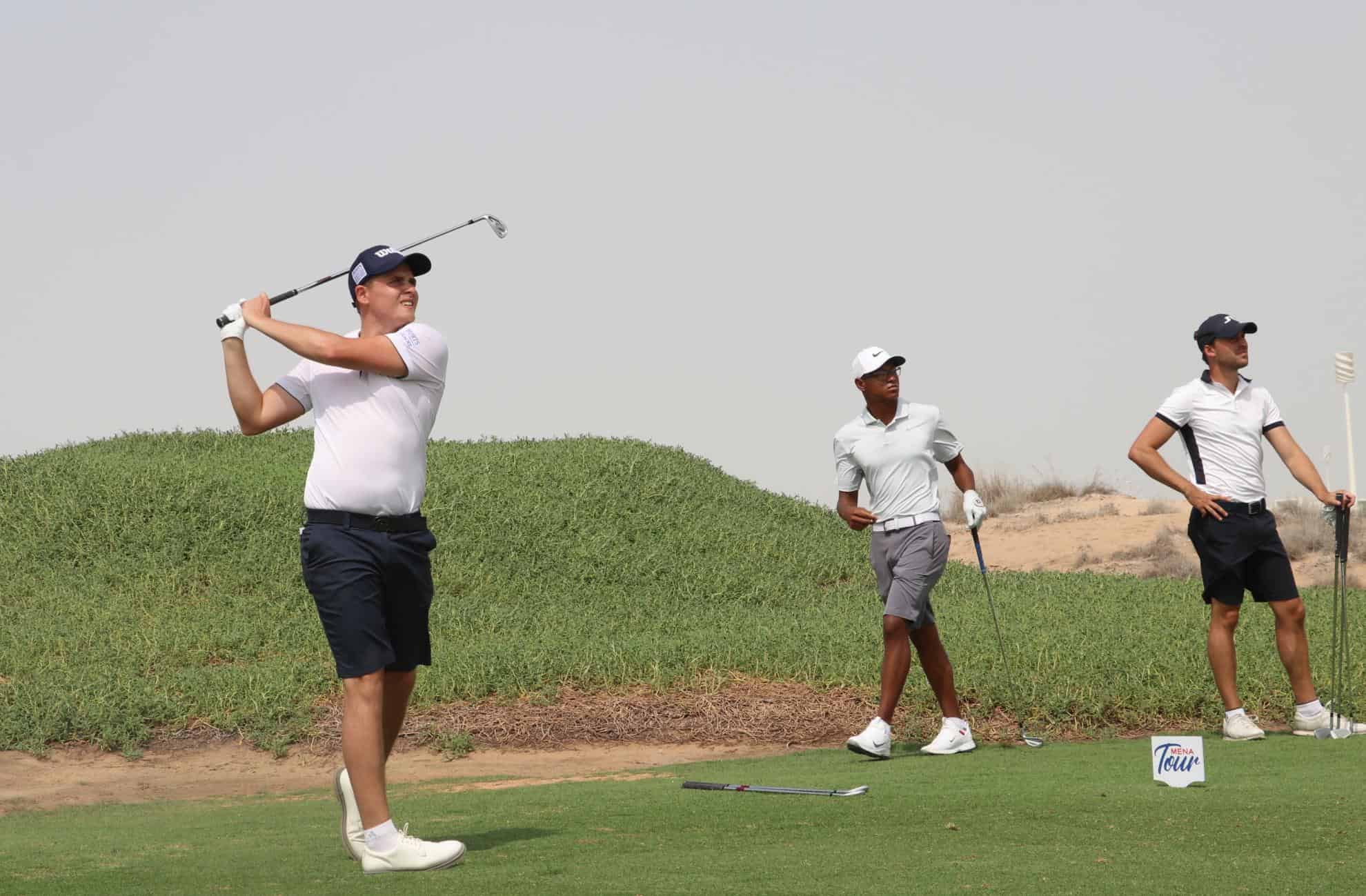 Allan, who qualified for the second stage of the European Tour Qualifying School last week, made the long-winding travel from Milan to London and on to Abu Dhabi, and was feeling the effects.
"I am very pleased with that. I started well with two birdies in the first two holes, but it was from the fourth hole to the 14th that we seemed to be playing continuously into the wind. I was feeling tired on the back nine, and that could be the reason why I made a bogey from the middle of the fairway on the 15th. But overall, I am chuffed with that round.