Dubai-born amateur Josh Hill, England's Joshua Grenville-Wood and Sweden's Gabriel Axell found themselves in a three-way tie for the lead on six-under par 66 after the opening day of the $100,000 Journey To Jordan Tour Championship.
Even as a strong and perplexing wind blew throughout the day – switching direction and coming off the north instead of south – it could not stop the players from going low.
Calmer Morning Conditions
The 15-year-old Hill was among the few who played a few holes in calmer morning conditions before the wind picked up when he was on the fifth. The new wind direction did make three of the four par-5s play downwind and players took full advantage.
Two Eagles
Hill made seven birdies and a solitary bogey on his route to 66 while Grenville-Wood made two eagles on the downwind par-5s on a bogey-free day. Axell, who lost in a play-off at the Ras Al Khaimah Open by Arena, continued his good form with a round that featured a hole-out with his second shot from 90 yards on the par-4 15th hole.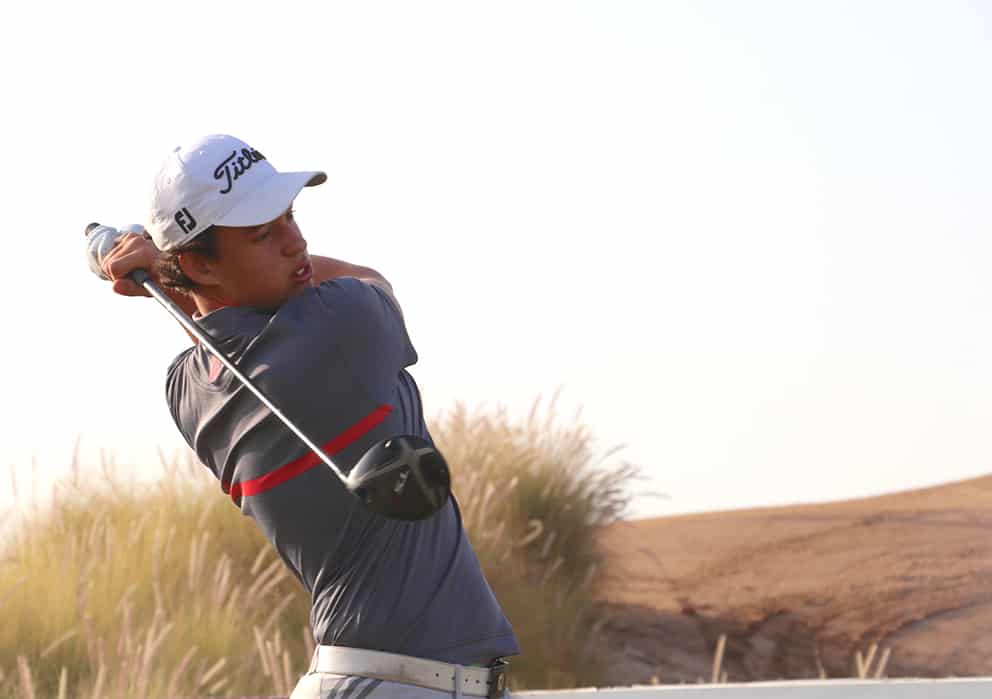 Sweden's Henric Sturehed, the 2017 Tour Championship winner, and the Abu Dhabi-based Luke Joy, a multiple winner on the Tour, were tied for the fourth place at 67.
"I was lucky with the wind for the first four holes, and then it picked up. It was strong and from a different direction," said Hill, who has been nominated for the BBC Young Sports Personality of the Year award following his record-breaking Al Ain win. "But I played pretty solid and kept hitting some very good iron shots. Most of my birdies were from inside 10 feet. Just that three-putt on sixth was the only bad part of a good day."
Meanwhile Miguel Angel Jimenez Junior, son of Spanish star Miguel Angel Jimenez, made a hole-in-one – his first in competitive play – when he aced the par-3 second hole from 194 yards with a 6-iron. The Senior Jimenez is well known for his penchant of making aces and has the record of most aces on European Tour (10).