YOU don't have to be a huge sports fan to be aware of Emirates Airline's presence at the major events. But why does the airline value golf so highly in it's vast portfolio of sports sponsorships? We catch up with Roger Duthie from Emirates Airline to find out why, plus what else the game has to offer, not just in the region but here in Dubai.
Emirates Airline is the Official Airline of The European Tour but what are the benefits in aligning the brand with the game of golf?
Roger Duthie: Emirates' sponsorship strategy is quite simple – to support global sports that bring people together around the world. Our sponsorship portfolio is distinctive in so far that in many ways it reflects the Emirates business model. We have been able to positively boost awareness in markets where sporting occasions take place and this has definitely brought commercial benefits. We have seen our operations grow in many countries as a result of our sponsorship. Golf is one of the most popular sports in the world, and as a global sponsorship platform it has been immensely successful for us.
With Emirates now flying direct to Orlando and various other hubs in the U.S. would Emirates look to get involved with any PGA Tour events?
RD:  We are always examining opportunities in the U.S. and elsewhere and have explored several PGA Tour events. If the opportunity is a strategic fit and aligns with our brand, allowing us to extract as many branding and fan engagement opportunities as possible, then we  will consider it.
The Emirates Airline Australian Open is unique in that you are more than the official airline for the event but also the title sponsor. What's the difference in value and is this something Emirates is looking to do? 
RD: The Emirates Airline Australian Open was  a unique opportunity for Emirates in a city where we did not have a sports sponsorship. We were approached during The Presidents Cup in 2011 when they had a world class field, bringing in giants like Tiger Woods, among other international President Cup players. The world's golf media had a particular interest in the tournament and we received incredible global coverage. Every year the event continues to draw top players to play. Last year Jordan Spieth played in the event and won, which springboarded his incredible 2015 season.
We've never seen a player on either Tour sponsored directly by Emirates. What is your policy on getting involved with players during the year?
RD: Although we do not sponsor individual athletes in any sport, in the past we have sponsored individuals for specific events such as Michael Campbell when he won the US Open; Erik Compton, the double heart transplant recipient, who played in the Dubai Desert Classic; and we also sponsored Colin Montgomerie during his Ryder Cup Captain's year. However, generally speaking we do not sponsor individuals.
The DP World Tour Championship has become the largest event not just in the region but the grand final for the European Tour, what does this event mean to Emirates Airline and as a local golfer?

RD:The season-ending DP World Tour Championship, crystalizes  Emirates' continued commitment to the game of golf, its fans around the globe, and bringing prestigious, high-calibre events to our home base of Dubai.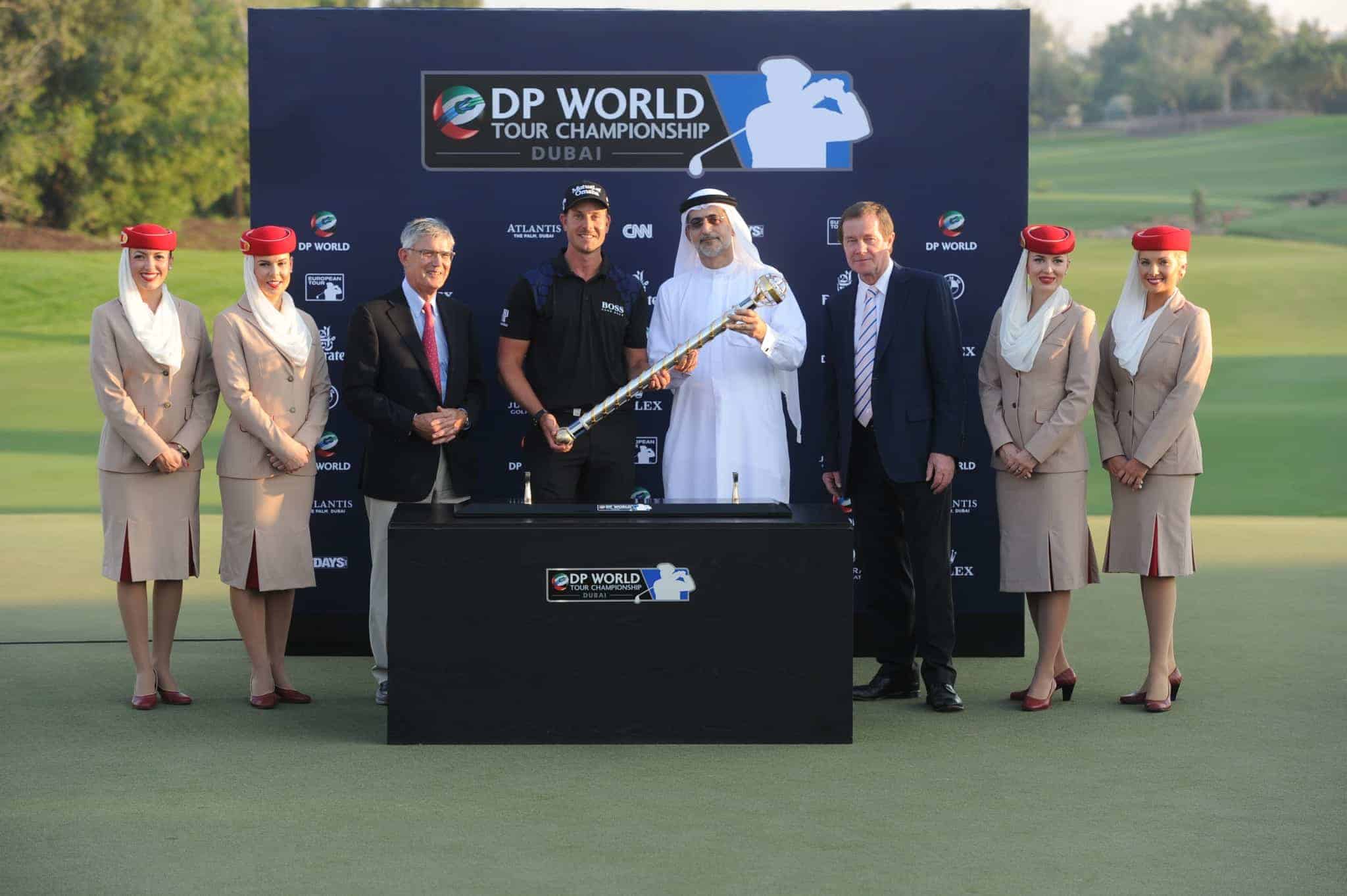 Emirates has become the world's largest international carrier with Dubai being its hub but how is the brand looking to promote the emirate in Dubai to all those potential golfers? 
RD: Emirates' increased investment in The European Tour two years ago was a natural move which expanded our global reach to golf enthusiasts across Europe, Asia, Africa and Australia. Those additional events on the European Tour schedule represented a great opportunity for exposure on a global level, culminating in the DP World Tour Championship. Technology has changed the world into a much smaller place, with TV and Social Media influencing the way people now communicate. In addition, the global reach of the pro-am prizes on offer through Skywards and Worldwide Golf are extremely attractive and are drawing in an increasing amount of interest.
As a golfer and a long-standing Dubai resident you've seen a great deal of change in the Dubai golfing landscape but what courses have impressed you the most and why?
RD: I think the Earth course has done a remarkable job over the years. The more you play it the better it is, or I should say, the better I play it, I guess. Yas Links in Abu Dhabi is always a favourite but a huge challenge without your A-Game. For me, it's still tough to beat the oldest course in the region…the Majlis at Emirates Golf Club. There are so many great risk and reward holes. I always love playing there and I get excited when the course is in top condition and the greens are running well. Going for it in two at the 18th can make or break a match – sadly it usually breaks me.
Would you ever envisage The Ryder Cup coming to Dubai and why?
RD: I would love it but I really don't see it happening, to be honest. The European Tour does such as great job promoting its brand globally and we are happy to be part of it but I just don't know if you would get the 30, 000 or 40,000 spectators every day  in Dubai or regionally to attend the event. Although I guess it would be a draw for golf fans the world over to come to Dubai. Yet it's a big ask. Dubai could easily host the event –I have no doubt about that.
How does the strengthening of the relationship between The European and Asian Tours fit with the Emirates Airline brand?
The European Tour has always had a strong presence in the Middle East and Far East. Building a stronger working relationship to evolve the game in these regions collectively can only be good for the game. As the main carrier to these regions out of Europe it further cements our belief that both The European Tour's global schedule is in line with Emirates Airline's portfolio.
Favourite golf course in Dubai and the UAE? 
When it's in great condition the Majlis is tough to beat. I love the risk and reward of the 17th and 18th holes. The Els Club always seems to be in fantastic condition. They've got the slickest greens in Dubai when they want them to be…it's a fun course to play.
Most influential golfer of all time? 
Of course, being Canadian, I would like to say Mike Weir and Moe Norman ( best ball striker, perhaps) but the obvious answer and one I have to stick with is Tiger Woods. He transcended the game during his peak and not many people are that influential in their sport…Michael Jordan, Wayne Gretzky…David Beckham and Tiger, perhaps.
Favourite club in your bag?
My Titleist driver 915 is my surest club in the bag when it's all going well….anytime I have a wedge in my hand, too, I am OK with that.
Favourite course outside Dubai? 
My new favourite course is the Renaissance Club in Edinburgh. The back nine holes along the coast are world class. I played The Plantation Course in Maui this year, too, and that was incredible. It's not just about the course but the experience…good mates, great service, a warm and friendly clubhouse and staff add to the overall enjoyment…having your buddies with you is key and the courses I mentioned above I played with some of my best friends, which was a fantastic experience.