With eight of its nine holes guarded by water and one of the longest holes in the region, you'd be forgiven for thinking The Track was a course designed only for the seasoned player. In recent years, however, The Track has prided itself on being everything but. 
Realising that golf can come with a negative reputation, it's been our mission to make the game more accessible to those willing to give it a chance. Encouraging a fun and friendly atmosphere where guests are encouraged to dive into the game without worrying about how they look, how they're dressed or committing to expensive equipment, has seen Meydan Golf become a shining light in the fight to increase participation in the region.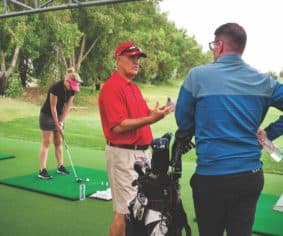 Understanding what's required to get beginners hooked has been the task of the Meydan Academy by Troon Team. Accessibility, value for money and opportunities to play on course are crucial elements in any beginner programme. Situated just a short drive from Downtown, the 9 Hole course and driving range is fully floodlit, creating ample opportunities for new players to access the game before or after work (some during). As far as value for money is concerned, with individual lessons starting from as little as AED 105 and Entertainer accepted for night golf rounds, The Track Meydan Golf is setting the regions standard when it comes to encouraging newcomers.
---
Why choose Group Lessons at the Track?
By Ian Brennan – Teaching Professional, The Track Meydan Golf 
I believe that Group Tuition offers newcomers the very best the game can offer without some of the commitments it can be criticised for. Here's why you should choose group lessons:
Students can learn in an environment they feel comfortable in; be it among friends or other beginners who are in the exact same position as they are. I pride myself on creating a fun atmosphere with lots of chat and banter. Coaching at its most basic level is about building relationships with people and I'm in constant contact with students through WhatsApp. I want my students to feel they can ask me anything and I stress that no question is a stupid question when taking your first tentative steps into the game.
For me it's the ideal way for beginners to get a grasp on all aspects of the game. To the beginner, learning golf is like peeling an onion, each layer represents a new skill to learn and challenge to embrace. Often we see a student excel at a part of the game only to be disappointed when another skill is introduced they don't have the same proficiency for. As such, a structured group programme will provide ample time for: Long Game, Short Game, Putting and On Course play over a series of weeks. With an Explanation/Demonstration of each shot, the 'when', 'why' and 'how' is presented in an easy to understand manner with constant feedback throughout the students efforts.
Ultimately though, I don't like to overcoach early on with too much theory. In my experience some people already have the basic instincts to play certain shots. I want students to GO FOR IT and show what they can do naturally. The last thing I want to do is throw too much information at them early on. Let's make what they already do BETTER. Get them on course sooner and enjoying the game.
Conclusion
Whether it's work related, amongst friends or on your own and willing to get involved, group coaching at The Meydan Academy by Troon will guarantee:
A fun, friendly atmosphere.
Ample opportunity to experience every aspect of the game under the watch of one of our PGA Golf Professionals.
A structured tuition program designed to get you course ready ASAP.


---
The Meydan Academy by Troon | To learn more about Group Lesson & Packages starting as low as AED 105 per person
Contact info@meydangolf.com or call 04 381 3733