The route from junior golf through to college student athlete is a road littered with constraints and obstacles. It can often be daunting to even know where to start, let alone build an effective profile to attract colleges and coaches.
Drawing from their years of experience helping students find their place in Universities such as Oklahoma State, Notre Dame and the University of Florida, The Claude Harmon III Performance Golf Academy has established the Elite Golf Program, in partnership with GEMS FirstPoint School.
The program aims to provide students with a first-class education and golf coaching program to holistically prepare them for collegiate and professional golf. The partnership provides a unique pathway for junior golfers, allowing them to gain qualifications both academically and vocationally without impacting on their training and coaching development. Students enrolled into the Elite Golf Program receive a first-class British education from internationally renowned provider GEMS Education, alongside world-class golf coaching at the prestigious Claude Harmon III Performance Golf Academy.
View this post on Instagram
Balancing academic demands and a full-time golf practice and competition schedule can place extreme pressure on students and can affect performance and progression if not managed properly. The Elite Golf Program aims to alleviate these constraints and build a bespoke academic and golf schedule that are holistically linked to facilitate a student's progression.
---
How can the academic curriculum be altered to facilitate golf practice?
GEMS FirstPoint School are a United Arab Emirates KHDA Rahhal 10X initiative school; this gives the school flexibility with a student's timetable in order to focus on the development of specialist areas, including golf.
Elite Programme students' timetable is a bespoke curriculum with each student having an "Individual Education Golf Plan" (IEGP) allowing them to be released during school time and attend daylight training and practice at The Claude Harmon III Performance Academy, without missing core subjects and lessons.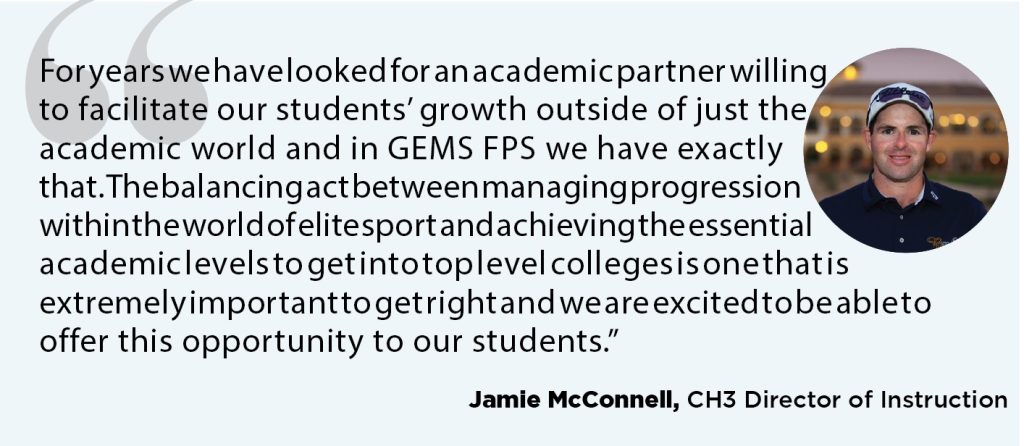 ---
Features of the program
A bespoke curriculum that is tailored to support success

Pastoral care and support to ensure students are managing their schedules and maintaining excellence in both their golf and education

Personalised timetable for each student enrolled in the programme

A school that understands the pressures and demands in golf for elite performers

Regular communication between the school and home regarding performance in school

College application planning and support

First class golf coaching from Claude Harmon III Performance Golf Academy

Fitness, strength and conditioning training in state-of-the-art facilities

Mid-week golf membership

Transport between the school and golf facility provided by STS Transport
---

All Elite Golf Program students also receive continuous support and CV building during the college preparation and application process.
ForeCollegeGolf (FCG) is a company that has supported a number of CH3 students in being recruited on University and college golf scholarships in the United States. All Elite Golf Programme students receive an initial 1-on-1 consultation with FCG with the aim of working together closely to build links with colleges, providing their golf profile and CV and also a personalised recruiting timeline. This relationship is unique to the region and provides direct links to college coaches and universities whilst adhering to the strict contact and recruitment legislation of the NCAA.
"We have been delighted with the success of the Elite Golf Program," said CH3 Director of Instruction Jamie McConnell.
"For years we have looked for an academic partner willing to facilitate our students' growth outside of just the academic world and in GEMS FPS we have exactly that. The balancing act between managing progression within the world of elite sport and achieving the essential academic levels to get into top level colleges is one that is extremely important to get right and we are excited to be able to offer this opportunity to our students."
To learn more about the Elite Golf Program or to see if you would qualify for a scholarship on the program please visit the below link for more information;
www.ch3performancegolf.com/elite-golf-program or contact; [email protected]