Will Tiger Woods sign off from Major Championship golf at his beloved St Andrews?
With a keen appreciation of golf's birthplace and having won two of his three Claret Jugs at St Andrews, Tiger Woods was never going to jeopardise missing the 150th edition on the Old Course. It's why the 46-year-old withdrew from last month's U.S. Open at Brookline after making the cut at the Masters (T47) before hobbling out of the PGA Championship in May following a third-round 79 played in visible pain.
"This is a pretty historic Open that we are going to be playing. I'm lucky enough to be part of the past champions that have won there, and want to play there again," said Woods. "And I don't know when they are ever going to go back while I'm still able to play at a high level, [so] I want to be able to give it at least one more run at a high level."
In what shape Woods will turn up for the 150th Open remains to be seen. He drove the ball well at the JP McManus Pro-Am at Adare Manor, the 2027 Ryder Cup venue, the week beforehand but showed visible signs of rustiness in other parts of his game in finishing seven over for the 36 holes. More notably, he rode a motorised cart in Co. Limerick and has only walked two official events – the Masters and PGA – since sustaining traumatic injuries to his right leg in a single-car accident in February 2021.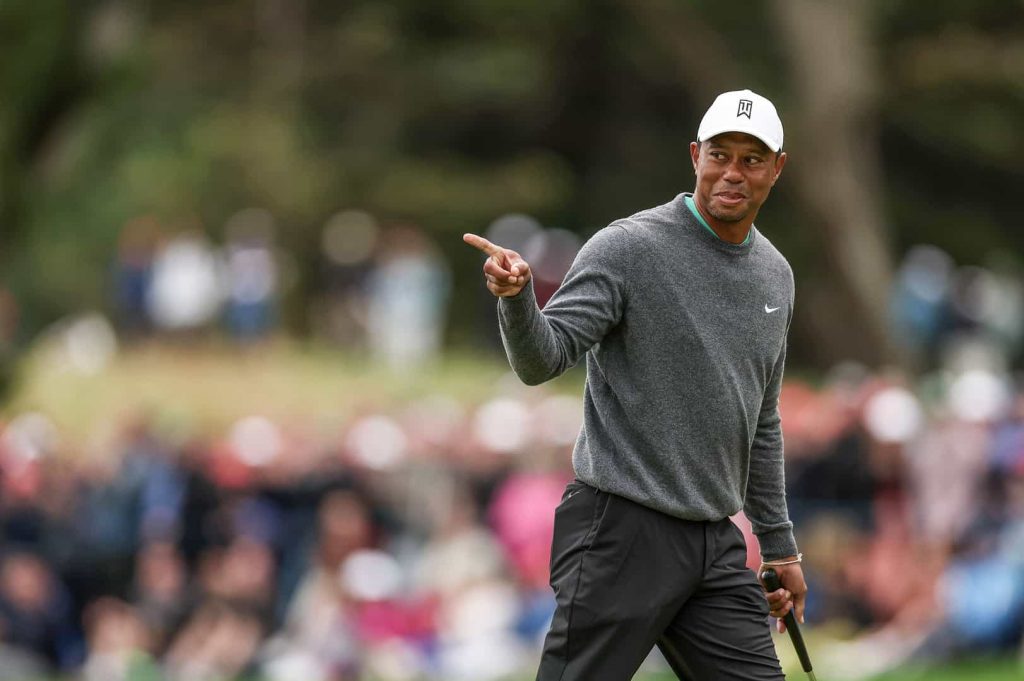 "I don't know. I really don't," said Woods when asked in Ireland how long he believes he can compete at the highest level.
"If you asked me last year whether I would play golf again, all of my surgeons would have said no. But here I am playing two Major Championships this year.
"I will always be able to play golf, whether it's this leg or someone else's leg or [a] false leg or different body pieces that have been placed or fused, I'll always be able to play. Now if you say play at a championship level, well, that window is definitely not as long as I would like it to be."
Which is why Woods is doubling down on this historic Open.
"…Just look at the names on [the Claret Jug] and you just go right through time, it's like a time warp, and just how they put the names on…they start at the bottom and they added the lip and they added the bases and just the little things. And everyone who won that championship, they know how hard it was and looking at some of the scores, I'm thinking, even with a gutta-percha, how did they shoot those scores. It's awfully impressive and to have won The Open Championship and for me specifically to have won at the Home of Golf is even more special."
The third of Woods' thus far three Open Championship wins came at Royal Liverpool in 2006, the year after he'd doubled down on Grand Slams completed at the Old Course following his record break-through in the world's oldest Major Championship in 2000. But nothing can compare to an Open on the Old Course.
"It's my favourite course in the world."
Millenium Grand Slam – 2000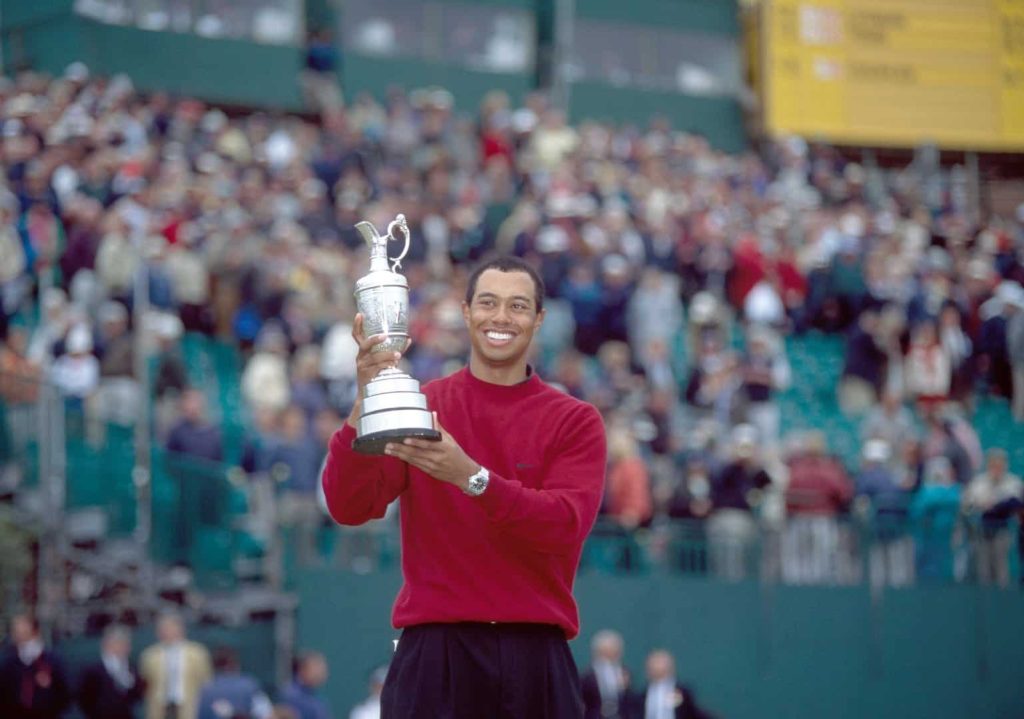 "If there is any two tournaments you want to win, you are going to want to win the U.S. Open at Pebble Beach and you are going to want to win the British Open at St Andrews."
When Tiger Woods turned up for the 129th Open Championship at the Home of Golf, he'd already achieved the first half of that dream in astonishing fashion, waltzing to a 15-stroke victory in the 100th U.S. Open at Pebble Beach with a performance that set or equalled no fewer than nine records.
As history charts, Woods was in his absolute pomp, in the midst of a legendary season in which he won six consecutive events and would eventually capture nine of the 20 PGA Tour events he entered.
A month after Pebble, everything was set up for a memorable "Millennium Open". Scotland turned on a glorious week of weather, record galleries turned out and the Old Course was playing hard and fast. It was even the first time The Open has been telecast in high definition. The venue and the occasion demanded a worthy champion and Woods did not disappoint, completing the career Grand Slam with a commanding performance in the benign conditions, winning by eight strokes from joint runners-up Ernie Els and Thomas Bjorn. It was the largest winning margin at an Open since J.H. Taylor in 1913.
Woods had been feted for avoiding a three-putt all week on Pebble's glassy greens and at St Andrews avoided all 112 of the recently revetted bunkers in compiling rounds of 67-66-67-69. There were three bogeys but none until the weekend when the contest was essentially over.
His -19 aggregate of 269 was the lowest score on relation to par, edging Nick Faldo's 1990 mark which had also been set at St Andrews. It remained the record for all Majors until Jason Day broke it at the 2015 PGA, finishing -20 on the Straits course at Whistling Straits.
Woods joined Jack Nicklaus as the only players to win a U.S. Open at Pebble and The Open at St Andrews and became just the fifth golfer – and the youngest at 24 – to complete the career Grand Slam after Gene Saraze, Ben Hogan, Gary Player and Nicklaus.
"To have the opportunity to complete the Slam at St Andrews makes it even more special," said Woods who would famously go on the complete the "Tiger Slam' – holding all four Major titles concurrently – when he won at Augusta the following April (2000 U.S. Open at Pebble, 2000 Open at St Andrews, 2000 PGA at Valhalla and 2001 Masters at Augusta).
A second slam at St Andrews – 2005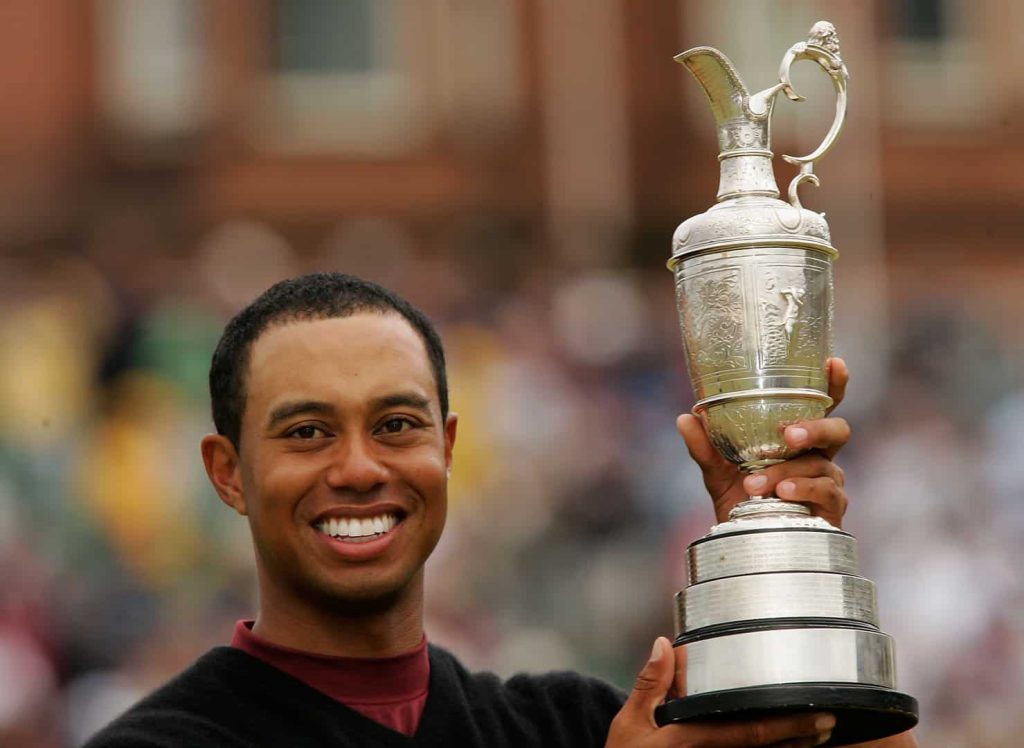 Five years after sealing his first career Grand Slam at St Andrews, Woods notched up another by becoming just the fifth player after Bob Martin, J.H. Taylor, James Baird and Jack Nicklaus to win the Claret Jug for a second time on the Old Course.
Tiger's second slam and 10th Major win were firsts for a player under 30 but it turned out the 29-year-old had to share the limelight with Nicklaus earlier in the week as the 18-time Major champion holed a 15-foot birdie putt on the 18th green to sign off his 38 year and three win association with The Open. Nicklaus shared the moment with playing partners Luke Donald and Tom Watson on the Swilcan Bridge and then savoured a near 10-minute standing ovation as he traversed the most famous closing hole in golf for the final time in competition,
The week ultimately belonged to Woods though as he became just the sixth player after Ted Ray, Bobby Jones, Gene Sarazen, Henry Cotton and Tom Weiskopf to win The Open wire-to-wire with rounds of 66-67-71-70. His -14, 274 score was five clear of Colin Montgomerie's, the Scot finished second in a Major for a fifth time.
"You never though that, in your wildest dreams, as a kid, that you could have 10 [Majors] in your 20s. You just hope that you can win maybe one or two, here and there. I got 10, I've past some legends of the game and that's… it's hard to comprehend. I just got one more than Hogan and Watson and Player, so I think that's pretty cool. It's as good as it gets."