One of the many lasting memories from this year's Ryder Cup was the emergence of Europe's new Dynamic Duo. Dubbed 'Moliwood' by all who witnessed their demolition of whichever combination of stars the US team could throw at them, Francesco Molinari and Tommy Fleetwood have been two of the European Tour's leading lights this year with Fleetwood currently chasing down the Italian as the Race to Dubai heads towards another exciting climax. Fleetwood clinched last year's Race to Dubai title to become European No.1, fending off a late surge from Justin Rose to take the honour. This year he is the one playing catch-up, trying to reel in his Italian friend and pip him at the post.
Tommy Fleetwood didn't want the final stages of last year's Race to Dubai to be as dramatic as it was. The 27-year-old from Southport held a healthy lead with a month to go before Justin Rose won twice in a row to pile the pressure on before eventually falling just short at the DP World Tour Championship. Fast forward 12 months and Fleetwood is the one eager to exert pressure of his own and make life uncomfortable for his Italian Ryder Cup colleague Francesco Molinari, who has enjoyed the finest season of his career.
"I'm a long way behind and it's kind of the opposite of last year in the sense that I had led all season and now for the final few events I'm the one who's doing the chasing," said Fleetwood.
"I might get nowhere near Fran, but at the same time, I might get close, and I'd love to get to Dubai and be in with a chance. But if it doesn't happen, it doesn't happen.
"It's kind of in Fran's hands a little bit as well. So, at the moment, I'm just looking to keep on working and keep on improving. I'd love to get in contention again in a couple of events towards the end of the year and maybe win one. That would be great."
Fleetwood began the season with victory at the Abu Dhabi HSBC Championship, and that successful defence of his title set him up for another sterling campaign which was capped by his stunning Ryder Cup debut where he won four points in partnership with Molinari. The chemistry between the Italian – this year's Open Champion – and Fleetwood was there for all to see, and Fleetwood wouldn't begrudge his friend from winning the season-long Race to Dubai. "We won't hold it against him," he smiled. "With the year he's having, I think he might deserve it."
That being said, Fleetwood is all business these days and showed no sign of fatigue as he played in the two European Tour events immediately following The Ryder Cup, contending in both. From Paris he headed to St Andrews where he finished runner-up at the Alfred Dunhill Links Championship and then posted a top ten at the Sky Sports British Masters at a soggy Walton Heath.
It was clear he hadn't suffered post-Ryder Cup burnout and he is keen to maintain that momentum and push Molinari all the way ahead of the final few events.
"I look after myself pretty well.  I eat well and I'm physically in pretty good shape," he said. "I generally don't stress out too much, so in terms of mental energy, I don't get too tired.
"There is always a time when you get to a stage in a season when you need a week off, and I think the most exhausted I've been this year was at the BMW International Open in Germany and then the Open de France after the US Open. That was the point when I'd pretty much crashed.
"But it's knowing where your cut-off point is and knowing when it's coming, either having the whereabouts to pull out of an event, or if you're going to play on, not worry too much about your form and read too much into it." In the aftermath of the Ryder Cup and then a busy two-weeks at back-to-back domestic tournaments, how is he feeling?
"At the moment, I feel okay," he said prior to heading to China for the WGC-HSBC Champions. "I spent some time soon after The Ryder Cup with my psychologist and we were kind of looking at trying to reset for the year.
'Ultimate pressure'
"Enjoying what happened in France and having that experience and confidence from hitting those shots or holing those putts under the ultimate pressure, it's nice to take into the rest of the year and keep trying to improve.
"I've still got World Ranking points to earn, still got tournaments I can win. There's still a chance of the Race to Dubai. I'm a long way behind, but we know what Justin did last year, and ultimately, it was in his hands on the back nine in Dubai."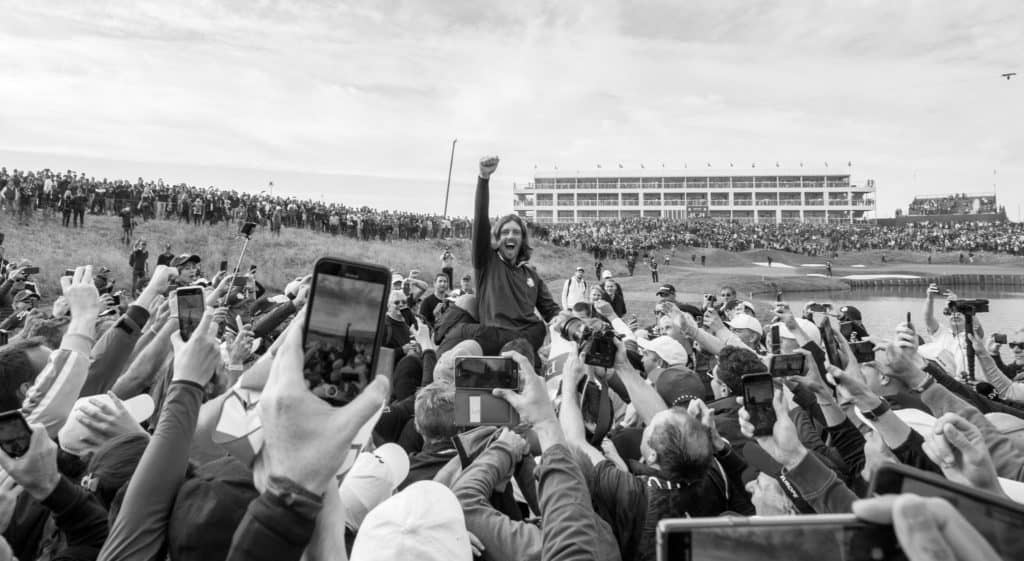 Rose's emergence as Fleetwood's main challenger for the Race to Dubai was unexpected, and but for a late stumble in Dubai it would have been a second Race to Dubai title for the former US Open winner at Jumeirah Golf Estates.
However, with Fleetwood doing the chasing this time he's hoping to channel his good feelings from France and mount a serious tilt at following the likes of Rory McIlroy, Henrik Stenson, Lee Westwood, Colin Montgomerie and Seve Ballesteros as multiple Harry Vardon Trophy winners.
"There are still things that are out there that I'd like to achieve, and improving my golf game is one of them," said Fleetwood.
"So there are still plenty of things to reset and look forward to and take that amazing experience from The Ryder Cup and try and build on it."