This summer, the UAE's golf scene said farewell to one its most-loved and extremely talented players after Toby Bishop ventured to the States to join the collegiate golf system with the Florida Gators.  It was the natural move for the talented hot-shot, who was offered a scholarship back in 2020, to progress his career with dreams of making it in the professional game at the forefront of his mind.
The road ahead to the professional game will not be an easy one with many talented players from across the globe competing on the talented collegiate circuit. But Bishop knows he is in the perfect place to make those dreams come true with the incredible facilities and coaching at his disposal.
Earlier this year, when he graced our front cover after winning five events from six to top the EGF Order of Merit, Bishop said, "I feel if you go to the University of Florida and you don't make it onto the Tour or you don't make your goals, it's sort of down to you because they provide you with everything you need." The time is now to make that dream a reality.
Now well and truly settled in his new home, we caught up with the Welshman to find out how he is adjusting to his new life in the States and how well the courses in Dubai have prepared him for this exciting new chapter.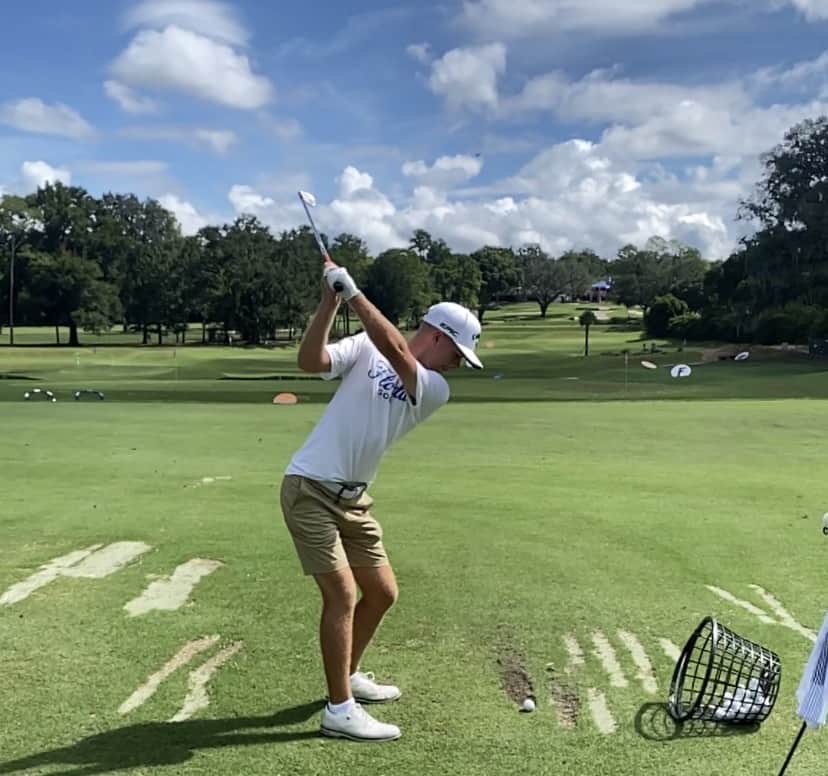 Toby on his start to a new Adventure in America
The start to life in America has been awesome. I still don't think I've got used to the facilities as everything here is as good as it gets. From luxurious dining halls and leisure centres to first class practice facilities on our doorstep – it's not been hard to adjust to my new home at all for me! The heat has definitely felt homely; however, the daily afternoon rain showers have been quite the adjustment, the usual 4pm 9 holes in Dubai are no longer part of the routine here in Florida!
Toby on the welcome he has received from Coach Deacon and the team
Coach Deacon, Coach Hart and all my teammates could not have been more welcoming. After just a couple weeks I feel like I've known them forever. Surrounding myself around some of the best amateur golfers and coaches in the world gives me every opportunity I need to develop as a player, improve areas of my game, and grow as a good human being. I wouldn't swap any of them for anyone else. This team is going to do something very special this year!
Toby on the social side to college
The social side of college isn't hard to indulge in when you're alongside over 60,000 other students. I love meeting new people and doing things outside of golf, so it's been nice talking with fellow athletes from other sport teams as well as normal students on campus (although being an athlete does give you an advantage on the social side!) Regarding crazy stories, you know what they say… "what happens in college stays in college"!
Toby on the biggest challenges he has faced since moving
The biggest challenge I've faced since arriving has actually been my health. Out of the three weeks I've been here for, illness has got the better of me for two of them. Playing through heavy sickness in the first week wasn't ideal for qualifying, and this past week I actually withdrew from qualifying I was so unwell. I'm currently taking some time off to get back to full fitness so I can be certain I'm at 100% health for our next qualifier. Thankfully our medical staff and nutritionist are just the best, so I have all the tools necessary for a speedy recovery to full fitness.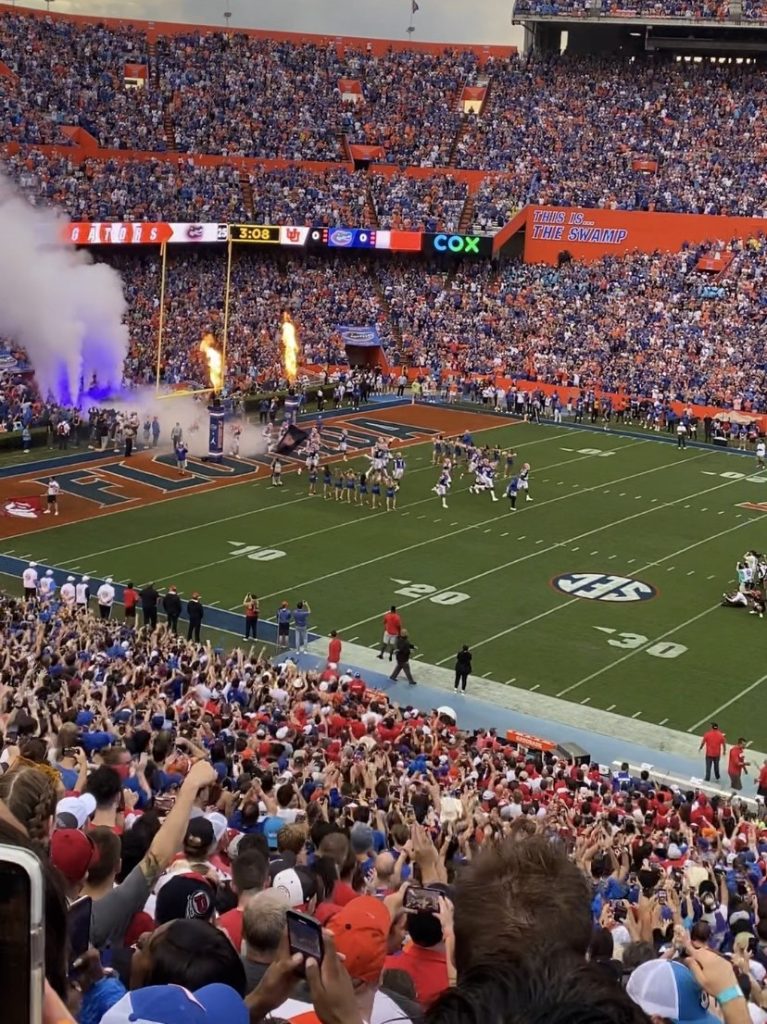 Toby on the advantage of playing golf in Dubai
I've definitely played a lot of golf since arriving here in the States. We are pretty much playing every day whether it be scheduled team practice or our own individual time. The surprising part about golf in Florida is just how similar the courses are to Dubai. The grainy Bermuda grass is a well-known sight for fellow Dubai-bred golfers like myself. The similarity in style and length of courses gives them a sense of familiarity to me, therefore I feel they suit my eye allowing me to feel comfortable playing out here already. That's just one example of how my upbringing in Dubai has benefited me, acclimatizing me to the grainy lies from a young age, if it's even possible to ever fully acclimatize to those nasty into-grainers!
Toby on the prospect of having to change his game
I don't expect to change any parts of my game as I'm a big believer in sticking to your roots and DNA. However, there are definitely parts of my game that need to be a lot sharper to compete at the top level here. Wedges are the main talking point of our practice here so dialling them in is my main focus right now – there's really no excuse to not be lethal from 130yards and in. Driving distance is a personal area I want to improve on as it gives such a massive advantage in the modern game and gives players an automatic advantage over you before you've teed off. For now, I need my accuracy and short game to be better than everyone else's, as that is something I can control and will help me compete, so when I do gain that distance I'm at a huge advantage.
Toby on the perks of the college system
The main tangible thing the American college golf system offers which isn't available anywhere else is a direct path onto professional tours straight out of College. Currently PGA Tour University offers the top five college seniors a full card on the Korn Ferry Tour, however this is expected to change to PGA Tour starts in the near future. In my opinion, the most valuable aspect of the college golf system in America that no other system comes close to is the competitiveness and top-class quality in every event. Having to balance school-work, personal life, and playing against the best amateurs in the world is the perfect preparation for managing life as a Professional golfer.
View this post on Instagram
Toby on the advice he would give youngsters in the UAE looking to follow in his footsteps
If I were to give any advice to younger golfers looking to play college golf in America it would be three things; to play as many competitions as possible (preferably international), start the recruiting process early, and BE YOURSELF. Especially living in Dubai, with the U.A.E being such a small an unknown environment for some of these coaches, you have to make yourself known to these coaches and find something that makes you stand out from the thousands of other kids talking to the same coach. I made my own website with swing videos, tournament schedule and resume, and contact information of my entire golf team and myself. The easier you can make it for coaches to know who you are and find information about you, and the more competitive rounds you can showcase to them, the higher your chances will be. Most importantly, as much as you think being a great golfer gets you into any programme, coaches really value players that fit their teams "mold". Being a great person is equally as important as being a great golfer, it's an equal balance of both that will help you reach your recruiting goals.
Toby on the season ahead
The rest of our fall season is very exciting for us. With the team having just won the first event of the season at Notre Dame, confidence is high but the whole team are still working to improve any small margins we can. This week the team travel to Chicago to play Olympia Fields before we play the SEC Match Play the following week. After that the team travel to Texas for the Ben Hogan Colonial, which is quickly followed by one of the most fun weeks on the schedule, Gator Golf Day! During that week we re-qualify for the final event of the fall, the Isleworth Collegiate here in Florida. So a busy next month or so, but when momentum is with you there's no time to take your foot off the gas. Competing for titles and championships is what every player wants to do, so it only adds to the competitiveness of our qualifying when 15 players are battling it out for anywhere between 1-5 spots.