Richard Bevan finds out how one of the UAE's most cherished golfing prodigies, Viggo Sørensen, is continuing to make an impact 12 months after he suddenly and tragically passed away.
It's the news that no parent wants to hear. Their child is gone…
But, in January last year, that's exactly what Nathalie Grall-Sørensen and her husband Thomas had to endure when told that their 17-year-old son, Viggo, a much-loved member of the UAE golf community, was not going to emerge from the coma he'd slipped into three days earlier.   
"There have been many articles about Viggo saying that he died from a cardiac arrest but that's not correct," says Nathalie. "I picked him up at Jumeirah Golf Estates in the morning, as he used to go there to practice before school, and he said he couldn't feel his little fingers. I dropped him at his school, GEMS Wellington Academy, and an hour later he called to say, 'Mum I can't feel my left hand, let's go to the hospital.'
"We went to the emergency department at the hospital, they did a blood test, but didn't find anything, so we took him home. Three hours later, he said to my husband, 'I can't feel my arm or my lips.' He didn't even finish his sentence, he just collapsed.
"People have said he had a cardiac arrest, which he did after he'd collapsed, but we learned afterwards that from moment he hit the floor it was over. He'd had a massive brain haemorrhage and from then, nothing could have been done."
Viggo, a hugely talented golfer, had the world at his feet. One of the UAE's leading lights alongside the likes of Josh Hill and Toby Bishop, he was set to follow a similar path to the one they're currently on by entering the U.S. collegiate golf system. Scholarship offers from a host top Universities had already come in and he was ready to take his pick.
We had featured Viggo on the front cover of our January 2022 edition of Worldwide Golf, such was the stir the precious teenager was causing on the local golf scene. A matter of weeks later, he was gone.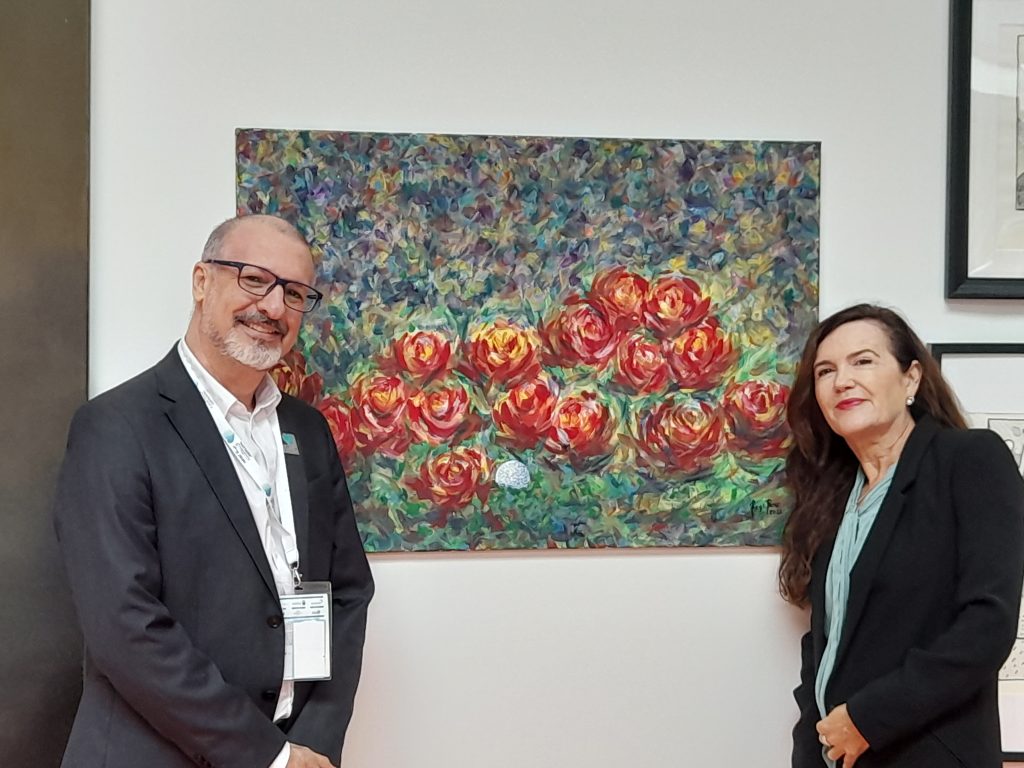 His good friend, Joshua Rhodes, said: "He was always the number one golfer in the UAE since I'd known him. His next step was to go to America, make it big, hopefully have a private jet one day so he could fly us out to watch him play golf!
"When I heard the news, it was heart-breaking. He was the first person I met when I came to Dubai and when I came to school (and found out) it was honestly one of the worst things I've ever heard."
It was a cruel, cruel premature end to such a promising life. But out of the darkness has come light as Nathalie revealed that Viggo has posthumously saved no fewer than five lives by donating his organs. But even more significant than that, his story is being used to promote and encourage organ donation in the Middle East region, where it is nowhere near as common as it is in other parts of the world.
"When we realised that Viggo would not be returning it was of course a very painful time," says Nathalie. "We met Dr Ali Al Obaidli, chairman of the UAE National Organ Donation and Transplant Committee to discuss organ donation. I'm from France and in my country it's logical and normal to donate the organs when someone dies in order to save lives. But it's quite new in the UAE. It's only been done here for 10 years and there is a need to raise more awareness about it. The UAE have the resources to be at the forefront of organ donation, on a par with America, but there is a need to get the message out there."
Nathalie was invited to the International Conference of Initiatives for Organ and Tissue Donation in Abu Dhabi which took place in November last year, where a video of Viggo's story was shown and she gave her input about what more could be done to advance the practice of organ donation in the UAE. She also collected an award for Viggo in recognition of the five lives he saved.
The conference featured an exhibit featuring works of art and literature, highlighting the history of organ donation locally and globally. One of the surgeons collaborating with EOTC, Dr Reginaldo Bono, was so touched by Viggo's story that he had painted a beautiful painting to form part of the exhibition depicting a golf ball surrounded by blooming flowers in a field.
"The golf ball represents Viggo's spectacular golf game," says Dr Reginaldo. "The arid field is the waiting list for transplants and the flowers show the lives he has saved from his organ donation."
Best mate Joshua also attended a similar conference in Italy along with Dr Ali where another award was presented in Viggo's honour and initiative was given further amplification. The Viggo Effect was starting gain momentum.
"They want to use Viggo's story to raise awareness for organ donation, particularly through anything connected to sport," says Nathalie. "For example at the Zayed Charity  Marathon in Abu Dhabi they played a film about Viggo on a constant loop throughout the whole day."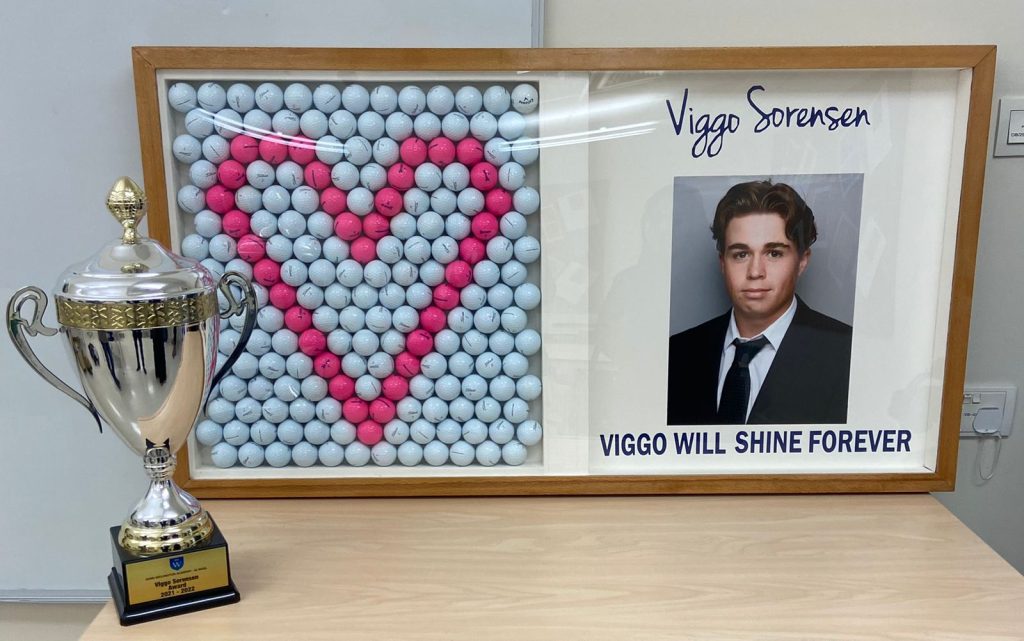 Michael Sweenie, Viggo's coach at Jumeirah Golf Estates, said: "When I think about organ donations, particularly with Viggo, it warms my heart so much because Viggo was always trying to help people."
Nathalie continues: "He was such a giving person. When he was playing golf, he'd always buy a coffee for the marshal. He was always giving his clothes or old golf equipment away to people who needed it more than him. Everybody who knew him says that once you met him, you never forgot him because he was very special. He was very respectful of everyone and wanted to help people all the time."
The staff and members at Jumeirah Golf Estates have honoured Viggo and the impact he had on them in a number of ways. The newly renovated state of the art swing studio at the Tommy Fleetwood Academy will be named after him while a tree has also been planted for him at the academy. A group of members called The Friday Club collected money to buy a stunning silver trophy from the UK which will be the new junior match play championship trophy, competed for throughout the season, and kept on display in the clubhouse. A bench with a plague in memory of Viggo is also being placed on the 17th hole of the Earth course, where he spent his most happy moments gracing the fairways with his imperious talent.
"The team at Jumeirah Golf Estates, especially Stephen Hubner (Club Manager), I will never forget," says Nathalie. "Because when it happened (Viggo's passing), we couldn't find a church for the ceremony so Stephen organised the whole thing at Jumeirah Golf Estates.
"A member who played with Viggo arranged all the flowers, we wanted to pay him for them but he wouldn't let us. There was so much generosity from everyone.
"He made such a big impact and that's why Dr Ali wants to use the Viggo Effect to save more lives by promoting organ donation.
"My message for all the people going through this kind of tragedy is it's a gift to give life and we are at peace because Viggo for us was a champion until the end. He saved five lives. And for us to give this gift – five lives has made so many family members happy. How many people are waiting in hospital and they will not have this chance because there are not enough organs?
"I think Viggo is watching us and he will be very happy. He can be proud of us because we're trying every day to stand up and make a difference."
A champion on the golf course, a champion in life, and now a champion of organ donation throughout the Middle East and around the world. That's the Viggo Effect.