Trump International Golf Club, Dubai is the ideal venue to accommodate your golfing needs this summer with state-of-the-art facilities which will help improve your game and have more fun on the golf course.
The golf club is following all of the Emirates Golf Federation's guidelines and is maintaining social distancing so you can enjoy the game in a safe environment.
The club has two fantastic academy packages on offer you can take advantage of.
There is a Summer Gold Academy Package or a Summer Platinum Academy Package where you will have unlimited access to their training facilities and the Par-3 course, with a variable number of lessons given by their PGA professionals.
The Head Teaching Professional, Sven Nielsen, explains what is on offer at the Trump Golf Dubai Performance Academy that helps achieve your golf training goals.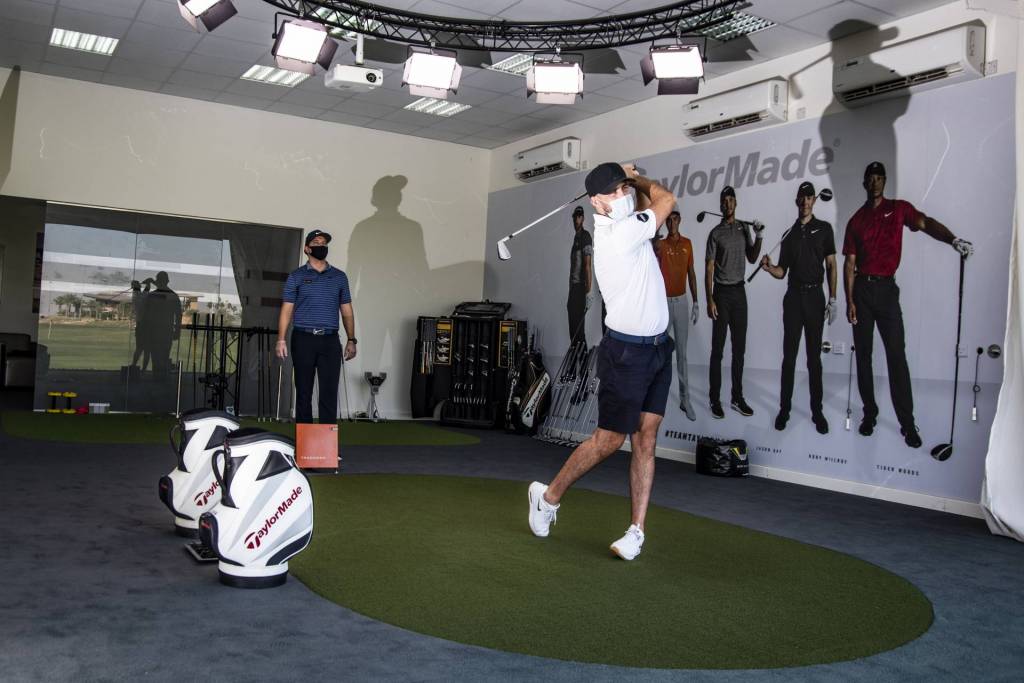 Indoor Swing Studio
"For the lessons available in the Summer Packages, we can conduct them in the air-conditioned indoor swing studio, which has great functionality with outdoor access. We are able to control the temperature inside, which is great for the sizzling summers in Dubai. You can combine both the Trackman and video footage to see what areas you should try and improve in."
TrackMan Driving Range 
"The TrackMan Driving Range allows people to practice better with the 8 essential data points provided through the app and make the most of their time. You can see quicker results through this as part of the introduction process, which is brilliant for all levels of golfers, especially those that often find the driving range quite tedious.
"This feature is unique to the Trump, Dubai and is included in all of the packages we offer this summer. It is a fantastic way to learn and improve your practice and we are the first club in Dubai to incorporate this technology."
Gil Hanse designed 9-hole Par-3 Course
"Having the Gil Hanse designed Par-3 course as part of the packages this year is brilliant because it's floodlit and suits every standard of golfer. The holes range from 100-200 yards in length, is undulating and more challenging than usual Par-3 courses in the region.
"I love the Par-3 course and take a lot of my clients out there to test their approach play and short game skills. It's a fantastic 9-hole course."
Golf under the lights is back in operation on the Par 3 Academy Course. To book the best available rate please click the link below.https://t.co/DWElzyrHJh#trumpgolfdubai #nightgolf #par3 #floodlitgolf pic.twitter.com/6UwTp5E53S

— Trump Dubai (@TrumpGolfDubai) May 12, 2020
"If anybody is looking to improve their game over the summer, join us at Trump International Golf Club, Dubai and we will help you get better with state-of-the-art data analytics technologies that help you achieve your golfing goals."
---
Trump Golf Dubai packages:
Summer Gold Academy Package 
Price: AED 1,250
June 1 – Sept 30
Five lessons (30 minutes)
One (1) month unlimited access to the PAR 3 course and practice facilities
Preferred discount of 10% on retail items at the Golf Pro Shop
Summer Platinum Academy Package
Price: AED 2,995
June 1 – Sept 30
Eight lessons (30 minutes)
Four months unlimited access to the PAR 3 course and practice facilities
Special 18-hole Championship Course rates of AED 300 weekdays and AED 350 weekends
Preferred discount of 10% on retail items at the Golf Pro Shop
---
Find out all about the summer offers and prices here: