Tiger Woods, four time winner at Augusta National, heads to The Masters with 10 consecutive rounds of even par or better under his belt. He finished fifth most recently at Bay Hill and runner-up at the Valspar Championship and has so far exceeded all expectations as he returns to compete regularly for the first time in well over a year. He's 42 years old and has had back surgery four times. That he still has the talent and strength of mind to be a contender is testament to his status as one of the game's greatest-ever players. He faded a little at Bay Hill as two successive weekends in contention took its toll, mentally, on Woods. He hadn't been in that situation for a few years and he made a costly error after failing to commit to using his driver from the 16th tee. He'll be rested and refreshed come The Masters and knows how to win there better than anyone else in the field. So look out!
---
TIGER'S YEAR SO FAR
2018 TOUR STATS (RANK)
2018 STROKES GAINED (RANK)
2018 Results:
Clubhead Speed: 121.90 (3rd)
Driving Distance: 304.2 yards (36)
Driving Accuracy: 51.61% (192)
Greens in Regulation: 61.4 (174)
Putts Per Round: 27.78 (4)
Scoring Average: 69.47 (5)
Sand Saves: 45.9 (142)
Tee to Green: 1.082 (27)
Off the Tee: -.174 (148)
Approach: .727 (14)
Around the Green: .528 (7)
Putting: .739 (14)
Total: 1.820 (7)
Farmers Insurance Open: T23
Genesis Open: CUT
Honda Classic: 12
Valspar Championship: T2
Arnold Palmer Invitational: T5
The Masters: ?
AT THE VALSPAR HE RANKED 5TH IN STROKES GAINED
AROUND THE GREEN AND IS 7TH OVERALL FOR THE SEASON. MAINTAING THIS LEVEL AT AUGUSTA WILL BE TOUGH AS HE IS SURE TO MISS HIS FAIR SHARE OF GREENS.
---
TIGER'S LONG WAY BACK IN HIS OWN WORDS
"Where is the light at the end of the tunnel? I don't know." – December 2015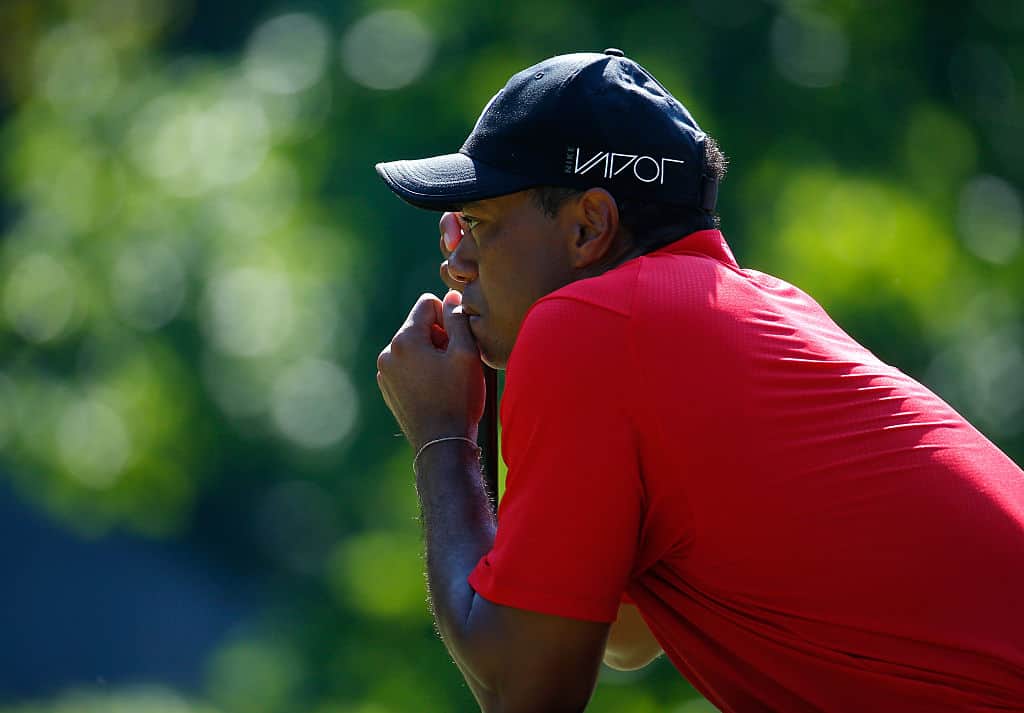 ---
"If you couldn't get out of bed, how would you feel about your future about doing a lot of different things in life – that's where I was." – November 2016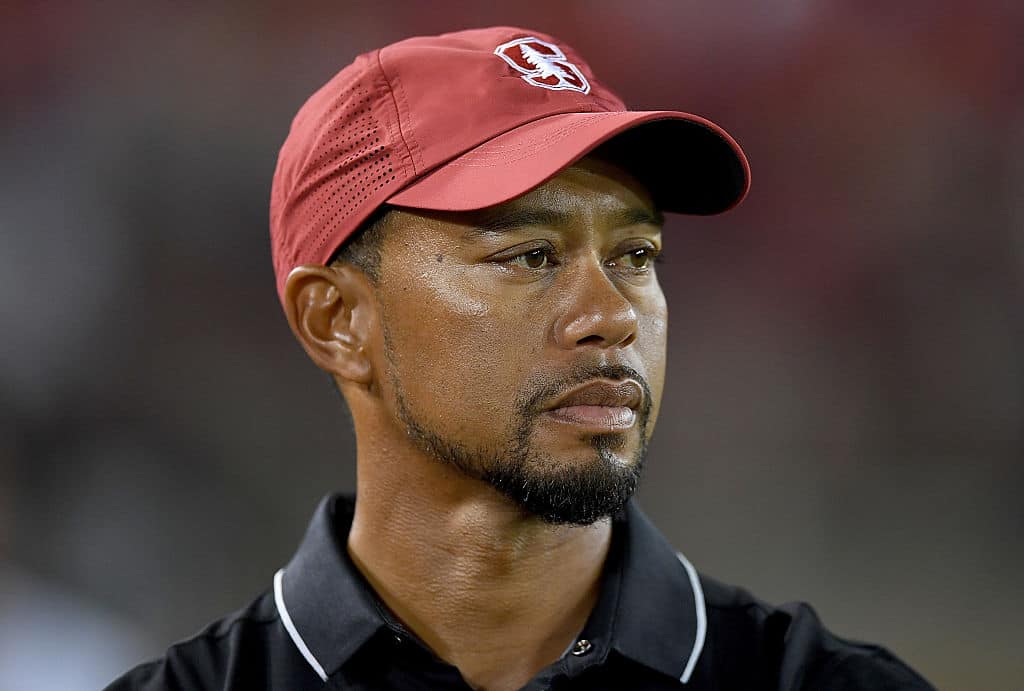 ---
"I'm not doing anything golf related…I don't know what the future holds for me." – September 2017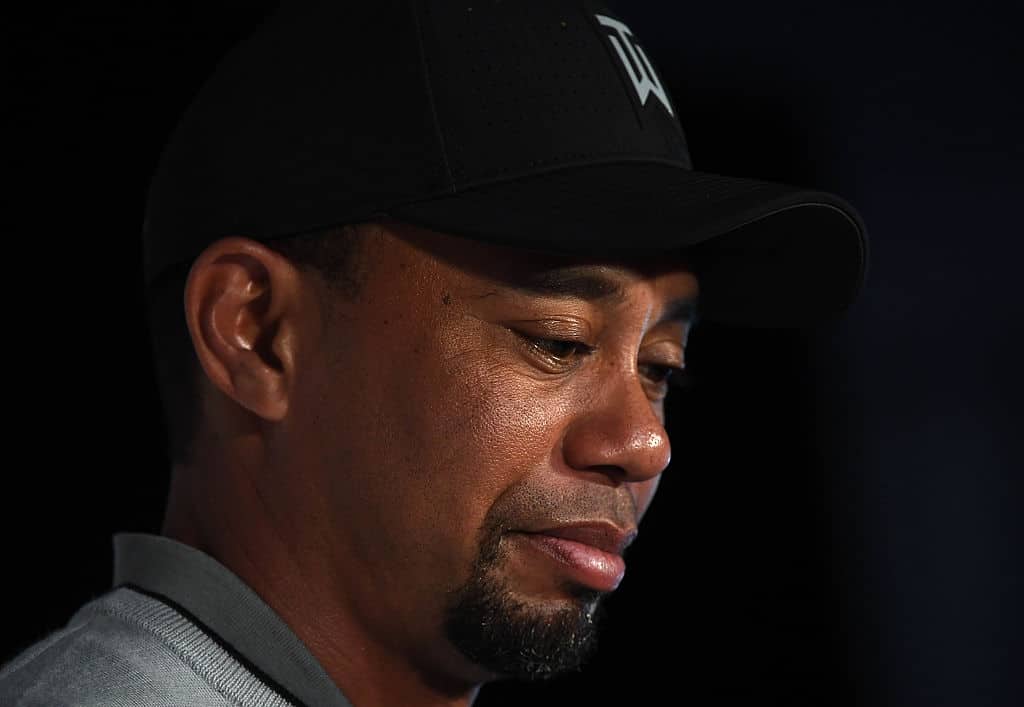 ---
MAGIC MOMENTS
RECORD BREAKING VICTORY
In 1997 Woods set a tournament record low score of 18-under-par. He recovered from an outward 40 on day one (reaching the 10th tee at 4-over-par) with a 30 on the back nine for an opening 70. He then blitzed the field with a 66 to head into the weekend three clear of Colin Montgomerie. A 65 followed to open up a staggering nine-shot lead and he closed out with a 3-under-par-69 to win by 12 ahead of a beleaguered field.
---
THE CHIP
Not quite the crowning moment of his fourth Masters title in 2005, but definitely the most iconic, Woods conjured up arguably the most talked about shot in recent golfing folklore from off the 16th green in his final-day duel with Chris DiMarco. Using the contours of the green to perfection, he picked his target, made a solid contact and gravity did the rest. Woods went on to defeat DiMarco with a birdie on the first hole of a sudden death play-off.
---
MASTERS TIMELINE

1997
Tigers Woods wears his green jacket and holds his trophy after winning the Masters for the first time

2001
 Tiger receives his Masters Green Jacket from champion Vijay Singh after winning the 2001 Masters 

2002
Tiger is presented with his Green Jacket by Chairman of Augusta National Hootie Johnson after winning the Masters 

2005
Tiger gets the Green Jacket from Phil Mickelson after winning the 2005 Masters.

Did you know: 
In each of his four
Masters victories he made 19 birdies or more during the week