If you find yourself endlessly scrolling through social media, you may have noticed two Dubai-based golf content creators crop up on your feed in the form of Emma Lacey and Jade Stones, also known as Tee_off_at_10 on Instagram. The duo, who are both British but were born in the Middle East, started their channel in 2020 to document their highs and lows of the golfing journey whilst encouraging more females to try the sport.
They Initially had reservations about learning to play the game from scratch at the age of 30, especially as the pair had the perception the game was mostly for 'highly skilled, impeccably kitted out, older men'. But that didn't deter them and they picked up the clubs for the first time, both starting together at the same level – absolute beginners.
Two years on from starting the channel, their page now boasts over 2.6K followers while their golf game has come on leaps and bounds, thanks to coaching and numerous trips to the driving range each week. We caught up with the duo to find out more about their channel, what they make of the opportunities for women in golf and why they enjoy showing the fashionable side of the game.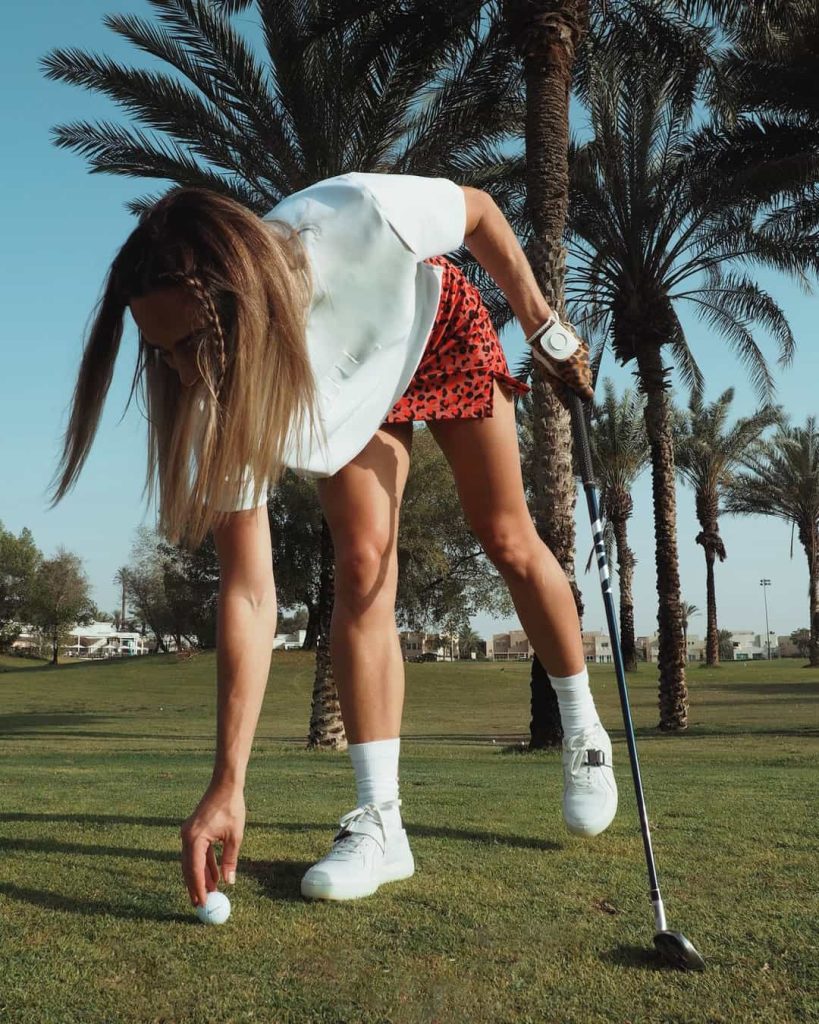 Worldwide Golf: Tell us about your background?
Jade: I was born in the Middle East and have grown up and lived in Dubai for 31 years. Emma and I both went to Dubai College together and coincidently ended up attending the same university in Manchester to study Graphic Design. I am now working as a freelance Graphic Designer.
Emma: I was born in Oman and moved around a lot with my family when I was young, spending time in the Philippines, England and Ireland. I moved back to the Middle East, settling in Dubai in 2001.  I spent four years in the UK at university in Manchester and have been back in Dubai working as a Graphic Designer since 2012.
WWG: When did you both get started in golf and how did that come about?
Jade: I've always grown up watching golf with my dad and attending golf events in Dubai, but never felt the urge to try it myself. That was until I moved to a house overlooking the Montgomerie driving range. Watching the golfers practice every day on the range really fueled my interest and curiosity. At the age of 30 and with Emma by my side, we decided to join the ladies group lessons at the Montgomerie Academy.
Emma: My dad tried to get me into golf as a kid, I even had a mini club, but I wasn't interested! A couple of years ago, he bought me some second-hand clubs from a charity shop. They were gathering dust for a few months until Jade persuaded me to join her for lessons at the Montgomerie Academy. It didn't take much arm twisting as I'm always up for a challenge.
WWG: How much progress have you seen in your game since you first picked up a club?
Jade: Our swings have progressed so much since our first lesson, it's like night and day! Having continuous lessons with Scott Graham as our coach has been extremely motivating and beneficial to our game, as we are constantly making small adjustments to our swings in order to improve on the course.
Emma: It's mind blowing to watch footage of ourselves when we first picked up a club versus now, you can really see a huge difference! We've never been worried about progressing rapidly, we've taken our time to really get comfortable with our clubs.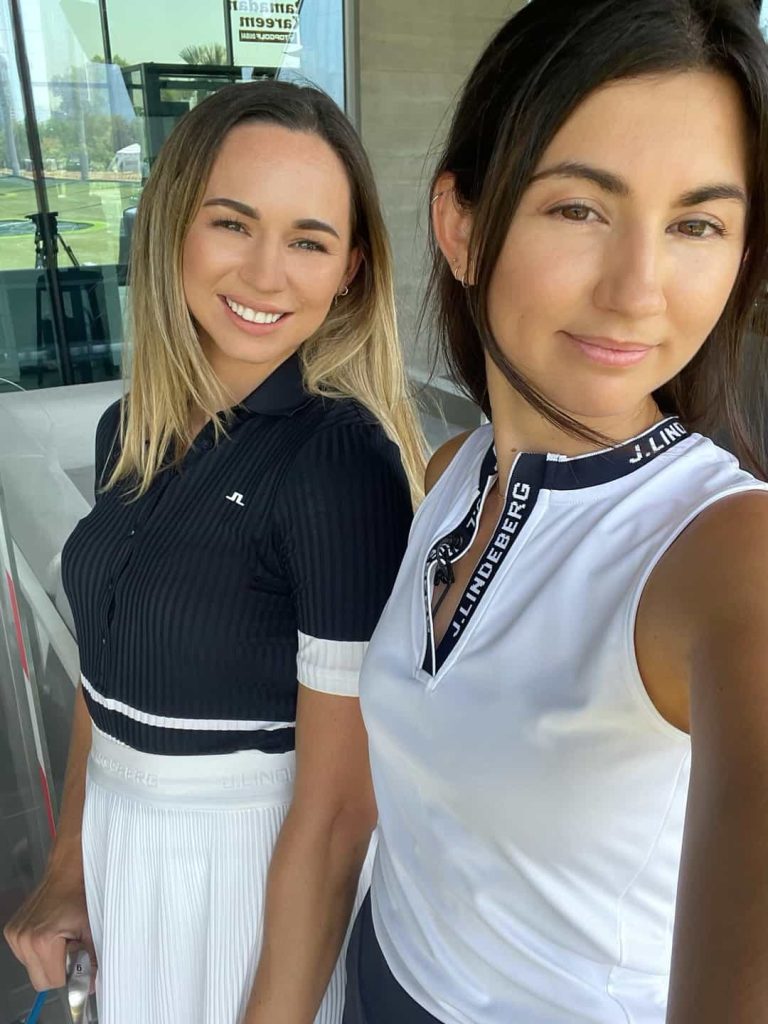 WWG: Why did you decide to make your Instagram channel?
Jade: We wanted an outlet to share the highs and lows of our golfing journey, whilst also wanting to encourage more females to try out the sport, by showing the fun and fashionable side of the game.
Emma: We were keen to connect with other female golfers and discover golfing communities and brands outside of our small bubble in Dubai.
WWG: Have you had any feedback from your followers since starting your channel?
Jade: We receive lovely messages from fellow golfers who are always really encouraging and supportive. Thankfully we have only had the odd troll giving us unsolicited advice on our swings!
Emma: We've been very pleasantly surprised at the overwhelming support for women's golf, especially from this region!
WWG: How important do you think it is to have female golf content creators in what is typically a male-dominated area?
Both: It's really important to have more of a female presence online in a male dominated game. Having female content creators that aren't professional golfers, makes the game more accessible and inclusive to other women. Their social media posts throw out the old stereotypes of the elitist sport and show a friendlier and less daunting side of the game. We definitely would have picked up a club earlier if we had seen more female golfers online, showing us that anyone can play the game regardless of gender or age.
WWG: Women's golf really seems to be in the spotlight over the last few years with enhanced coverage on TV, bigger prize purses etc. What are your thoughts on the current state of the women's game?
Both: It's exciting to see women's golf getting the recognition it deserves and the incredible growth in female participation that's happening around the world. We were both lucky enough to work at a new Ladies European Tour event last year and to see the amount of talent on the course was so inspiring. This upward momentum women's golf is on needs to keep growing as this will continue to inspire the next generation of female golfers to join the game.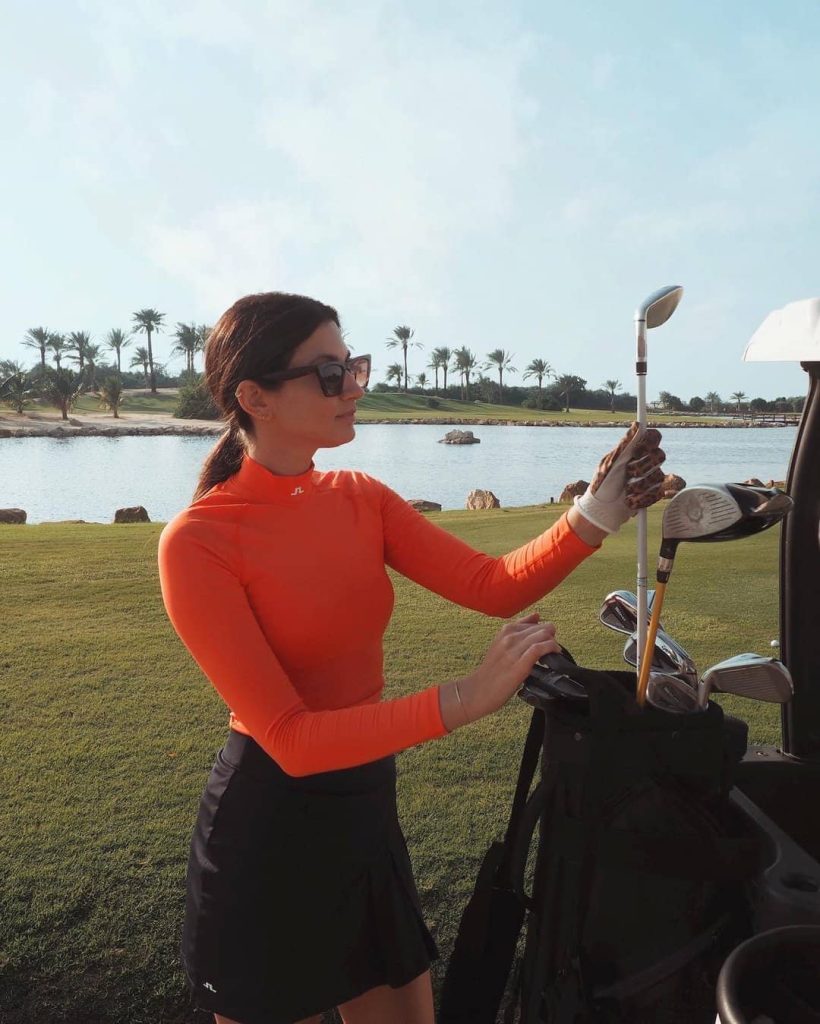 WWG: Flicking through your Instagram you both seem to be very interested in the fashion side of the game, wearing premium brands such as J.Linderberg. How much do you enjoy that side of the game in the sense of wearing the latest trends out on the course?
Jade: Fashion is definitely a big part of our game, we love to feel and look good when we play, even when our scorecard says otherwise! When we first started lessons, we really struggled to find female golf clothes that appealed to us. Through social media we have discovered so many cool and youthful golf brands that like to break away from the traditional norms of golf fashion.
Emma: We've always been interested in style in our day to day lives, so naturally this filtered through to our golf attire. Like our swings, our golf style has really evolved since we started playing. We've been able to try a lot of different brands and have a new love for styles that are functional as well as fashionable – e.g. J.Linderberg bucket hats have tee holders and their skirts and dresses always have discreet pockets, perfect for extra balls and tees.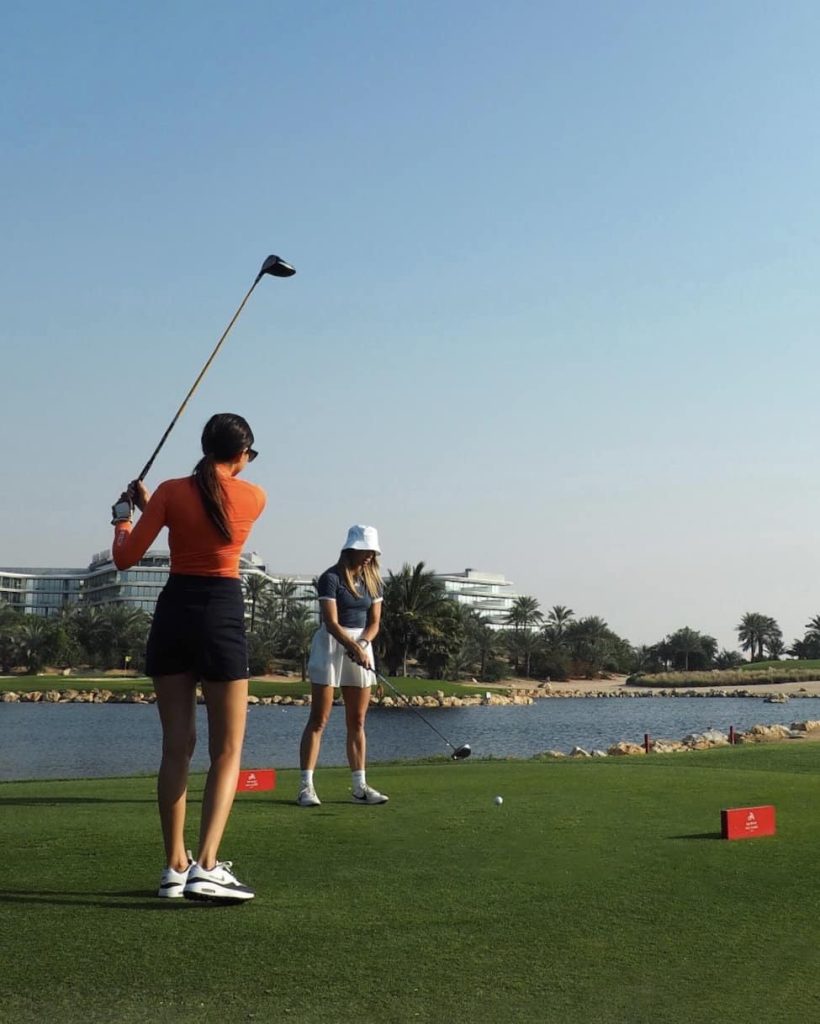 WWG: How often do you get down to the course a week?
Jade: We try to get down to the Montgomerie driving range and par 3 a few times a week. We aren't members of any clubs, however with our lessons at the Montgomerie Academy we get daily access to the range and par 3. One of my favourite courses in the UAE is JA The Resort, as I love the laid back feel of the club.
Emma: We also like to take advantage of the free range access for ladies days at The Els Club. You can find us at Arabian Ranches for a social round and at the Creek when we're feeling nostalgic!
WWG: Who is your favourite golfer and why?
Jade: Nelly Korda. She has talent, style and a real winner's attitude. Her swing is just impeccable and something I try and fail to emulate!
Emma: I've always been aware of Michelle Wie because we have the exact same birthday!
She's been a huge presence in women's golf for so long, staying classy and cool throughout all the ups and downs of her career.
Quickfire
Last time you lost a ball?
J: Last round
E: In someone's garden at Arabian Ranches
Most cherished item in the bag?
J: Pitching Wedge
E: Taylor Made Sim2 Max Driver
Miss a putt or miss a fairway?
J: Miss a fairway
J: Miss a putt
Last film you watched at home?
J: Hustle
E: Call Me by Your Name
What one word best describes you?
J: Creative
E: Competitive