TOGETHERNESS was a key ingredient in the overwhelming 17.5-10.5 victory of the European Team over the United States at Le Golf National  in Paris, and now Europe's heroes will be together again on the Earth course at Jumeirah Golf Estates this month. The season-ending DP World Tour Championship has always boasted the strongest field of the season with the top 60 players on the European Tour vying for honours. This 10th edition of the DP World Tour Championship has a special significance coming only six weeks after The 42nd Ryder Cup.
Many experts put the case that on paper the experienced and in-form USA Team were well placed to hold on to the Cup with ease and that the Europeans, fielding five rookies, would struggle. But that was far from reality as the Europeans bonded superbly in their 'underdog' role to cruise to a stunning victory. We take a look at the players' performances and assess their form and historic achievements heading into the DP World Tour Championship.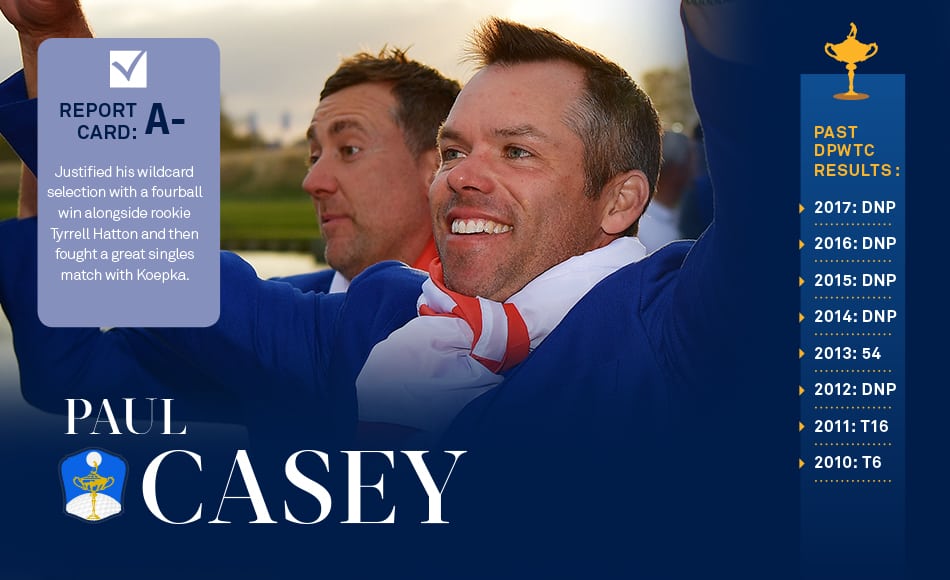 PAUL  CASEY
Having made a successful Ryder Cup return after a ten year absence courtesy of a Captain's Pick from Thomas Bjørn, Paul Casey also returns to the DP World Tour Championship for the first time since 2013, looking to end the season on a high.
Season so far:
Has been steady on the European Tour this year, finishes outside the top 20 on only three occasions. His highlight came on the PGA Tour when he held off a charging Tiger Woods and Patrick Reed to win the Valspar Championship in Florida.
Highlight moment : 
Carving out a gutsy half point against Brooks Koepka in the second singles match on Sunday. Casey was 1 down from the 13th but won the difficult 17th hole with a birdie before they halved the final hole.
On getting back in the Ryder Cup Team room:
"It's amazing and satisfying. I made the decision to re-join the European Tour two years ago, so to become a member of Thomas Bjørn's side is very satisfying. I think I had more of an appreciation of being a member of a Ryder Cup Team this time. I took mental notes and really paid attention to just how special it is."
On his emotions getting  the better of him:
"Yeah, there was a tear. I was emotional earlier and I've always been a bit that way. I cry at the movies, as well. Usually when I'm sitting there watching with my kids, usually a cartoon or a Disney film, and any good character gets killed or gets squashed, it kills me. I mean, I do remember being on a plane once – and it's a classic situation – I'm there watching the Ayrton Senna documentary,  both my wife and I watching it but we're in separate seats across the aisle from each other, and we've both got a tear in our eye, and the stewardess thought, obviously, clearly: 'Oh, they must have had a massive row'. But in all seriousness, looking at it objectively, I'm 41 right now and in all likelihood this could well be my last European-based Ryder Cup. I'd love to be in Italy in four years time, but we'll have to see."
On the DPWTC 
"It's the kind of golf course that can be right there for the taking if you get the right side of the pins. That leaves you with easier putts, and the greens are so good, especially with the short field of 60 players – they don't see that much action – there's no reason why you can't hole putts."
---

FRANCESCO  MOLINARI
Francesco Molinari re-wrote the history books in becoming the first ever European to go 5-0-0 in a Ryder Cup and the first player since Larry Nelson in 1979. Molinari partnered Tommy Fleetwood to four victories in the fourballs and foursomes and then downed Phil Mickelson in the Singles to get Europe to the magical victorious tally of 14.5 points. The Italian has held a healthy lead in the Race to Dubai since winning The Open Championship in July and also winning the BMW PGA Championship at Wentworth Club in May.
Season so far:
Twice a winner on the European Tour at two of the biggest events and a victory on the PGA Tour. Has a great chance of winning the Race to Dubai to crown a magnificent season.
Highlight moment :
Carving out a gutsy half point against Brooks Koepka in the second singles match on Sunday. Casey was 1 down from the 13th but won the difficult 17th hole with a birdie before they halved the final hole.
Does winning five from five and winning The Ryder Cup mean more than a Major?
So much more than the Majors, more than anything. It's hard not to get emotional when you think about the other players, the Vice Captains and Captain, all the wives and everybody involved.  It was an incredible week."
On 2018
"I can't really describe it. I couldn't even dream of a year like this. To think, before I won at Wentworth, things were going okay, but not great, and then everything just started to click. After winning The Open at Carnoustie there was a bit of a lull, but the main thing in my mind was always The Ryder Cup and I'm glad I showed up well prepared and did the job."
On finally winning some Ryder Cup points:
"I honestly don't feel any difference, bringing home five points or one point – or half a point like I did in Wales (2010) or in Medinah (2012) – It doesn't mean anything if you don't win the Cup. They had probably the strongest team ever and we were just so good, it was unreal. I just tried to do things well and be professional. In the singles match it was hard to find the energy but I stepped it up when I had to."
 

On Dubai
"I enjoy coming back to the DP World Tour Championship every year. It's a course that I like. Obviously, I have some good memories from playing well here and that matters when you're out there on the course. It's a great tournament."
---

SERGIO 
GARCIA
Eyebrows were raised when Thomas Bjørn announced Sergio Garcia as one of his wildcards because the Spaniard hadn't been at his best this season. However, inspired by donning the Team Europe uniform, Garcia once again delivered and with three wins he became the highest-ever points scorer for Europe in the biennial match-up with 25.5.
Season so far:
Garcia missed the cut in all four Majors but did post top tens at the WGC-Mexico Championship and the HNA Open de France. A share of seventh place at the Portugal Masters, the week before The Ryder Cup, saw him play nicely before producing stellar golf in Paris.
On another victorious Ryder Cup outing:
"To be a part of the European Ryder Cup Team is something that you can't really describe. There's not enough money to buy this kind of experience. The feelings we have with each other and how we connect with each other – there's nothing like it. There is no other week where you open your heart to guys who you play against week in week out. That's what we all do at The Ryder Cup. We fight as hard as we can for each other and because of that we've been able to be very successful."
On becoming the all-time leading European points scorer:
"I don't usually cry but I couldn't help it. It's been a rough year, but we fought hard and I'm so happy to get the Cup back. I needed to play with the energy that The Ryder Cup deserved, and I'm so happy that I was able to play as well as I did. To become Europe's highest-ever points scorer means a lot to me, I have passed some of my heroes – and Sir Nick Faldo."
On his Ryder Cup career:
"It's a very special and unique event that I love being a part of.  One of the things I like the most about it is the great friendships you make. You get to know your team-mates a lot more than you did in the past and because of that you make firmer friendships. To be able to be a part of the history that Spain has brought to The Ryder Cup is amazing and to follow Seve Ballesteros and José María Olazábal –two of my heroes – is a tremendous honour."
On the DP World Tour Championship
"I've had some good weeks at the DP World Tour Championship but there have been times when I probably haven't performed as well as I should have. The course always looks good  and the greens are superb and always roll nicely."
---

RORY MCILROY
Having only finished outside the top ten on one occasion in the DP World Tour Championship and with two wins, Rory McIlroy is hoping the familiar sights and sounds at Jumeirah Golf Estates can turn a good year into a great one, as he looks to win his first European Tour title in two years. McIlroy was in the thick of the action in The Ryder Cup, playing all five sessions as Europe regained the trophy with a stunning victory over the United States.
Season so far:
Three runner-up finishes at the Omega Dubai Desert Classic, the BMW PGA Championship and The Open represent a good return, but wins are expected of the four-time Major champion.
On losing his singles but Europe winning back the trophy:
"There's no mixed emotions – me losing my match to Justin Thomas doesn't mean diddlysquat because we won overall. I would have loved to have won my match – that's obvious – but the one thing I'm really happy with, is that all 12 players contributed a point. That validates a lot of the things that we did, and also validates the Captain's Picks Thomas made."
On trying to successfully retain the Cup in 2020:
"We know that it will be tough in two years at Whistling Straits. Playing on the road has its challenges and we knew that playing at Le Golf National would set up pretty well for us and it worked out that way. I think Thomas helped set it up very tough to neutralise some of the bombers on the US side. You have to do what you have to do to give yourself any slight advantages and it paid off for us."
On why Europe are so successful in The Ryder Cup:
"The Ryder Cup means so much for us. We went through a horrid spell in the 70s and early 80s, and a couple of times in very early 90s when we didn't win a whole lot, and that is still pretty recent and fresh in the memory – especially for the fans as well as the players. So when we started winning we wanted more of it, and to keep doing it. We know how much The Ryder Cup means to the sport itself and to be a part of teams – and winning teams – is a dream come true."
On Dubai
"It's always great to be back. I have great memories from this place. I feel like I've had a good season – it's not always about the results, it's about the journey, and it's about trying to keep improving and getting better. If you look at my results this year compared to last year, it's a step in the right direction."
---

IAN POULTER
The Postman delivered for Team Europe – yet again. Ian Poulter won two of his four matches in Paris and later donned a red post-box outfit to remind everyone that his Ryder Cup nickname is well and truly justified. Poulter's turnaround from almost losing his PGA Tour card in 2017 to winning again at this year's Houston Open and coming to the fore when it mattered most as a wildcard is yet another chapter in the colourful Englishman's career.
Season so far:
Has been back to his eye-bulging best with victory in a play-off against Beau Hossler in Houston, thanks to two clutch putts, which secured him a spot in the following week's Masters.
Highlight moment :
Ranked 34th in the world, Poulter needed all his grit and determination to win his singles match against the top ranked USA player, Dustin Johnson – and he did just that. The Postman secured a 2-up victory on the 18th green after winning three holes in succession from the 13th.
On the atmosphere in Paris – both on and off the course:
"I think the fans were amazing and this was a special team. They're a young bunch of kids and I was fortunate to get a pick as an old man to come and play – and you know what, I helped out a little bit and these boys were incredible."
On bringing the trophy back:
"To keep the run of home wins going, having not lost at home since 1993, is amazing. We're a strong force in Europe. We knew we were the underdogs but that made us even more determined to win. On paper that was an incredible United States team, strong, gutsy, and they were always going to be tough to beat. But the resilience we showed from going 3-1 down on Friday morning, to coming back to win the afternoon session 4-0, and then win the first couple of matches on Saturday morning as well – that run of blue points definitely helped us."
On Bjørn as a team leader:
"Thomas allowed us to be very relaxed and chilled in the team room. He understands every player on a personal level and professionally as well. So to be able to have that calm atmosphere in the team room – I think it showed through at the end of the week."
On the Earth Course
"It's always nice to end the season in Dubai, I love the golf course and I've played it really well in the past. I think it lays out nicely and there are plenty of opportunities to make birdies if you're in good form with the putter."
---

JON RAHM
The defending DP World Tour Champion delivered a body-blow to the United States' chances of a comeback by overcoming Tiger Woods in the fourth match of the singles at Le Golf National. Sure to be a mainstay of the European Team for years to come, Rahm tees it up at Jumeirah Golf Estates full of confidence, looking to end the campaign on a high once again.
Season so far:
Posted his first top ten in the Majors at The Masters Tournament and the US PGA Championship and won on home soil at the Open de España. Also finished in the top five at the HNA Open de France and the Dubai Duty Free Irish Open and is set for another top ten finish in the Race to Dubai.
Highlight moment  :
Exploded with delight after defeating Tiger Woods on the 17th green. He was two up through eight but got pegged back to all square on the 12th. However, he quickly won holes 13 and 14 and closed it out with a memorable birdie after crushing his best drive of the week down the narrow 17th fairway.
On his Ryder Cup debut:
"I wasn't playing my best golf and it was hard to get things going and I lost both my matches on day one and day two. So there was a lot to figure out and a lot of mental work to do – speaking to my team-mates and to my mental coach because it took a lot for me to get ready for my singles match and to show what Jon Rahm's golf is all about."
On his Sunday showdown with Tiger:
"I needed to make sure my emotions were in check and I think I was fairly balanced all day apart from that last putt. I never got mad, always stayed patient even when I lost two holes on the back nine to go back to all square. To beat Tiger Woods – I mean I grew up watching him. The week before I watched him win his 80th PGA Tour event. To play the golf that I did and to clinch it the way I did, I'm very proud of myself."
On the Earth Course
"With the sight-lines of this golf course, I never understood how players shoot so low every single time! I do feel like it has Augusta-like greens, but it's kind of a little different. The fact is that they are big greens but they have small areas, so if you hit the shot to the correct area you will have a pretty makeable putt. But if you hit the wrong place on the green, you're going to have a hard time making a two-putt. So I it's a great golf course. It really suits me, especially off the tee, because I can free-wheel it a little bit."
---

HENRIK STENSON
Two-time DP World Tour Championship winner Henrik Stenson was as solid as a rock in Paris, winning both foursomes matches alongside Justin Rose and closing out a straightforward win against Bubba Watson, 5&4 in the singles, to help Europe romp to victory. The former Dubai resident was beset by injury in the weeks leading up to The Ryder Cup but he's all set for another tilt at the silverware this month in Dubai on a course he knows and loves.
Season so far:
Posted top tens in The Masters Tournament and the US Open but a troublesome elbow has affected the latter-half of his year.
On gaining revenge from Hazeltine and winning the cup back:
"We always knew our team had the potential – in Paris and on a familiar course – and we really wanted to win the Cup back. I was there to lose it two years ago, so that little bit of extra revenge makes it feel even sweeter. We had such a good week together and I feel really honoured to play with such a great group of guys. They have done amazingly well. We had so much fun and to celebrate in front of the home crowds – that was a very special feeling."
On the strength in depth of both sides:
"It makes it even more special that we beat such a talented United States side. The strength and depth on our side was as good as it has ever been and we had a lot of players who have been having amazing seasons. But you never know what's going to happen in this game."
On Bjørn's leadership:
"I knew he was going to do a good job. He's been a hard worker for a long, long time. When you are a little bit older and you get a little bit more of an insight into what's going on, you realise how many endless hours he and the whole Ryder Cup Team Europe put into it and everyone who has helped out. Anything from nutrition to whatever it might be –  it's been great, and he made a lot of good tactical decisions as well."
On Dubai and his future:
"I've had a lot of success on the Earth course and I know I can play well around here. Golf is a game where you're never finished – you can always keep improving and I'm no different. Given the competition that comes up every year and that it gets harder every time, you've always got to keep on trying to become a better player and keep on moving forward. Otherwise, you're going to get run over and run past."
---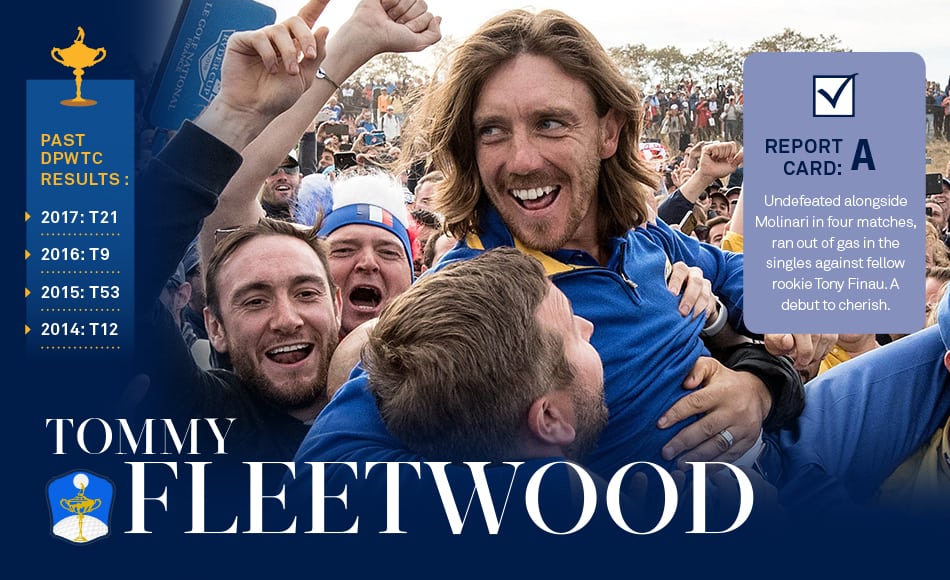 TOMMY  
FLEETWOOD
It's been another year to remember for Tommy Fleetwood. Yet to turn 30, the likeable Englishman is one of the most recognisable figures in the sport, thanks to his flawless game and flowing locks of hair. A consistent figure on leaderboards across the European and PGA Tours, Fleetwood was one of the leading lights as Europe regained The Ryder Cup in Paris, forging an unbeatable partnership with Italy's Francesco Molinari.
Season so far:
Defended his title early in Abu Dhabi and shot a remarkable 63 in the final round of the US Open to finish runner-up. Recently finished second at the Alfred Dunhill Links Championship and he has a chance of retaining his Race to Dubai crown he won last year heading into the showdown at Jumeirah Golf Estates.
Highlight moment :
Demolishing Tiger Woods and Bryson DeChambeau 5&4 in the Saturday foursomes alongside Franceso Molinari to seal their fourth point together.
Reflecting on his Ryder Cup debut:
"I haven't really had a chance to watch much of it on TV.  I would love to watch it back, it'd be nice to have that re-run. The ultimate goal that week was to win The Ryder Cup. We all wanted it so badly as a team, collectively, and we all played with so much heart and desire to help each other. To get it done in style, as well, it is the best feeling you could have.  At some point, I might like to just sit down and watch it but so far I've been quietly sitting and smiling when I think back on how amazing it all was."
On 'Moliwood'
"For us, we've been close friends for a long time. Me and my wife Clare, and Fran and his wife Valentina have always been very close. We wanted to play together in The Ryder Cup and got the chance, and we happened to play very, very well."
On the final outcome
"At the end of the day, we, as a team played a lot better and did a lot more things right. It's difficult to say we wanted it more. You get a sense that maybe we played with our hearts a little bit more and wanted it more, but whether that's true or not, who knows?"
On trying to repeat and win Race to Dubai again
"Well I'm long way behind Francesco – it's kind of the opposite of last year in the sense that I led all last year, and now this season, for the final few events, I'm doing the chasing. I might get close or I might get nowhere near. I'm playing in the WGC-HSBC Champions, then Turkey and then Dubai and I'd love to get to Dubai with a chance to win. If it doesn't happen – so be it. I don't begrudge Fran winning it, with the year he's having. I think he might deserve it!"
---

ALEX NOREN
Having won the Open de France at Le Golf National in July, many predicted Alex Noren would play a big part in Europe's bid to regain the trophy from the United States. The Swede teamed with Sergio Garcia to win their Friday opening afternoon foursomes match and complete a session whitewash, which set the tone for Europe's victory.
Season so far:
It's been another excellent season as he became the second player to win two Rolex Series events, at the HNA Open de France. He finished third at the WGC-Dell Technologies Match Play and the BMW PGA Championship and is firmly in the hunt for the Race to Dubai title.
Highlight moment :
Put the icing on the cake in the final match of the week by draining a monster birdie putt on the 18th to halve the hole and win his match with Bryson DeChambeau to close out the matches and get mobbed by his teammates.
On The Ryder Cup atmosphere:
"It's hard to describe,. It's not like any other tournament. I can't really say much more about it. I mean, I almost cried after I won my first match on the opening day. You want to perform well for your team-mates, and everybody around you, and to win it was so pleasing. I love match play – the intensity and the pressure. You're only focused on the competitor, so it's a much more strategic game."
On the first tee nerves:
"It's something that I've never experienced before but it was great to play with Sergio. We had played a couple of practise rounds together and we've gotten to know each other a bit on Tour over the years. But I've never been as excited or nervous as I was prior to going out there."
On DUBAI
"I think Dubai is a great place to end the season and the tournament has really grown and become one of the most enjoyable weeks on Tour. It's been a good season with the win in France and qualifying for The Ryder Cup, now I want to end the year strongly, enjoy a good off-season and then come out ready to go again in 2019. The Earth course is one you can attack if you put the ball in the right spots off the tee – the greens are receptive and if your iron game is strong and you hit it close, then you can make plenty of birdies. It would be great to be up in contention on Sunday!"
---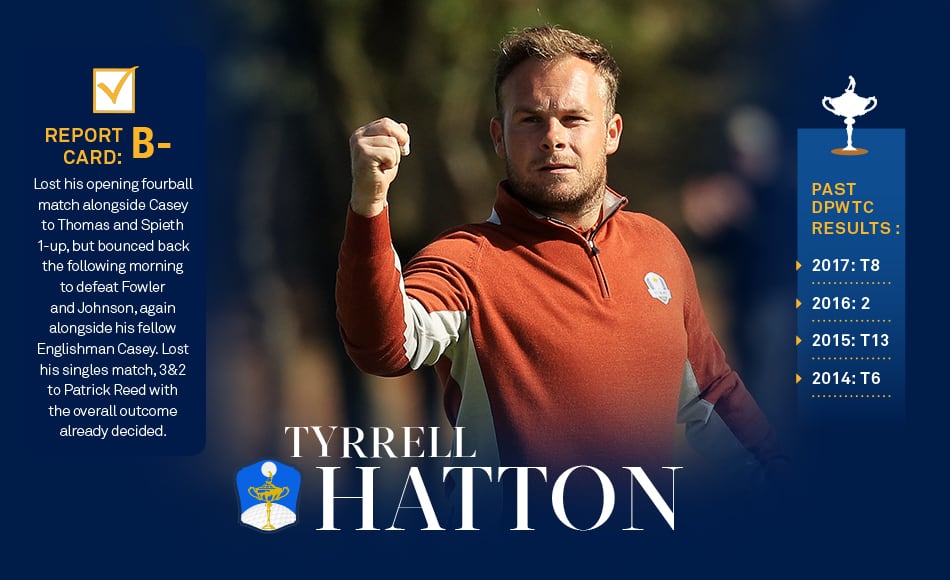 TYRRELL HATTON
Buoyed by a winning Ryder Cup debut, England's Tyrrell Hatton is set for another high finish in the Race to Dubai and he's looking to put an exclamation point on another memorable season at Jumeirah Golf Estates.
Season so far:
Has been in impressive form with three top-five finishes and top tens at the US Open and US PGA Championship. On course for his third consecutive top ten finish in the Race to Dubai.
Highlight moment :
Reeling off three birdies in the Saturday fourball alongside Paul Casey to down Johnson and Fowler.
On The Ryder Cup:
"It was obviously a very special week and created memories that will last a lifetime. From the start of the week we knew it was going to be very special – there was fantastic team chemistry between us all right from the off. Thankfully, we managed to get the job done."
On the motivational video shown to the team before play:
"I think everyone had a bit of a lump in their throat. For some of the guys it certainly hit home. It was hard not to well-up a bit. After watching it, for me personally, I just couldn't wait to get out there and just give it my all. That's all you can do. There was a quote in there, that said: 'Wear them down with excellence,' which is a good quote."
On trying to make it a habit:
"I'll certainly try my best to be on the Team in two years' time. The guys in the backroom said to me that once you play in one Ryder Cup, you'll never want to miss the Team again, and I'll certainly be no different from that. I loved it. Being part of the team is very special. I certainly want to be at Whistling Straits in two years, but I can only try my best each week. You never know what's around the corner with golf. That's all you can do, try your best and see what happens."
On the DP World Tour Championship
"The greens are always perfect at Jumeirah Golf Estates. That's something I think all the players look forward to. It's a good test of golf and it's always interesting to see who is going to win The Race to Dubai."
---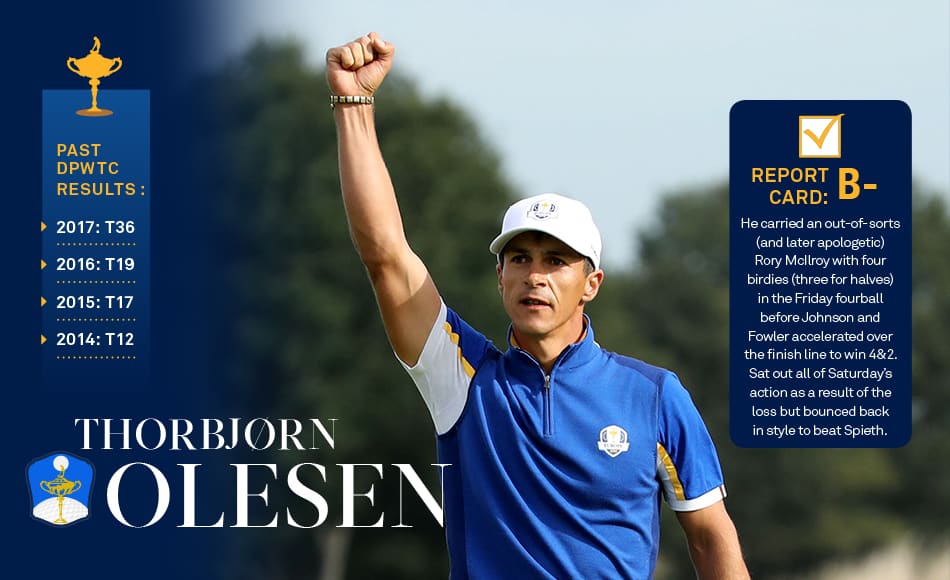 THORBJØRN OLESEN
One of five Rookies in the Team, Thorbjørn Olesen was the last man to qualify for Thomas Bjørn's European side and his reward was to partner Rory McIlroy in the opening fourball session. Having played his part in a successful Ryder Cup Team he's keen to make it a habit and he's hopeful of a strong finish in Dubai to what has been a memorable season.
Season so far:
Won the biggest title of his career so far at the Italian Open, a Rolex Series event, and posted a third place finish at the WGC-Bridgestone Invitational. Should finish in the top ten in the Race to Dubai for the first time with a strong climax to the season.
Highlight moment:
Dominated Spieth 5&4 in the singles. Dropped just one shot and made five birdies to win on the 14th green.
On Captain Bjørn:
"Ever since I got on the European Tour, Thomas Bjørn took me under his wing and was something of a mentor for me. Since then we've been really close friends. We've done a lot of different stuff together, and we've just spent a lot of time off the golf course, not about golf, but just being really good friends. So, obviously, two years ago, when it was announced that he would be Captain, and the event would be in Paris, it was definitely a big goal for me to try to achieve my part in this team."
On defeating Spieth in the singles:
"Winning my singles match was massive for me. I really wanted to win – to go out there and get a point for Europe. I played great on the front nine and holed some really, really good putts – and the crowd were mental. It was so much fun."
 On Dubai
"I know the Earth course very well. I've played it a lot of times and it feels a bit like a second-home golf course for me, really. I feel comfortable going out and playing there, but it's always nice to play well because you can easily know a course very well and not play great."