Last year, Korean starlet Sungjae Im played in all but six events on the PGA Tour's schedule. A road warrior who rarely takes a week off, Im has become one of the most dependable players on Tour and finished runner-up in his Masters debut in November to break inside the top-20 in the world rankings. After arriving Stateside in late 2017, Im is already a winner at the highest level having won the 2020 Honda Classic and is now settled in Atlanta. He spent a couple of years leading a nomadic lifestyle living hotel-to-hotel with his parents in tow, but now he's fully focused on becoming as good as he can be – and he's always on the lookout for Korean restaurants that sell his favourite dish, the Jeju Black Pig…
It's been a largely non-stop journey of discovery for 22-year-old Sungjae Im and the young Korean has wasted no time in becoming one of the best players in the game. Im seldom takes a break on Tour, often playing runs of 5 or 6 weeks in succession, and his thorough work rate has seen him progress to becoming a Major contender after only a few years in America.
He was named rookie of the year on the PGA Tour in 2019 and won last year at PGA National in Florida before finishing in second place on debut at Augusta National in November. This year he's made a steady start and he's pleased to be playing regularly again, looking to build some momentum ahead of this month's Masters and the Majors that lie ahead.
"I'm just so happy to be on the PGA Tour and just to play golf, and it's almost as if –I don't really look at it as work, it's more of a chance to just go out and do what I love and play golf," said Im. "I spent my winter break in Atlanta and I practiced. The reason I did not go to Korea is there's still a mandatory isolation required by the government there, and I didn't want to go through that. So I just decided to stay in the States."
Im selected Atlanta for his base for ease of travel and the array of Korean food outlets near to his Duluth home.
"I have practiced at TPC Sugarloaf before and the neighborhood there is clean and quiet," he said. "Korean restaurants are not too far away and the Atlanta airport offers non-stop flights to nearly every tournament site, also a direct flight home to Korea."
JAM-PACKED SCHEDULE 
After turning pro in 2015 at the age of 17, Im quickly found success on the Japan Golf Tour in 2017. He was playing an event in Japan when he saw fellow countryman Si Woo Kim clinch that year's Players Championship in Florida and decided to take the trip across the Pacific to the United States. In the autumn he made his way through the qualifying tournaments for the satellite Web.com Tour (now the Korn Ferry Tour) and earned himself 12 starts for 2018 thanks to his runner-up finish at the Final Stage.
Im then announced himself in his very first event with a four-shot win at the Bahamas Great Exuma Classic, and a runner-up finish the following week at The Abaco Club cemented his status as a player with massive potential. It was during this first full year that Im got his a proper taste of life on the road in the States, playing every single regular season event except one – which he missed to play the US PGA Championship instead after he had received a special invitation upon breaking into the top 100 in the world rankings. He also went through sectional events to qualify for the US Open at Shinnecock Hills, such was his appetite to play competitive golf.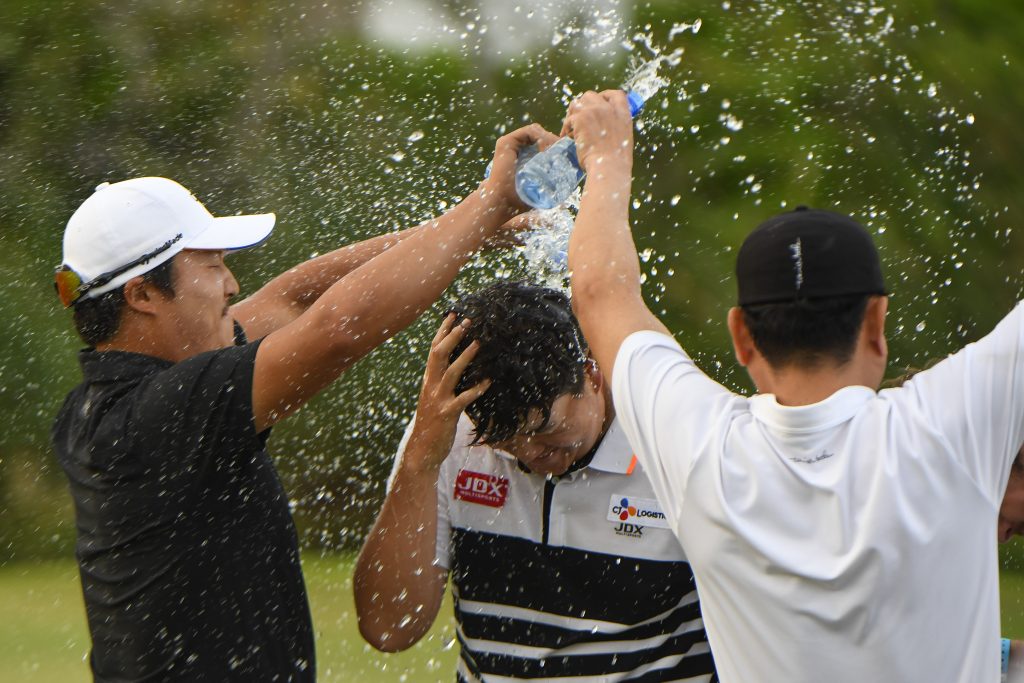 A second win followed in August that year as he led the money list for all of 2018, going on to be named the Web.com Tour Player of the Year and earning a full PGA Tour card for 2019. As a rookie among the game's best, Im played more events (35) than anyone else and made 26 cuts – also the highest on Tour. His form saw him qualify for a spot in the 30-man Tour Championship field at East Lake in Atlanta and he finished 19th in the FedExCup standings. He was duly named the Rookie of the Year and began the following season strongly with a runner-up finish at the Sanderson Farms Championship, losing out to Sebastian Munoz in a play-off.
Im's impressive performances caught the attention of Presidents Cup Captain Ernie Els, who handed the youngster one of his four wildcard selections for the matches at Royal Melbourne in December. Despite the International team losing again, the contest was one of the closest in years and Im was one of the stars of the show, earning 3.5 points from five matches, including a 4&3 takedown of reigning US Open champion Gary Woodland in the singles. Sensing his time was near, Im collected his first win a few months later at the Honda Classic, two weeks before the PGA Tour halted as the pandemic began to sweep across America.
Shacked up at a resort with his mum in Tampa where the golf courses remained open, Im managed to practice a lot, but he couldn't wait to get back out and compete again. Despite the heavy practice sessions he struggled a little when the Tour did resume.
MAJOR TALENT
He posted a top-ten in the first event back in June but then failed to crack the top 30 again until mid August. However, he successfully made it to the Tour Championship for the second year in a row and made the cut at the US Open for the first time. He continued to play whenever opportunity arose and announced himself as a Major talent with a runner-up finish at The Masters in November.
"My initial goal at the start of the week was just to make a cut and get into the weekend. So to finish tied for second is unbelievable," said Im after sharing second with Cameron Smith on 15-under-par, five back from Dustin Johnson.
View this post on Instagram
"I watched The Masters growing up so many times that it felt like I was used to playing the course, even though it was my first time. I know the course kind of suits not only me but many of the Korean players as well, so I think that's why I played so well." One Korean who enjoyed three top tens at Augusta was fellow Jeju Province native K.J Choi.
"I know him a decent amount," said Im. "We're from the same place back home and I have exchanged words with him in the past. I would say we're on pretty good terms of knowing one another.
"Speaking to K.J., who has had a lot of success out here, he said that my style of shot making would be very suitable to Augusta National. My game is either the straight ball or a slight baby fade, and in my opinion, from the tee box when I look down the fairway of each hole, what I see of the course management visually, I can see where to hit it and where not to hit it. I think that's why I felt comfortable playing Augusta."
STAY UP TO WATCH TIGER
The Masters was the one event that captured Im's imagination as a youngster, when he would stay up late to watch Tiger Woods in action.
"If Tiger was playing, not just me, but a lot of golf fans in Korea, I'm sure they stayed up to watch as well," he said.
Growing up, Im was something of a golf prodigy. He first picked up a club aged four and got his first coach aged seven. By 12 he was enrolled at a golf academy and he turned professional five years later. His opening couple of years on the Japan Golf Tour is when he ironed out some minor flaws in his game and worked on his takeaway, which is deliberately very slow.
"My swing takeaway has been slow for been about four years," he said. "Playing on the Japan Tour, I had been struggling with my game, and I worked on a slow tempo swing of my own, and it started working well, so it's been about four years like that.
"Up until then, my backswing speed was the same as the average player out here, but I wanted to experiment and just kind of find out what really worked for me, and was just doing a drill of slowing down the backswing, and it really helped. I felt like I could hit the ball where I wanted to and just got better contact in general, and now I feel like my backswing is getting slower and slower as time goes, but it's what works for me, and I'm happy with it."
And so he should. His swing, and in particular his driving, has been the backbone of his game. He currently ranks inside the top ten in strokes gained off the tee but a lowly 197th around the green. If he can clean up his scrambling and sharpen his short game he'll be a force to be reckoned with more often than not as 2021 progresses.