Dubai Duty Free's Senior Vice President – Marketing, Sinead El Sibai, has been voted one of the top ten 'Most Influential Women in Sport 2019' in a poll conducted by iSportconnect, a UK-based networking company, for executives working in the world of sport, celebrating this year's International Women's Day on 8th March.
Among those on the list are international tennis legend, Serena Williams; Mary Davis, CEO, Special Olympics; Marie Donoghue, Vice President of Sports Video, Amazon and Ellie Norman, Director of Marketing & Communications, F1. "I feel very honoured to be among such esteemed company," said Sinead, "and I'm pleased that this poll highlights the role that women play in the sports business in the Middle East."
"Sport and sports sponsorship have been an integral part of Dubai Duty Free's marketing strategy since the launch of the business in 1983 and our Executive Vice Chairman and CEO, Colm McLoughlin, has always understood the role that sport plays in reaching a global audience, and that has been key to our sports sponsorship strategy" says Sinead.
MASSIVE GLOBAL COVERAGE
The Dubai Duty Free Tennis Championships, which is owned and organised by Dubai Duty Free, recently concluded its 27th year with two Swiss players emerging as winners, with Belinda Bencic winning the WTA week, while Dubai favourite Roger Federer won his 8th Dubai title and his 100th singles career title. The win resulted in massive global media coverage for the Swiss Master – and for Dubai.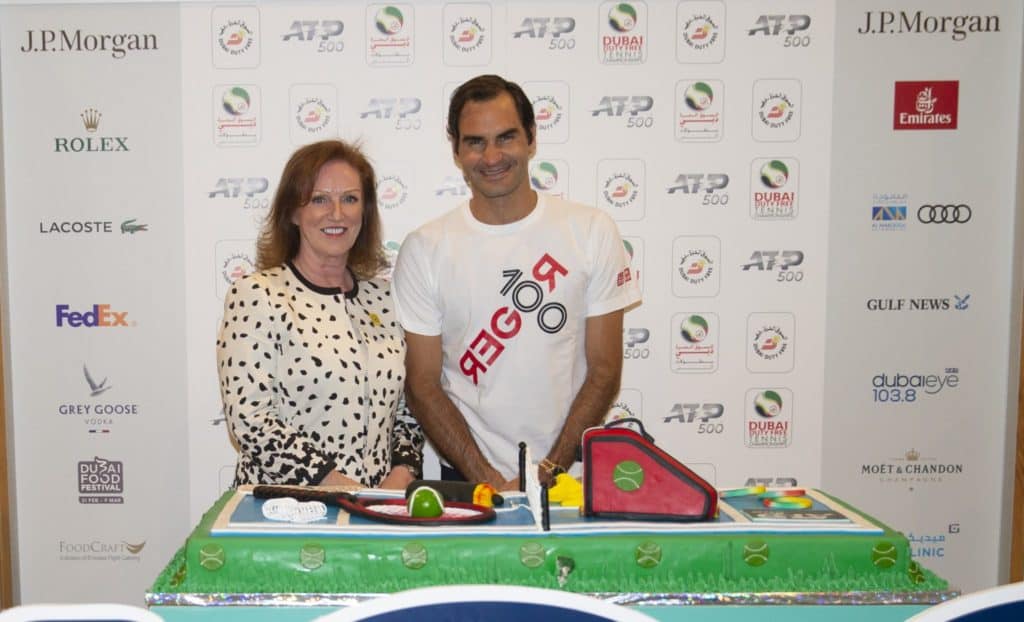 While tennis remains Sinead's first sporting love, Dubai Duty Free's increased investment in golf sponsorship recently has opened her eyes to the sport, and she has fully embraced it, despite not playing the game. "Golf plays a big part in Dubai Duty Free's sporting initiatives and although I'm not a golfer myself I enjoy it as a spectator and it's certainly a very sociable sport," she says.
EUROPEAN TOUR PARTNER
"Through my work, I'm involved in golf, organising corporate tournaments in Dubai and with our sponsorships, which are quite extensive and include the Omega Dubai Desert Classic, the Omega Dubai Moonlight Classic, the DP World Tour Championship and, of course, the Dubai Duty Free Irish Open. "We are also now a partner on the European Tour, so our investment in golf has grown substantially in the past few years, and I have gained a valuable insight into the sporting and business side of golf as a whole. From our company side of things, Colm McLoughlin, our Executive Vice Chairman and CEO, is a very good golfer and has a passion for the game, as well as many other sports. I have met many golfers over the years, and they have all been very pleasant."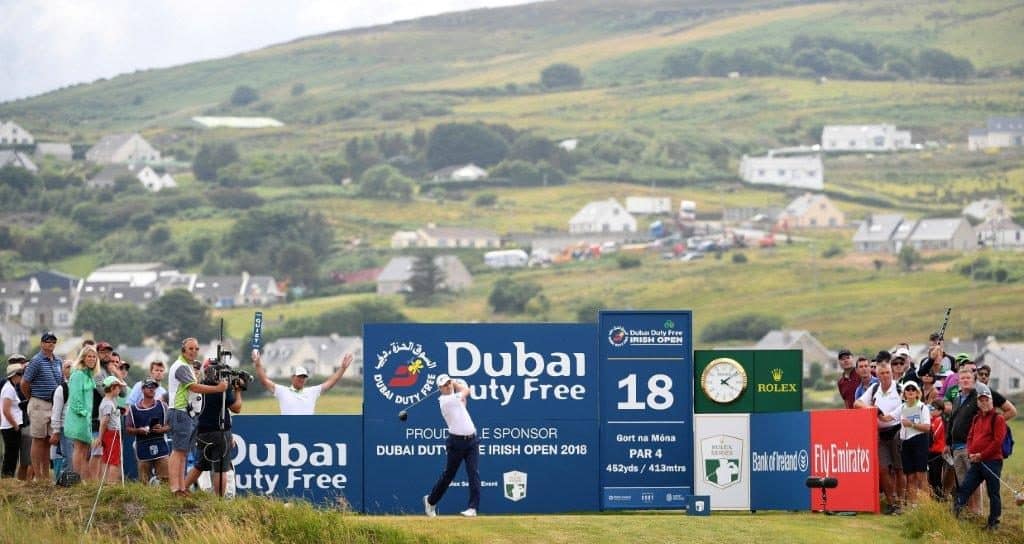 Sinead points out that sporting events and charitable endeavour go hand-in-hand and that is certainly the case in golf, which has proved decisive in Dubai Duty Free's involvement in golf tournament sponsorship at the highest level. "Dubai Duty Free established its own charity Foundation in 2004 and since that time we have supported 40 local and 53 overseas charities, representing US$22.95 million in support. I believe there is a place for supporting charitable activities during key sporting events and that seems to be a growing trend, which is a good thing.
A GOOD FIT
"Taking on the title sponsorship of the DDF Irish Open four years ago was a major investment for us. We did so initially for one year only, as we wanted to assess the benefits and see if it was a good fit for our brand. We came on board after the Rory Foundation was named as the host.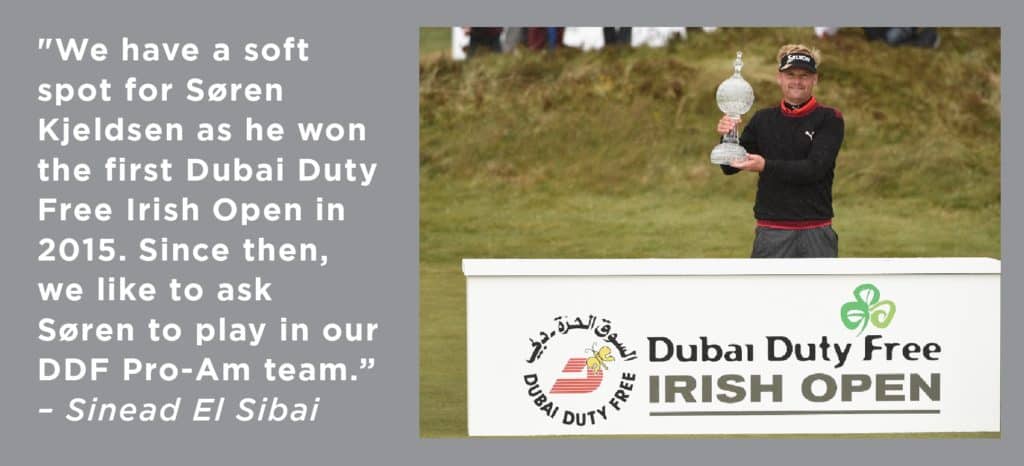 "We knew that Rory was going to be involved and that he would do a great deal to energise the tournament, which had been struggling in previous years. Rory certainly delivered on that. The field was excellent, the venue was great and the TV coverage was very good, which is an aspect we measure very closely. So that first year ticked all the boxes as far as our Return-On-Investment (ROI) was concerned and it made it easier for Colm (McLoughlin) to give the go ahead for us to sign a three-year agreement to continue as title sponsor. Subsequently, the tournament became part of the Rolex Series and that convinced us to sign a further agreement to 2020 with an option to continue until 2022. We are also now a Global Partner on the European Tour and both sponsorships are running well and are delivering on our expectations.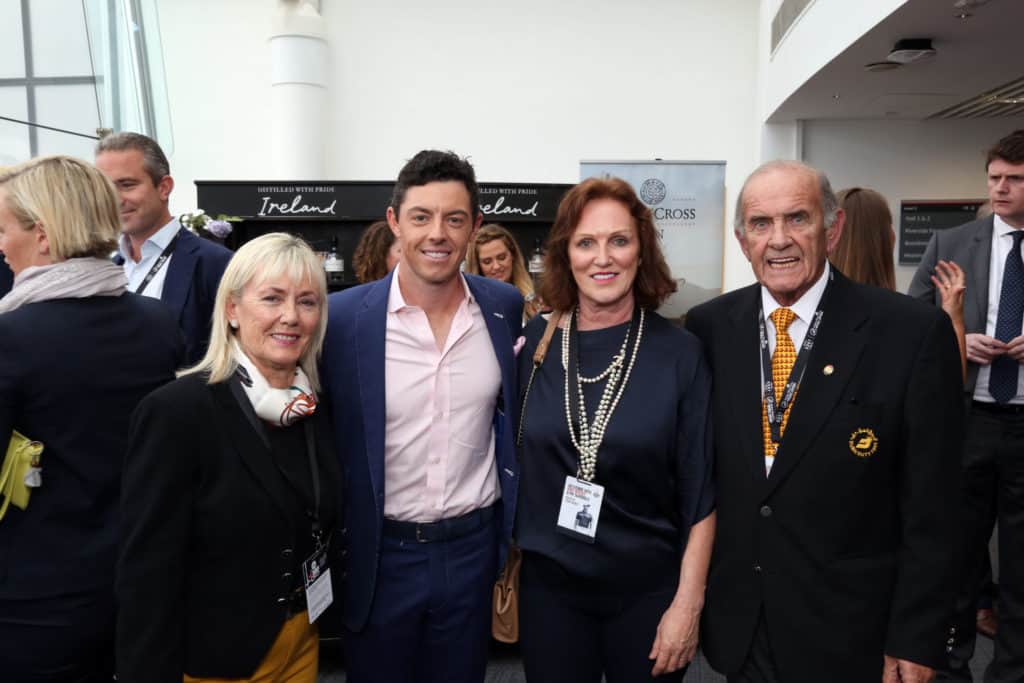 LOVE OF TENNIS
"Although golf is a key part of our business I've always loved tennis and have admired the women tennis players. I have great admiration and respect for Billie Jean King in establishing the Women's Tennis Association and paving the way for equal prize money on the women's tour. It is worth noting that the Dubai Duty Free Tennis Championships offers equal prize money and we were one of the first WTA tournaments of its kind to do so.
"I used to play a lot of tennis when I was younger, and then with my sons as they were growing up. As a young girl Björn Borg was my favourite player and I remember watching him on TV when he won Wimbledon five times in a row between 1976 and 1980. I got to meet Björn at the Dubai Duty Free tennis finals in 2006 when he tossed the coin at the start of the match between Roger Federer and Rafa Nadal – what an amazing night that was!"
"I am thrilled that Sinead has been recognised by the iSportconnect community for her marketing expertise and for the hard work that she and her team commit to all of our major events and sponsorships, including the Dubai Duty Free Tennis Championships, the Dubai Duty Free Irish Open and major horseracing sponsorships in the UK and Ireland, including the Dubai Duty Free Irish Derby and racing at Newbury and Ascot. The fact that this recognition was announced on International Women's Day is a great endorsement to the increasingly important and high-profile role that women like Sinead and her fellow nominees are commanding in global business and sports management." – Colm McLoughlin
It's not just sporting action and success that excites Sinead. A growing number of former female sports stars are heading into commentary and punditry, and she hopes that the trend continues to increase in the coming years across all sports. "It's great that more and more women are, literally, using their voice to commentate on sport in what has largely been a male orientated field," she says. "I can think of many high-profile female commentators across a number of sports, including Clare Balding for horseracing and Annabel Croft for tennis, who do an excellent job and are every bit as good as their male counterparts. I look forward to a time when it's no longer a surprise for people to hear a woman's voice in the commentary booth."