By Mike Gallemore
The historic official opening of the Royal Greens Golf & Country Club at King Abdullah Economic City (KAEC) was more than the mere unveiling of a magnificent facility, it was a groundbreaking statement of intent by the Kingdom of Saudi Arabia.
Hosting a European Tour event next January as part of their early-season Desert Swing is a means of showcasing Saudi as a country through sport and business. By introducing the most splendid clubhouse I have ever seen, plus a state-of-the-art Academy and an inviting Championship golf course that will test the world's best when the wind blows – which is most of the time – will certainly put Saudi on the world golfing map. The breathtaking location overlooking the Red Sea, and the excellent layout created by European Golf Design and operated by Troon Golf has to be seen to be believed. Dustin Johnson, Patrick Reed, Thomas Bjørn and Paul Casey have already declared their presence and it's a foregone conclusion that more world-class players will follow.
Change in Saudi is already underway as it opens its arms to the modern world. Two days of celebrations and presentations at Royal Greens made it abundantly clear that the transformation of Saudi is a firm commitment and that by harnessing the power of sport they can improve the health of the population, where 58% of the population are under the age of 30; and 23.9% of the entire population is diabetic. 'The Power of Sport in the Kingdom,' made a convincing case for sport to spearhead the participation of its people to take part in sporting activities for all age groups, particularly the younger generation. The Kingdom's commendable initiative of 'Vision 2030' to increase people's quality of life will certainly benefit all age groups.
---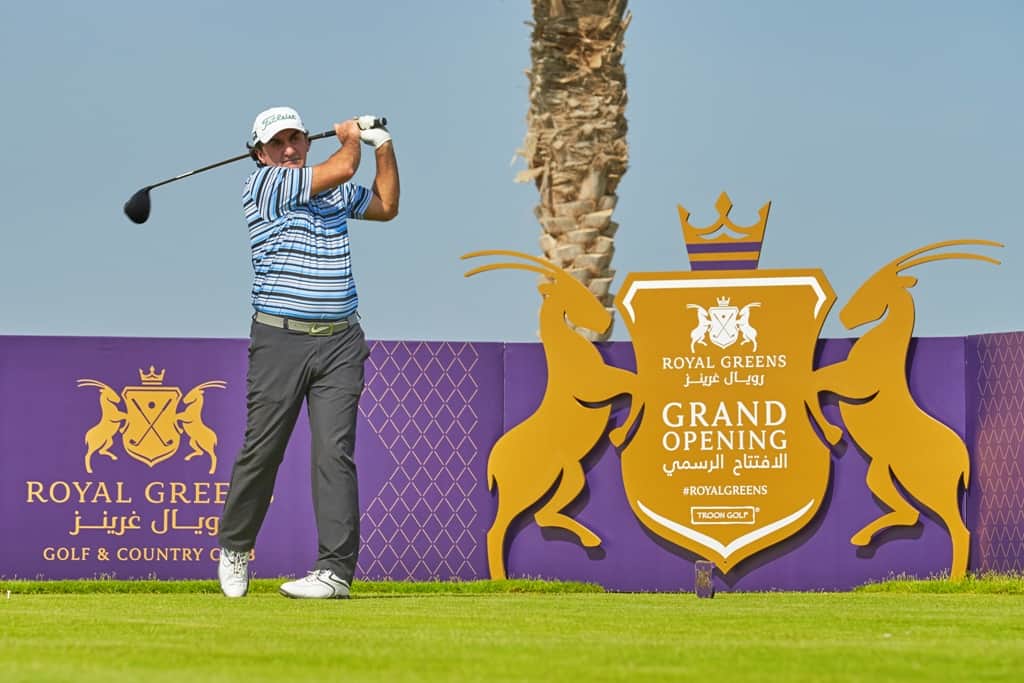 H.E. Yasir bin Othman Al-Rumayyan (pictured above), Chairman of the Saudi Arabian Golf Federation (SGF), Managing Director of the Public Investment Fund and Advisor to the General Secretariat of the Cabinet of Ministers outlines his Vision for the future of Saudi golf:
On behalf of the Saudi Golf Federation and the Saudi Leadership and Government, I am delighted to welcome guests from around the world to the Grand Opening of Royal Greens Golf and Country Club. I can say from experience that this is a golf course worthy of hosting the Kingdom of Saudi Arabia's first international tournament and attracting some of golf's most internationally recognised stars.
This inaugural event has served as the perfect example of the unifying aspects of the great game of golf. We have welcomed visitors from around the globe for this event alone, bringing together members of the Royal Family; some
of the very first members of Royal Greens Golf and Country Club; officials from KAEC and the Saudi Government; Major, European Tour and Ladies European Tour winners; domestic and international media; and many notable figures from Saudi society for our first ever black tie event. It has, in a word, been spectacular. This facility represents a new milestone for golf in KSA. The quality of the golf course, the level of service and hospitality within the magnificent clubhouse and the welcome with which all guests have been met during this event, have set a new benchmark, not only in Saudi Arabia but, I believe, globally.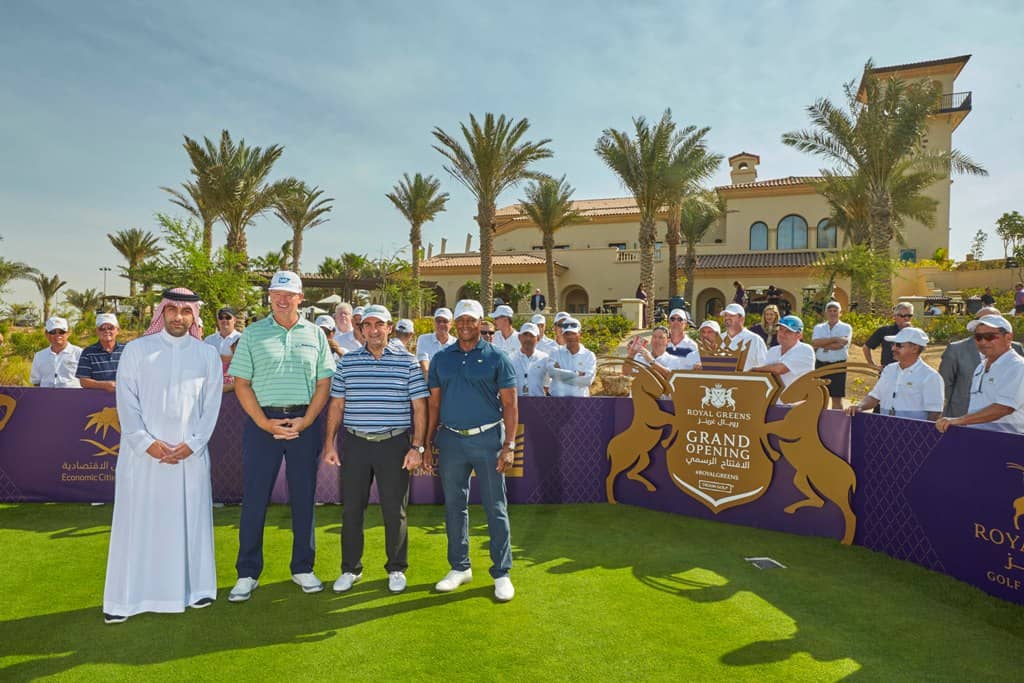 Opening Tee Shot
I had the honour and pleasure of striking the opening tee shot and playing the fi rst nine holes with Ernie Els and Andrew Johnson over this immaculate golf course, alongside my colleague Majed Sorour, CEO of the SGF. We also had LET players, Sweden's Camilla Lennarth, Morocco's Maha Haddioui and England's Amy Boulden playing the course, along with Keith Pelley, CEO of the PGA European Tour. This gathering of golfing talent gives a small taste of what is going to occur here in less than nine months' time. Our first international tournament, to be hosted and organised by the SGF, is going to be a crucial introduction to the European Tour's Desert Swing in January, 2019, here at Royal Greens.
And while golf in Saudi Arabia may be at its infant stage, this event proves that we are at the forefront of momentous change. We have plans to open more golf courses in all regions of the Kingdom. Currently we have three in Riyadh, two in the Western region and two in the Eastern area. We also have sand golf courses, first played upon in the 1930s
when the American Oil companies arrived. They created an interesting way of playing. We still have sand courses in Riyadh and in Jeddah. From these humble beginnings, we now have several of the world's leading players confirmed
for our inaugural European Tour event, including: world number two, winner of the 2016 US Open, Dustin Johnson; the winner of the 2018 US Masters and the world number 13, Patrick Reed; Paul Casey from England, ranked number 12 in the world; and Thomas Bjørn, Captain of the 2018 European Ryder Cup Team. This event is an important milestone for golf in the country, as we at the Saudi Arabian Golf Federation work towards achieving the four pillars which will see golf further established in the country.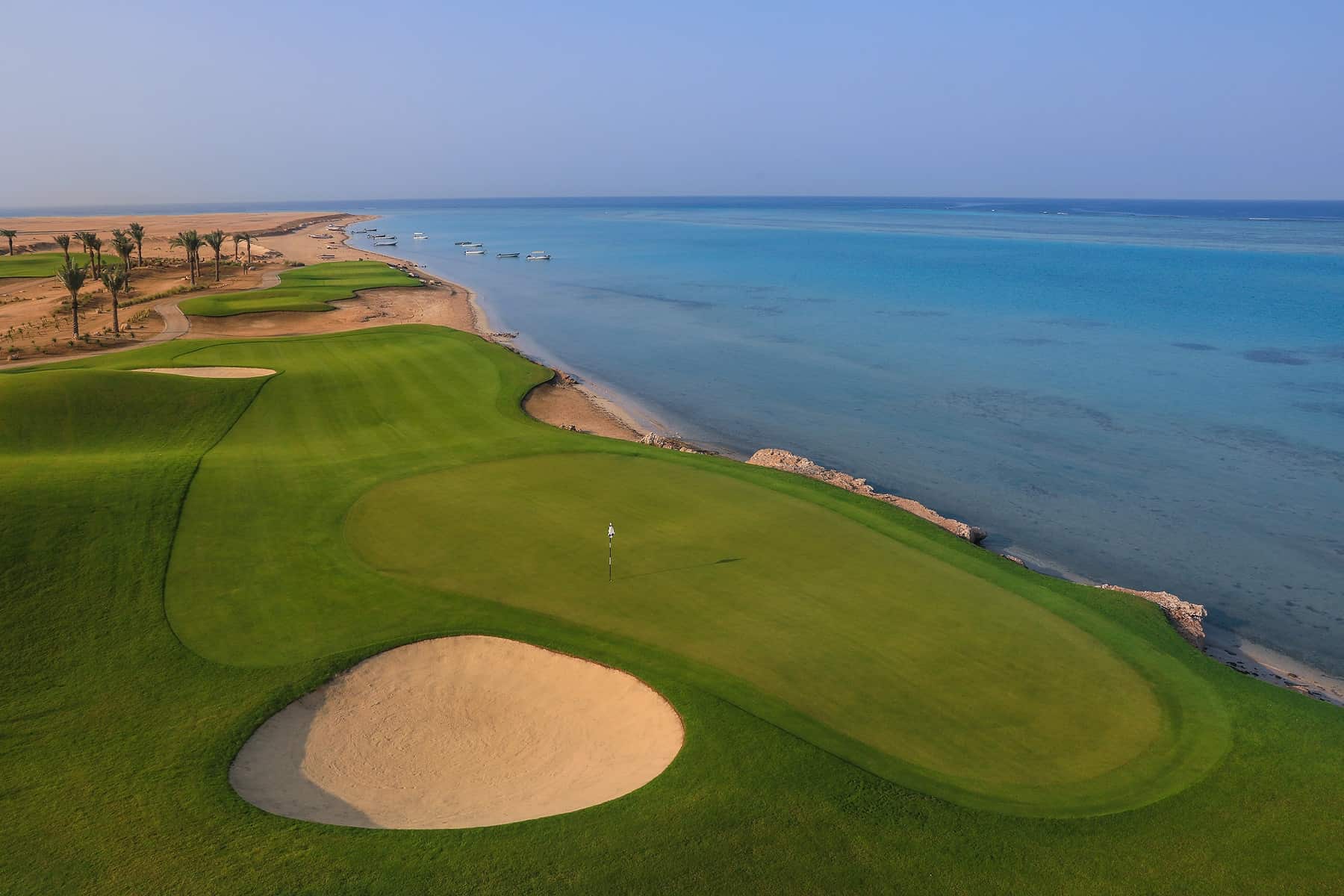 Number one is to build the infrastructure, which means creating a number of additional golf courses. This represents a big investment and commitment and will establish Saudi Arabia on a par with some of our closest neighbours in terms of our golf offering.
The second pillar is to establish golf academies, which will allow more people to start learning to play golf from all ages. Our Saudi National Team is doing well but it is our goal to establish a better pathway for youngsters to pick up the game and we will provide all the tools and facilities to be able to nurture their progress in a structured manner. In this way, we can ensure that a steady flow of talented players will emerge.
Thirdly, it is a requirement for us to seek out international expertise and establish examples of best practice learned from around the world. In attracting experts in the game to Saudi Arabia, we will be better equipped to support our national team and help them to perform to a better standard at the highest level. In turn, this success will encourage future generations into the sport. Our fourth and final pillar, and one we have already made considerable headway with, is in attracting significant golf events to Saudi Arabia. This has already been achieved in bringing the European Tour to Saudi Arabia for the first time, next year, but it is our objective to see the Kingdom become a hub for further
international events. Again, these help to inspire more individuals to try the game.
Vision 2030
Under the guidance of Vision 2030, we have many new developments. We have new cities emerging and we have the development of the Red Sea area, which will involve the creation of new golf courses, that will benefit from the scenery, topography and weather of these areas. So, the goal is that we will have more than just one international golf tournament coming into Saudi in the years to come. That, in a nutshell, is what we in the Saudi Arabian Golf Federation are trying to achieve, and it all begins with the opening of Royal Greens Golf and Country Club. This is why this Grand Opening is such an important moment for Saudi Arabia.
---
'We feel fortunate to play a small role in the brilliant Vision 2030' Keith Pelley, Chief Executive, European Tour, speaking at the Press Conference:
It was an honour and privilege to be welcomed to Saudi Arabia. It was my first time in the Kingdom and I speak on
behalf of everyone at the European Tour when I say how much we are looking forward to hosting the major inaugural event in Saudi Arabia at the Royal Greens G&CC. We're ex
cited about the event for a number of reasons: The golf course is absolutely spectacular and will be a wonderful test for our players. We pride ourselves at the European Tour on leading the global expansion of the game, and we feel fortunate to play a small role in the Vision 2030, which is transforming this country.
We have enjoyed a long and successful relationship with the Middle East. We started the Dubai Desert Classic way back in 1989 and next year we will have six European Tour events in the region. We will play in Abu Dhabi and Dubai before the initial Desert Swing comes to an end right here in Saudi Arabia. We will follow that a month later with trips to Qatar and Oman and then back to Dubai at the end of the year. When people come to the Royal Greens G&CC and see the spectacular golf course and clubhouse, and when they're treated with the hospitality that we have received, I'm convinced they will come back over and over again. I had the honour of playing with Chairman of the Saudi Golf Federation, H.E. Yasir Al Rumayyan, and it was truly a great privilege to hear what the Federation is planning. It's pretty special. When Ernie Els and I gazed out over the Red Sea at the 16th hole, we agreed it was an amazing sight. It will be phenomenal to showcase this brilliant part of the world next year on our schedule.
---
Fahd Al-Rasheed, Group CEO and Managing Director Emaar, King Abdullah Economic City (KAEC), a driving force behind the establishment of the leading golf and leisure destination on Saudi Arabia's Red Sea coast, talks exclusively to Worldwide Golf about the country's progress and groundbreaking 'Vision 2030':
"In recent years we have witnessed huge change in our country. As an example, in 2015 we had 10,500 people attending paid events in KAEC (which included concerts, business and leisure events, weekend family occasions, festivals and commemorative events such as Saudi National day); in 2016 that figure rose to 146,000 and in 2017 we welcomed 370,000 visitors. We have one million square metres of green space, so when we see the youngsters, ultimately we want to see them take up the game of golf. That's what makes everything so exciting for me about the golf course.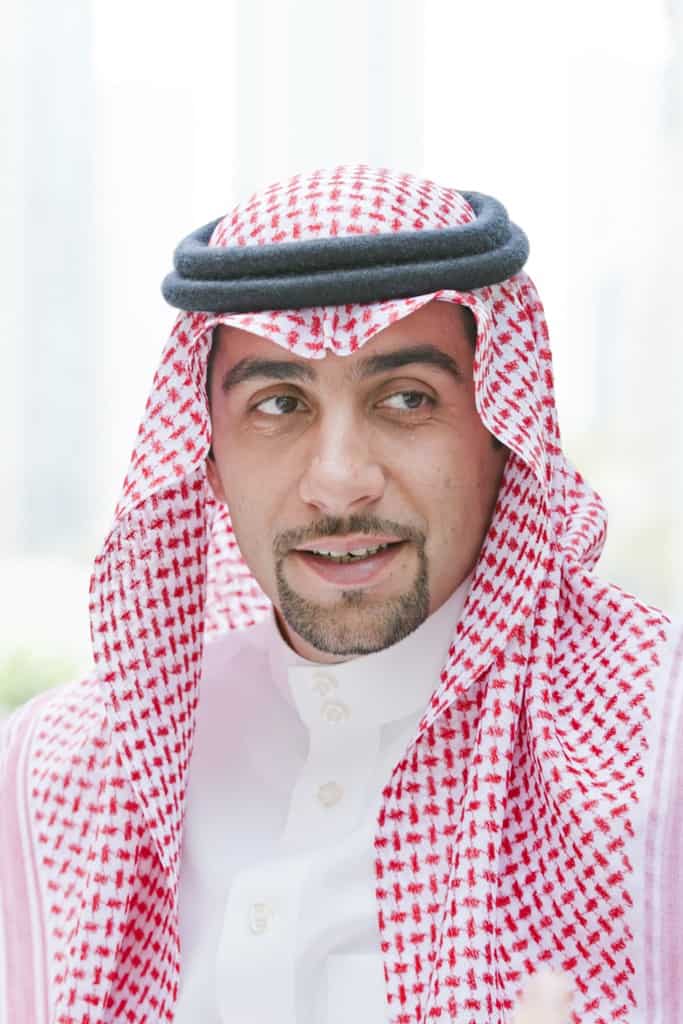 "Golf is a game of companionship and respect for your fellow players, the golf course itself and the environment. I like the ideals of golf. My daughter, Lulua, is nine years old and she is very excited about playing golf. Whether she goes on to play golf or not – we don't know – but we will see. I'm going to work with her to at least find out if she really likes the game. For Saudi Arabia, having green space is very important. The appeal of golf is widespread in Saudi Arabia, being a desert-based country. We have seen the benefit of what golf has brought to other countries in the Middle East.
"It was always our intention to build a Championship golf course where we could host a European Tour event. We also wanted to complement the golf course with a clubhouse as a social component of the club. This was very important to us, not just for the benefit of the golfers but also to have a place where people could meet and enjoy the spa and for families to come together and enjoy themselves – effectively it's a hotel without rooms. The Red Sea with its turquoise, pale blue and dark blue coral reef coastline creates a wonderful setting for the golf course, the clubhouse and the villas. The corals in the Red Sea have been in existence for 5,000 years. It is an unbelievable marine environment. Part of what we are trying to achieve in an ecologically friendly way is to get people to enjoy it without ruining these amazing corals. We have very strict rules controlling the area. It's a unique and exciting thing for us to put the golf course on the sea. It's a wonderful experience.
"People talk about Vision 2030 as an economic transformation but it's much more than that. It's a social and cultural transformation, larger and more sweeping across all sections of society, and it affects many more people. It's a cultural renaissance. What I like about Vision 2030 is that it's very specific and data-driven, which drives accountability. So, for example, the number of hours the average person works out in the gym can be calculated explicitly. This kind of explicitness allows us to execute our plans at the highest level. The question people are asking all around the world, is 'can Vision 2030 really happen?' Well, it's already happening. The Royal Greens Golf and Country Club is an integral part of the Kingdom's Vision 2030 plan to increase people's quality of life. It's all about having a healthier population. It's also bringing back the natural environment as we Saudis were originally brought up as Bedouins, who lived an outdoor life."
---
Saudi star sinks the winner
When Othman Almulla, Saudi Arabia's leading golfer and stalwart of the national team, raised his arms in delight as he sank a fifteen-foot putt to clinch victory alongside Amy Boulden in the celebrity pairs three-hole challenge against Ernie Els and Maha Haddioui, his smile acknowledged a magical moment for golf in the Kingdom of Saudi Arabia.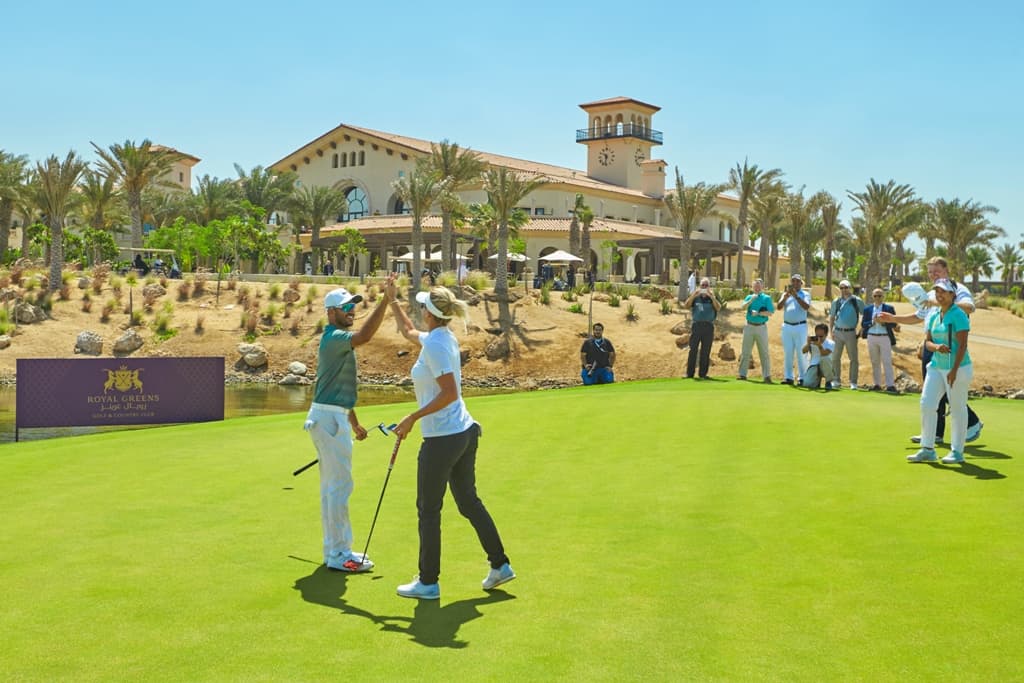 "I am privileged and very lucky to have represented my country, competing in golf tournaments around the world for the past 15 years," said the likeable Othman. "I'm proud to be a Saudi Arabian. I never dreamed I would see the changes that are happening right now. Nobody expected that there would be a facility of this magnitude at Royal Greens Golf and Country Club."
Winning Partner
Othman partnered Boulden, the 2014 Ladies European Tour Rookie of the Year, in a fun, three-hole scramble over the signature holes, 16, 17 and 18, to mark the opening of the Royal Greens Golf and Country Club at King Abdullah Economic City (KAEC) and the forthcoming European Tour event in January 2019. "Golf has been a catalyst for change in the Kingdom," said Othman. "We are blessed with having a wonderful country and a Crown Prince who wishes to share our good fortune with the rest of the world. I am 31 years old and I have seen the gradual change in attitude and direction in recent years. "I believe that social media has been partly responsible for the transformation of the country and the driving force has been the Crown Prince. The expansion of golf has been due to people like him and His Excellency Yasir Al Rumayyan, Chairman of the Saudi Golf Federation." Othman, who first represented Saudi Arabia at the 2002 GCC Championship in Bahrain, was a member of the Saudi team that won the 2016 Pan Arab Team Championship in Oman, the first time the Kingdom had won the title.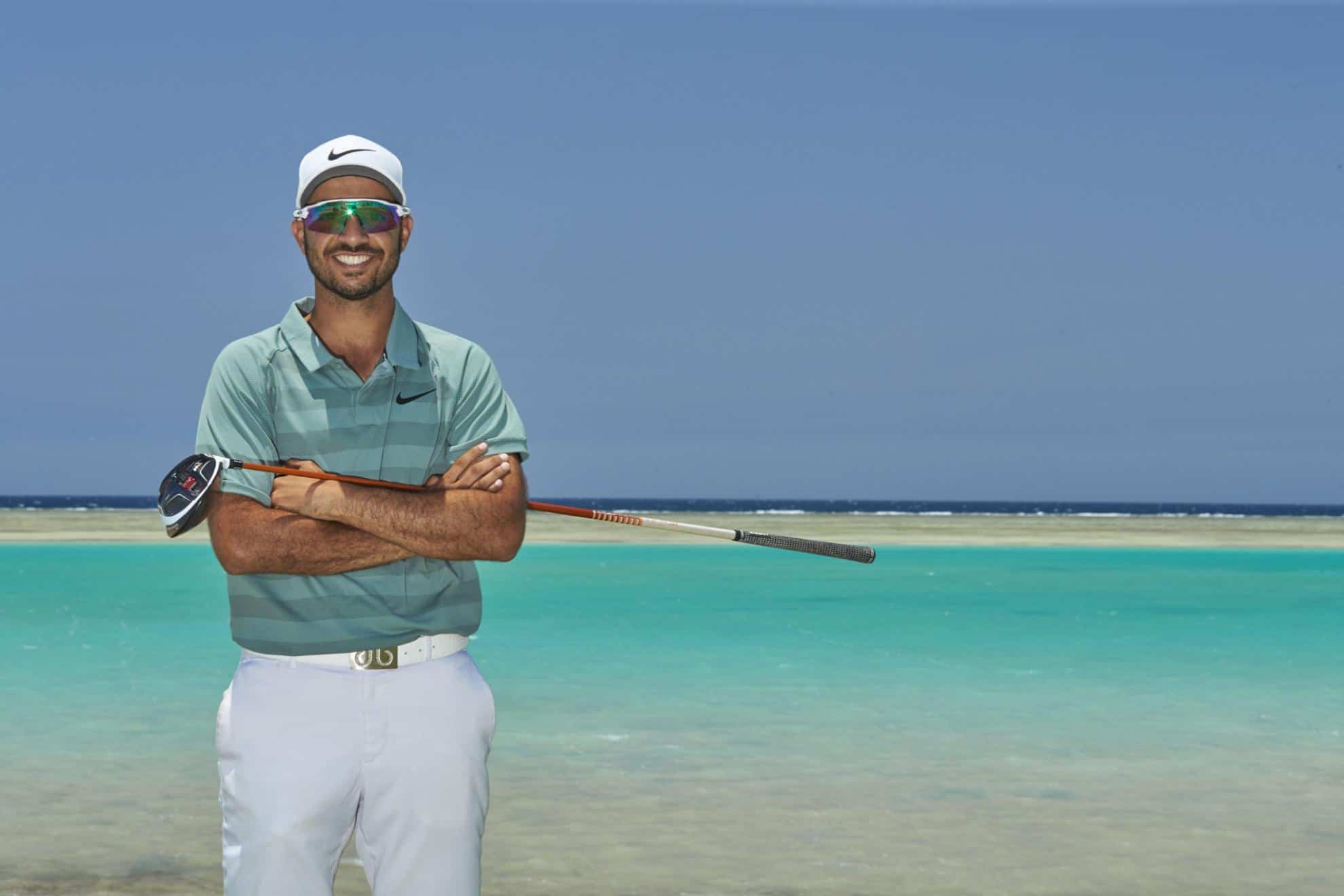 "To be part of that team who made history for Saudi golf and to have our national anthem playing at the prize-giving ceremony is a memory I will never forget," said Othman, who became the first Saudi golfer and the youngest Arab amateur to play in the European Tour's Dubai Desert Classic back in 2007. The Saudi national team has already played nine events this season. "I can recall those moments but to be given the chance to play alongside one of my heroes, Ernie Els, and having Maha and Amy also playing in the exhibition match was amazing. Then to see my putt drop into the hole to win the fun scramble was the icing on the cake for me," said Othman. "We have received enormous support from the Federation and particularly from the national team coach, Ali Balhareth," says Othman. "Without Ali's influence and guidance, I would not be where I am today. I have benefitted so much from him and from playing golf in general. I have learned a lot from the game. What is happening in Saudi is a real eye-opening experience. The country is opening its arms to the world and the sport of golf is contributing to that change. We're fortunate that we have some very talented members of the team.
Giving golf a go!
I know that the Federation is doing everything they can to encourage young boys and girls to get out and try golf. I'd be happy to help by visiting the schools to tell them what golf has done for me and what it can do for them – so they should get out on the course or the driving range and give golf a go!"