During last month's hugely successful inaugural NBO Oman Open, the stunning Greg Norman designed Al Mouj Golf was on the receiving end of an endless stream of plaudits from the European Tour players competing at the event – and rightly so. The Sultanate itself was also praised for its beauty and diversity of attractions and there is a real feeling that the country is on the precipice of a boom in tourism off the back of the positive media exposure generated by the event. 
For golf lovers, particularly those based in the UAE, Oman represents a no-brainer for a golfing weekend away with friends and family with five grass courses, four of them in Muscat and one slightly further out at Jebel Sifa, and another in the early stages of development.
Among them is a real hidden gem – the Troon managed Ras Al Hamra. Ryder Cup stars Paul Lawrie and Jamie Donaldson, along with fellow European Tour player David Horsey, visited the Graham Marsh designed course for a round while they were in town for the event and were hugely impressed by the cleverly designed layout.
It was originally built as a sand course for Shell employees by Petroleum Development Oman (PDO) in 1969 and is the host venue to Muscat's oldest golf tournament, the prestigious Muscat Open, which was recently contested for the 45th time, before Australian Marsh was enlisted to create a grass course on the site around eight years ago.

"We didn't have a huge plot of land available to us and we couldn't quite build an 18 hole golf course so the concept was to try and get as many holes in the area that was available to us as possible," says General Manager Brett Merrell who has a background in agronomy and landscaped the course ahead of its opening in 2015, making it a real labour of love. "The plot has 27 hectares whereas a typical 18-hole golf course has around 45-50 hectares and we've managed to squeeze in 15 greens with 1.2 hectares of turf, 15 hectares of actual turf and 12 hectares of out of play areas which includes wadis, landscape areas and cart paths."  – Brett Merrell
Ras Al Hamra's clever use of space is one of its highlights with many of the holes featuring two different greens or large double greens with two different holes.
"Our first and tenth holes share the same tee and fairway but when you get up to the green its 1,500 square metres with two flags on it which is very similar to St Andrews where you have a double green," says Merrell. "On the right-hand side of the green is the first hole which you play again on the second nine with the flag on the left hand side. On our third hole, which is 330 yards, you share the same tee and fairway with a single green but when you play it again on hole 12 its 60 yards longer which gives a bit of variety to the course."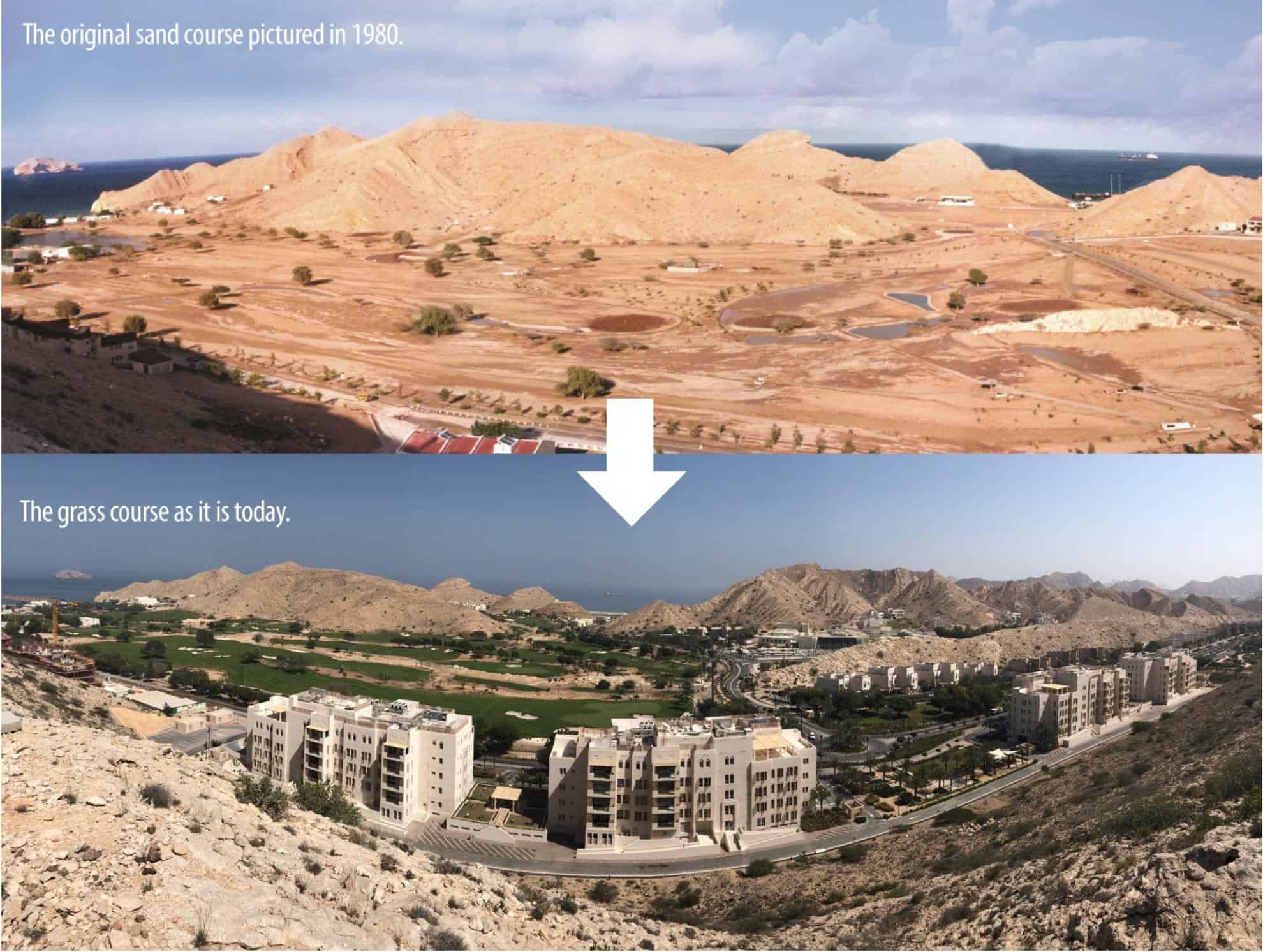 Another hugely appealing aspect of Ras Al Hamra is that it has floodlights – making it possible to enjoy a quick round of nine holes or a compact 18 which can be completed much quicker than a standard 18, after work. It also means that the course is still busy throughout the baking hot summer months. This, coupled with a competitive green fee which means 18 holes costs from 30-35 OMR (300-350 Dhs), makes the club extremely popular among Muscat-based golfers. There are currently around 800 golfers in Oman and 225 of them are members at Ras Al Hamra.
"The night golf really helped us get as many members as we have," says Merrell. "We are the only golf course in Oman that has fully floodlit facilities – Al Mouj Golf does have a par thee course that is floodlit but we have a full nine-hole facility that ranges from 100-yard par 3s to 550-yard par 5s. A lot of our members like to play under the lights and we tend to be busy from 3pm onwards with around 60 players on average playing the course each day. During the summer months we stay open until 12:30am due to the heat and we still average 50-60 players each day thanks to our night golf offering."
And Ras Al Hamra isn't only about golf. There's also a whole range of other activities for the whole family. The course is situated just across the road from the shimmering Gulf of Oman where a beach club awaits on a pristine stretch of sane. It used to be a private facility, only for PDO employees, but since last year anybody who buys a green fee can access the club where as well as enjoying the great range of facilities – hops can be purchased for just 1 OMR (10 Dhs) per pint!
"We have a recreational centre that is part of our development here which is open to families of golfers or even the golfers themselves after play," says Merrell. "We have our own private beach with a boat club and restaurants and bars with subsidized food and drink. There's also tennis and squash facilities so there really is something for everyone at Ras Al Hamra."
Merrell believes that the positive global media exposure generated by the NBO Oman Open – which was broadcast into 518 million households around the world – will be a benefit to all of the clubs in the country.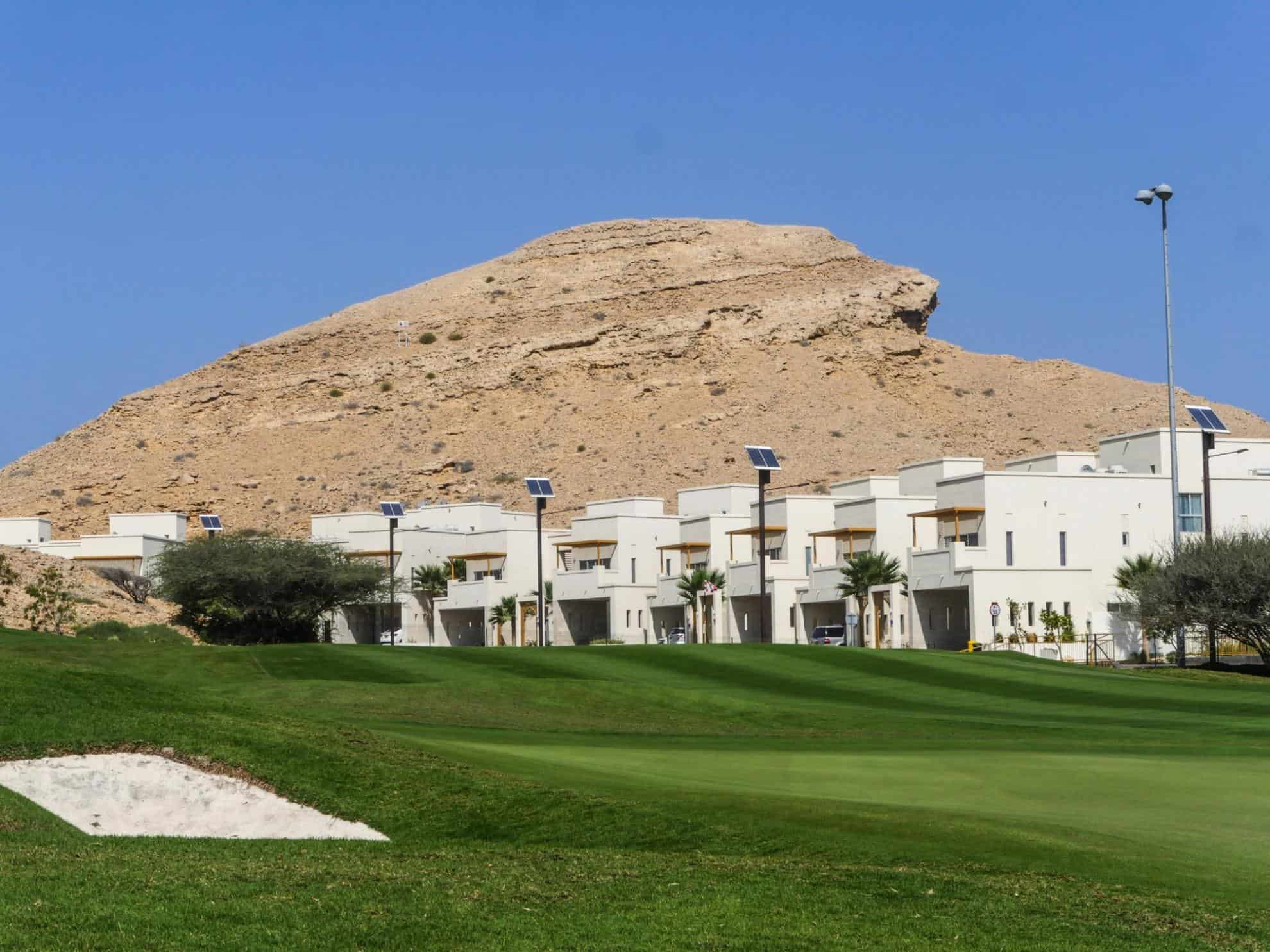 "It was one of the best events that has ever come to Oman and it was great for the European Tour to put it om," says Merrell. "It was driven by the vision of Dr Rumhy (Oman's Oil and Gas Minister) who saw the future of golf in Oman and really pushed for a global event to come here.
"The golf courses in Oman are really going to benefit from the exposure the event got. The players loved Al Mouj Golf and we had Paul Lawrie, Jamie Donaldson and David Horsey come down and play our course which they absolutely loved and even tweeted about it which can only be good. Golf in Oman can only be on upward spiral now, the TV and press coverage was fantastic and really shone the light on Oman as a place to visit."
The cat is officially out of the bag and golf's best kept secret is no longer so. With stunning beaches, fascinating attractions such as Jebel Akhdar – home to the world's second largest canyon – along with some truly world class golf courses and hospitality to match – Oman is now a must-visit destination for golf lovers the world over.
And a visit to the hidden gem that is Ras Al Hamra should be top of the list for any trip to this beautiful country.