With a barnstorming breakthrough victory at the US Open last September, Bryson DeChambeau is on the ultimate quest to regularly break the 200mph ball speed barrier and add more silverware to his cabinet in the process. The American spoke prior to jetting half-way around the world for a second appearance in the Saudi International powered by SoftBank Investment Advisers, and his fifth trip to the Middle East.
"When you get to the golf course, you have to hit it straight, right?" DeChambeau responds when asked about how his training to increase his ball speed is going when he's not out competing. "I've reached 210pmh ball speed a few times actually, but the difference is I can get up there when I'm hitting 150 golf balls in training, really working hard and swinging as hard as I can for a long amount of time. But that's a completely different perspective change that I have to have on the golf course.
"For example, at Kapalua last month, I actually got to 211mph on the driving range on the Wednesday, and then when I got to the golf course, it was 193/194. And that just shows you how my brain reins me a little, because I need to hit it straight because I'm a professional golfer and I still need to keep the ball in play every hole. So you kind of lose that ability to just free yourself up and let it go.
"I can get it over 200mph no problem – it's just about how can I get that onto the golf course."
In almost five years since turning professional, few players have moved the needle more than the Californian as he ripped up the rule book in transforming his body to smash the ball further than anyone else on Tour off the tee. It's his dedication and hard work that has seen him eclipse many of his peers, as he himself admits he wasn't the most gifted player growing up.
WHY BRYSON HAD TO WORK TWICE AS HARD
"When I was a junior golfer, I wasn't the best junior out there," he said. "There were plenty of other golfers better than me and I always had to feel like I had to work twice as hard to be just as good as some of the best junior golfers in the world.
"And I think that work ethic, that determination to try and keep getting better allowed me to try and find distinct and unique ways to become better, and so with these new ideas, these different thoughts – things like the one-length irons – I'm always trying to be the best version of myself and become the best player in the world. There's no doubt about that."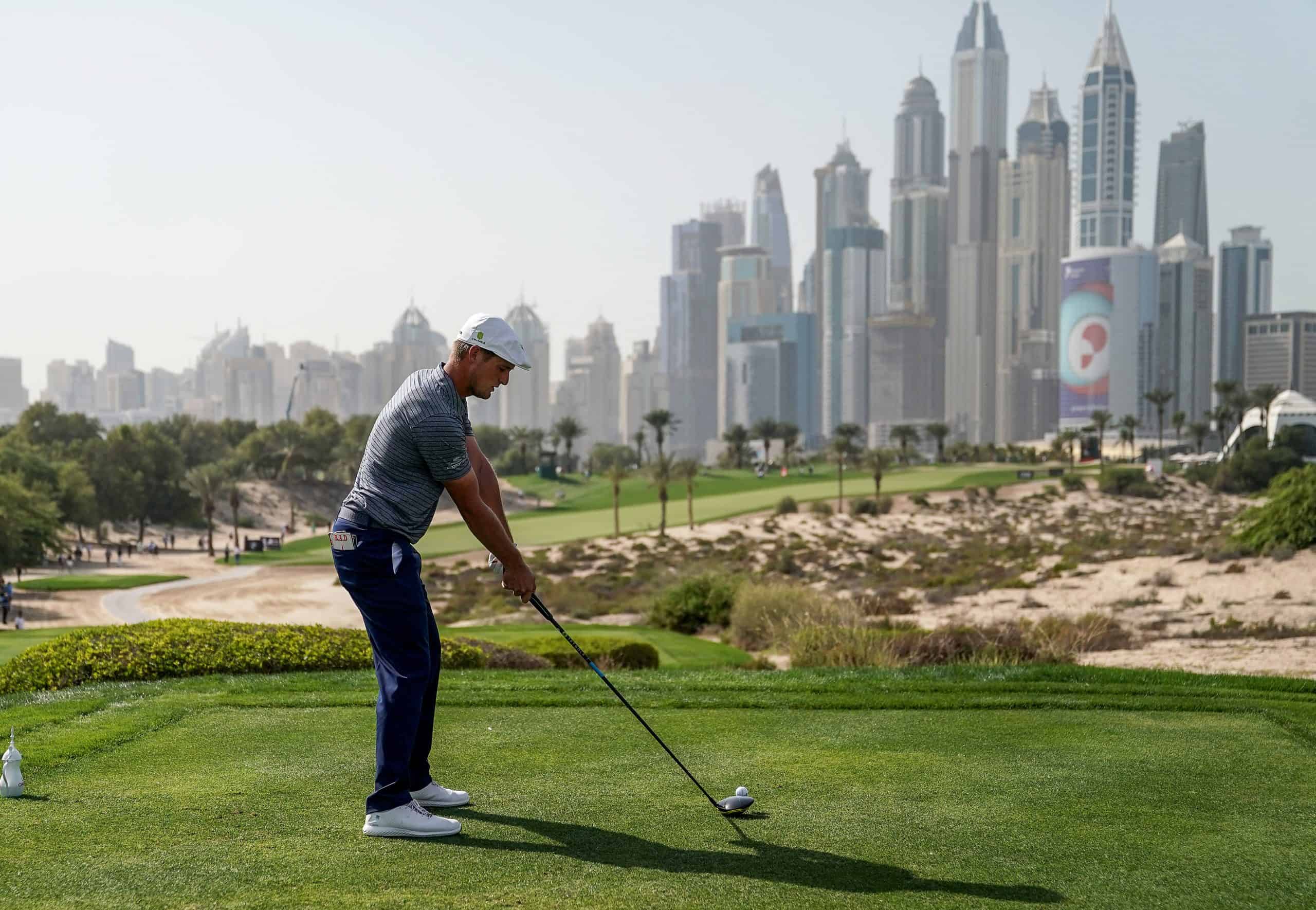 After last year's US Open in September, which he turned into something of a procession, all the talk ahead of a soft and receptive Augusta National in November was of Bryson demolishing the benign layout and walking away with the Green Jacket. However, that didn't quite come to fruition as he cut a largely frustrated figure, finishing in a share of 34th, a full 18 shots behind Dustin Johnson. So what went wrong in Georgia?
"I think I have to look back on what went wrong, and what happened that didn't allow me to perform at the highest level like I did at the US Open," he said. "My driving wasn't the longest at the US Open but I putted amazing and I wedged it amazing. My iron play was incredible and I drove it pretty well.
"So, objectively, as I look at Augusta there were plenty of opportunities that I missed with wedging, putting and iron play. I wouldn't say it was necessarily the driver that got me into trouble for the most part, but definitely there were times where my putter and my wedges and my iron play did.
DRIVER IS NOT THE ANSWER
"So I have to keep working on that as I increase the speed, and that's how I objectively look at it, whenever I don't do my best, there are reasons for it. It's not like the driving is going to be the ultimate answer and the reason for winning every single tournament. There's plenty of issues behind not putting well or wedging it well or iron playing well and that's stuff I've always got to work on and try and fix."
So it's the total package that wins golf tournaments, and DeChambeau will have his sights set on more as he looks to become World No.1 and he believes his recent muscle and weight gain will help him achieve his goal.
"I like this Bryson version better," he said. "I feel that in the long run I'm giving myself a better opportunity to live a better, healthier, long life. Most people think that with swinging it this fast, I'm going to get injured. But I would actually say the converse is that I've got the more ability to prevent injury, because I can tolerate so much force.
WORLD LONG DRIVE ADVICE
"I talked to World Long Drive Champion Kyle Berkshire about this, and he told me that people were always saying that he was going to get injured swinging the way he does, but he's learned how to tolerate the force he puts into the swing.
"So as time goes on, I really think this is a better way, personally, for me to live a longer, healthier life. And because of that, I don't really miss the old Bryson too much. I feel like I'm in a better place in life because of it."









The 27-year-old is never one to sit still, and that is true of his playing schedule as he looks to become a more rounded competitor in different conditions around the world. DeChambeau won the OMEGA Dubai Desert Classic in 2019 and played the inaugural Saudi International a week later. In 2020 he played in Abu Dhabi and Dubai and this year played in Saudi again.
Back in 2018 he contended at the Porsche European Open in Hamburg and he's keen to continue his globe-trotting path as his career progresses.
WORLDWIDE GOLF IS ESSENTIAL
"I think it's one of the most important moves we can all make," he said. "Being able to travel the world and go to a place like Saudi Arabia and showcase the best players in the world is something that helps ultimately grow the game worldwide.
"I think it's important for us top players in the world to do that so that we can show the world, hey, we care about you guys, we care about everyone else, we want to see this game grow, we want to see it flourish.
"We're not going to be here forever and we want others in the world to see how great this game can be, not only just for fun but to create amazing relationships for the future.  That's what the game of golf is truly about and that's what I respect and honor about this game, this great game that we play.
2021 Schedule
I would say my schedule for the year is more fluid than set in stone. I don't want to make sure that I'm going too hard and I wear myself out, and then going into a major I'm dead tired. I want to be preparing myself for the major championships and the big events of the year.