Based in Formby, just down the road from the famed Open Championship venue of Royal Birkdale in Southport, Phil Kenyon has developed a reputation as the 'go-to' putting guru for many of the leading European Tour stars. At the Harold Swash Putting School of Excellence, Kenyon is based at a state-of -the-art workshop which caters for all levels of putter. Out on Tour he is, or has been, on hand to give his advice to the likes of Major Champions Justin Rose, Henrik Stenson, Martin Kaymer, Rory McIlroy and Race to Dubai winner Tommy Fleetwood. Worldwide Golf visits Kenyon at his Putting School to find out what goes into putting coaching, his love of the science behind the putting stroke and the intricacies of handling world class sportspeople.
WWG: How did you first get into golf and then end up as a putting coach?
Phil Kenyon: Well, I was lucky really in that I had a mentor in Harold Swash who I knew from a young age when I played golf as a youngster. He was a very good friend of my father's and I spent a lot of time with him when I was growing up playing amateur golf. After I left university I turned professional and tried to compete for a while as an aspiring playing professional. It was only when I realised I wasn't going to reach my goals that I got into coaching. So it was a natural progression to look at that side of the game because I'd been around it for such a long time.
WWG: What did you pick up from Harold?
Phil Kenyon: I learned a lot from Harold. He was ahead of his time in the way that he approached putting. He came from an engineering background and thought about ball-roll dynamics and angles and putter design – various aspects. He took a scientific look at putting, whereas others might have been looking at it more artistically. The reality is that there is art and science to it. Harold taught me the principals that you need to grasp in order to putt well. Without his introduction I wouldn't be where I am today.
WWG: With putting, it seems that there might be a plateau in terms of how much there is to know about it, but are you constantly pushing and looking at improving and learning more about it?
Phil Kenyon: I'd say I've got more questions than answers at the moment. You're always trying to improve yourself as a coach and learn more about the game, so if I think that I've hit a ceiling then something has probably been lost along the way. I enjoy the research and development aspect of learning more and trying to figure things out – to probe and search. That's the enjoyable side of it.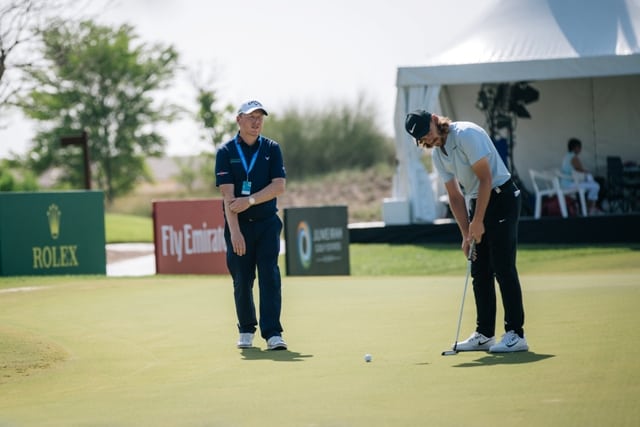 WWG: How did you start working with the guys on the European Tour?
Phil Kenyon: When I first started coaching we had a studio with Harold Swash so we had good players coming in on a regular basis and I was learning my trade and being exposed to some very good players. Suddenly, a great opportunity arose when I was asked to attend some events for a manufacturer that Harold was associated with at the time – and that gave me an insight into Tour life. I attended eight events and I forged some good relationships which gave me a bit of a head start and accelerate my route to working with that level of player.
WWG: How have putters changed with technology – weights etc – in the past 20 years or so? Did you see the change when putters started getting some serious attention at R&D level?
Phil Kenyon: There's definitely been a change but it hasn't been at the same rate as we've seen with drivers and irons and other clubs – full swing clubs. Headweights have generally got heavier, the average loft is lower and there's a whole variety of grip sizes. Many aspects of putter characteristics are changing. Head shapes have also changed a bit but many have stood the test of time – many from Harold's era in the 50s and 60s are still in play. Where Harold deserves credit is that over recent years more manufacturers are looking at improving a putter's ball-roll dynamics, and that was what Harold started examining many years ago with his designs and the features he was looking at.
WWG: You work with the likes of Stenson, Rose, McIlroy and Race to Dubai winner Tommy Fleetwood – big names who all have different characteristics. How do you work with them on their putting strokes prior to an event?
Phil Kenyon: Well, as you say, they are all different so the first thing is to identify what the relevant things are for them to work on – to help them start it on line more frequently, help them control their speed better, or even help them with their green reading. They're different people and have different learning methods and they spend their time differently when practicing, so it's an individualistic process and the skill is working that out to achieve the best results. It can be simply trial and error.
Congrats @TommyFleetwood1 👨‍👨‍👦‍👦🏆⛳️👏🏻 pic.twitter.com/e31uEZtLcx

— Phil Kenyon (@SwashPutting) November 19, 2017
WWG: You've been out to Dubai a few times – what are the greens like out there from your point of view?
Phil Kenyon: The greens in the UAE are generally very good. There are variations from course to course in speed and grain, and I would say that the consistent characteristic across all the courses is that there is a strong grain. The challenge with grain is trying to predict how it affects break. In most cases the grain generally grows with the direction of the slope – as grain grows in the direction that water would flow. So, obviously water would flow downhill and grain would therefore grow downhill. When you get to low-lying areas where it's flat, grain could settle and then grow in different directions. Obviously, grain growing downhill will affect the speed of the putt because there's less friction and in the flat areas the grain is growing in the opposite direction and that increases friction which can take break out. Grain is notoriously difficult to read, so if you can become good at predicting the grain then you're in a good position to take on the courses in Dubai.
WWG: When you're in Dubai do you spend your time at ETPI or do you hover around the different clubs with different players?
Phil Kenyon: We're very fortunate that at the ETPI at Jumeirah Golf Estates the Tour players can use the excellent facilities, so a lot of the guys who I work with go down there and spend quite a lot of their time there but some of the other guys I work with practice at Emirates Golf Club where Pete Cowen's Academy is. Some of the players I work with also work with Pete down at The Els Club and some players practice there, so I kind of move around the clubs a bit and use the different facilities – and all of them are great.
WWG: How important is Dubai on the players' schedule?
Phil Kenyon: Dubai and its development of golf, relative to the European Tour, has been fantastic. The events at the start of the year provide a great platform for the rest of the season. I go out to Dubai a few days earlier to practice with the guys in before Abu Dhabi. With the events in China and the Far East it's a good stop in between. Dubai is a great place to get some work done.
WWG: How was it working with Tommy Fleetwood and Justin Rose at the DP World Tour Championship with both of them going for the Race to Dubai title?
Phil Kenyon: There was no conflict with timings. They're both very professional and they appreciated me just being professional when we're working together I've just got to make sure I do my job for each player. They've both got respect for each other and they're good people. The greens at JGE were nicely prepared. By playing on the same course each year they build up knowledge. They get a feel for it. The greens are quite grainy but, as I say, the preparation is excellent so there's nothing out of the ordinary to take on board.