Legendary golf course architect Peter Harradine has crafted some of the greatest golf courses in the Middle East, but it comes as no surprise to hear that Doha Golf Club is amongst the ones he ranks the highest.
Though it could have been a different story back in 1995 when Peter was contracted to design the course in Doha. Impressed with the job Peter had done with the Abu Dhabi Golf Club he was invited to Doha to create a course there but in a completely different location to where it ended up being built.
"We initially were going to be given a flat piece of land, where there are a lot of villas now, which was similar to the site in Abu Dhabi." said Harradine. "As I looked up from the flat lifeless site, I could see a hill covered in rocks. I said to them 'give me the rocks.'  They thought we would have a problem growing the grass up there but I reassured them that it was my problem to solve."
"The next day we were told to go and put four pegs at the four corners and the land you choose is yours. You need to remember that only the university was there at the time, nothing else! That is how we came to choose the site and create one of the best courses in the Middle East."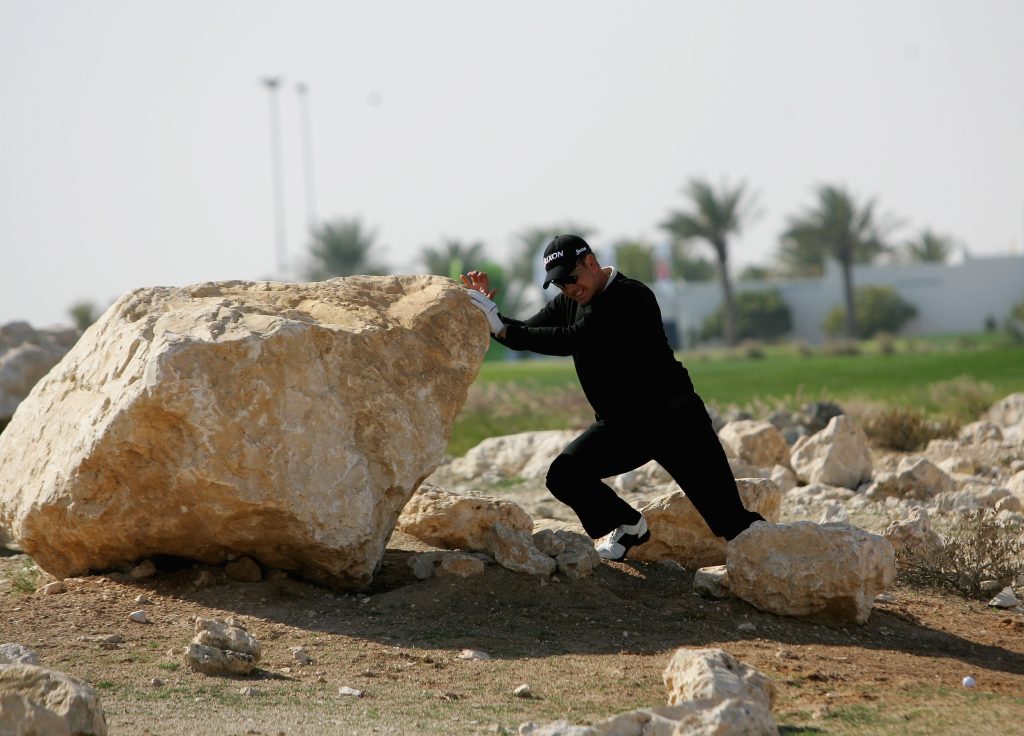 Nearly all the courses in the Middle East are sculpted and a huge amount of ground is moved to create a unique feel but many start with a flat blank canvas. It was no surprise to hear Peter wanted to work with the natural landscape and carved out some iconic holes like the 16th, where the driveable par4 is guarded by a huge rock. It certainly gets you thinking off the tee and many professionals have been defeated by the limestone hazard. On one occasion Italian Rocca cursed after his tee shot came up short and ricocheted off the rock and headed for the rough. It was quite humorous, as "Rocca" in Italian means rock!
His curse was caught live on TV and he ended up being scolded. It was a usual reaction many of us encounter during a monthly medal or competitive round with friends but a rare site for a professional, especially for a player normally as calm as Rocca. That's how that huge boulder can lure players into the Harradine trap.
"I was asked to move the boulder, but I wanted to design the hole using it as a natural hazard," Added Peter. "It's not every day you have to try and drive over a boulder. But that isn't the only rock that comes to play on that hole. To the right of it are some other rocks in the fairway. This is a typical example of a driveable par4 which can bring you a lot of trouble if you get it wrong."
Keep the players thinking
Peter likes to keep players on their toes, which is why his courses contain testing par 3s. There is no better example than the fourth hole at Doha Golf Club. Early in the round you are faced with the monstrous 230-yard fourth hole with a dry lake hazard short and rough through the back. Even the tour players are delighted to write a three on their card and move on from this hole.
"You look at that hole now and see how challenging it is, but in the early years there was a lake in front of the green," added Peter. "It was the only lake that wasn't lined and now the water has gone. We did look to add water again, but the dry lakebed is a daunting hazard all the same. So, water or no water you don't want to come up short. It is an exposed green and the wind can play tricks with the players, so club selection becomes very important!"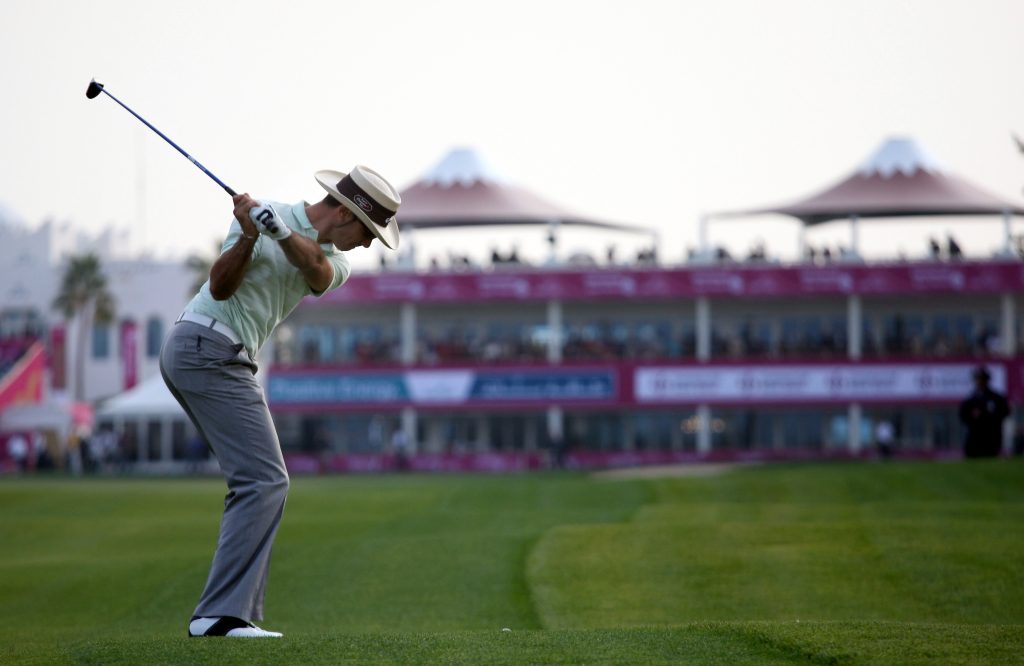 Peter's par 3s are not a distance challenge, he just wants to test the players. This is where the short par 3 17th comes in to play. Look at the card of the course and you will read the penultimate hole is just 155 yards. Surely a guaranteed birdie for most tour players, but in true Harradine stye, there is a twist.
"Pro's love a full swing which is difficult with that yardage," laughed Peter. "It's an awkward yardage and the green is tricky. The pros must stand on that exposed tee box and take a lot of factors into consideration. Knocking down a three quarter nine or eight iron and calculating how it will release is something many will not fancy under pressure. That is why I love this little hole. I'm not a fan of long par 3s. Let's get them thinking not just bashing the ball to a number like a computer game."
Doha Golf Club has recently changed the grass on the greens, and it was touch and go whether the course would be ready in time to stage the Qatar Masters. The new Paspalum grass might not just look better but it gives the golf course superintendent the ability to increase the speed on the greens. "It's a faster grass, looks better and you can cut it very low," added Peter. "The Pure Dynasty Paspalum not only looks good but plays well."