What defines a golf coach as legendary is precisely the same thing that defines the players – Major titles. The status of the player or coach depends entirely on how many Majors they have accumulated in their career.
The most famous of all, of course, is the rivalry between Jack and Tiger for the bragging rights of 'Greatest Golfer of all Time.' Nicklaus still wins, based on his 18 Majors over Woods' 15. But what about the coaches who helped get them there? In the modern game, two names stand out above the rest, our own Pete Cowen, and Butch Harmon.
What makes them different is the diverse range of players they have coached over the years. With Butch recently retired, it leaves Pete as, arguably, the greatest coach in the world right now. Pete first tasted Major success in 2010 when Graeme McDowell clinched the US Open at Pebble Beach, followed quickly by Louis Oosthuizen's runaway seven-stroke victory at The Open at St Andrews.
The straight-talking Yorkshireman's knowledge of the swing, and especially the short game, has taken him to the top. Once he started getting his players over the Major-winning line he became the hottest property worldwide and he's never looked back.
Since 2010 Pete's gone on to coach five more individual Major Champions in Darren Clarke; Henrik Stenson; Danny Willett; Brooks Koepka and Gary Woodland. With Koepka currently dominating the World No.1 spot on the Official Golf Ranking and having bagged four Majors since 2017, he's proved he's no one-hit Major wonder. Woodland is perhaps the most naturally talented athlete on the PGA Tour. With an abundance of natural power, Pete has managed to harness and control Woodland's speed and improve all aspects of his short game to make him a Major player.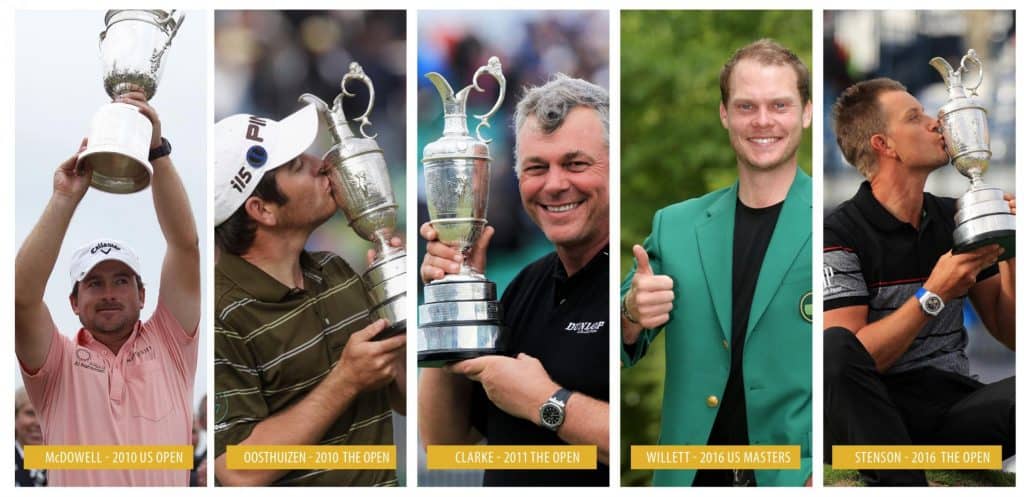 The birth of Woodland's twins shortly after his victory at the US Open means he has not carried his form through the tail-end of the PGA Tour season, but once things settle down at home, expect to see him lifting more trophies. I caught up with Cowen, Koepka and Woodland to find out how the three work so well together and how on earth the two 2019 Major Champions manage to understand Pete's dry and blunt approach to the game.
"It's been a great year in the Majors," says Pete Cowen with a satisfied smile of success. "Brooks went 2nd, 1st, 2nd, 4th, and Gary obviously won the US Open. Now, I don't hit the shots for them, but I believe I've helped both of them get better – certainly Gary over the last two years and Brooks over the last six years." For Woodland, working with Cowen has been a transformation, sparking a seachange in him that saw him discard his unwanted record of losing seven 54-hole leads on the PGA Tour, and putting an end to disappointing finales in superb style at the US Open at Pebble Beach.
"I love Pete's approach, because it's how I was raised around sport as a kid," says Woodland. "The coach tells you what to do and you do it. He has set up a practise schedule for me that is two hours long (if I do it properly) and it involves all my shots from driver to chipping. The best part of it is that every shot has a purpose, so I'm not out there wasting time. I get feedback every day to make sure I'm getting better." While Woodland's improvements are mostly from a technical perspective, Koepka needed some blunt, straight-from-the-shoulder honesty from Cowen to help him become the relentless Major champion who has bludgeoned his way to a pair of US Open titles and US PGA titles.
The Complete Player
"Pete's best piece of advice to me was 'get a better attitude'," says Koepka, and Cowen backs this up after witnessing a clear change in the American. "He's a complete player now," says Cowen. "He understands his mechanics –certainly more now in regard to his short game, which he's worked very, very hard on. "Before that, he used to be a player who hit it miles and killed any course that was short, but he admitted he couldn't win tournaments – and that's when I told him he didn't have the right attitude.
"I challenged him to show me the attitude of a champion and he went out and did exactly that at Erin Hills for his first US Open, in 2017. He's gone on to win three more, which is unbelievable. It's really been an amazing career he's built in such a short space of time. Now he's No.1 in the world by some distance. "He's totally confident in his ability. He realises that his best is more often than not going to be better than everyone else's best. Another thing he's focussed on, is knowing that this is his opportunity to cement his career – from now until he's around 40. He's got to make the most of it. There's plenty of time after that to do whatever he wants to do, but right now his sole focus is golf. That's why he's the No.1 – he's totally single-minded." While Brooks' ascent to the top played out at Major venues in front of the watching world, Woodland has been working diligently on getting the most out of himself. With Cowen's help, he's a newly minted member of the Major club.
Woodland better under pressure
"It's been a great year for Gary," says Cowen. "He started the season finishing second to Brooks in Korea at the CJ Cup (played in October 2018). Then he went to Hawaii after New Year for the Tournament of Champions and should have won there – he shot a final round 67 when leading by three but was beaten by Xander Schauffele's 62, which you can't really account for. "I then went to a few tournaments with him where he didn't play well, so I spent a few days with him at his home in Delray Beach in Florida before the US PGA Championship. I'd only been working with him on the long game since November last year, having already worked on his short game for 18 months. He finished eighth at Bethpage Black – which was a good finish. He wanted to understand his mechanics a bit better, which is why he came to me.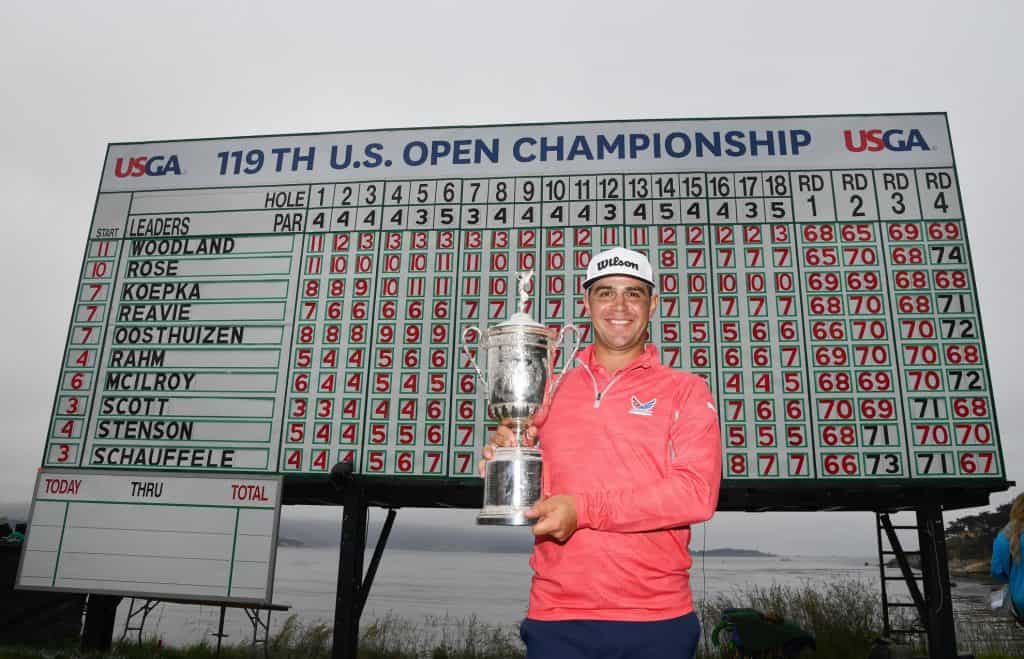 "He wanted to simplify his action to hit better shots under pressure, which is what he did at the US Open. The problem with Gary is that he's a natural athlete and sometimes that can get in the way of the flair that you need within the short game. He's sorted that out quite nicely. His bunker play is better, little chips around the green have gotten better and the long game is fine – he's as long and as straight as anybody. But winning the Major means it's been a great year for him and we'll take it from there. He's a really nice bloke to work with – and he has a rightful reputation for being one of the nice guys on Tour. Nobody has a bad word to say about him.
Club Thrower
"I didn't realise he was a club-thrower until we were on the range the other week. He suddenly said, 'I have my moments.' So I responded: 'Well I don't want too many of them.' He's not part of the blame game culture, he only blames himself and vows to do better." Cowen's no-nonsense approach might not be everyone's cup of tea, but it's certainly worked on Woodland and Koepka, though his message doesn't always get across at the first time of asking. "I definitely need to be locked in with my eyes, and half the time I have to ask Pete to repeat himself so I can hear it properly," smiles Woodland in reference to Cowen's Yorkshire twang. Koepka agrees. "Yeah I also have to listen to Pete pretty carefully," he says.
Chip off the old block
The subject of chipping often comes up in relation to Cowen, who has a habit of giving his pupils marks out of ten for their ability around the greens. So, who would win in a fun chip-shot contest? "Well, he's got to do better than me because he's a 4-out-of-ten and I'm only a 3," laughs Koepka. "To be honest, I don't do an awful lot of practise, but I play a lot. My routine is 'see and react.'" For Woodland, improvements in his touch around the greens have finally brought the Major success that had been promised throughout his early years on the PGA Tour. A winner in 2011 and 2013, he then underwent a five-year wait before he won last year's Phoenix Open. Now, with a US Open title under his belt he's set to challenge at the Majors for years to come. "I love playing in both The Masters and The Open for similar reasons – you have to use your imagination with full shots and your short game has to be on song at those two tournaments," says Woodland. "If you win either of them it allows you to come back forever, which is awesome.
Lag control with wedges
"The key for me has been reducing some of the lag I have in my full swing to help me control my wedges better. Pete has got me to take an extra club to swing easier and do it more consistently to control the ball flight and spin, which allows me to control distance. With that, I need to change my wedges a lot. "I change them once a month and my lob wedge every two weeks if a course is firm and I want a little extra spin." It's a similar situation for Koepka but he doesn't wear his grooves down at quite the same rate. It's around every two months I need to change up, so six changes per year will do for me," he says.
Such attention to detail can be what makes the difference between winning and losing, and with everyone maximising their chances – be it hours changing putter weights, adjusting driver settings or hitting wedges until they're worn out. The race to the top at the big events is getting tighter and tighter. With that, Cowen finds himself at the call of a host of pros and his 'on demand' booking system seems to suit him just fine. "Players have to book me in advance because they're the worst timekeepers in the world," he laughs. "They've got to be good timekeepers when they get to the tee, but they're the worst when it comes to practise. At the Northern Trust in New Jersey I was with Gary Woodland all day on the Monday because he needed to drill out some shots as he'd been out of action with the birth of his twins, and I was with him for maybe 6 or 7 hours on the range.
"A lot of the time most of the players I work with are OK. They say they're fine and maybe they'll ask me to come and have a look at them to see if there's anything untoward. If they say they are playing well then it's fine for me to walk away and find somebody else. "It's not an ego thing of mine to stand there and have to coach them. Sometimes, once a tournament gets underway, we can still work hard with players – it happened with Woodland at the US Open on the Thursday after the first round. That turned out to be successful because he went on to win it. We were there until about 8.00pm that night."
Vintage year gets 8.5 out of 10
It's been another vintage year for Cowen and while his workload might now slow down a little before the Majors start up again in April, he still gets satisfaction on improving players' fortunes out on Tour. "This year I'd give it an 8.5 out of 10 because I've had two players win Majors. Beyond that, both Graeme McDowell and Ian Poulter have had good seasons. McDowell has put in a lot of work and the fact that The Open was at Royal Portrush galvanised him a little bit. It has happened before to players whose families come along to the tournament and they don't get as much time to put the work in – it can upset the apple cart for a short while, particularly with first time children to cope with.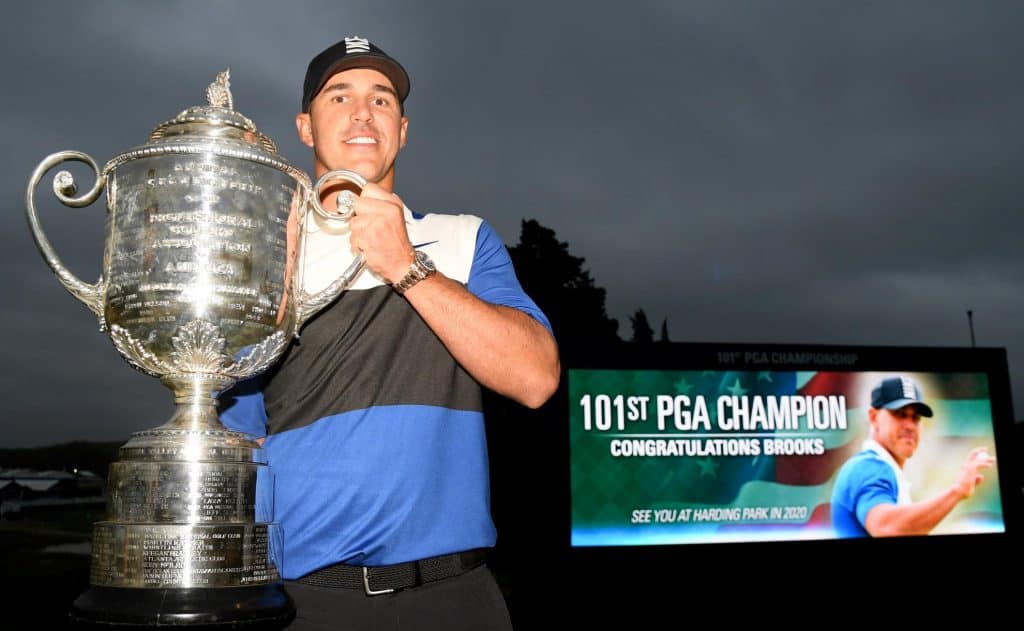 Family distractions
"Hopefully, they get back on track. Although some don't, and that's the nature of the sport and of life. But McDowell has refocussed and has started playing like he should do. That's what you want them to do. I don't spend hours on the range with a player for them just to go out there and say 'I can't be bothered' – that's no good to me. "Poulter has had a steady year and he's been impressive. He wasn't happy on the range at the Northern Trust when he arrived. It wasn't anything serious. He just said he couldn't find the rhythm or the timing. So, he worked hard on Wednesday afternoon on it – spent time drilling it over and over to get it back – and he did, going on to finish 10th."
Being a dour, dyed in the wool Yorkshireman, Pete Cowen has earned the reputation of saying it just as it is, take it or leave it. Some players may not like his style but that doesn't bother Cowen. He'll get to the bottom of the problem as he sees it and he shoots from the hip in getting his message across. His success rate says the rest! Ask Brooks and Gary.