When Paul Casey tees it up at next month's DP World Tour Championship he'll have his eyes fixed firmly on the prize and he's leaving no stone unturned in his quest to become Race to Dubai champion. victory at the Porsche European Open last month was his first European Tour title in five years and it moved him into striking position in the Race to Dubai. with some of the tour's biggest events still to come, he's keen to keep the momentum rolling.
"Now is the time when we're getting to the important stuff and because I haven't played a full European Tour schedule compared to a lot of guys, I'm a bit further back than I would like to be. Still, I'm inside the top 20 in the Race to Dubai and I'd love to give myself a chance when we get to the DP World Tour Championship," said Casey as he prepared for the BMW PGA Championship at Wentworth Club.
"In many ways it's weird how my PGA Tour season is already over and my European Tour campaign is just getting going, but I feel that if I get to Dubai and I'm inside the top 10 in the ranking, then there's every chance that if I win the tournament I'll also win the Race to Dubai, due to the fact that there are a lot of points available for the winner. Obviously, I need to play well and I probably need to win again. I'm playing the Italian Open where there are plenty of points to play for. There's also the World Golf Championship in Shanghai before heading for Dubai, so we'll see what happens."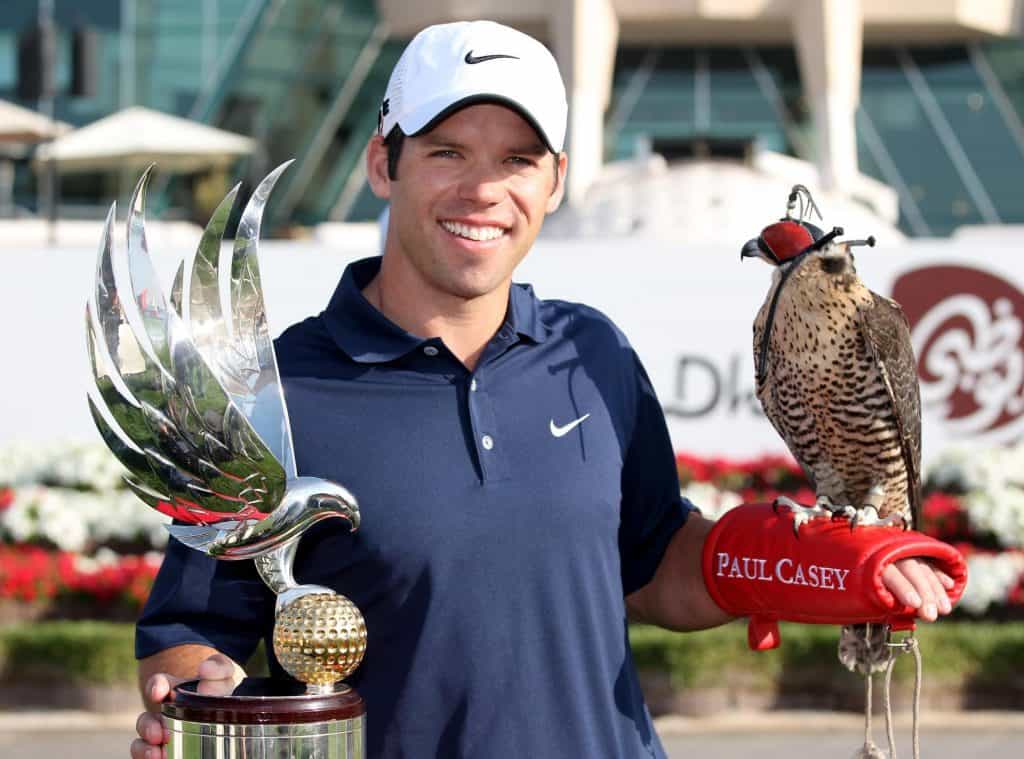 Casey makes only his fourth career appearance in the season-ending showpiece at Jumeirah Golf Estates but he's keen to get back there and show his support to the European Tour after rejoining last year as a full-time member to get back in the Ryder Cup fold. The 42-year played for Team Europe back in 2008 at Valhalla and he was one of Thomas Bjørn's wildcard picks for Paris last September where he formed a strong partnership as mentor to rookie Tyrrell Hatton in the fourballs before halving his singles match with Brooks Koepka in a spectacular tug-of-war.
LURE OF THE RYDER CUP
While memories of Le Golf National still burn brightly within Casey, he's determined to be a part of the Team again at Whistling Straits in Wisconsin next September. "I'd love to be in another Ryder Cup team," he says. "Looking back to five or six years ago it was difficult for me to play both the PGA and the European Tour at the same time. I was outside the top 50 in the World Ranking, and people forget that.
"I didn't just give up and walk away from the European Tour. I just couldn't commit to it fully. Potentially, I could have lost both my Tour cards had I continued to play a split schedule because I just wasn't playing well enough. "But The Ryder Cup was too big a lure to give up. Watching Darren Clarke and his team at Hazeltine in 2016 was too painful for me to take and I thought, 'well if I can contribute next time round in Paris in 2018 then I'd love to be part of the Team. I felt like I could achieve my goal because over the last few years I'd been playing some pretty decent stuff again and I had some great conversations with Thomas. Although you never know how it will pan out, I thought he'd be a good Captain. Ultimately, he turned out to be a great Captain in my eyes.
"It would be a wonderful achievement to be a part of the team at Whistling Straits under Captain Padraig Harrington and I'd also love to be at the Olympics next year. That would be something really special and it's probably going to be my last chance at it. So my goal is to be inside the top 15 in the World Rankings come June next year and lock up a place in the Great Britain team, probably alongside Justin Rose, Tommy Fleetwood and maybe Matt Fitzpatrick or Matt Wallace – it could be anyone. I'm certainly not assuming they're going to fall in the rankings, so I've got to get up there – and I'm glad Rory McIlroy is representing Ireland, as that makes it easier! Representing Great Britain in Tokyo at an Olympic Games would be one of the highlights of my career."
DOUBLE SUCCESS
Casey has two wins to his credit this year – the Valspar Championship on the PGA Tour and the Porsche European Open in Hamburg, a tournament he has fond memories of. "It was a great win at the European Open," he says. "It's a tournament I used to watch as a kid at Walton Heath Golf Club back in the day, and I vividly remember Mike Harwood winning in 1991 – a long time ago now. So it was amazing to snag that trophy. I played some great golf and, hopefully, I can continue that into the end of the season."
Now one of the 'Old Guard' on Tour, Casey will turn 43 next July but he still relishes going toe-to-toe with the next generation who are bursting through at increasingly younger ages. "I don't know how long I've got left playing at this level but I feel good for a 42 year old," he says. "It's a weird one because this has become such a physical game. Just look at Rory and Brooks Koepka – they're such good athletes. I guess I've been lucky in that I've always been a pretty good athlete and I've found a nice balance between working incredibly hard on it, but not too hard so that I pick up any injuries as a result. I practice less than I used to, as I have  family now, but I seem to be striking a nice balance and I enjoy the challenge of being 42 and competing with the 20-somethings – and the teenagers coming through."
EDGA DUBAI FINAL
Casey will be an interested spectator in Dubai when the EDGA Dubai Finale takes place on the Friday and Saturday of the DP World Tour Championship, with eight of the leading Golfers of Determination teeing it up to compete. "This initiative has everybody's support on Tour," he says. "I'm excited to watch because I've been privileged enough to see some of these guys play. They're amazing golfers and amazing athletes and I might actually learn something about how to play the Earth course!
"So, I'll be there watching and I take my hat off to the European Tour and everybody participating. There are a lot of activities where the European Tour is leading the way and this is probably one of the finest things that they're leading the way with." While Casey may aim a little self-deprecating joke about his record at Jumeirah Golf Estates, his memories may be clouded by a 54th place finish in his last appearance in 2013.  Prior to that his results were a share of 16th in 2011 and tied sixth in 2010, so he knows how to score well when his game is firing. "I finished my season well on the PGA Tour so it would be nice to have an equal or even better finish in Europe," he says, signing off with a smile.