It's been just over two years since she caught the attention of golf fans around the world and Paige Spiranac is continually adapting to life in the limelight, while all the time remaining focused on using her position as a force for good – both inside and outside the ropes.
As a young graduate at San Diego State University she had her heart set on making the LPGA Tour but her natural competitiveness and will to win gradually waned. So she turned her focus on using her status in the game to raising awareness of various issues that confront young people, particularly online, where she has a huge following on Instagram and YouTube. WG speaks exclusively to the 24-year-old internet sensation ahead of arriving in Dubai to introduce the world's best players in her role as Official Starter at the Omega Dubai Desert Classic later this month.
WG: At what age were you introduced to golf and how long did it take for you to fall in love with the game?
Paige Spiranac: I didn't start playing until I was about 12 years old, which is a late age to take up golf. Before that I had been an elite gymnast. When a serious injury forced me to quit, I knew I still wanted to be an athlete, so I tried a bunch of other sports and found golf! I fell in love with it pretty much immediately. As an introvert, I really enjoyed being outside on the range by myself. Plus, I love being challenged, and golf is always challenging!
WG: You've turned down lots of invitations to play in LET and LPGA Tour events – how surprising was it to receive an invite to become Tournament Starter at the Omega Dubai Desert Classic?
PS: Dubai, and Emirates Golf Club particularly, hold a special place in my heart. I have had the amazing opportunity to play in the Ladies Classic over the past two years, so I was honoured to be invited back again as the Official Starter for the men's tournament. I can't wait to spend more time with the incredible staff at the event, who are now like a family to me, and, of course, the fans who always make it such fun to watch.
WG: Beside your role as Official Starter at the DDC, what else are you looking forward to doing in Dubai?
PS: In the past two years my schedule has been so busy that while I was able to do some incredible things, such as seeing the penguins at Ski Dubai and visiting the Burj Khalifa, I absolutely love to eat and don't feel like I've really been able to explore the restaurant scene! One place I'd like to visit this year is Pier 7 at the Dubai Marina. All the restaurants in there are supposed to be amazing, plus they all have an incredible view of the marina.
WG: Could being an Official Starter trigger off a career for you in acting or something away from golf?
PS: Honestly, I've never considered acting in the traditional sense. However, with all the tools and platforms we have available to us now, athletes are able to act within their own media companies, which I do on a regular basis. Through my Instagram and YouTube channels, I'm able to create cool, interesting golf content. I'm basically producing, directing and acting in my own little movies on a weekly basis!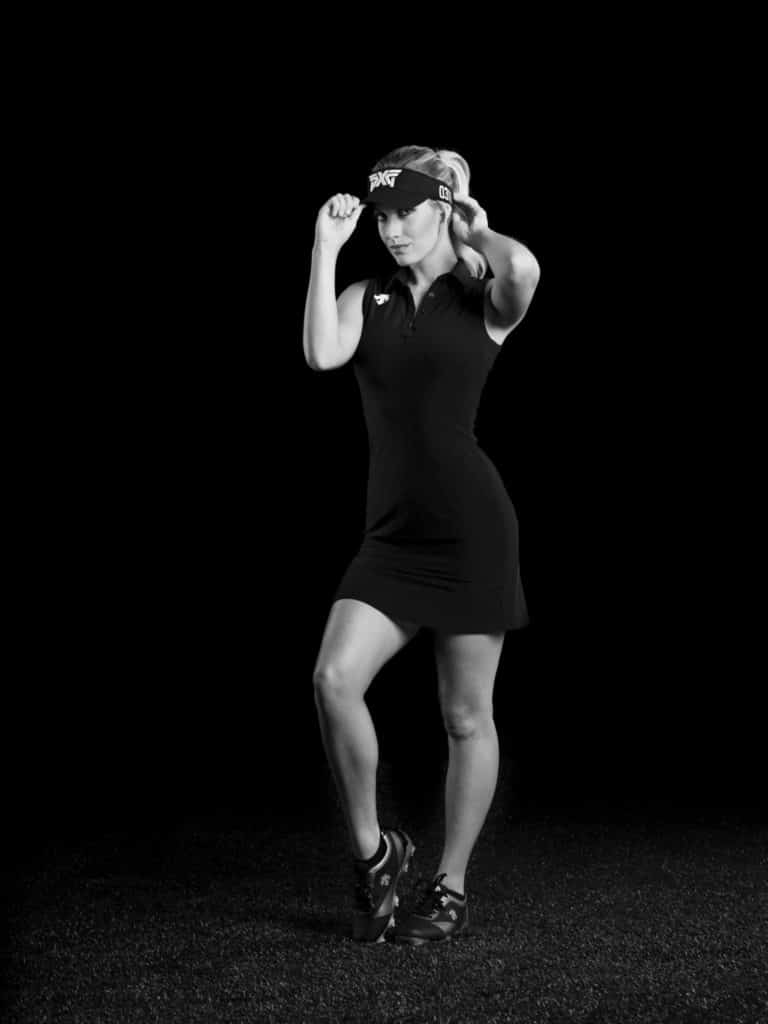 WG: How are you hoping to promote women's golf at the Omega Dubai Desert Classic?
PS:  Any time we can teach women about the game, we're growing women's golf. I feel Sometimes people get confused between growing the number of professionals, recreational players, and fans – all good for golf! Not everyone wants to play professionally, and many people don't want to play recreationally, but they can still become loyal fans. One day those spectators might want to pick up a golf club, or maybe they'll encourage their daughters to play, and, all of a sudden, more women are out on the course.
WG: Out of all the top men competing in the Desert Classic, have you built a friendship with any of them during your career so far? Have any of them spoken about life on Tour or about your game?
PS: To be completely honest, I'm always too intimidated to go up to the players if we are ever at the same event. It will be fun to be the starter so I'm forced to say "hi". I'm excited at meeting everyone! But throughout my career I have met many pros who currently play and those who have retired, and they are always so willing to help and give great advice. I try to take in as much as I can and apply it to my golf game and my career.

WG: You're very active on Instagram and Twitter while making progress with your game – making the cut at the Aberdeen Asset Management Ladies Scottish Open in 2016 and winning an event on the Cactus Tour in Arizona – but do you feel that if you totally ceased responding to the messages and comments you receive you'd be in a better place to practice your game with a clearer head? Maybe turning off the comments could have a positive impact? 
PS: Yes and No. Responding to trolls can definitely be detrimental to anyone's mental state and it's often great advice to ignore the bullies. However, with my considerable platform I feel it's also my responsibility to call out cyber-bullying and to set examples of bad behavior for others. Unfortunately, people will often tell me to delete my accounts if I don't like the way I'm being treated, but that's just not an option for me in my career. I believe it isn't for a lot of people either. So instead, I've accepted that sometimes I'll have to deal with some of that negativity in my head in order to, hopefully, one day make social media a safer, more positive place for everyone, especially the kids.
WG: Why were you so outspoken about the new dress-code that the LPGA Tour implemented last year?
PS: Female athletes should be able to choose what they wear. While dress codes are often a part of sports, I feel they should always serve a performance or safety-based purpose. If we are really only concerned about elevating the women's game, we should let women wear what they feel most comfortable playing in. The practice of policing women's bodies is so ingrained in our culture that sometimes we don't even realise we're doing it. We have to constantly be aware of how we're talking to women about these issues in order to break the cycle.
WG: Who are your female athletic role-models?
PS: The awareness that gymnast Aly Raisman is bringing to sexual assault right now is so inspiring. It takes a lot of courage to open up to the public like that. I admire any athlete who uses her platform to encourage positive change in the world, and Aly is definitely doing that in a big way right now.
Not only is @PaigeSpiranac going to be the official starter for #ODDC18, but you could also WIN the chance to have her as your own caddy! pic.twitter.com/mHdNcqalUQ

— OMEGA Golf Dubai (@OMEGAGolfDubai) 27 December 2017
WG: How involved are you with the Cybersmile Foundation and why is their work so important to you?
PS: As a victim of cyber-bullying from childhood to now, I take my work with Cybersmile very seriously and am extremely passionate about the foundation's mission. There has been a huge spike in teenage suicides, many of which have been attributed to cyber-bullying. If we can change one teenager's life, then that will make more of an impact to me than winning any golf tournament.
WG: As a professional golfer, what are your main goals and how are you setting out to achieve them?
PS: My goals have shifted as my career has progressed. Since I started playing, I wanted to compete on the LPGA Tour and worked as hard as I could, but after my first year as a professional, I realised I loved golf but didn't love competing and the lifestyle of being on the road. My main goal now is to be an ambassador for golf and anti-bullying. I want to be a positive influence for others. I love doing charity work and giving back in many ways. I'm passionate about other people more than I am about winning. I think people need to realise you can be successful in unconventional routes in life. It's about what fulfills you.
WG: PXG are a top-end brand in the golf world, how impressed have you been with their products?
PS: I'm hugely impressed! People sometimes don't believe me, but I really did pick up 15 yards on my driver and am so much more accurate now. If you're a person who is looking for top of the line clubs, PXG is definitely the way to go.
WG: What is it about the PXG brand that attracts you to it?
PS: I love the way that PXG is so bold and that they're not afraid to think outside the box. Golf is such a traditional sport that sometimes it's fun to see things get shaken up a bit!
Dubai, and Emirates Golf Club particularly, hold a special place in my heart. I have had the amazing opportunity to play in the Ladies Classic over the past two years, so I was honoured to be invited back again as the Official Starter for the men's tournament. I can't wait to spend more time with the incredible staff at the event, who are now like a family to me, and, of course, the fans who always make it such fun to watch.
WG: Aside from golf, what do you like to do to keep in shape and do you have any interesting hobbies?
PS: Fitness is so important to me – I'm always in the gym with my fiancé, who's a personal trainer. Outside of hitting balls on the range for hours, I like to get in a good mix of cardio (usually running) and full body weights. I work out 5-6 times per week for around an hour. For hobbies, I love going to the movies and playing with my rescue puppy, Niko!
WG: As a golf fan, what were your favourite moments of 2017 and what are you looking forward to in 2018?
PS: I'm good friends with Justin Thomas, so to see him have such tremendous success in 2017 was great! Also I'm a big Tiger fan, so his recent return was really exciting for me. I'm looking forward to seeing how he does in 2018!