By Scott Grayston
After representing Europe at six Ryder Cups and being Vice-Captain for the last three, 2020 is the year when Padraig Harrington steps up to lead Team Europe in a formidable task against the USA at Whistling Straits. After Europe's 17-10½ annihilation in Paris last year, there's no doubt America will come out with all guns blazing with a point to prove. Harrington is ready for the tough task in hand.
"It seems to be my time," says the Irishman who confirmed the appointment in January. "Being asked to be Captain wasn't really a surprise. I've played, been Vice-Captain and am at the right age for the role. I was delighted to be picked but even when I was selected I did have to think about it because there's two sides to the job. If you become captain you have to put your own golfing career a little bit on the back boiler. Secondly, there's a lot of responsibility. The Ryder Cup is very important and the result is very important. You want to be a good captain and, more importantly, you want to be a winning captain. That's a difficult task for anyone but it's even more challenging in the States. You have to ask yourself do you really want it? And the answer is yes."
Ireland's most successful golfer has an invaluable amount of Ryder Cup experience. He has played on the winning side of four Ryder Cups and the losing side of two, so he realises what is required from a captain to give Europe the best chance of creating a winning formula. 
"I hope to get the most out of my players by treating them the right way to suit each individual character," adds Harrington, who as a Vice Captain experienced victory twice and one loss. "Some will need a kick up the backside, some will need an arm around the shoulder, whilst some will seek advice. A good captain can change their style to suit each individual. I don't believe that one style fits all. I don't have a favourite captain from the Ryder Cups I've been involved in but everybody had their own style. Bernhard Langer took a lot of control and was very hands on – a bit like a schoolteacher. Whereas Sam Torrance and Ian Woosnam put their arm around your shoulder and say: 'Come on I believe in you' and trusted you in an attempt to raise your confidence." 
The 47 year old, who has the reputation for being one of the hardest-working players on Tour, will have the same work ethic with his captain's role. 
Effort and Time
It's far from a case of just picking the wildcards, turning up and offering support and advice on tournament week like it once was. "Captains are heavily involved these days compared to back in the day when they literally could turn up the week before the tournament," he explained. "It's incumbent that the captain puts a lot of effort and time in and really knows their stuff going into it, because it's a far bigger job than it was 20/30 years ago. The game has got very serious in the last number of years. Paul McGinley kind of changed it all in terms of the amount of preparation required and things that a captain has to do behind the scenes. I need to make sure I'm capable of delivering to each member of the team."
One man who is determined to make the Ryder Cup team at Whistling Straits is England's Matt Wallace, who's shown excellent form over the last couple of years and was unlucky not to make the squad in France.
Although he'll be a rookie, Harrington has no doubt he'll be the ideal fit for this dramatic sporting spectacle. 
"Matt Wallace looks like the perfect character and candidate for an event like The Ryder Cup. It's hard to believe that he still has to perform well next year to be in the team but he's the sort of rookie you would like to have in your side. In his current form, if all your rookies were like him you'd be very happy."
Reducing Picks
Harrington has already started proceedings for next year's battle by lowering the number of wildcard picks from four to three. 
When he makes his wildcard selections, he won't just choose the best players who failed to qualify automatically. 
"If a guy makes the team they deserve to be there because they're good enough. I know myself that it's easier to play if you've automatically qualified than when you're picked as a wildcard, because you have to justify that choice, so there's a lot of stress and pressure.  
"We'll be picking three wildcard players to complement the nine and that's definitely not going to be the next best three players who don't get selected automatically. It's three players I feel that will help the nine get the most out of their games. The last thing I'll be doing is picking my wildcard picks to match their team."
Major return to Ireland
In a glittering career, the Dubliner has pretty much achieved it all in the sport. He's won 31 professional tournaments all around the world as well as a World Cup in partnership with Paul McGinley, but his defining career moments have been in the Majors. 
At Carnoustie in 2007, Harrington ended a 60 years Irish Major-winning drought since Fred Daly – up to then the only Irish player to win a Major, in 1947 when he won The Open.
Harrington then proved it wasn't a fluke when he successfully defended his title in style a year later by four strokes at Royal Birkdale, as well as lifting the PGA Championship the same season at Oakland Hills. 
'Plenty of Drama'
The Open Championship is arguably the most prestigious tournament in golf but it holds a particularly special place in Harrington's heart, especially with this year's Open being held at Royal Portrush in Northern Ireland for the first time in 68 years. 
"I'm thrilled The Open is back at Portrush and to Northern Ireland," he adds. "There are so many positives. It's a great venue and I love the golf course because it's really exciting and provides plenty of drama with bogeys and birdies galore. 
"It's quite intimidating in places but good shots will be rewarded with birdies. It's a very traditional links layout. At times you'll be an inch away from a disaster but will make a birdie or eagle, and other times you'll be punished, so it's certainly going to be an exciting Open Championship."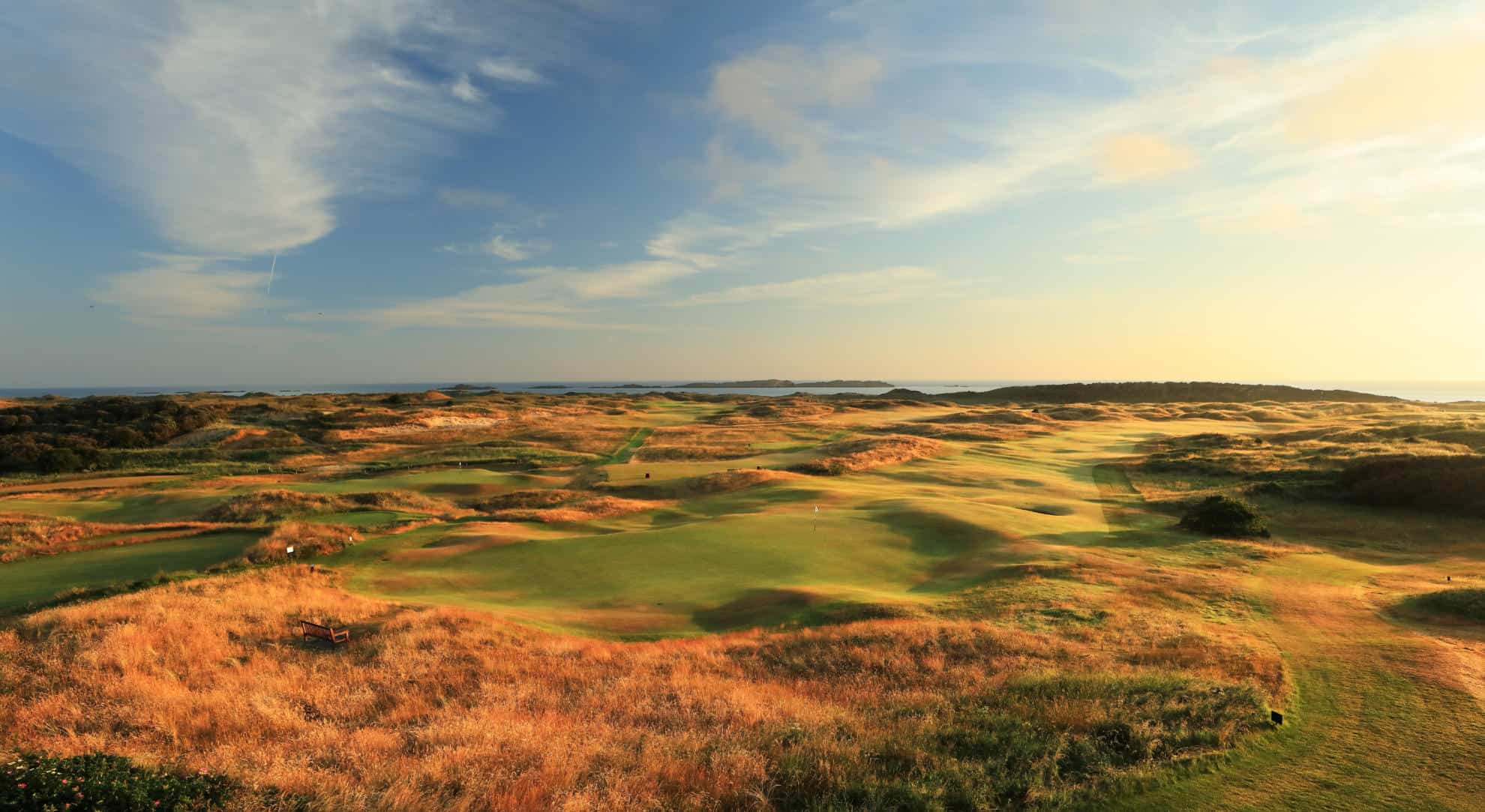 With Harrington's Irish roots and proven track record in The Open, you'd fancy his chances of doing well but he's been hindered by a wrist injury which has limited him to just two events this season. With an array of gifted golfers like Major master Brooks Koepka, Rory McIlroy and Tiger Woods competing, who does Harrington believe will be the man to beat at Portrush?
"It's irrelevant to me who's playing in The Open because the only person I care about is myself. If I were going to look at other players, the names I'd look for at the end of my round would be: Brooks Koepka, Tiger, Rory and Graeme McDowell. 
With Brooks playing so well in the Majors you'd be interested to see how he gets on, Rory's back in his home country, G-Mac is on his home course and you are always intrigued to see how Tiger gets on. I want to make sure I'm ready and I get my own head into the game. I haven't shown much form but I know what to do – it's just a question of doing it."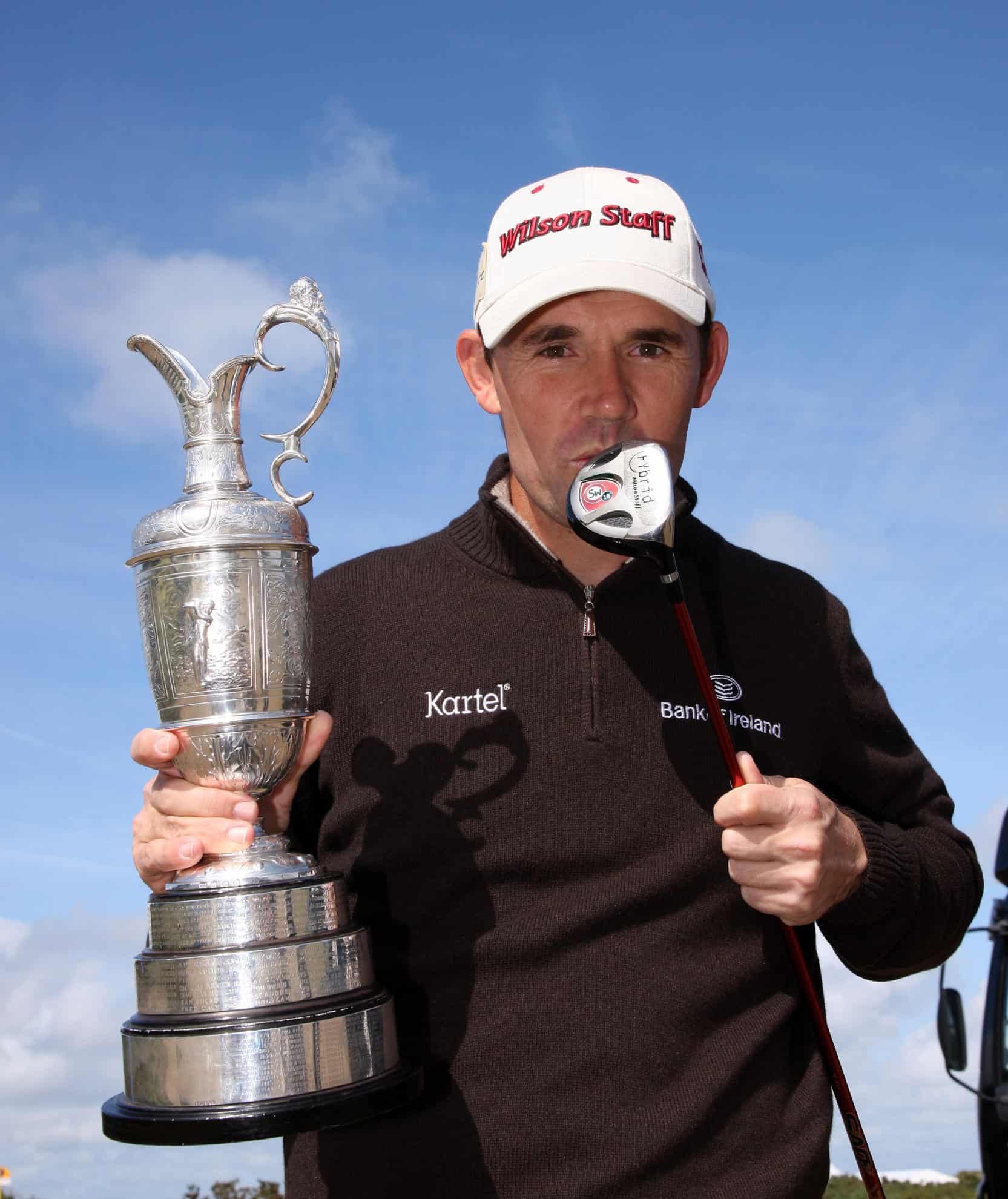 Harrington had a fierce rivalry with Tiger when they were both in their prime in 2007-2008. Between them they won five Majors out of eight in that period. 
With Woods suffering from a number of off-course calamities and almost career-ending back issues, his return to the top appeared implausible, but not in Harrington's eyes.
"I always believed Tiger would go on to win another Major but I didn't think he would do it in the style he did at The Masters, completely dominating the final round.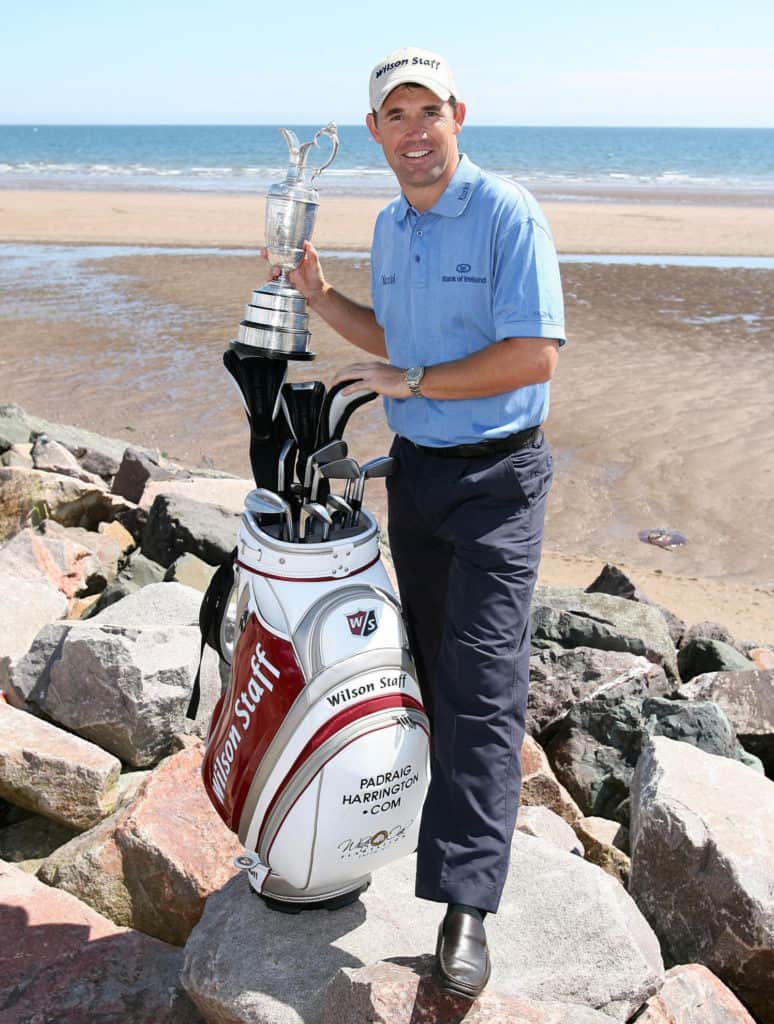 'Greatest Moments'
"It was very much the Tiger of old. I thought he'd win one in a similar style to how Jack Nicklaus won his last Major where he had to rely on the leading players to fall short. 
"After seeing Tiger triumph the way he did, I believe he can go on to win more Majors. Portrush will suit him because it rewards good iron play and he has fantastic distance control."
Regardless of who wins where, Harrington is firmly concentrating on his own career with two busy years ahead to try and add more silverwear to his stunning collection. 
"There's no doubt my two Open wins were the greatest moments of my career. When you win your first Major and then do it again, back-to-back they must be my highest honours. They are probably what people will remember the most. When you achieve a Major you think to yourself, 'wow, I can't believe I've done this'." 
Many will believe that Harrington can lead Team Europe to glory against the USA on their home turf next year and perhaps win another title, too, along the way.