Richard Bevan talks to one of the UAE's finest golfing prospects Maya Palanza Gaudin, along with her proud parents, as she prepares for a dream outing at Augusta National by holding her own alongside defending champion Thomas Pieters in the Abu Dhabi HSBC Championship Pro-Am at Yas Links.
For most 12 year olds, the prospect of teeing it up alongside one of the hottest stars in golf would be cause for knee-trembling nerves. For most 12 year olds, playing in the highest-profile group of the Pro-Am ahead of one of the biggest events on the DP World Tour, alongside the defending champion, would be enough to put them off their game.
But, as I found out when chatting with this confident and well-spoken youngster, Maya Palanza Gaudin is no ordinary 12 year old. She plays off 0.6 and her round at Yas Links with Belgian maestro Thomas Pieters ahead of this week's Abu Dhabi HSBC Championship was the latest in a growing list of golfing celebrity encounters befitting of a burgeoning talent on an upward trajectory in the game. It's a rise that will soon see her walk the hallowed turf of Augusta National where she's set to compete in the Drive, Chip & Putt National Finals on April 2, ahead of Masters week.
"It was amazing playing with Mr Pieters, he reminded me a lot of Mr (Gary) Player, he's like an ambassador of golf. He was so sweet to play with and so kind to me," says the impeccably polite Maya of her pro-am experience with the six-time DP World Tour title winning Ryder Cup star.
"He also reminded me a lot of Mr (Robert) MacIntyre…," at this point Mum Cassandra interjects, "You mean Mr McIlroy…" Maya replies: "No, well okay, Mr Macintyre and Mr McIlroy – I played with Mr Macintyre at the Pro-Am for last year's Ras Al Khaimah Championship, remember?"
Player, McIlroy, Fleetwood, Hovland, DeChambeau, MacIntyre and now Pieters – she's rubbed shoulders with all of them and played with many of them, such is the attention this talented youngster – born in Ethiopia and brought up in Abu Dhabi by her adoptive, doting parents – has garnered.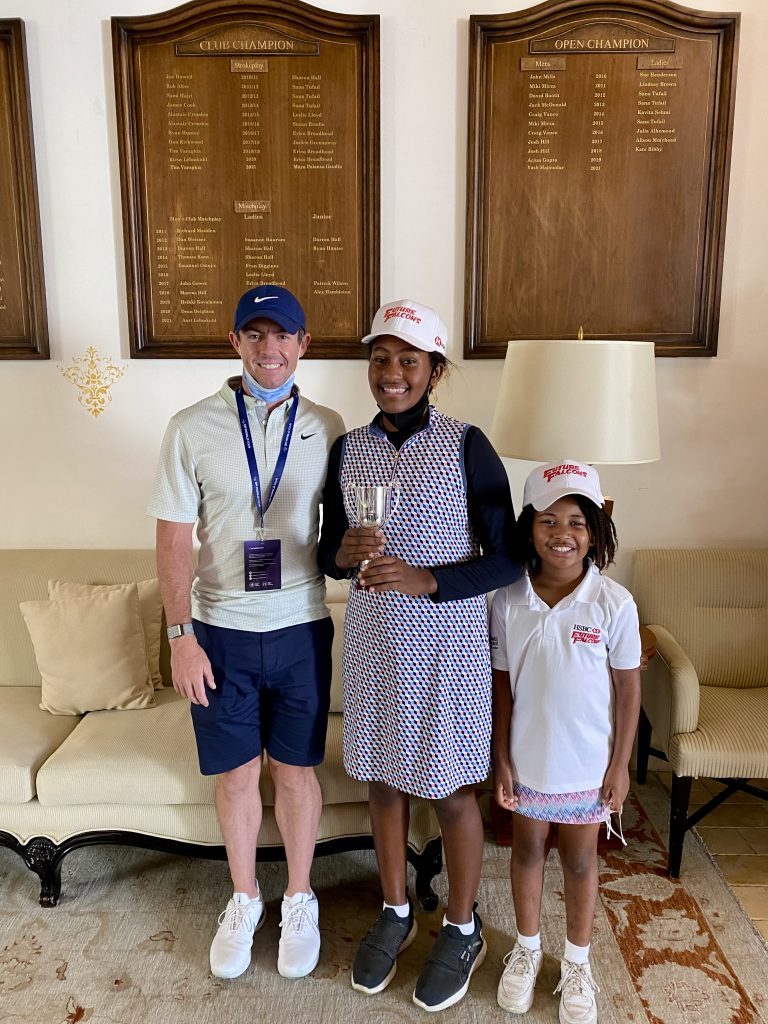 Maya's first brush with fame came when she was a mere seven years old. After winning a nearest to the pin competition with the HSBC Future Falcons programme, she was invited to tee off alongside McIlroy during the Abu Dhabi HSBC Championship.
"We thought it was going to be 30 seconds on the range if we were lucky," says Maya's father Stephen. "But it was during the third round, after the pros had teed off they called Maya out, in front of about 400 people, and she hit a tee shot.
"We thought that was it but Maya went and introduced herself to Rory and he came over to me and said, 'we do a lot of these things and usually it's the kids of sponsors, but they don't always have the manners your daughter has, would you mind if she walked the rest of the hole with me?'
"We got to meet his dad, his manager, and it was the start of a relationship. Now whenever he's back here, Rory makes an effort to check in with Maya and see how she's doing."
One of those visits was last year when McIlroy returned for the Abu Dhabi HSBC Championship's debut showing at Yas Links. He posed for a picture with Maya in front of the club winner's board. Why? Because her name is up there. She won the Club Championship in 2021, when she was just 11 years old….in fact she was 10 when the tournament started but celebrated her birthday during the event weekend.
"It was the full Ladies Club Championship, not the junior championship as they didn't have one of those for girls," Stephen proudly proclaims.
Last summer Maya won the biggest tournament of her short but eye-catching career when she fired rounds of 72-74-74 in the prestigious US Kids European Championship at Glen Golf Club, just outside Edinburgh in Scotland, to claim victory in the Girls Aged 12 Category.
Later this year, she'll take another giant leap forward in her journey to fulfilling her ambitions of becoming a tour pro when she tees it up at Augusta National in America's biggest nationwide skills competition, Drive Chip & Putt. In order to secure her place in the field she had to come through multiple qualifying events in the US, where 10,000 young hopefuls were whittled down to just 40 girls and 40 boys who will compete on the Sunday preceding Masters week in Georgia.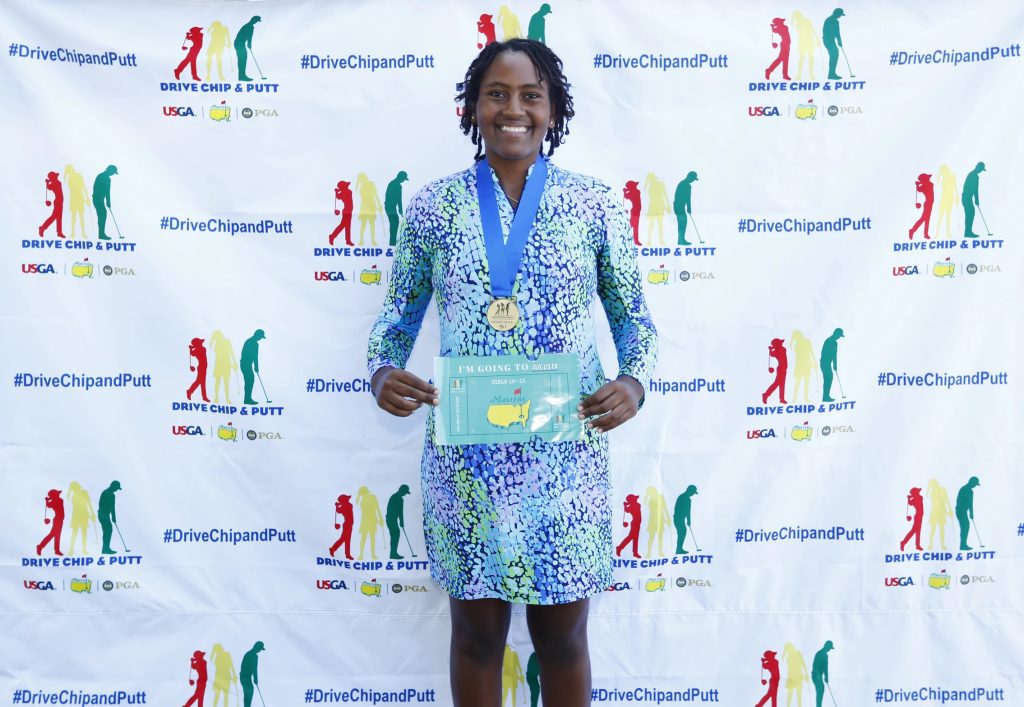 "I'm very excited to go to the Masters, it's supposed to be really good food there…and an amazing golf course!" smiles Maya.
"My goal is to win, of course. I won't beat myself down if I don't win but I'm going to score as many points as possible and give myself a fighting chance."
As with the Masters Tournament itself, competitors for the Drive, Chip & Putt receive fancy official invites in the mail from Augusta National. Maya's only arrived in Abu Dhabi the day before the Pro-Am and she resolved to wait to open it at Yas Links, a club that holds a special place in her heart.
"I wanted to wait until I was here to open my letter because this is where I started playing golf," says Maya. "I started playing when I was five and have been playing at Yas Links ever since. So, to get to open my letter from Augusta here with Mr Pieters with me, and my mum and dad, was very special. I couldn't imagine doing it any other way!
"It was really HSBC who helped me a lot with the Future Falcons Programme because they had the Swing, Chip and Putt competition, which is very similar to the Drive, Chip and Putt. So, it helped me prepare a lot for playing in the States. It brought me on an amazing golf journey, and got me to this point so I can't thank them enough."
One of the UAE's own – a product of the Emirates Golf Federation, supported by the Abu Dhabi Sports Council, the Dubai Sports Council and HSBC – teeing it up at Augusta in a bone fide top class competition. It truly is the stuff of dreams. Keep an eye out of Maya Palanza Gaudin because I have a feeling she'll be making us dream of bigger and better things for our very own golfing export for many years to come.