While there have been no additions to Matt Fitzpatrick's win column as yet in the 2019 season, the Englishman has been happy with how the year has panned out as he gets set for another assault on the DP World Tour Championship."So far, so good," reflected the 2016 winner at Jumeirah Golf Estates.
"I feel like I've played well this year. All I'm missing is a win. I've felt very comfortable all year and I've worked really hard on the aspects of my game I needed to improve on, and, fortunately, they've paid off. Hopefully, I can keep on improving before the end of the year."
Fitzpatrick has had a series of close calls, finishing runner-up at the Honma Hong Kong Open presented by Amundi, the BMW International Open, the Scandinavian Invitation and last month's Italian Open, which have set him on course for a second career top-ten finish on the Race to Dubai. He was desperately unlucky to finish runner-up in Rome, having led the field as the overnight leader. In the final round he played some stunning golf but his 69 couldn't quite make it past Bernd Wiesberger's closing 65.
'DISAPPOINTED BUT A GREAT WEEK'
"I've been in a position to win three out of four times this year so I'm disappointed at missing out again," said Fitzpatrick. "But I played some fantastic golf and even though I lost by one shot, it was a great week." Since 2015 Fitzpatrick hasn't endured a winless season on the European Tour, so what better place to finally end the wait than a second victory at the DP World Tour Championship?
"When I first got to the DP World Tour Championship, I thought it was a bit of a bomber's course and I didn't think I'd have any chance here," he said. "But apart from last year (34T) I'd played it three times before that and finished inside the top 15 every time – including my win in 2016 – so I think the Earth course suits my game well. "It's generous off the tee but you've got to have great approach shots to score well and that's often a strength of mine. The 18th hole brings back some great memories. It's a really good hole when the tees are pushed forward a little bit because it brings the water into play, so you've got to hit a really good shot. It's a demanding hole but that's what makes it so good. Early on there are some holes which you can attack. The second is a short par-5; the approaches to holes 3 and 5 are both with short irons; the seventh is another par-5, so you can definitely get your score going on the front nine. If you can do that then you can head into the back nine with a fair amount of confidence."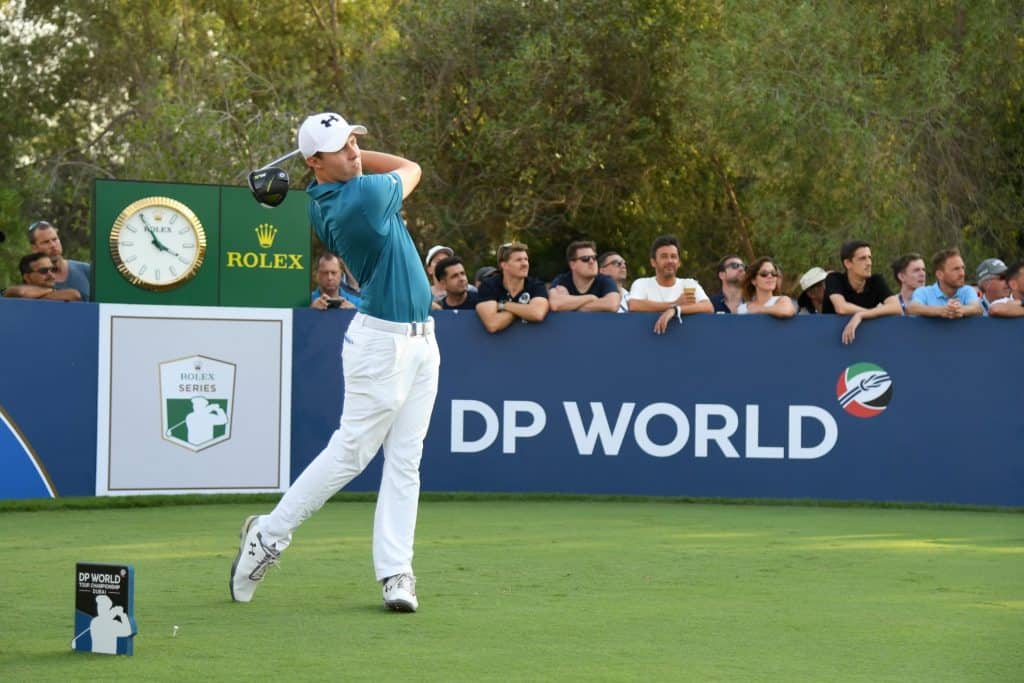 That is certainly not something the 25-year-old Yorkshireman lacks. From his early exploits as an amateur it was clear he was destined for big things. In 2013 he won the Silver Medal as the Low Amateur at The Open at Muirfield and became the first English winner of the US Amateur since 1911 with his victory at Brookline. That triumph earned him invitations to the following year's Masters, US Open and Open, where he again showed his potential, earning Low Amateur honours at the US Open at Pinehurst. He turned professional shortly after, forfeiting his spot in The Open, and played a handful of European Tour and Challenge Tour events on invitations.
His outstanding play continued and he successfully emerged from the six-round marathon at Qualifying School in November to earn his playing rights for the 2015 European Tour season. From there onwards he has blossomed into one of the finest players in the game, winning the Sky Sports British Masters in his first season and posting a top-ten finish in his first professional start at The Masters in 2016. Later that year he won the Nordea Masters and went on to qualify for Darren Clarke's Ryder Cup team at Hazeltine. Clarke's young team (Fitzpatrick was one of six rookies) were soundly defeated in Minnesota, but Fitzpatrick quickly put the disappointment behind him with an impressive victory at the season-ending DP World Tour Championship, defeating Tyrrell Hatton by a single stroke for the biggest win of his career.
MAGICAL MEMORIES
Victory in Dubai proved just the tonic he needed, after a disappointing Ryder Cup on a course set-up which didn't suit his game. He always relishes returning to compete at both Jumeirah Golf Estates and Emirates Golf Club. "I've got so many memories of Dubai, beyond playing golf," he said. "I went on a family holiday there in 2004 before everything was built up so Dubai goes quite a long way back for me.
"The Dubai Desert Classic was one of the first tournaments that gave me an invite to play when I first earned my card, and that means a lot to me. The golf world is gravitating towards that part of the world now and I think it's great for the game." The eyes of the golfing world will be fixed on the DP World Tour Championship and Fitzpatrick can't wait to get down to business, knowing he will have huge support at the event. "There's always a great atmosphere at Jumeirah Golf Estates and the crowds are really good," he said. "It sounds crazy, but it's not that difficult for people from around Europe and the UK to come out to the UAE and I've always had people making the trip to Dubai to support me. The weather is guaranteed and it's a nice place to visit and a great way to end the season."