Matthew Baldwin has endured a torrid time on and off the course since breaking into the top 60 on the European Tour in 2014. The following year the Southport player was beset by illness and needed two visits to specialist surgeons before he was given a clean bill of health. Struggling to regain his confidence, he lost his card in 2016 but bounced back at the end of 2017 to earn his playing rights for the 2018 season at Qualifying School, making his first career hole-in-one in the process. 
Last year the 32-year-old produced two top tens but finished outside the bubble to retain his card and now finds himself on the MENA Tour and Challenge Tour – and it's on the MENA Tour where the Englishman has excelled with a wire-to-wire victory at the first Journey to Jordan tournament at Ayla Golf Club in Aqaba last month. Rounds of 65-66-66 gave him a 19-under-par total and an emphatic 8-shot victory over Erik Jonasson and prize money of $18,000. With this timely boost, Baldwin is looking to kick on and get back to where he believes he belongs – at the top table of European golf.
Worldwide Golf: You enjoyed a breakout year in 2014 finishing 59th in the Race to Dubai, but then played only 10 events in 2015 due to illness. How difficult was it to pick yourself up after that disappointment? 
Matthew Baldwin: It was really tough. I played the first ten events of 2015 but then had to take the rest of the year off sick. It was a shame but you've got to keep going and battle through the down times to enjoy the good times. If I step back and look at it – 2015 was, obviously, four years ago, so there's no point dwelling on it. It's been a challenge to get my game back to where it once was.
WWG: Has the win in Jordan given you confidence?
MB: It's shown me that I can win again. What was most important for me was the final round. I didn't stop trying to go forward. I didn't just try and win, I wanted to hit the target I had set of reaching 30-under-par cumulatively for the two tournaments I've played. Fortunately, I got to 31-under. So it's done a lot for my confidence.
@mattbaldwin26 cruised to a wire-to-wire victory in the @theMENATour Journey To Jordan-1, the opening event of the 2019 season, winning by a record margin of eight shots at the Ayla Golf Club.

Baldwin jumps from World No. 709 to World No. 611!#OWGR#OfficialWorldGolfRanking pic.twitter.com/jmLv0zhh9D

— OWGR (@OWGRltd) February 18, 2019
WWG: You seem at home playing in the Middle East events – are there any similarities to the courses you grew up playing on England's North West coast at Royal Birkdale, Hillside and Hesketh – all links courses by the sea?
MB: Well, the Middle East is quite a windy place. The weather is beautiful every day but there's very rarely a day when there's no breeze. Playing those North West courses is similar to the Middle East but over here it's about a 15° warmer! 
WWG: Do you think it's fair for a player of your calibre to play on the MENA Tour?
MB: I think so. I need to get back to where I once was so the MENA Tour is, hopefully, going to be a great starting point. This is my first time playing events on the MENA Tour and I thought it was good. The guys who run it are really helpful, the courses are in great condition and definitely challenging enough. In the future it's going to be a good Tour if it keeps progressing and the strength in depth of the fields will improve as the Tour develops.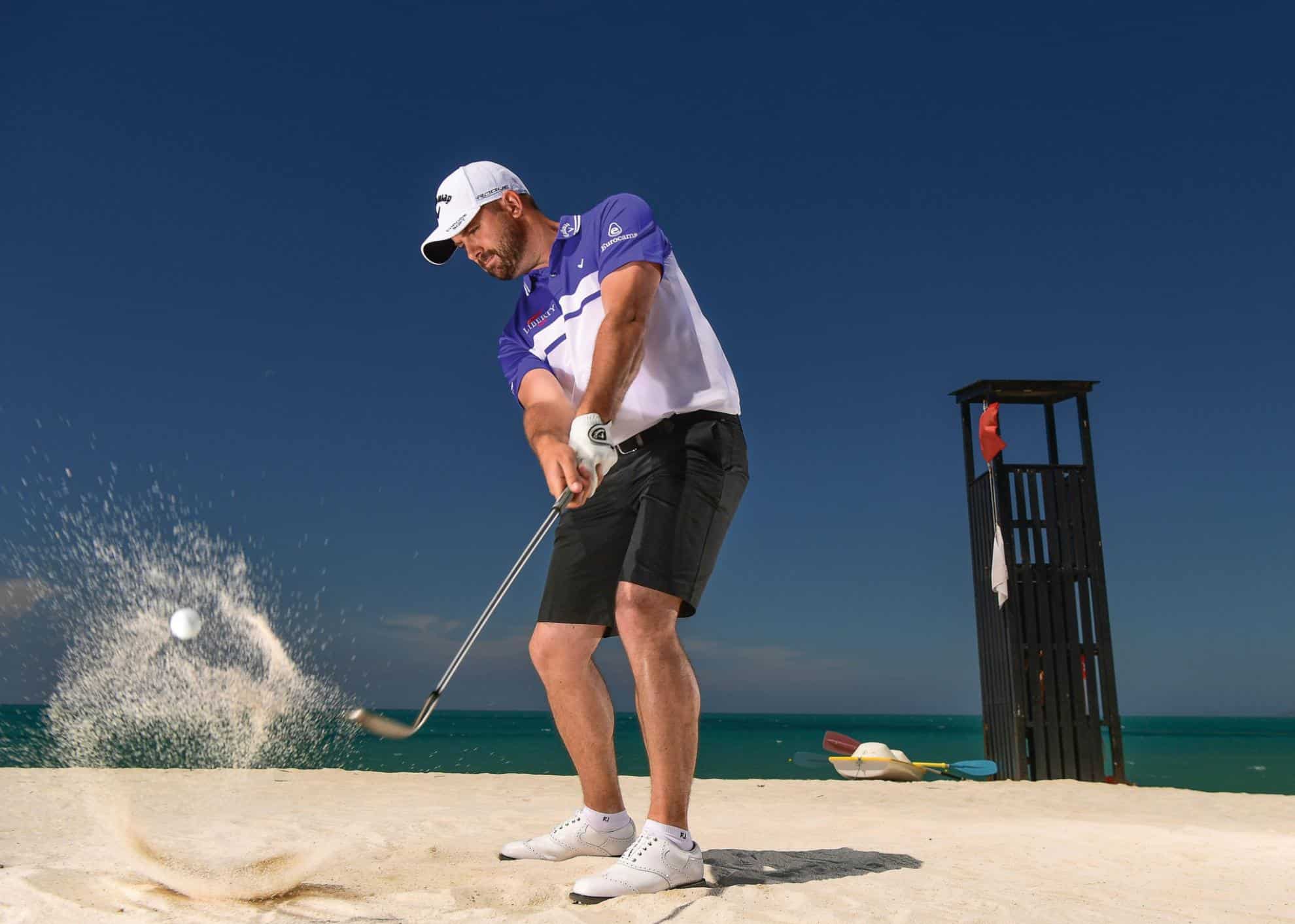 WWG: What advice do you have for up-and-coming young MENA Tour players?
MB: Choose a support team and don't waiver from it. Obviously, I know people change coaches and things like that, but if you have someone you can trust and rely on, that's more important than flicking about trying to get a bit more distance or something like that. 
WWG: Did you receive any congratulations from anyone for your success?
MB: I got a few – and was quite surprised. Some of my friends who I've played European Tour golf with over the years sent me some nice messages so it's been a good experience.
And with that par putt on the 18th, @mattbaldwin26 has won the Journey To Jordan – 1, the opening event of the 2019 @theMENATour season.#HBFS pic.twitter.com/Db4XL3wHz5

— MENA Tour (@theMENATour) February 11, 2019
WWG: The European Tour website shows the money you guys earn on Tour, but what is the real cost of being a Tour player?
MB: The money list doesn't give a true reflection of how much you actually do earn and how much it costs you to play on the Tour. I spend about £3,000 each week. If I play 25-30 times then you can spend around £75,000 – £90,000 in a year.
WWG: How much has equipment helped you and is there a club that you wouldn't change, like Henrik Stenson's famous 3-wood, which is almost 10 years old?
MB: I don't have any particular club, but I've got to be honest and say I do like my driver. Especially the new one – the Callaway Epic Flash, which has been a bit of a game-changer for me since I put it in the bag. At the moment, I'd be happy to stay with it. It has certainly been quicker for me in terms of ball speed – and it's straight as well, so it's been a very good club for me so far. 
WWG: There are a lot of distractions as a professional golfer, how do you manage to turn them off when you're out on the course?
MB: With great difficulty! It's something I'm not particularly good at. But you're on the golf course for 4-5 hours a day and you've got use your time to the best advantage and just get on with it and put everything else to the back of your mind. 
WWG: Is the game all about distance off the tee nowadays?
MB: I'd say it certainly helps, the longer you are off the tee. If you look at modern day golfers, the guys who hit it a long way and putt well, are the guys who are in contention every week. 
WWG: Are you still working with your coach Alan Thompson and if so what are you focussing on?
MB: Yes, I will probably always work with Alan until he decides he's had enough of me! At the moment, we are working on the turn in the backswing and covering the ball. For me, it's a continuous subject of trying to improve the rotation of my body during the golf swing.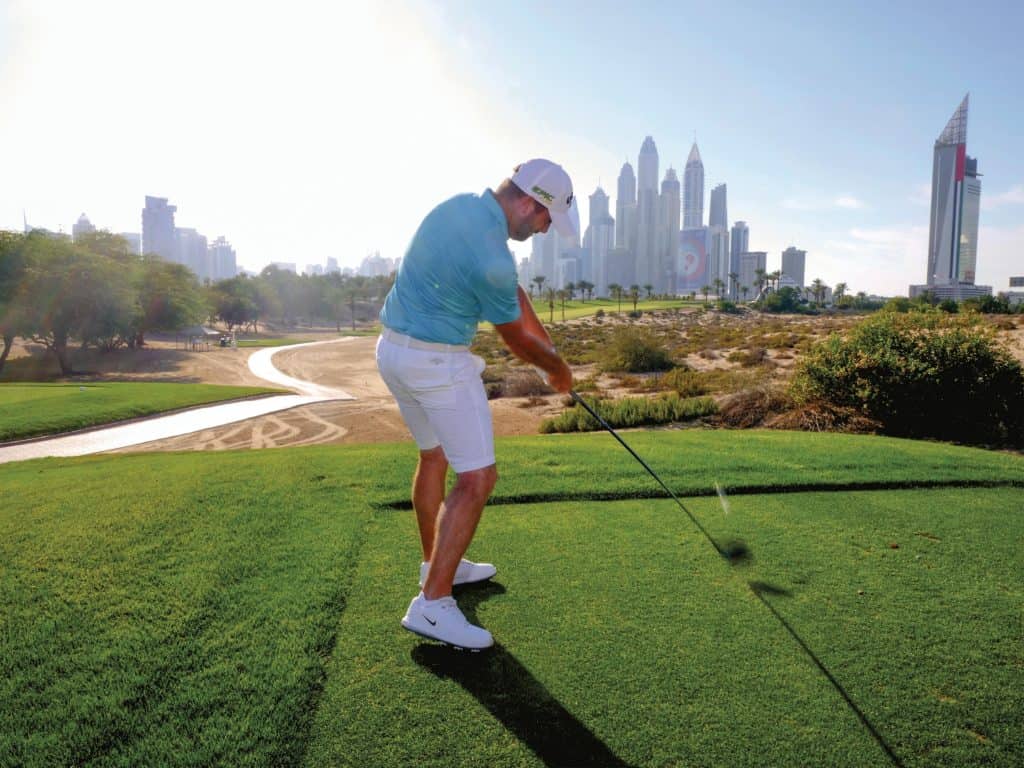 WWG: What are your thoughts on the new Rules that have been brought in?
MB: I think some of them are very good, and some of them are daft. Cutting down the time of a three-minute limit to search for a lost ball is a good thing and so is being able to repair spike marks on the green – especially for players who are in the last groups out in contention on a Sunday. But the caddy alignment issue needs to be looked at. It has already caused one or two dodgy situations. The dropping from knee height rule will also take some getting used to. At the Desert Classic ShootOut on the MENA Tour I did drop the ball from shoulder height and I quickly realised and dropped it again from knee height before hitting my shot, so I didn't get a penalty. If I had hit the ball after the shoulder drop it would have been a penalty!
WWG: What's your favourite course in the ME?
MB: I'm torn between Abu Dhabi and the Majlis at Emirates GC. They're as good as each other. Abu Dhabi is slightly tougher, but the conditioning of the pair of them is always immaculate.
WWG: Do you have a favourite hole?
MB: My most memorable hole at the Emirates is the 8th with the view of the skyscrapers from the elevated tee. At Abu Dhabi there's a stretch of great holes from the 11th to the 14th. 
WWG: Ian Poulter once wore an Arsenal shirt in Abu Dhabi – would you ever consider wearing a Liverpool shirt out there?
MB: If we won the League I would! Joking aside, I do have a couple of football kits but I very rarely wear them and I don't believe you should wear them on a golf course.
WWG: Your grandfather was a Rugby League player. Did you play any other sports as a youngster?
MB: I played a lot of different sports growing up. I played football, tennis, squash and a bit of cricket for school, but golf became the number one for me because I lived behind Hesketh Golf Club and when I won a tournament at a young age it just took over from there.