When Matt Fitzpatrick turned professional, earning his European Tour card at Q-School for the 2015 season, he set himself the goal of winning at least one Tour event each year. Four years later and the 24 year old has collected five prestigious titles, including the season-ending DP World Tour Championship.
After an up and down 2018 season so far, Fitzpatrick last month kept up his record with a play-off win at the Omega European Masters in Switzerland for the second successive year, to take his tally to five and become the youngest Englishman to win five tournaments on the European Tour. Now, with his form returning, he's got his sights firmly set on scoring another double next month – on the Earth course at Jumeirah Golf Estates.
"It was amazing to win in Dubai, the atmosphere there is always fantastic with lots of fans travelling from all around the world to get over there for the season-ending event," says Fitzpatrick.
"Apart from the Majors and the WGCs, the DP World Tour Championship is the biggest tournament on the European Tour calendar so to win that when I did was great and I'm looking forward to having another crack at it."
It was a repeat performance from the unassuming Sheffield man last month as he defeated Denmark's Lucas Bjerregaard on the first hole of a playoff – the first player to successfully defend his title at Crans-sur-Sierre since Seve Ballesteros in 1978, and in the process, close in on the top ten in the Race to Dubai.
"I've had a decent season but I have only. just started coming into my best form," he says. "Until now, I have not been consistent enough and have had too many poor performances. I would probably say over the majority of the season my putting has let me down in particular but my whole game just hasn't been where I know it can be. Three parts will be good and then my chipping or short game would let me down so I just haven't had the full package this year. I'd play three good rounds then play one really bad round which doesn't do me any favours when trying to win golf tournaments.
"After playing in the Open de France I looked back at my stats and if I had driven the ball average and putted within five feet average then I would have actually won the tournament. Golf is a game of fine margins so you need to be on your 'A game' to win big events." Signs of improvement came at the Made in Denmark event where he finished tied seventh before a play-off triumph over Lucas Bjerregaard at Crans-sur-Sierre heralded a career-first title defence to make it five wins in four seasons.
"Keeping that run going was one of my private goals that I set at the beginning of the year," he says. "It was special to get the win in Switzerland and defend my title there. It was a nice stat to hear that I'd beaten Nick Faldo's record as the youngest Englishman to win five titles!
"The course really suits my game as my shape is to hit a little cut and I can think of a lot of holes where the cut is perfect. There are plenty of key holes that are the ideal shape for me, I can't actually think of any holes where It suits a draw other than 18 so I took advantage of the other 17!"
Having made his Ryder Cup debut at Hazeltine National in 2016, Fitzpatrick was understandably disheartened at not being in Thomas Bjorn's team in Paris last month but he's typically pragmatic, saying: "Obviously I was disappointed not to get in the team but up until the Made in Denmark I wouldn't have said I deserved a wildcard pick as I hadn't played well enough. It was nice to get the win in Switzerland the week after the picks were announced. That was a nice bonus.
"The 2016 Ryder Cup was a great experience because it was my first time and it was exciting but it was just a bit of a letdown – only playing two matches out of the five when one (the singles) is mandatory. It was pretty disappointing to be honest."
Fitzpatrick earned his place on the European Tour at the 2014 Q-School, having only played six events on the Challenge Tour but he believes the Tour is the ideal introduction to life on the European Tour. "My advice would be for anyone who gets a card at Q-School to go and play on the Challenge Tour. It gives you a full season to play well and earn your card and when you do get the card it gives you a solid category on the European Tour as opposed to getting a poorer category through Q-School. I understand people wanting to play on the European Tour as soon as they can but it's worth getting the card through the Challenge Tour as it gives you much more options. It's a great Tour to go and play professional golf."
Now refreshed after a short break before the Race to Dubai enters its final stages, Fitzpatrick is eyeing further success to end the season on a high. Among the key targets in his sights is the Sky Sports British Masters, the event at which he won his maiden title back in 2015. "It was amazing to get the win on home soil at Woburn in front of so many fans," he says. "Some guys might win ten times on Tour but not have their family or friends see them win but I was lucky to have my mum and dad, four of my best mates and lots of family to see me get my first win which was really special. I'm looking forward to playing Walton Heath as I've only played it a couple of times. It should be an interesting week."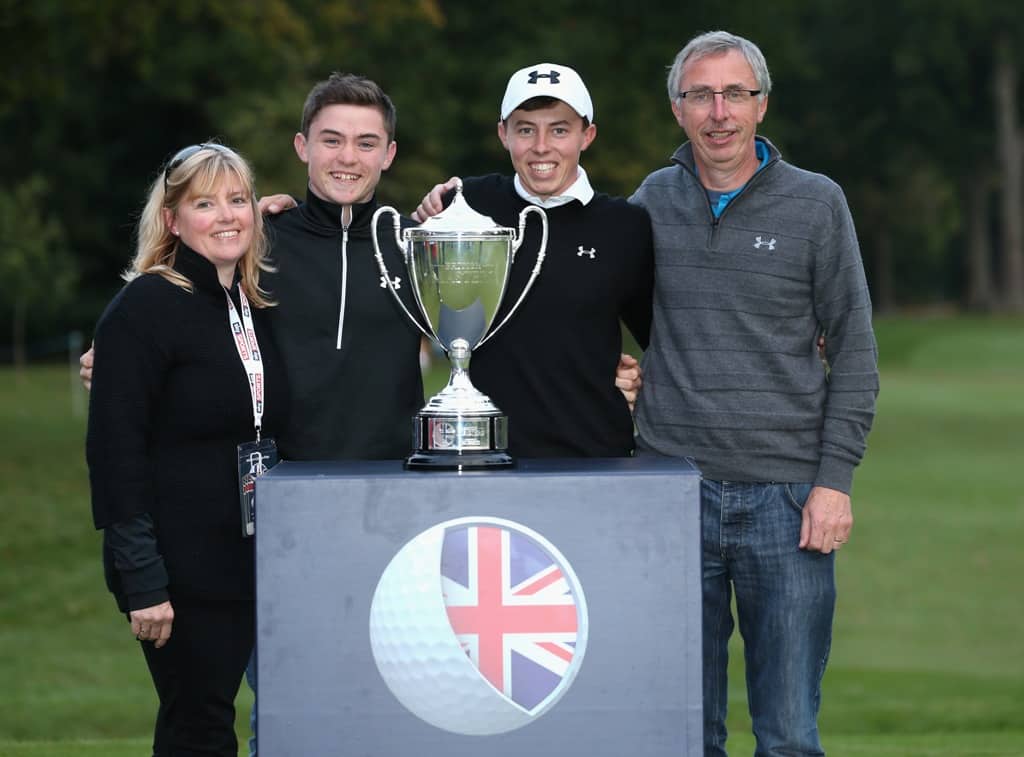 The coming run of big events leads to the climax of the European Tour season, where the top 60 players in the Race to Dubai Rankings assemble to contest the DP World Tour Championship and also determine the Race to Dubai Rankings champion. Fitzpatrick has fond memories of his 2016 victory where he edged out fellow countryman Tyrrell Hatton by a single stroke.
"Going down the 16th fairway I heard a roar and assumed that Tyrrell had holed out for birdie," he says. "Then I saw on the leaderboard that Tyrrell had made par, which meant I was still just one shot behind. As I'm walking to the 18th a good friend came over to me and said that Tyrrell was in the water, so I thought 'if he makes bogey I'm in with a chance of winning it.' On the 18th I hit a superb tee shot straight down the fairway and managed to make four."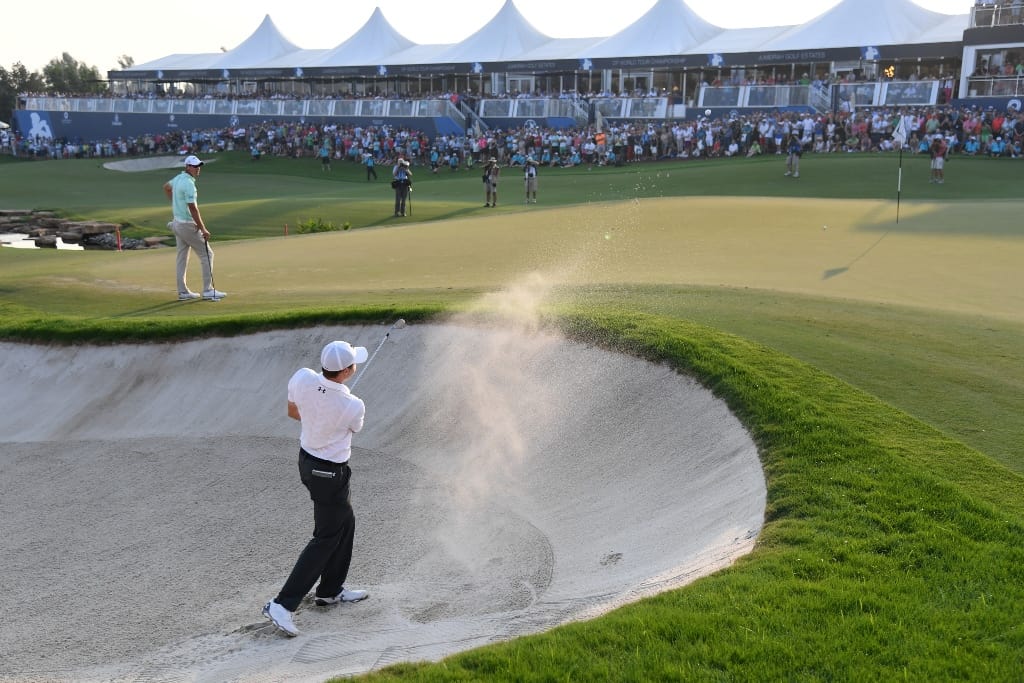 The biggest win of Fitzpatrick's career was sealed with a testing four-foot birdie putt in front of the packed 18th green grandstand. "It's the most I've ever shaken over a putt," said Fitzpatrick, with his famous broad smile, after banking $1,683,300 in prize money ($1,333,300 for winning the DP World Tour Championship; plus $350,000 from the Bonus Pool for finishing sixth in the Race to Dubai). "It was definitely a standout moment for the most nervous I've been on a golf course!"
With his trademark 'old head on young shoulders' there has been expert help along the way, and Fitzpatrick is quick to heap praise on those who deserve it most. "Working with my coaches Mike Walker and Pete Cowen has made a big difference. They're both very down to earth – so are my parents – which keeps me grounded. They've both been around for a long time otherwise you get confused so Pete's way of doing things is perfect and has worked very well for me over the years."
There have been significant landmarks at every stage of Fitzpatrick's career – Silver Medal as low amateur at the 2013 Open Championship at Muirfield; the first Englishman to win the US Amateur in over 100 years; World Amateur No.1, youngest player at the 2016 Ryder Cup; youngest winner of the DP World Tour Championship. The list goes on. But how far does the man himself think he can go? "I want to win Majors," he says without missing a beat. "That's the end goal – and becoming World No.1.
Luke Donald made it to World No.1 and competed in Majors and he didn't hit the ball any further than me. His approach play, short game and putting were out of this world which is hard to maintain but he managed to do it so hopefully I can follow in his footsteps.
These things take time but you've got to keep working at it and that's what I plan to do." Judging by what he's achieved so far, you wouldn't bet against him.