Many weekend warrior golfers dream about being a tour professional. Earning millions, travelling the world, playing the best courses and generally living the high life. That dream can be applied to most professions, but in reality things are not that glamourous. As Jon Rahm was celebrating Father's Day with his family after winning the U.S. Open at Torrey Pines, Abu Dhabi-based touring professional Luke Joy was getting set to battle it out on the links in Scotland during a EuroPro Tour event at Montrose Golf Club where £50,000 was the total purse.
After a pair of two solid rounds of 69, Joy narrowly missed the cut by one and any form of prize money, which meant he had lost more than £500 that week alone. From Scotland, he traveled 400 miles to Lytham St Annes for Open Qualifying, but a cracked driver face led him to narrowly missing the cut once more. I caught up with Luke the following day at his small Airbnb flat on the outskirts of Blackpool airport and we headed to the beach for a light-hearted chat about life on tour, golf in the Middle East and his thoughts on the North of England's answer to Las Vegas.
---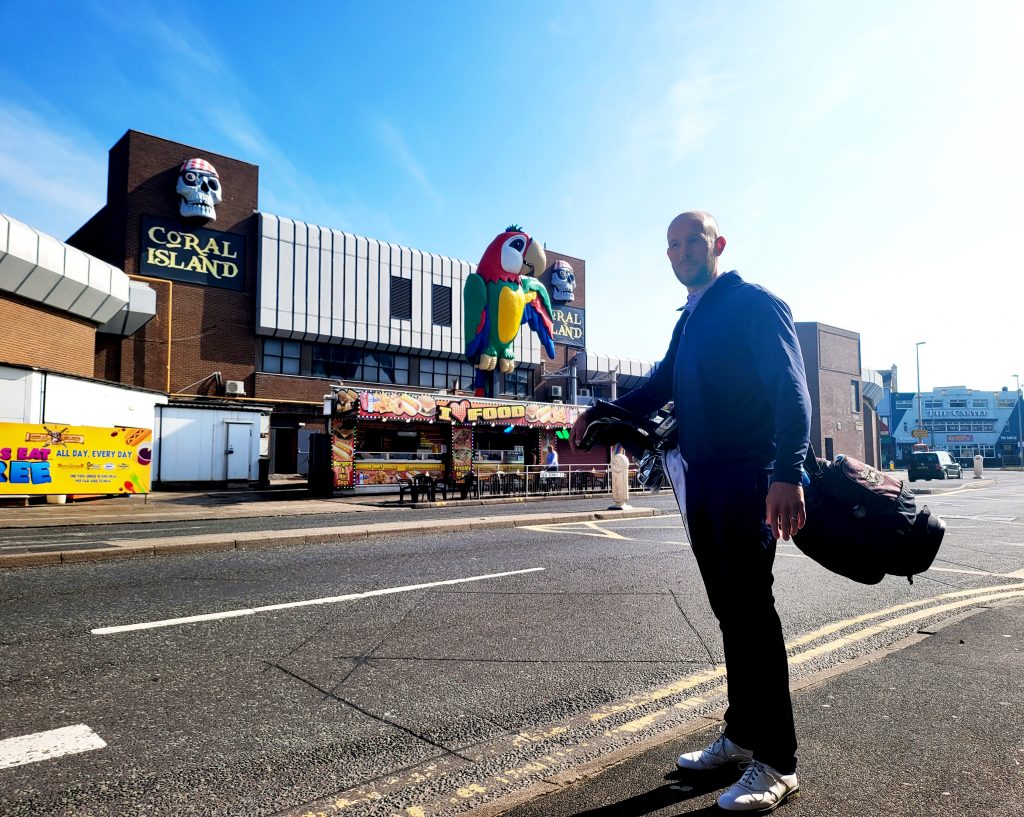 How long have you been a touring professional and what are the highs and lows?
Well, we're not all Rory McIlroy or Books Koepka unfortunately. I'm eight years into my professional career now and it's not been a smooth run. I think, even by my own standards, my progress has been slower than I expected. I'm lucky enough to have won nine professional events, which is great, but it involves a lot of travelling, a lot of time spent in some less than desirable hotels. But I love what I do, and I'm very fortunate and far more fortunate than others in my profession as I've got an amazing spot at Yas Links to practice at. So, I've got fantastic practice facilities and I just need to stay patient and go with the process to make it to the next level. Having Yas Links as a base is perfect for me because the course is challenging, and the harder you make your practice, the better you will become. So, when you get to some tournaments, it's easier than the practice you're doing.
How long have you been at Yas Links and how have you seen the game evolve in that time?
I've been at Yas Links for five years now and it's been amazing. I think the Emirates Golf Federation is doing a lot of good things for junior golf and we're seeing a lot more golfers come through which will only benefit the game going forward. And seeing this unfold with the youngsters taking to the game and enjoying it – it reminds me a bit of my junior days back in the UK, so it is getting there. It's slower in the UAE, but the EGF has a good plan in place to try and evolve and get more people playing golf. It's a great sport, great fun and there's no better place to do it than in the UAE – it's awesome.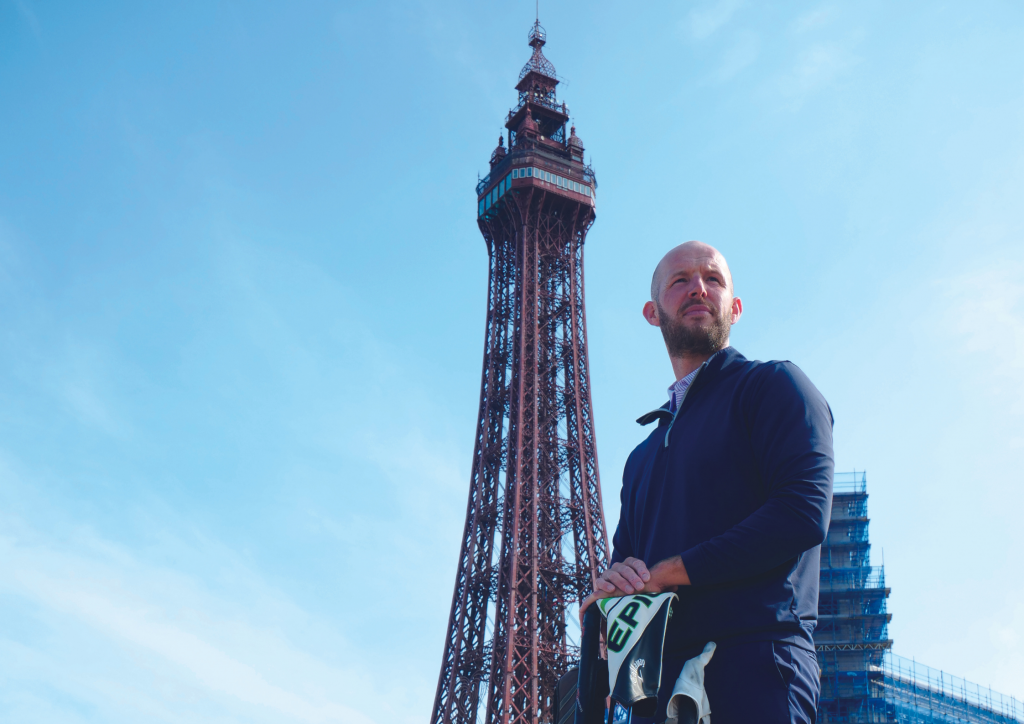 What are the rewards of winning on the EuroPro Tour and how do you balance the books?
I'm fortunate enough to have a winner's exemption on the EuroPro Tour having won before Covid – I won £10,000 which was a nice week's work. When you finish in the top ten you pick up about £1,000 but middle of the pack and it's barely £400 after making the cut out of a 156 player field, which only covers the costs of competing in two events. You're looking at about £500/600 a week to play on the EuroPro Tour, so it's tough, you've got to be winning. So, it's going to be an important summer for me to keep going and play well. I'm looking at an outgoing of £20-30k a year to play professional golf at this level. To go up to the next level costs even more, so you need that support and backing to help you on the journey, because it's a longer journey than people realize. I've been very fortunate to have people and a team around me who back me, and my family have been instrumental in that as well.
How was Open Qualifying?
I can't say it went to plan. I took an eight on a par-5, a snowman, with two drivers out of bounds. So, I thought I'd come down to Blackpool, let out some frustration and rip one into the sea.
Plans going forward this summer?
There's a EuroPro event in Worcester which I will be playing in, then from there I'm playing the rest of the EuroPro season which takes us all over the UK, so there'll be a lot of time spent in the car. But it's good to be back. The weather is massively different. I've basically been playing in shorts and a t-shirt for the last year and a half at Yas Links, but I expect there to be some rain and wind at some point while I'm over here. The golf courses won't be as expertly manicured – I don't think we realise just how lucky we are in the UAE to have the quality of golf courses that we do, and how they're presented. So, it's a bit more back to basics and how it was when I was a kid.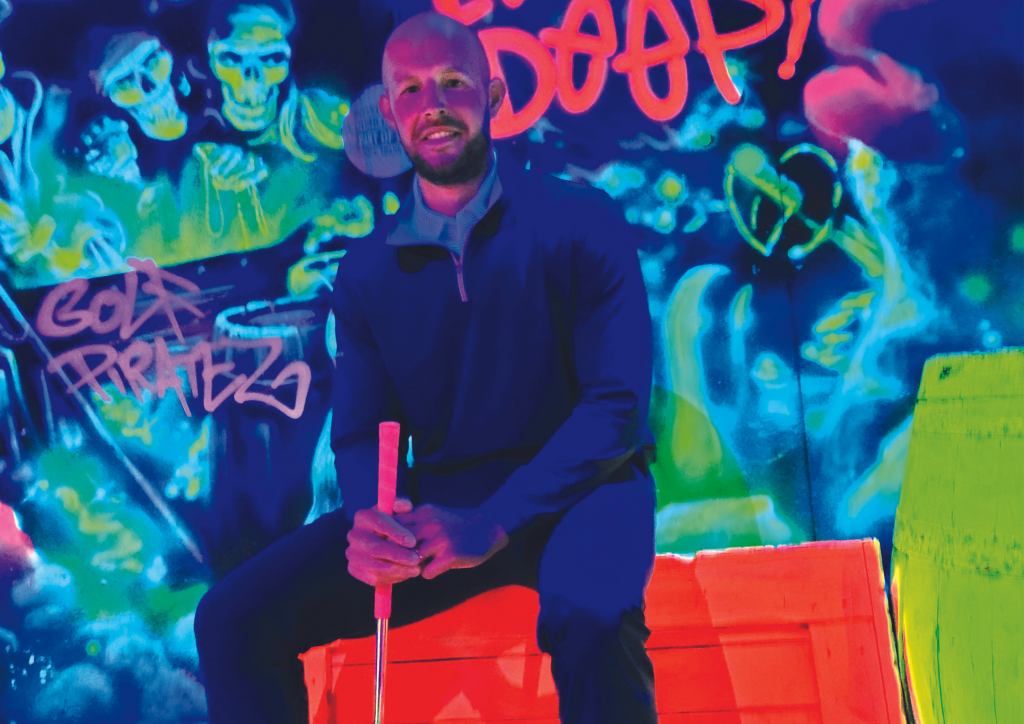 Adjustments for playing in the UK?
Driving the ball is a completely different animal here in that you just must find the fairway. The rough is a lot thicker and longer, so if you're missing fairways, you're not going to give yourself scoring opportunities – and you've got to make a lot of birdies to get into the winner's circle out here.
Advice for amateurs playing in the UK?
My advice for amateurs who are coming over to play in the UK would be to learn to hit a lower ball flight, because it does get windy here. Often it can be a case of taking one more club and being comfortable enough in swinging smoothly. In the UAE when conditions can be quite benign you just hit normal numbers, whereas you've got to be a bit more versatile in the UK and adapt, so practicing a few different shots before you come would be advantageous.
How do your yardages differ from the UAE to the UK?
Coming from the UAE, it's obviously hugely different from a temperature perspective, so shots will go a lot further over there. Coming back and doing some gapping sessions on Trackman where you can set the temperature will aid you, but obviously it changes every week.
How have you enjoyed Blackpool?
It's been a surreal one really, a bit like going back down memory lane. The crazy golf was exceptionally fun and also seeing some donkeys on the beach – it was interesting!
What's your strongest golfing memory?
This is more for my wife actually, but I can remember I was six shots behind at the King Hamad Trophy in Bahrain at The Royal Golf Club, and unfortunately, my wife was very ill at the time and needed hospital treatment. The cost to get her treated was £7,000 and I managed to shoot 64 in the final round to win – and the prize was $8,500 – which was just around about £7,000 at the time. So to do that, in that situation was my best 'winning' experience, but also the best reward, that I could get that sorted for my wife.
View this post on Instagram
What is your favourite European Tour event in the region?
My favourite European Tour event is the Abu Dhabi HSBC Championship. I've not been fortunate enough to play it yet – hopefully that will change soon! But the whole village atmosphere with it being very family orientated is great, I've even taken my wife there and she doesn't particularly like golf, but she enjoyed it. It's a really good day out. The course is set up fantastically and they get some seriously good golfers there.
What does the MENA Tour mean to you?
The MENA Tour is huge for me and I've got so many fond memories. I got off to a cracking start with two wins in my first three events when I first came out here. It would be great to get it back on the schedule and hopefully they can manage to put something together in the current COVID climate. I think it's vital for people in the Middle East with both amateurs and professionals coming through – for them to have somewhere to play that isn't too far from home.
Best thing about golf?
Winning. Being in contention and then closing the deal. It's the best feeling in the world.
And the worst thing?
Losing. There's no worse feeling than losing, or a poor performance. But there's always knowing that it's a journey and you've got to pick yourself back up again. And sometimes it can be enjoyable when you bounce back from a low point to a high point.