By Scott Grayston
Like many footballers, Lee Sharpe is absolutely golf mad and admit he's 'obsessed' with the sport that could turn into a new career if his aspirations materialise and he lowers his 3.6 handicap to turn pro and get onto the Staysure Tour when he turns 50. Now 48, the former Manchester United and Leeds United player is working hard on his game, even over the COVID-19 lockdown period.
"I've been working on my short game over the lockdown so hopefully that part of my game will be mustard by the time we are allowed to go out and play and it will bring me down a couple of shots," Sharpe said during a Zoom interview which you can watch above or here.
"I got my handicap down to 1 at a slightly easier course but I'm a member at Moortown Golf Club in Leeds now and I tend to find that playing at a 4 handicap makes the game more comfortable for me at most other places. Around championship courses like Emirates Golf Club, 5 (handicap) is about right for me but if I play around club courses like around here, I generally play to a 1, 2 or 3 handicap."
'Sharpey' has aspirations to tee it up on the Staysure Tour in a couple of years to see how his game would fare on the bigger stage. "Quietly, it's always been one of my goals to see where I could get to in golf by the time I'm 50. This summer was going to be the time when I put some serious work in and enter more open competitions away from the club like low scratch tournaments. The biggest thing for me is that I've never played enough competition golf, it's always just been social golf with the lads. Keeping the concentration and the focus all the way around and making every shot count is the challenge. Also, the nerves on the first tee and the preparation for an event needs to be worked on so I can find a comfort zone when I compete. I love the competition and want to play more of it so let's see where I can get to."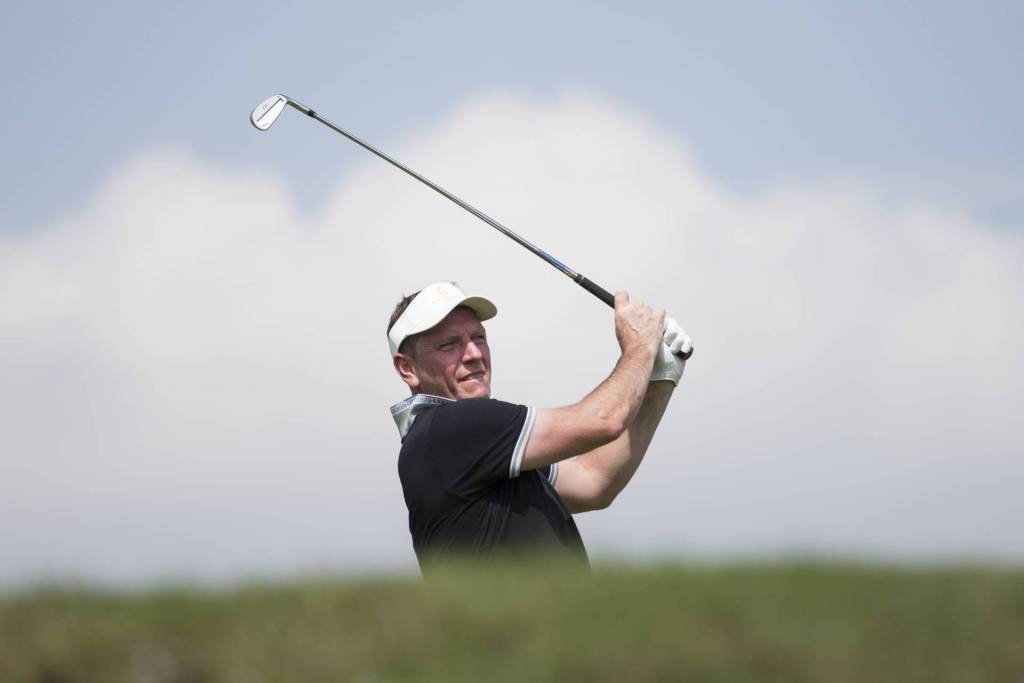 The England capped footballer played in front of thousands week in, week out for decades but finds this type of pressure a lot different to playing golf with spectators watching­. "If you're having a bad game in a football match you've got 10 mates to help you out and you're only on the ball for split seconds. Whereas with golf, I've played in competitions where I'm shaking so much I can hardly get the ball on the tee! My knees are knocking, my legs feel like jelly, my mouth is all dry and I can't breathe properly! I always got nervous before a football match but never anywhere near the same level as the first tee in a tournament.
"I think it's a bit different when you're confident in your game and you know you can hit it alright. I've played in tournaments where I've been like that and it's a different type of nerves. However, when you don't know where your ball is going it's awful.
"I've spoken to Howard Clark who played in six Ryder Cups and he said he turned up on the first tee one absolutely bricking himself just hoping not to get beat 9 and 8. That was in the singles in the Ryder Cup! I thought it was only us amateurs that went out in big tournaments and did that but goes to show it happens at every level."
Sharpe lived in Dubai for six months working as a sports pundit for Abu Dhabi Sports Channel and was a member at Emirates Golf Club. Their Senior Teaching Professional, Alastair Brown, was recommended to become Sharpe's coach and they've been close friends ever since.
"As soon as we met, we got on," adds Sharpe. "It was a love at first sight relationship really! We did a bit of left-handed chipping around the green and played a lot together down at Dubai Creek Golf & Yacht Club and at Emirates GC. It was great. They've got to be my two favourite courses in Dubai."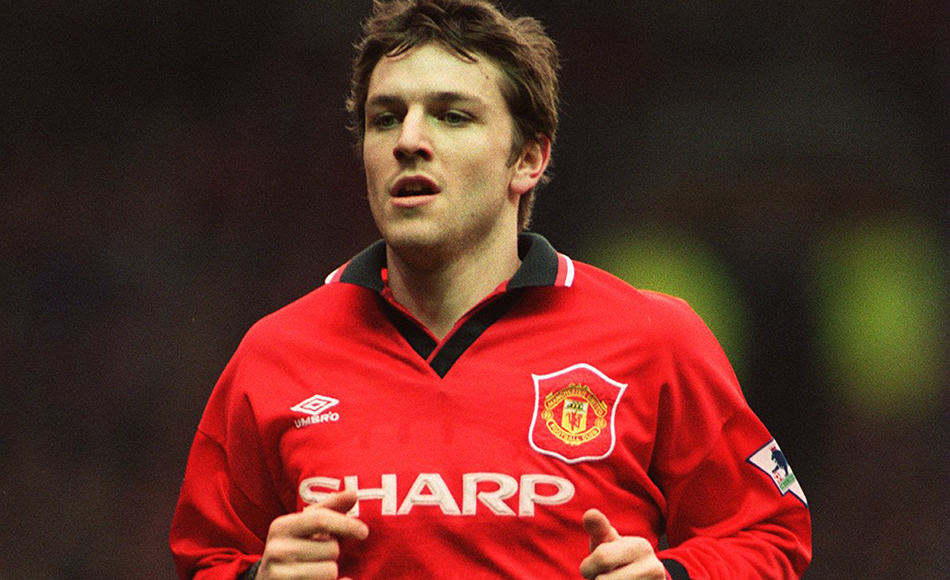 When Sharpe was 17 years old, he signed for Manchester United from Torquay United and made 193 appearances over eight years and it was during this period that his love affair with golf began. "When I signed for United when I was 17, there were a couple of lads that would play when there was an afternoon free or on days off at Heaton Park Golf Club in Manchester which was more of an assault course than a golf course! I started playing there and then not long after that I got a better contract and moved to the south of Manchester and went to a driving range down there in Altrincham. I met the golf pro there and became best friends with him and he would give me some on-course tips.
"I tried to play a lot of golf but Sir Alex Ferguson wasn't keen on us playing too much because he said it saps the energy out of your legs and damages your back. We had to sneak off to different courses where we didn't think he would know where we were. I have always loved the sport to the point were I was almost slightly obsessed with it."
Which of the Manchester United legends used to sneak off to play?
"I played a lot with Gary Pallister and Clayton Blackmore who has turned professional now and is trying to get on the Staysure Tour. I've played a lot with Dwight Yorke and Andy Cole. Dennis Irwin and Peter Schmeichel play a bit, Giggsy has started and Scholesy has got the bug! Teddy Sheringham loves it – so there's loads of them now."
Out of all these talented sportsman and football legends, who is the best golfer?
"I always beat Clayton Blackmore – he's got a mindset as strong as paper! Yorkey thinks he's the best. The last time I played him was a few years ago in America and he beat me but I would back myself against him most days. He practices up at Emirates Golf Club and is a really good player. He's added more weights to his training and is absolutely massive these days, too big for golf!
When not working as a pundit or performing after dinner speeches, which he excelled at when he was the guest celebrity at the DSA Open on the DHL Swing Against Cancer Golf Series last year at Emirates Golf Club, Sharpey loves to watch golf and learn from the best. He's also been lucky enough to play alongside one of the most unforgettable characters to have played the sport – John Daly.
"My favourite golfer has to be Rory McIlroy," he admits. "I love watching his swing and watching him play. Back in the day I was a huge Fred Couples and Ernie Els fan. I also loved John Daly and was lucky enough to play with him in an event at Horsforth Golf Club and he was incredible. He plays with a cut and doesn't reckon he can hit it left but all the danger was left. He went out of bounds in the first two holes and just left the balls and carried on. For the next 16 holes he shot 7-under at an absolute canter! He wasn't even trying. I'm not the shortest of hitters but Daly was hitting it 50 yards past us without even trying. He was on another level. What a player!"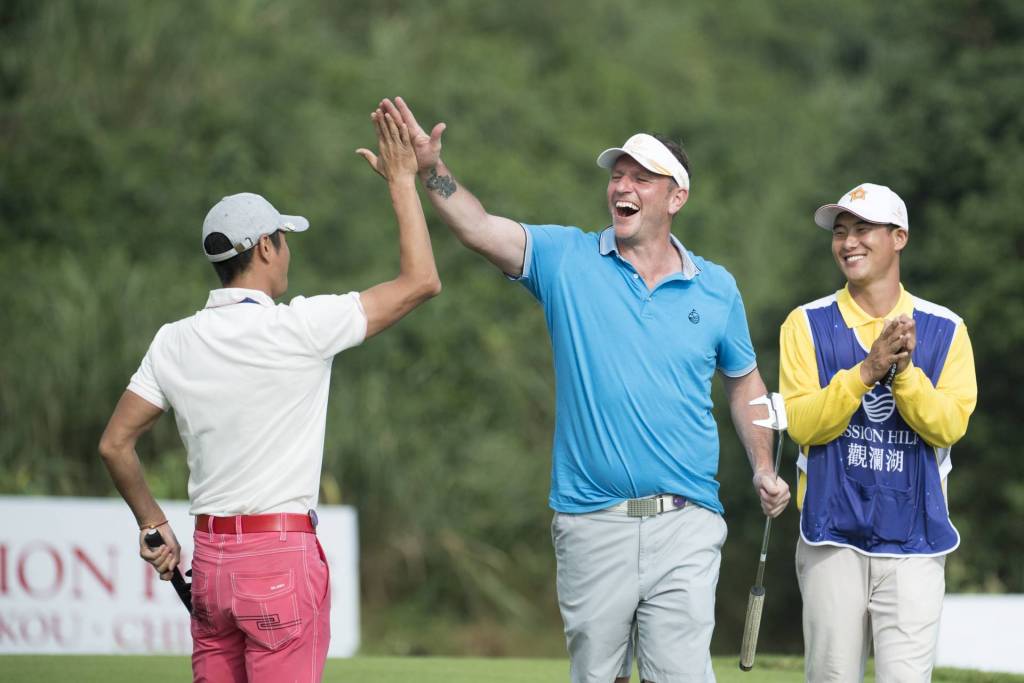 In two years' time, Sharpe is realistic about what work needs to be done to get him at the level to compete in bigger tournaments and, potentially, the Staysure Tour. "I would have to go out in competition golf and start shooting rounds of 66 or 67 and feeling comfortable with what I'm doing. Last summer I shot 66 in a tournament on a short course in a Corporate event so if I can go out and start shooting those sorts of scores regularly and my bad rounds were 73 or 74, it would be great. You would have the self-confidence to go out and compete.
"At the moment I'm not capable of any sort of round in the 60s but if the short game was tightened up, I had more trust in my swing and the experience of competition golf, who knows? When it gets all serious and people are playing for their livings, it's a different atmosphere on the golf course and you've got to become accustomed to that. It's a huge step so let's see…"