After toiling away for ten years with multiple successful and unsuccessful trips to Q-School and scratching around for starts on the Challenge Tour, Laurie Canter has finally earned a firm category to play alongside the leading lights on the European Tour after a breakout campaign in 2020.
We caught up with the Englishman, as he prepared for a debut in the WGC-Workday Championship at The Concession among the game's elite, to retrace his early beginnings in the game and find out how he's trying to establish himself at the top table of European golf.
---
It's been a whirlwind 12 months for England's Laurie Canter, who spoke to us direct from Florida where he headed after playing the Middle East Swing events for the first time in his career. The 31-year-old finished 19th in the Race to Dubai last year having never previously cracked the top 150.
A pair of runner-up finishes in Italy and Portugal and a handful of top-tens, including a share of fifth place at the DP World Tour Championship where he played in the final pairing alongside winner Matt Fitzpatrick, saw him end the season in style and earn spots in all the biggest European Tour events for 2021 and the first WGC of the year.
"I snuck in to this WGC field through finishing in the top 20 in the Race to Dubai last year, and I had no idea about that criteria until I was told after the DP World Tour Championship finished and my ranking was finalised – so that was cool," smiles Canter. "I think at Jumeirah Golf Estates, I really felt like my game was in a really good place and I really thought I could win the tournament.
"I know that would have been a right turn up, but the way I was playing, and the way I felt – it was a good opportunity."
Opportunity will surely come knocking again for the talented Canter, who hails from Bath and grew up as a promising tennis junior before changing his racket for golf clubs as an early teen.
STARTED PLAYING AT 14
"I really took up golf just before my 14th birthday, so I was pretty late to it," he reflects. "I'd played national-level junior tennis, and I've always been quite sporty but especially enjoyed sports where there's an element of hitting something with a tool –I love tennis, hockey and cricket, as there's a technique to learn. And golf seemed like one of those where you can be a bit more unstructured about how you go about learning it. You can figure it out yourself, and I've kind of always gravitated towards that type of sport.
"With tennis, I'd got to the age where I had to make a decision between relocating, changing schools, dropping my GCSE exams and putting all my eggs in the tennis basket. But deep down I felt that I wasn't going to become a top-level tennis player, and I knew I wanted to get stuck into something else. At the time we lived literally across the road from a par-3 course and I just started going there, got the bug and was constantly asking my parents to get me out there playing golf.
"Having the background with tennis, I understood about the levels of training required and the time needed to put in to get better, and that helped me to progress with golf. When I was in that cognitive stage of learning, I knew and accepted I needed to spend 8-10 hours a day at it. I was lucky enough to be able to do that and it's been a cool journey."
Canter had a superb amateur career with a smattering of international victories and reaching a high of fifth in the global rankings before he turned professional. He found his first couple of years in the paid ranks tough as he struggled to gain momentum with only a few playing opportunities arriving at his door. However, after he 'lost his ego' he decided to travel more in an attempt to compete more often, and it paid off.
EARLY DAYS
"Those first couple of years, I had some invites but really my playing opportunities seemed so few and far between," he says. "When I look back on it, I probably could have got more stuck in with playing professional golf anywhere, in general, whereas I was kind of waiting for my Challenge Tour opportunities. And I ended up not playing as much golf as I was used to, having played a lot and regularly as an amateur. Sometimes during summer there'd be two amateur tournaments every week, but then in those first couple of years as a pro I think I only played about 10/11 tournaments in one whole year.
"So, looking back, I would definitely advise going to play more mini-tour events and getting stuck in, lose any ego that you might have around what you think you should be doing, or any perception of how good you are, and just go play. Because that's where you really harden yourself up against other professionals at that level – and higher – and that's the acid test of seeing how you stack up.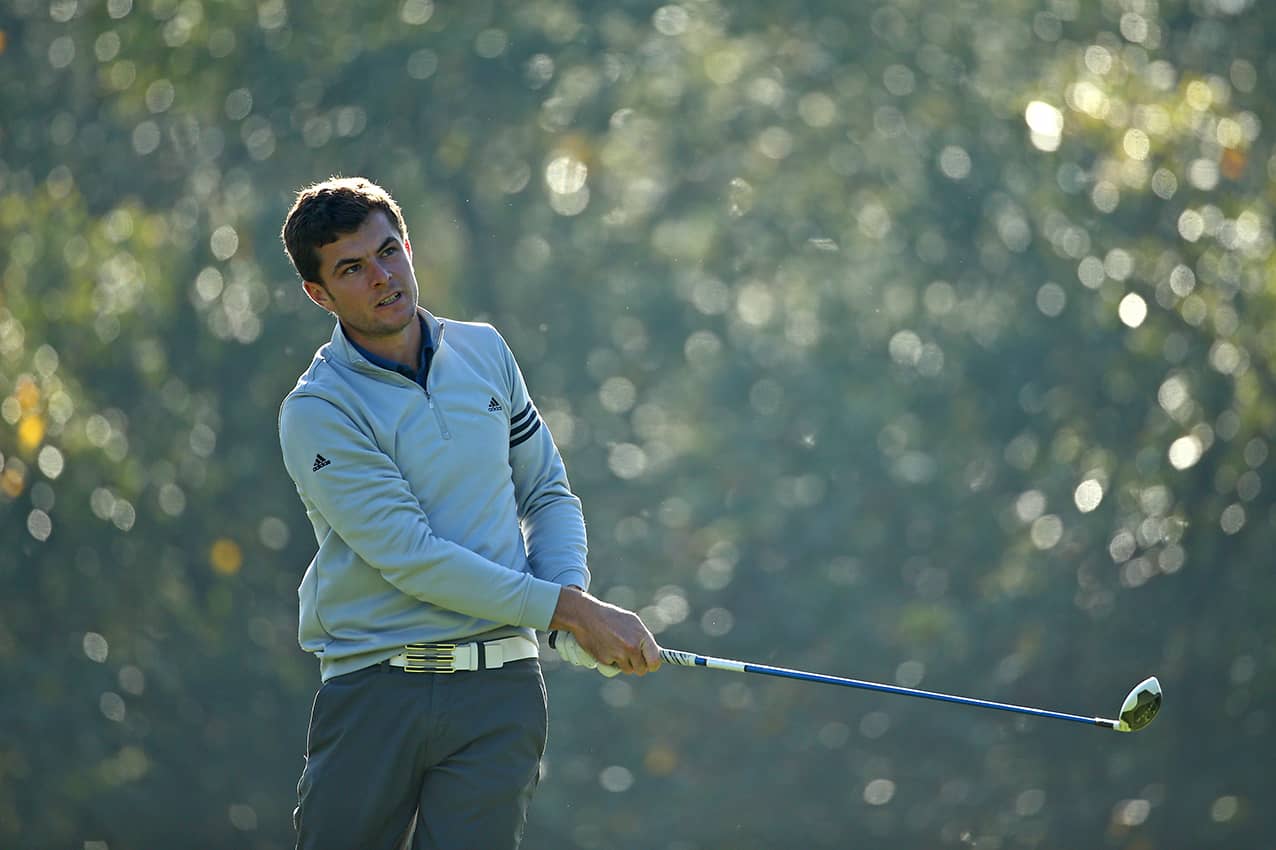 "Those first two years, I was thinking 'I don't need to play on the mini-tours, I can do well on the Challenge Tour', but I would turn up to some events not very sharp, and the standard is very, very good on the Challenge Tour.
"After those two years I had to re-evaluate as I had no status anywhere, so I played the Alps Tour, the EuroPro Tour, a bit on the Sunshine Tour in South Africa. I played everywhere I could, from about 2012 until I got my European Tour card at the 2015 Qualifying School. It was tough going, but I began to compete more, got some confidence and looking back it was very important for me to have had that experience."
BREAKTHROUGH
Canter's successful navigation through Q-School saw him endure a rookie campaign on the European Tour in 2016 where he made just six cuts in 17 starts. But he put that disappointment behind him by re-earning his card for 2017 through Q-School. This was a sequence he then went through again, so after five early trips to Q-School from 2010-2014 (each one he left empty handed), he had three successful attempts in succession.
"Getting through Q-School for three years in a row is something to look back on positively, especially that second time because I had had such a rough first full season as a European Tour player," he says. "To go back there and re-earn it was massive for me because you learn so much, if you let yourself learn.
THE MIND CHANGED
"After my first 6 or 7 months of that first season, I knew it would take a monumental effort to retain my card, so I almost changed my mind-set to setting myself a challenge of just learning what I could for the last ten events or so, and that helped when I got back to Q-School.
"And this is something I would give as advice to a young player who earns their first card through Q-School – they've got to try and enjoy their first year on Tour. Just go and try and play as many practice rounds as you can with the top professionals and pick things up from them. Because with a different mind-set you'll give yourself a chance.
"If you go in with burdening thoughts like 'I've got to get off to a good start' – they are the pitfalls I fell into, so I tried to change it around and use it more as a learning tool, and it helped for the subsequent seasons."
Canter was once again back at Q-School in 2019 and finished fifth to earn his card for 2020. He made a slow start to the year and the coronavirus lockdown in March came at a good time for him after he missed the cut in Oman and finishing 61st Qatar. It gave him a chance to look at how he prepared and practiced for events.
TRAIN ON COURSE
"I'm definitely the type of player who needs to play a lot of golf, whether that be competitively or in practice," he says.
"For me, being on a driving range all day is a waste of time, unless I'm working on something specific with a coach. I want to train myself on the golf course, and use the course as my training ground to practice different shots and work on my short game. I'll do that in practice rounds at events and in weeks off.
"This is something new to me – it's something that I only really thought of in last year's first lockdown and it's made life, and golf more enjoyable. The video work and slaving away on the range has its place, but getting away from that as my main form of practice and spending the majority of my practice time out on the course has been big for me."
So far this season Canter has been paired with some biggest names on Tour and enjoyed practicing with some legends, which is something he reveals he'll look to put in place more as the year goes on.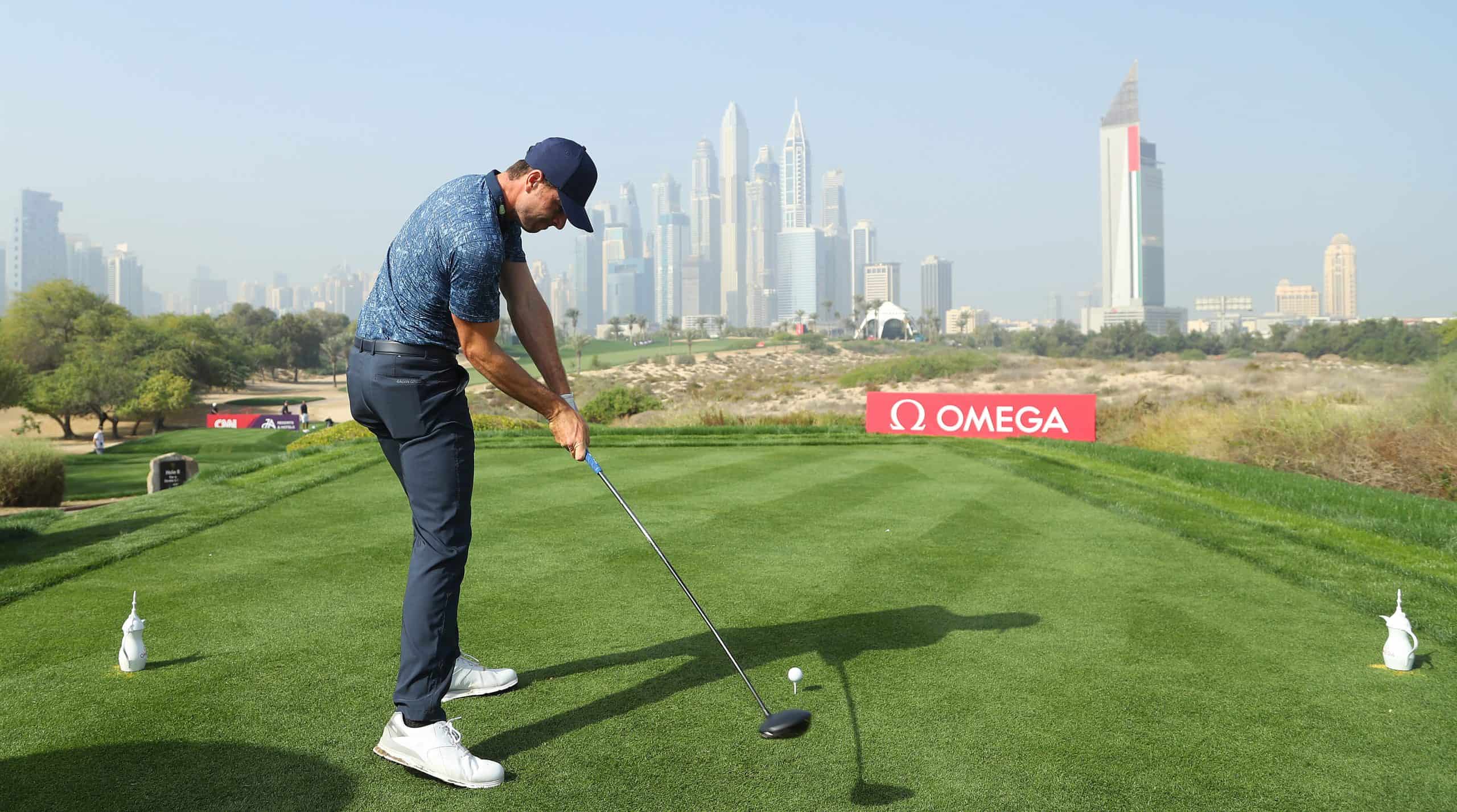 "I want to play with people who are better than me, who want to beat me and I want them to push me and they want me to push them," he says. "I don't see how there can be a better form of practice than that.
"In Saudi I had the chance to play a practice round with Thomas Bjorn and Lee Westwood, and that was awesome. We had a competitive game and I asked them some things about my game that I was struggling with and they were really generous with their time. I think that is unique to golf in some respect in that we're lucky to be able to do that in practice rounds.
"So that's the main focus of everything I want to do, just play and practice a lot with these guys, especially guys who've had amazing careers who you can learn from and lean on. They know so much about playing under pressure."
BRILLIANT SCHEDULE 
In Saudi, Canter got a first-hand look at how to put together a score when not firing on all cylinders, as he played with Justin Rose in the third round.
"There were little subtle things I picked up playing with the likes of Rose and Poulter and Hatton in the Middle East," said Canter, who finished in a share of fourth at the OMEGA Dubai Desert Classic to forge a strong start to his season. "The nature of golf is the fact that it doesn't matter who you are – 99% of the time you're not going to be absolutely firing on your game. It's more a case of how good are you at effectively grinding out scores in the struggle – can you shoot 67/68 when really you're not playing that well.
"And I saw that in Saudi with Justin Rose. He was not on his game at all on the Saturday, if I'm being honest, and I think he shot the same score as me – a 68. And then he had a great day on Sunday and finished second.
"So their ability as golfers to just accept where they are and how they are playing on any given day, and create the best opportunity for themselves to score and keep themselves in the tournament – that's the art of golf, really. And you do see that with the top guys."
Canter will get the chance again to see how the top guys do it plenty of times this season and he has a debut at the BMW PGA Championship to look forward to later this year, an event he has been to many times in the past as a spectator.
"I can't wait to play at Wentworth later this year, it's one of the iconic events, outside of the Majors," he says. "They get great fields and great crowds year after year and the golf course lends itself to a bit of drama, especially with the two par-5s to finish. From about the age of 15 I'd go to Wentworth every year to watch. Even as a professional I've gone up there and watched, and caddied for an amateur friend who played in the Pro-Am a couple of times.
"The schedule over summer also looks absolutely brilliant and I'm chuffed that I can pick my own route. Looking at it, I'm going to try and play in little bursts, but hopefully not overplay myself so I've got enough left in the tank towards the end of the season – for tournaments like Wentworth and, if I qualify, the DP World Tour Championship. It'd be nice to turn to up the big events like those not completely flogged."
With the cushion of being able to set up his own schedule and a renewed confidence, Canter's is a name we can expect to see more of on leaderboards as 2021 progresses.