By wrapping up his second PGA Tour title at the Mayakoba Golf Classic in Mexico last month, Viktor Hovland broke the 'curse of the Puerto Rico Open.' The Norwegian won his first title in Puerto Rico earlier in 2020, and he has now done something that all 10 previous winners of the event, including Ryder Cup star Tony Finau, have failed to do – win a title elsewhere on Tour.
While bizarre 'curses' exist throughout sports, they, like records, are there to be broken, and now the 23-year-old is hoping it is not too long before he wraps up his first win on the European Tour, having already stamped his mark on the PGA Tour less than two years into his professional career.
Hovland made a promising debut at the DP World Tour Championship in December, finishing third, having arrived in Dubai a little jetlagged following his triumph in Mexico the previous week. With a truncated first full year as a pro under his belt, he's keen to keep his momentum rolling and collect more silverware along the way.
"Obviously, with two wins, that's very special," said Hovland reflecting on his 2020 season,
"but the biggest positive I can see is just looking at how my game has improved since the beginning of the year, or even 2019, and even further back. I feel like I've taken a step in the right direction. Hopefully, I can keep on progressing in my game – I'm really excited about the future."
HIGH ON MY AGENDA
Hovland began last season with appearances at the OMEGA Dubai Desert Classic and the Abu Dhabi HSBC Championship and he's back in the region again this year making his debut in the Saudi International powered by SoftBank Investment Advisers.
"As a European, trying to get my first European Tour victory will definitely be high on my agenda for 2021 and, of course, trying to win my place on the European Ryder Cup Team," he said. "I've only played in about six European Tour events in total, so I'm excited about adding some more into my schedule and the Saudi International powered by Softbank Investment Advisers has the most impressive field of players already confirmed, so I think it's going to be a huge week."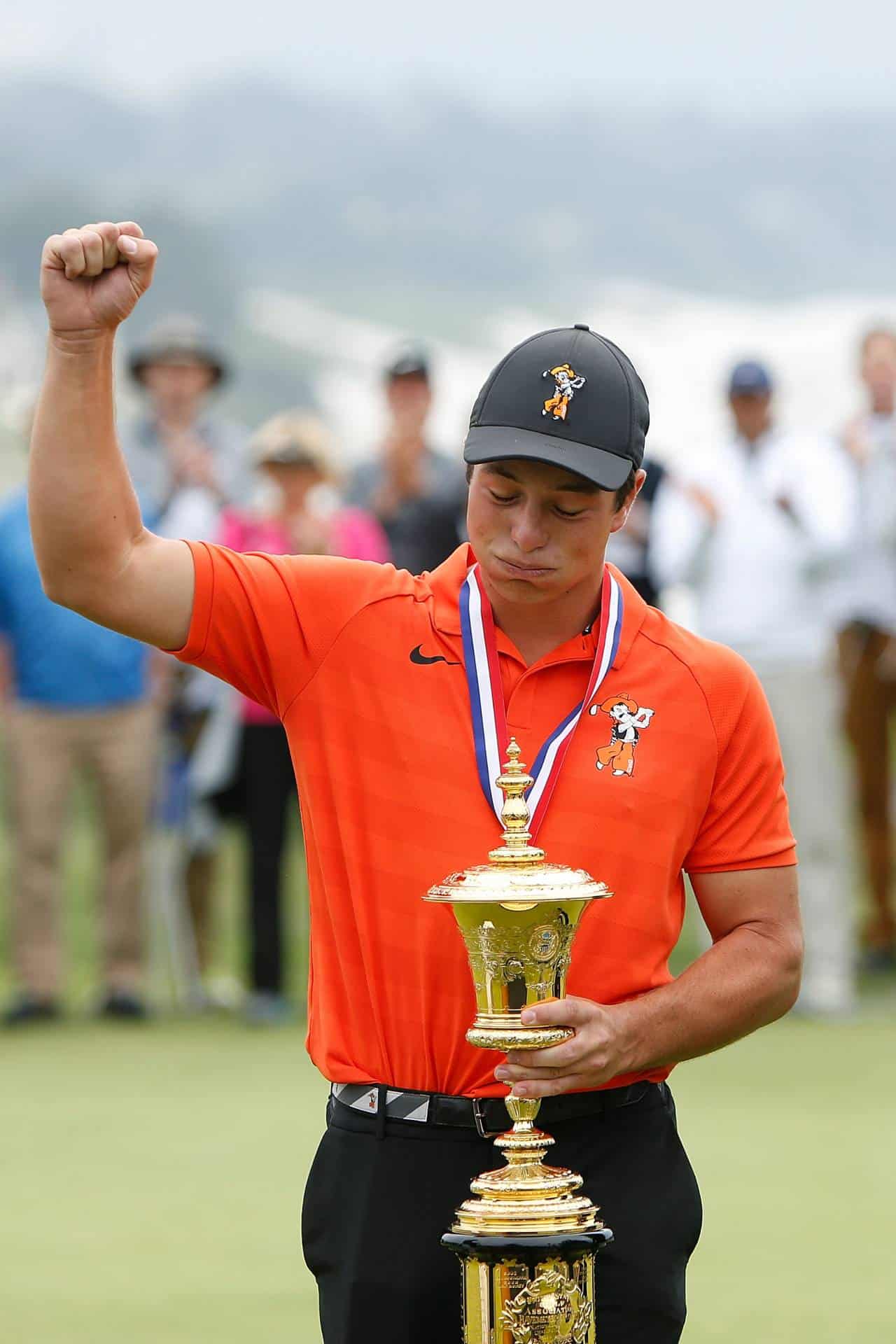 Hovland has been on a rapid rise since he broke into the golfing public's eye at the 2018 US Amateur, winning at Pebble Beach in emphatic fashion, 6&5 over Devon Bling. The following year, while still in the amateur ranks, Hovland impressed at Augusta National and again at the iconic Californian venue as it held the US Open. He won the low amateur honours at both events, and finished 12th at Pebble Beach with a score of 280 – the lowest 72-hole score by an amateur in the US Open since 1960 when Jack Nicklaus set the previous record of 282.
"That week was still before I turned pro, and I guess it gave me a lot of confidence in competing at that level," reflected Hovland. "Playing Pebble Beach, I always had good memories from winning the US Amateur the year before, but it just gave me boost, knowing that I could compete with the best in the world."
Now his eyes are firmly set on making Padraig Harrington's Ryder Cup side in September, and as the current World No.14 he's guaranteed a start in all the Majors and WGCs this year. Not bad for a shy kid from Oslo who only started to take golf seriously after deciding that football and other sports were not for him.
"When I was younger, I played soccer and did Taekwondo, as well as golf," he said. "When I was in or around 8th grade I quit soccer and taekwondo, and I just wanted to play golf during the winter. I wanted to hit balls inside, because I would normally just take a break from the game for four or five months. I started getting more and more friends to play golf, and that's just what I liked to do and it naturally became what it is."
Golf is clearly not as popular as other sports in Norway, but could a successful outing at this year's Olympics change all that and bring the sport to more people?
"I think it definitely helped in Sweden last time because Henrik Stenson did so well in getting the Silver Medal," said Hovland. "Obviously, we need to get there and, hopefully, do well, and maybe that would do something to boost golf in Norway.
"I know that because it's an Olympic sport now, golf is higher up on the sporting agenda in Norway and they have to spend more money on golf to kind of help us improve, and encourage juniors who are coming behind us, to help them improve. But other than that, I'm not really sure of the consequences of it all. We'll just wait and see. Hopefully, we'll do as well as we can, and yeah, it can help.
SHY PERSON
"I would say that I'm naturally a shy person, but quite often it kind of depends on the situation. Sometimes I find I can play well when there are no people around – and I can also play good golf when there's a lot of people there.
"I think it's more fun if you perform well in front of a bunch of people – it gives you an extra spring in your step. I don't really know what I prefer because I do really like it low key, but sometimes when you get to iconic places like Augusta or the other Majors then it's not the same without the fans."
Either way, wherever Hovland tees it up in the world, he's usually going to be on the look out for a nice plate of curry after his round – a dish he discovered on a trip to Britain early on in his career.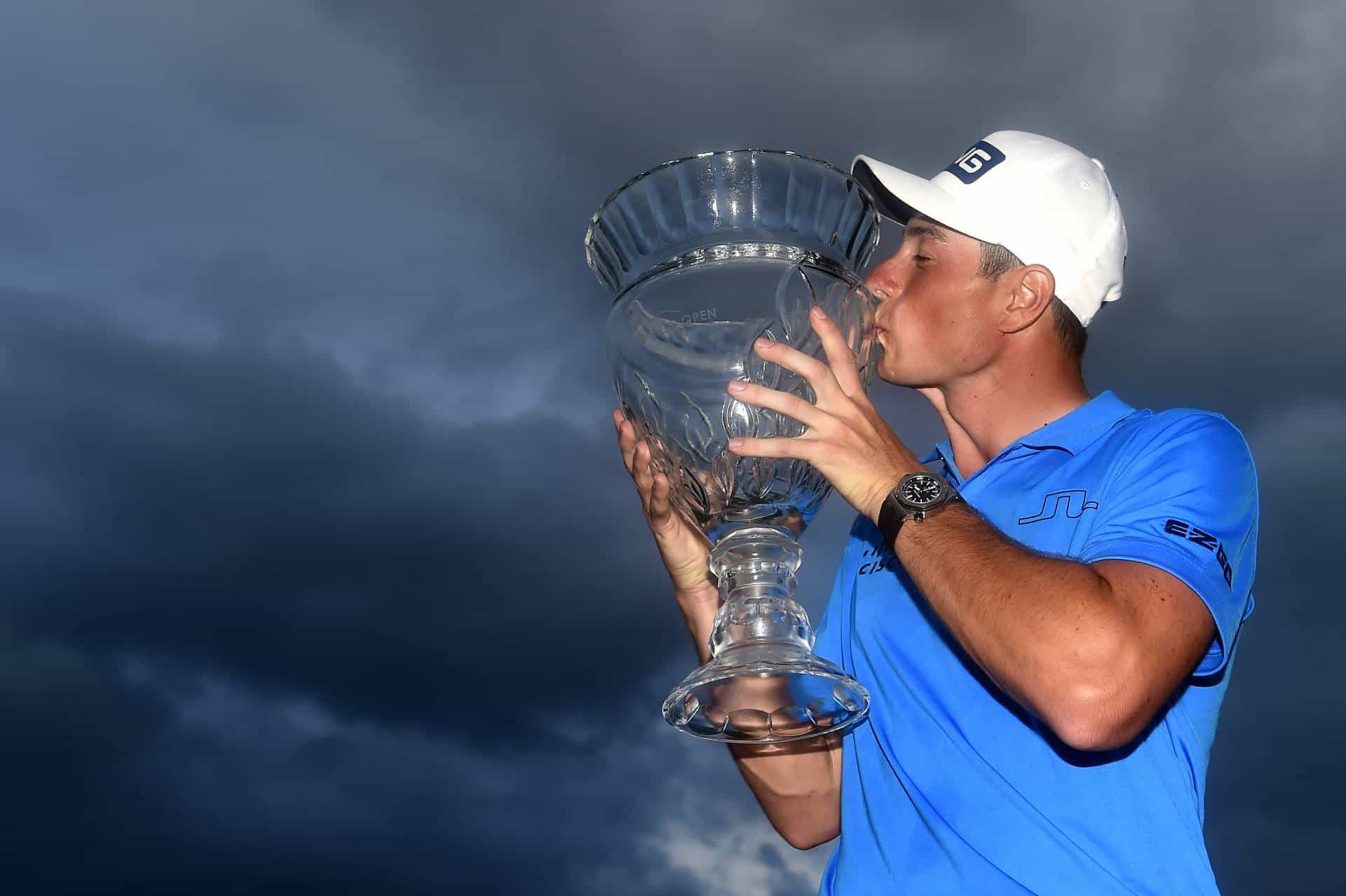 "I can remember my second international event that I played as a junior. I was in Scotland and I played in the European Boys' Team Championships at Murcar Links in Aberdeen," he said. "It was 2013, and we weren't too big on normal British pub food, and because there are lots of Indian restaurants in England and Scotland, we decided to go to a certain place and it was the best thing I've ever had.
"Now, every time I'm in Scotland or England, or anywhere, we're looking for an Indian place."
With an appetite for curry as strong as it is for success, Viktor Hovland is well on his way to eating up more titles as he continues his rise to becoming one of the best players in the game.