After a back injury put paid to any ideas of making a living through playing golf, Kevin Duffy went back to school to earn golf-related fitness qualifications that no-one else had. He has since forged a relationship with some of the biggest names in the game, including Ryder Cup star Tommy Fleetwood, and has played his part in helping the 28-year-old realise his potential as a Major contender. Duffy has also worked closely with Danny Willett, Jason Day, Patrick Cantlay, Graeme McDowell and Louis Oosthuizen. Worldwide Golf sat down with the Strength and Conditioning guru to discuss his career to date.
"I was a decent golfer up until I reached the age of 20," explains Kevin Duffy from his gym in Warrington, Cheshire. "I had a back injury when I was 15, which affected me badly over the following years. I was good at the game but the injury prevented me from getting to that next level. So, I finished playing and tried teaching golf but I didn't particularly enjoy it – so I moved on."
Duffy decided to dig a little deeper into why his injuries caused him to stop playing and he began to gather information through various appointments with health professionals.
"I was trying to work out why I suffered with injuries while playing golf and I began to see physiotherapists, chiropractors, yoga teachers and all kinds of experts. After a while, I decided that I had learned enough about the body and how it works, so I went to gain a personal training qualification. 
'Right out of the blue'
"I travelled to America three times in a year to earn Titleist Performance Institute qualifications. At that point, I was the only person in Europe with three Titleist qualifications. This came about around ten years ago, and with it being quite a unique golf-related qualification, it paved the way for me to work with England Golf and Lancashire Golf." 
Duffy's work with those amateur organisations didn't go un-noticed, but his eventual transition to helping Tour professionals came right out of the blue. 
"I got a call from Danny Dennison, who was playing on the European Tour back then. He had heard about what I was doing and asked if I could start working with him. Around the same time, through work with England Golf, I went to Formby Hall and later became friends with Phil Kenyon. 
"I went up to the Dunhill Links Championship that year with Danny, and Phil was there. He introduced me to a few people and within two or three months I was working with five or six European Tour pros, travelling around the world with them. So, it really all happened in a short space of time."
Working with Fleetwood
It was also around this time that Duffy first met Tommy Fleetwood, who was progressing through the ranks on the satellite tours. "I'd gone to Formby Golf Club for a EuroPro Tour event to watch Phil Archer, who was playing on the Challenge Tour at the time, and he just so happened to be playing with Tommy in the same group. 
"Tommy went on to win that event and around three months later I met him again at the Dunhill Links and we started working together."
Fleetwood has been one of the stars on the European Tour since winning the Race to Dubai in 2017, thanks to two outstanding victories at the Abu Dhabi HSBC Golf Championship and the Open de France. In 2018 he finished runner-up to Brooks Koepka at the US Open and later played a starring role in The Ryder Cup, forging an unbeatable partnership with Francesco Molinari to earn four points from four matches together. 
'Golf is a speed game'
In July this year he finished runner-up at The Open and is on course for another successful season and regularly drops in at Duffy's gym to keep himself ticking over.
"Golf is very much a speed game and you don't need masses amounts of strength in order to create speed. Yet strength is very important because you need strength and stability within your muscles to have the correct posture in order to maximise your potential to create speed. 
"I'd say, as of right now, Tommy has gained about 4 to 5mph in clubhead speed since we started working together, which translates to 20 yards or so in distance. Not all of that is down to our gym work – it's a combination of improved swing mechanics and improved technology as well. 
"Tommy is actually not a great example of speed training because we don't do that much together. He has got faster from swinging better – and it's the gym work that we do that helps him swing better through the increases in strength, which enables him to hold his posture better and his stability through the positions being stronger. He's already extremely fast and flexible. Having strength endurance enables professional players to practice for hours so that their last ball is just as high-quality as their first."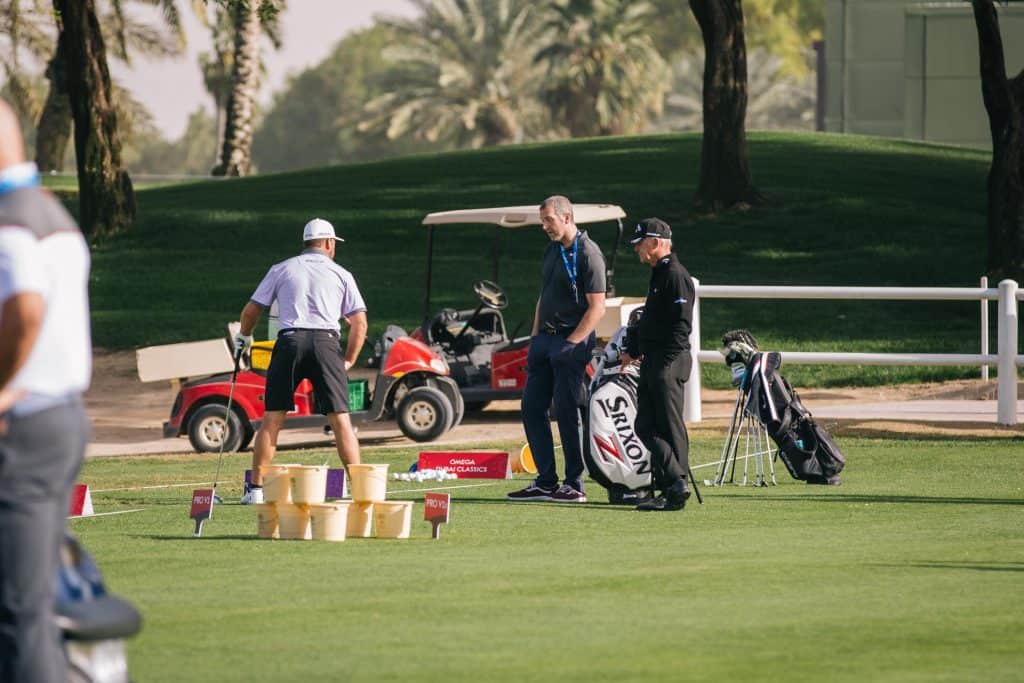 The Pete Cowen connection
With a stable of players to work with, Duffy's knowledge has increased, having been introduced to more people within the game, including some of the best swing coaches.
"I've had a lot of luck in getting insight from the likes of Pete Cowen, Sean Foley and Alan Thompson, who teaches Tommy, as they've helped me with the swing mechanics," he says. 
"Spending time with them has helped me understand the swing more. From that point, I've been able to deduce which kind of muscles we need to work on in the gym. 
"I did a lot of work with Sasho MacKenzie, Professor, PhD Sports Biomechanics at St. Francis Xavier University in Canada, and that helped me understand the physics of what makes the ball go faster. I put it all together and now work out my own gym routines."