Justin Parsons is a name that all golfers in the Middle East will be familiar with from his role as a Director of Instruction at the Butch Harmon School of Golf at The Els Club – Dubai. 'JP's' stock continues to rise as he now travels around the world working with Major champions, South Africa's Charl Schwartzel and Louis Oosthuizen, as well as Peter Uilhein, Mike Lorenzo-Vera and Dubai-raised teen-sensation Rayhan Thomas. Worldwide Golf's Alex Gallemore talked to the Northern Irishman recently to find out more about his globe-trotting schedule and how his advice and techniques differ when coaching beginners to some of the best in the game.
Worldwide Golf: What is your current week-to-week structure being on Tour away from Dubai?
Justin Parsons: I think structure is a flattering way to describe it! It's all about player performance and I've been very fortunate to work with Peter Uilhein for the last couple of years as he moved from the European Tour onto the US PGA Tour, so I do a lot of work there now as well. As these types of guys play better, they need you more, so that's part of the job I have to do. I must react to their requirements.
WWG: How did you start working with Uilhein? 
JP: Peter (Uilhein) and Brooks (Koepka) came out to the Butch Harmon School of Golf in Dubai in 2012 when they were playing on the Challenge Tour. Peter and I got on well but Claude Harmon was very much his coach at the time, but he progressed to the European Tour and was going through a rough spell with a wrist injury and things like that. I recall around August time two years ago, he sent me a text asking if I'd look at his golf swing and we sent back and forth some videos and from there he made constant trips out to Dubai at the back end of 2016 and had a highly successful 2017, which guaranteed his PGA status for 2018 with a win in the Web.com Tour Finals opener.
WWG: And you now work with Major winner Charl Schwartzel, too?
JP: Yes that's correct.  One of Peter's close friends recognised the work I'd done with him and happens to be in the same management group that I help Charl out with on his day-to-day routine, so I was recommended. I was sitting at Emirates Golf Club one day and we had a conference call with Charl's management company and we talked about what Charl was experiencing. He's never had a formal swing coach before because his father had done all that work. It's an absolute pleasure to work with somebody who is so talented and has such a fantastic swing already but my job is just to refine it a little and build his confidence back up.
WWG: How have you evolved as a coach since first working at the Montgomerie Golf Club in Dubai?
JP: Dubai has given me so much. From the days at the Monty where I learned from Wayne Johnson and the team how to present golf lessons. Then working with Claude and setting up the School in Dubai and having access to what Claude and Butch were doing was really beneficial. I got to understand what players need at the highest level and having Butch on my team has been a huge thrill working alongside that family.
WWG: How do you switch from coaching some of the top stars of the game to 'weekend warriors'?
JP: At the end of the day, everybody wants the same thing – to hit better golf shots and try to lower their scores. Everyone's means of doing that is different, due to their skillset, so you've got to appreciate that, satisfy their needs and make the game more enjoyable for them.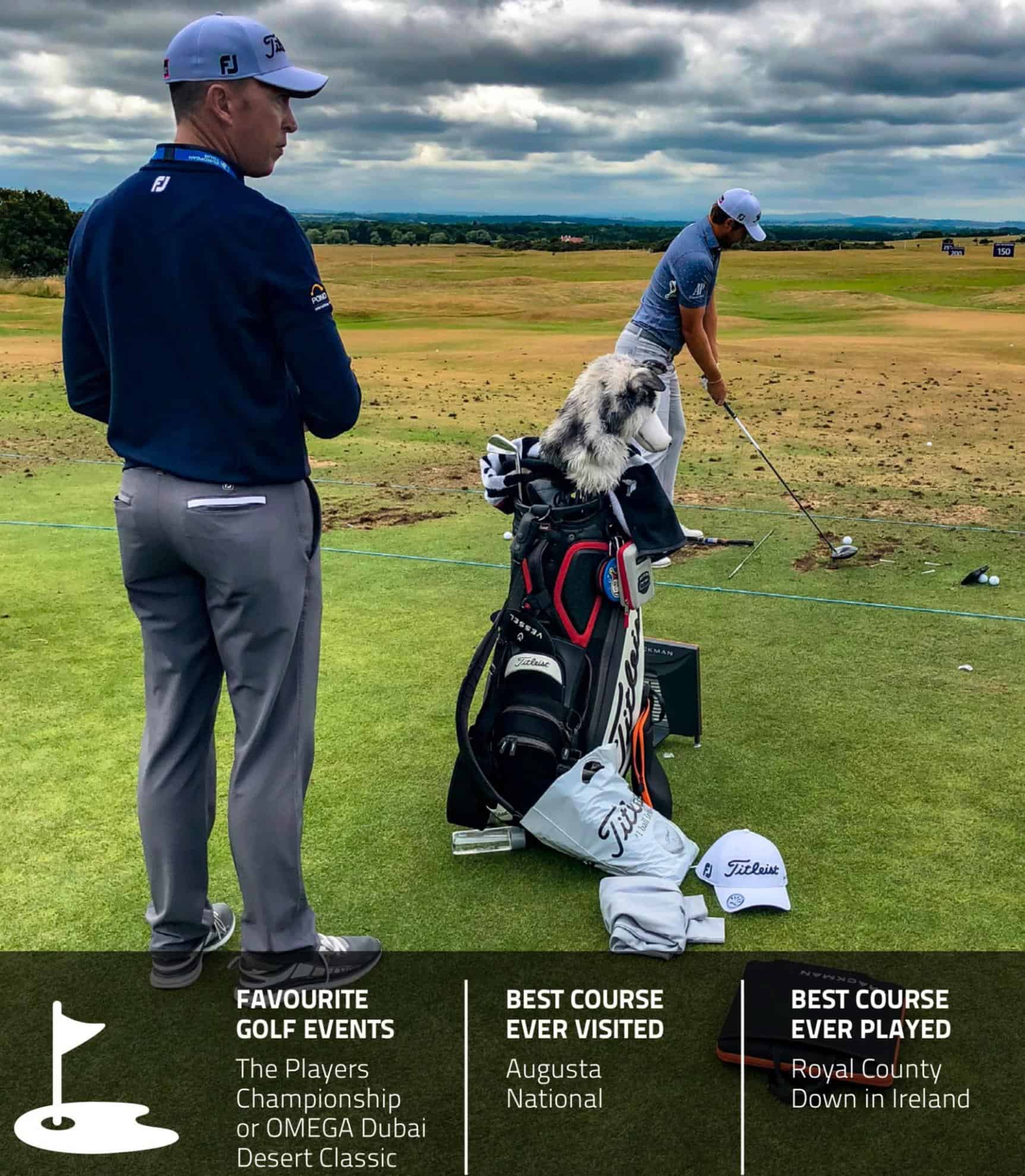 WWG: Are there any other Tour players who you're going to coach?
JP: Yes, I hope so because it's great fun watching and coaching players at the highest level. It takes me away from my family and there are sacrifices, but to fulfill my ambitions is great. I'd love to see some of my guys win Major championships. I have worked with Rayhan Thomas for a while back in Dubai, who's going  Oklahoma State. He's a very exciting player. We've got a few more players to keep an eye on at the Butch Harmon School of Golf so this is a thrill for me that keeps me going from day-to-day.
WWG: Do you think Rayhan Thomas has what it takes to compete on Tour?
JP: The biggest items you need to make it on Tour is your head and your heart if you want to compete at the highest level. Rayhan's mentally strong and uniquely gifted in his authentic approach to the game. He doesn't really compare himself with other stars. We remind him every day to just try and get a little bit better every day.
WWG: Rayhan was astounded at how much further Rory McIlroy drove than him when they played together. Is this an area of Rayhan's game that you'll be working on as he grows and matures?
JP: There are some technical opportunities in Rayhan's game that we are working on at the moment that will give him a bit more distance. However, is he going to ever be as long as Rory? Probably not. But then again you see Webb Simpson winning the Players Championship so distance clearly isn't everything. If you're clever with your approach to the game, your structure and have mental resilience, you can compete at the highest level.
WWG: You're fortunate enough to travel the world to some of the best golf courses on the planet. What does Dubai have compared to these places in a golfing-scene perspective that makes it unique? 
JP: Dubai is unique because of its accessibility. Many of the golf courses are close together compared to the States and South Africa where you have to travel vast distances. Emirates Airline has made travelling to and from Dubai extremely easy, which certainly benefits the golfers. The facilities are unbelievable in the UAE so we've got it pretty good!
WWG: You've worked with Louis Oosthuizen, so how do you change your coaching methods when working with players who have had injuries or setbacks? What would you say is your secret method? 
JP: I was once by myself with Butch Harmon in a two-and-a-half-hour car ride and I took the opportunity to ask him every question I could come up with.
I said: "What are you looking for when you're coaching?" 
He replied: "It's like a clicker in my head. I think of things when the player takes a shot and find one thing they're doing wrong. It could be anything. That one adjustment may lead a player on to make three or four other slight changes, which you won't have to tell him about, but they'll make automatically. That could make a big difference."
I try and create a theme with each player. With Peter Uilhein I try and make sure he gets some loft on the club going back,and doesn't reverse his swing a little at the top of the backswing. With Charl Schwartzel it focused around him, lifting the golf club up, so I wanted to connect his arm swing and body rotation. With Mike Lorenzo-Vera it was about loading up on his right leg. These are themes I've had with the stars. They are consistent but then you make maintenance changes, which are things players pick up week-to-week that deviate.