CHRIS MAY has been at the forefront of golf in Dubai for many years and a pivotal figure in the progress and expansion of the game over the last two decades. The Chief Executive Officer of Dubai Golf talks to Worldwide Golf about the ever-developing story of golf in the region and the exciting times ahead for the management company which has added Jumeirah Golf Estates to its prestigious portfolio of Emirates Golf Club and Dubai Creek Golf & Yacht Club.
Worldwide Golf: It was big news for the local golf scene when it was announced that Dubai Golf were taking over Jumeirah Golf Estates. What do you think about taking over another iconic golf course at such an exciting time, with the DP World Tour Championship just around the corner? 
Chris May: It's great news for us and we are very excited not only for local golfers but for international golfers as well. It's an amazing time to be taking over ahead of the DP World Tour Championship. We're delighted and very much looking forward to the opportunity.
WWG: With the DP World Tour Championship and the Race Dubai celebrating their 10th anniversary, do you believe that the tournament, contested by the top 60 top players on the European Tour, has played its part in promoting golf and Dubai around the world?
CM: The tournament is really important for Dubai. We see a spike in golf tourists twice a year, when the DP Tour Championship and the Omega Dubai Desert Classic are on, so there is no doubt that both tournaments have had a big impact on bringing additional tourists to come and play golf and watch some of the best players in the world compete. This year's tournament is going to be really exciting with the DP World Tour Championship celebrating its tenth edition and the European Ryder Cup players coming to play on the iconic Earth course. It promises to be one of the best tournaments yet.
WWG: Will Dubai Golf be looking to promote offers and rates across all three golf clubs for members and visitors?
CM: Yes, that is one of the things that we will definitely be doing, marketing the three golf clubs, and the five golf courses, together both from an international and local perspective. We have already introduced a number of member benefits to our current memberships and we'll be adding a few more benefits at the three clubs. We want to provide better value for local and international golfers.
WWG: Will Dubai Golf be marketing all three clubs under one umbrella or are they standalone identities?
CM: They will certainly be marketed together, but all three clubs already have different identities. Each club is different with individual characteristics.  They have all hosted championship events and are all great venues. Together, as one, they can be stronger but I feel it's very important that each club keeps its own individual identity and we will be working hard to maintain that.
WWG: What key elements with regards to membership benefits can Dubai Golf bring to Jumeirah Golf Estates?
CM:  We've already introduced quite a raft of benefits, including member discounts across the restaurants in all three properties and reciprocal benefits for Jumeirah Golf Estates members at Emirates and Dubai Creek and vice-versa, which have been very well received. We look forward to implementing a few more benefits across other membership categories in the near future.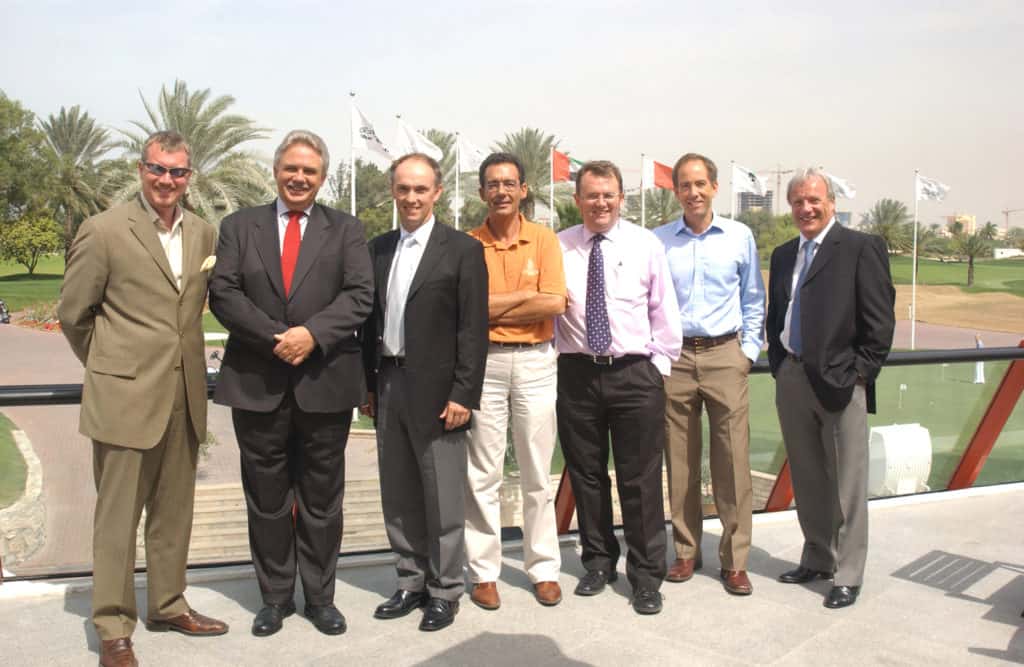 WWG: The floodlit Faldo course has been a huge success at Emirates – is this a feature you might look to include at Jumeirah Golf Estates?
CM: The Faldo course has certainly been a great success. It's the busiest golf course in Dubai with over 55,000 rounds per year, largely because of the night golf. Would we look at putting in floodlights at Jumeirah Golf Estates? Possibly, but it's certainly not on our immediate radar. There are a number of factors that need to be considered when you put up floodlights at a golf course and there is a significant financial outlay that needs to be examined as to whether it makes financial sense. Maybe it's something for the future.
WWG: Jumeirah Golf Estates is a much larger site compared to Emirates and the Creek. Are you looking to use this to develop the surrounding community? (i.e. Hotel, Shopping Mall, Cinema etc)
CM: Without a doubt, it's a very big venue with the 36 holes spread over a large area. There's also the Country Club and the tennis facilities but Dubai Golf is literally responsible for the Clubhouse, the golf courses and the Country Club facilities. The rest of the property is still managed by Jumeriah Golf Estates and operated and run by them, so that's their responsibility, ours is just the golf.
WWG: Will you be exchanging the ETPI for a Pete Cowen Academy, if so why?
CM: The ETPI Academy is really important for Dubai. It is the best golf academy facility in the emirate and keeping its identity is key. We have partnered with Pete Cowen at Dubai Creek and Emirates Golf Club and that's central to us. We will look at integrating the academies, and members will be encouraged to use the three academies and enjoy the benefits. We hope that a JGE member would feel equally welcome in having lessons at Dubai Creek and Emirates Golf Club and vice versa. I don't see us making the Golf Academy here a Pete Cowen Academy at this stage. Pete Cowen and his players are more than welcome to use the facilities and we would certainly encourage that. It's important for each club to have its own identity and having an ETPI here and a Pete Cowen Academy at Dubai Creek and Emirates Golf Estates is something that works well and we would probably continue with.
WWG: It's an impressive portfolio to have all three clubs that have staged main European Tour events in Dubai but would Dubai Golf now look to take over the management of any other clubs in the region?
CM: Possibly. We have only just taken on the responsibility at JGE so it's too early to tell. We are very lucky that all the golf clubs we have managed have hosted leading championship events, which is vital for Dubai in driving additional tourism. Maybe we might look at other opportunities in the future but at this stage we are very happy just to be looking after the three clubs and the five golf courses, focusing our attention on improving the operations at those clubs and making sure that Dubai is firmly on the world map for golf tourism.
WWG: With the five courses coming under the control of the Government-owned Wasl Hospitality and Leisure, does this mean you can integrate the various services from the variety of courses?
CM: Managing three clubs and the five golf courses benefits us from a procurement perspective and a buying power perspective to be a little bit more efficient and more economic in certain areas, so we will look to manage the courses as one in certain areas, although we want to keep their essential identities intact.
WWG: What are your thoughts on the Earth and Fire courses and would you look to make any changes?  Would you consider adding a shorter course – a par 3 or a 9-hole layout?
CM: Both courses are fantastic! Everyone has seen the Earth course through the DP World Tour Championship but the Fire course is also a wonderful course. Many of the members prefer the Fire to the Earth course, including myself. It's a great little golf course in its own right, so we are very lucky to have two great courses here. In terms of additional facilities it's a little early to talk about that. As for additional golf courses, it depends more on Jumeirah Golf Estates' decision regarding that type of investment as to whether there is a land available for additional development.
WWG: Would you consider bringing the Desert Classic to Jumeirah Golf Estates to join the DP World Tour Championship? With the two big events close together this could help with staging costs and logistical issues.
CM: The two tournaments have their own identities and it's important to maintain them. There might be some logistical benefits of hosting both tournaments at one venue and utilising the set-up twice yet the benefits of having two uniquely individual golf courses being showcased to global golf audiences would far outweigh those cost savings. So, I wouldn't envisage any change in the venues of those two tournaments. It's really important from Dubai's perspective to display two world-class venues.