John Daly's teenage son John Daly Jr is following in his father's footsteps and making a big name for himself. At 17-years-old, he can already hit it further than his dad, who was for many years one of the longest hitters on Tour. Daly Sr. was a two-time Major Champion and a fans' favourite, as much for his unique and unpredictable demeanour, as his golf. The larger-than-life character would like nothing more to see his son play on Tour one day – and it's fast becoming a serious possibility.
Daly Jr. not only has the look of his unmistakable father but also the soft hands and awesome power to go with it. The young prodigy raised eyebrows in June when he finished tied second at the Dye National Junior Event, an elite event made up of 33 of the top male and female junior golfers in the USA. After his outstanding performance, his father reckons, "he's got it."
"He's maybe just a youngster but I just can't keep up with him any more," says Big John. "He hits it so far – He pummels it. He's flying it about 300, 305 nowadays."'Little John,' as he's affectionately known, is already commanding attention from college coaches in his sophomore year of high school. This comes as no surprise after his finest tournament performance last September when he dominated the Junior Golf Tour event in Kissimmee, Florida, where he won by nine strokes after shooting a 66. John Daly Sr. knows what it takes to make it at the top level but he's optimistic about Junior's chances: "We'll see how he goes on in college," says the 54-year-old. "He just hits it, man, he's got that sound. That sound of a swoosh in basketball or the perfect pass, or that tennis racquet hitting it solid every time. He hits that little ball solid every time. It's a sound that a lot of people in golf don't have and he's certainly got it – he's had it since he was around 8-years-old."
Daly II first drew attention in the golf world by pairing with his dad at the PNC Father/Son Challenge. A clip of him sinking the winning putt at a junior golf tournament in 2017 also went viral. However, the media are taking him far more seriously as a golfer after some impressive performances in the junior events. If he's anything like his father to go by, John Daly Junior will be a welcome addition to the exciting young brigade who have emerged on the PGA Tour this season.
---
JOHN DALY'S CAREER PATH
Turned pro in 1987 aged 19
Won his first victory that same year in the Missouri Open
Joined the PGA Tour in 1991
Won the 1991 PGA Championship – the first alternate pick for the event!
Won the BC Open in 1992
Placed third in The Masters in 1993
In 1994 he was suspended by the PGA Tour after walking off-course in the middle of a round, and for a previous incident in which he had thrown away a scorecard
In 1995 he won The Open Championship at St.Andrews after beating Italy's Constantino Rocca in a playoff
In 1997, Daly became the first PGA Tour golfer to average more than 300 yards off the tee – a category he led for 11 years
His next PGA Tour victory came in 2004 at the Buick Invitational in a playoff against Luke Donald and Chris Riley
Daly Sr. enjoyed success on the PGA Tour Champions in 2017 in the Insperity Invitational – his maiden win at Senior level
John Daly Senior was a crowd favourite, loved by the galleries for his outlandish attire and his never-say- die swashbuckling manner in which he played the game. He was one of the most colourful and zany personalities in golf who always did it his way. He changed the face of tournament golf and disregarded his frequent run-ins with officialdom.
---
JOHN DALY JUNIOR'S CAREER PATH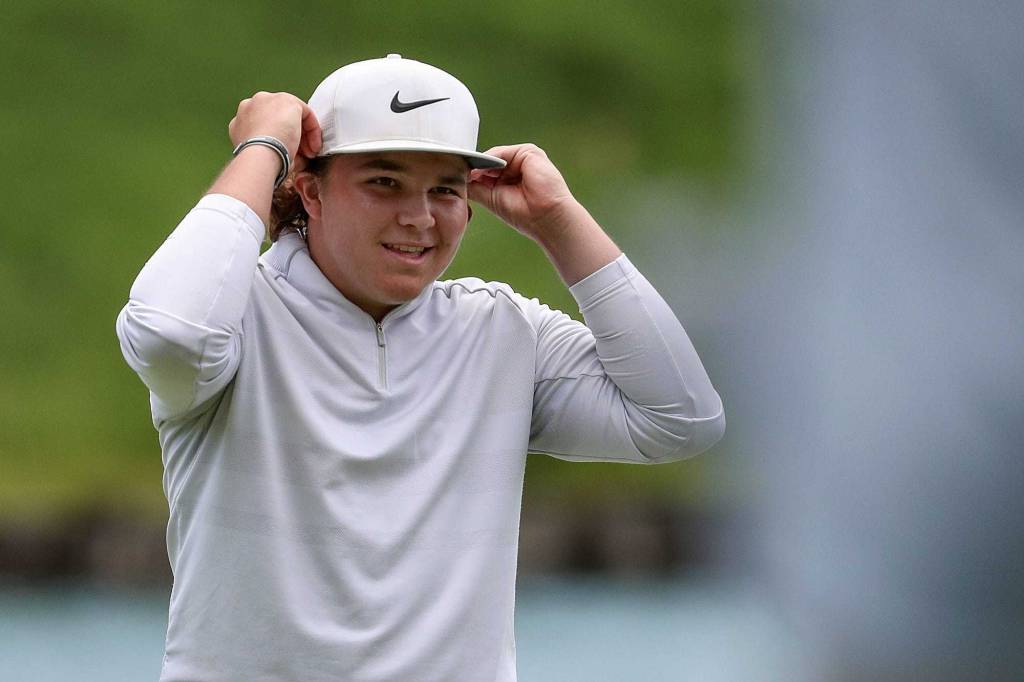 By the time he was two years' old, he was intrigued by golf, according to John Daly Sr. At the age of six, he had shown enough talent for dad to know his son might have a gift like his own. By 10, he was playing in tournaments. From there, he began to appear on occasion in nationally-televised father-son tournaments. By 16 he was enjoying success on the junior national golf circuit and finished runner-up in the Dye National Junior Event, an elite event made up of 33 of the top male and female juniors golfers in the country. "He's fun to watch, just like his Dad," Daly Jr.'s coach Nick Duffy says. "He has so much flare out there and has every shot you need to play the game of golf. He knows how to do it. He's altogether a fun-loving guy."