General Abdullah Alhashmi has only been in his role as Vice Chairman of the Emirates Golf Federation for 10 months but has already overseen a whole raft of changes aimed at growing the game of golf at all levels in the UAE and creating an infrastructure in which Emiratis can develop and thrive.
Worldwide Golf caught up with The General at the EGF offices at Dubai Creek Golf & Yacht Club to find out more about the progress that has already been made and his vision for a prosperous future on the fairways of the UAE.
Q: The EGF and the DP World Tour have been working closely for over 30 years. How much has the game of golf grown in that time in the UAE?
I think it's very evident for everyone to see, we have more than 15,000 players playing in the UA, we have 7000 members in different golf clubs, and last year we had 850,000 visitors in Dubai who came just for golf tourism. I think that speaks for itself.
The game of golf started 30 years ago here with the Desert Classic, we only had that one tournament but last year we broke all the records as we had six tournaments in a single season in one country, that has not happened anywhere else in the world. Hosting international events with big caliber tournaments and players, that only happens in the UAE.
In the past year, with the DP World Tour joining forces with us, we decided that we need to further grow the game, and since January 2021 till now we have nearly 300 new players from different ages with the help of the Future Falcon programme, and now this year we have increased that number to 600 players. So, I think as a Federation we are moving forward with our strategy and developing the game of golf with our partner DP World Tour, which have been such a great support, and I think we have accomplished a lot but there is so much to do.
Q: You mentioned that 850,000 visitors came to the UAE just for golf tourism, in 2015 the figure was 450,000. What's the main factor behind that big increase?
I think during the pandemic so many countries were shut down, and it was a difficult time for golfers in all of South Asia and European countries as well due to the weather at that time between October and April while in the UAE it was much nicer. So we had the opportunity to have more visitors coming in, and those numbers were recorded only during the tee times that have been registered in the clubs. The way UAE dealt with COVID was very professional, the government supported the infrastructure of the health industry, and the main objective was for us to have the people visiting feel safe and play golf. The environment that we provided was unique and encouraged people to come here and enjoy the game.
Q: What initiatives does the EGF have in place to get more Emiratis into the game?
We have different programmes, but now we want to include everything in one programme, which is the Future Falcon, the number of kids taking up golf is increasing. In the past we had a very small number of golf players (up to 100) from all divisions, now I can easily say we have 600 players and the numbers are increasing. We are trying to find the means and ways to be able to support this programme and I think we have made connections with different clubs and we have given them different packages of players to train and discover the ones who have the talent and make them love the game and create a family environment. What we are trying to do is build a golf society, it's not just about having golf players, we want everyone involved including the families, if they want to play golf then we would also support that so they can help their kids and participate on the golf course and at home. Educating people about golf to me is more important than just having someone playing golf. We are on the track to having that golf society.
Q: You have had some great success attracting new players to the sport in the region, but what are the main challenges that the EGF face attracting even more Emiratis to the game?
If you talk all the golfers in the word, they will tell you that we have courses that everyone can play in, unfortunately in the UAE we have this challenge that we have to go through a golf club, there's nothing really built unlike other sports where you can football fields, basketball courts, etc., but as you know golf is very expensive and it takes big spaces, so it's not very easy for people to have access. The ain challenge is having these facilities available in each Emirate to make the local boys go and try the game, so you have to bring them and encourage them by taking them to the club. There's a notion that golf is for a small group of people and that it's not for everyone, so to take that out of the mind of people and make them understand that golf for everyone, it's a game you can play on your own, with friends or with someone you met on the course, and you can still play with them because you are speaking the same language and have the same goal. So the challenge is not about who you are playing against, the challenge is yourself, you are playing your own game. To build that and make people understand and be aware of golf. My friends would ask me 'why do you play golf?', I enjoy talking about golf and explaining things to them and that's what we are trying to do. We need to expose the game more, educate the people where they will be able to understand what the game is about, it's more than sport, it's about punctuality, discipline and manners.
Q: Last year the EGF became affiliated to EDGA thus launching the UAE Determined Golfers programme. How inclusive is golf and what message would you give People of Determination who are looking to get into the game?
We call them People of Determination for a reason; they don't believe there is a limit and I think that there are no limits or anyone who is determined. I am really proud of those kids and they melt my heart, they are working harder than everyone else. I have a kid named Ali, I see him and speak to him a lot, I love the kid. They should be in the Paralympics, we should have a team there that represent us, they deserve to be there because they have that will and we want to show the world that UAE is part of this movement and highlight how proud we are of the People of Determination for being able to hit the ball and play golf.
Q: The EGF have just announced that four events of the Order of Merit schedule next season have been elevated to 'Major' tournaments with the winner of each securing a spot in a Challenge Tour event in Abu Dhabi. How important is for players in the region to be given the opportunity of playing in these professional events?
Developing the game has to start somewhere, we have been focusing on DPWT and the big tournaments where we don't have professionals who can compete at that stage, but in order for us to be able to build those players and prepare them to play on the big Tour events is how it should be done. Bringing the Challenge Tour is the first step, and I am also looking forward to bring Access Tour for the ladies because I think we need to get our players to play competitive games and then we get to evaluate their level and performance and from there they can go on to get their card and play on the Challenge Tour and then the DP World Tour, so it's more of a screening phase for them. We need to get our players to get through that challenge plus with the tournaments that we have here we need them to get into the competition mood and then strategy to understand when they go o the DP World Tour they would already know who they are going to compete with. I can't take a national player and put them on DP World Tour and they aren't mentally or physically ready and being able to go there and compete. We have seen lots of good players that have been on the Tour for some time, they are professionals but they haven't achieved much.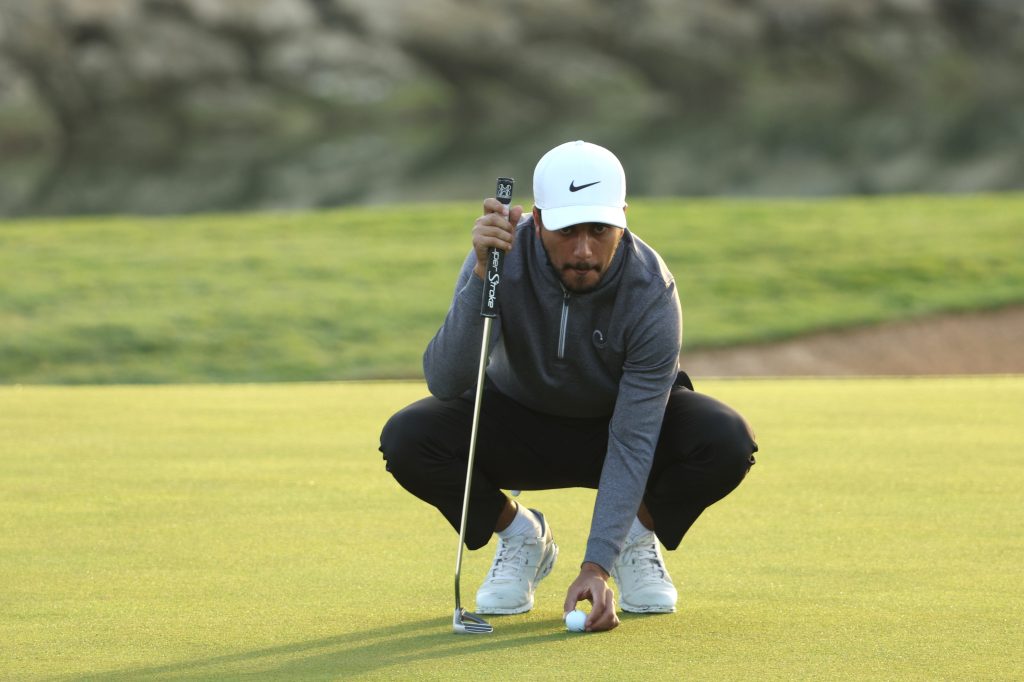 Q: Following on from that, the likes of Ahmad Skaik could potentially be playing in Challenge Tour events across the world next season. How do you think that will help his development? 
Ahmad is a key player in the national team, he is a talented player, but you can lead a horse to water but you can't make him drink. I think the EGF has supported Ahmad and will continue to do so, we have all the faith in him, and I think what's going to happen is for Ahmad to discover and build himself. We can give him everything but then what does he want to do? I think that's what's left. For him to play and compete in the Challenge Tour and DP World Tour, not many players had those opportunities. There's no doubt that Ahmad needs our support for the next year to provide better coaching, we have to prepare him well physically, mentally and technically. We are there for Ahmad and we have great hopes.
Q: In your opinion are we likely to see an Emirati play regularly on the DP World Tour in the future?
It's hard to say that at the moment, but in the future I do believe so. To build a champion it takes more than one generation
Q: What is the vision of the EGF for the next 30 years?
I always say that great success comes with a great story, I wish that within the past 30 years we would have 3,000 UAE players, but unfortunately that's not the case. But I look forward to the 30 years to come where we can have 6000 golfers in the UAE National Team, then I will be happy. If we can do that we will have champions who compete, we will have a society of golf not only of expats, it will be a mixed society because the UAE is a multinational country and we want to see locals with expats sitting and talking about golf, I want to see our kids playing together, whether you are a UAE National or an expat there shouldn't be a difference. I just saw something in Abu Dhabi where Rashid Al Naqbi, one of our players, played with Lara and they are about the same age, and I was so happy to see that! They played some really good golf, their communication was great. It shouldn't matter what gender or nationality you are, you just play golf.