Dubai is a well-known hotbed for rising young talent within the game of golf. The weather, facilities and world-class coaching make it the ideal destination for any prospect hoping to make it to the big time. One of those players aiming for the top is 18-year-old flusher Edoardo Scialanga. Worldwide Golf met with the Swiss- Italian teenager to find out more about his game.
Six foot tall, bilingual and a handicap of plus three; it's safe to say Scialanga is doing alright. I've been fortunate enough to spend a lot of time around DP World Tour players in the past, so I have a decent grasp of how they operate. Scialanga reminded me of a Tour player from the moment we met, writes Will Kent. He also showed genuine interest in my work, offering ideas along the way. As a journalist, we are not always blessed with forthcoming interviewees so spending time with this new-age golfer was a breath of fresh air.
"This is my fourth year in Dubai, "Scialanga said. "I moved here for school. Being here has definitely helped my game. My handicap has come down from six to plus three. The infrastructure and courses here are very good. The weather is perfect. The level of player here is also pretty high which helped me to improve and perform over in Europe during the summer as well." The young teen managed to escape the soaring summer sun in the Middle East this year to play amateur golf back in Switzerland. The tighter fairways, shorter approach shots and different grass encouraged crucial practice on courses different to those in the desert. Then, one week, it all clicked.
"I won the Engadine Amateur Championship in Switzerland in July," Scialanga stated. "It was my first It got me into the world amateur rankings which is really good because it was something I was targeting for a long time. I actually wasn't supposed to play that tournament, but in the end I signed up last minute. I drove five hours from my house to the course, and I wasn't feeling very good to be honest. But I just thought 'send it, let's play'. Over three days I shot level par, one under, one under which turned out to win in very tough conditions. I had low expectations, but it turned out to be a great weekend. It's Switzerland's oldest competition having first started over 100 years ago so a big event." Scialanga's lack of confidence before entering that prestigious 100-man tournament was partly due to the after- effects of a shoulder injury which hindered him throughout the previous Dubai winter season. He didn't play as much as he would have liked, and this victory has already been pivotal in his development.
View this post on Instagram
"That win was just special," he added. "I was super happy to find my confidence again, to find my game again. I struggled for one month before that tournament. I really couldn't play, couldn't find my game or feeling. Winning like that changed a lot. I started playing some really good golf. Results started coming in and my worst round after that was one over in my last ten rounds of the summer."
The triumph has also started to bolster the teenager's stature within the local Swiss golf scene. While on our way up to the driving range together, he rattled off the name of a few professional golfers from Switzerland, like the Challenge Tour's Benjamin Rusch. The country isn't best-known for high-level players, so his knowledge impressed me. He also revealed the Swiss national team are interested in following his progress now. It seems the youngster is gathering wide-spread attention both back home and here in the Middle East. While the win in Europe was significant, Scialanga is also developing into a desert golf specialist. His lowest round in UAE to date is a bogey-free four under at the Al Ain Equestrian, Shooting & Golf Club. He also lost in a play-off at the Faldo Series Middle East qualifier this year as well. The 18-year- old is starting to compile an impressive résumé.
As the youngster plots out the tournaments he wants to compete in this winter, he aims to get on the course six times a week while also making frequent gym appearances. He's a Peter Cowen Academy player who regularly tees it up at Emirates Golf Club. This is all part of the strategy to play in America, following in the footsteps of other previous Dubai-based players like Toby Bishop. "I look forward to going the States next September to play some Division Two golf there," Scialanga revealed. "Of course the level is going to be very high, it's going to demand a lot of work, but that's what I want to do with my life. It's time to step it up. From there, come back to Europe and start the path. Challenge Tour, DP World Tour then PGA Tour if we get there."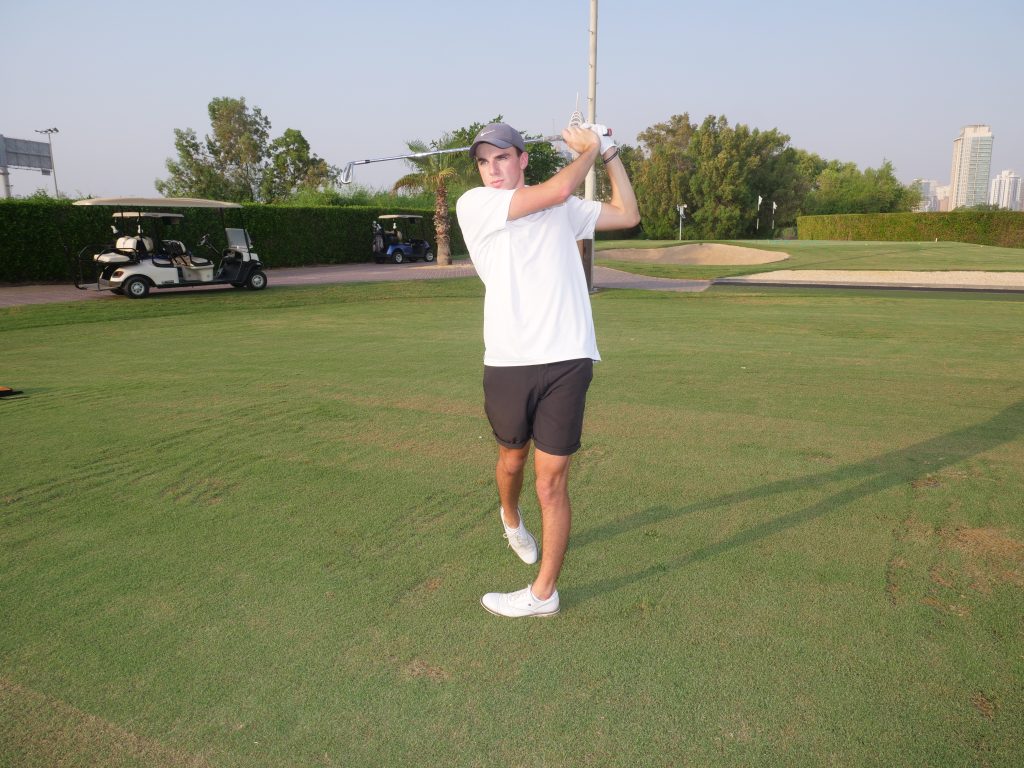 Scialanga's goals are a long way in the distance still, but his desire to pursue the traditional pathway starting at the Challenge Tour should be commended. Success on that tour has been the foundation for many of the games' greats. Beyond that, André Bossert is the only Swiss player to win a DP World Tour event, while Jeremy Freiburghaus is the only player from Switzerland inside the top 500 of the world rankings. It's not a nation steeped in golfing history, but the Dubai- based hotshot is not likely to let that be a restricting factor. He tends to model his game more on American counterparts, anyway. "Jordan Spieth is my favourite player," he revealed. "Since I started watching golf on TV I always admired Spieth for the way he plays. He's just fun to watch. He holes long putts, holes chips, maybe is not super straight with the driver but some crazy recover shots. I really like him. I remember the first win – the 2015 Masters – and I was watching it on TV and I was like 'wow, I like this guy'."
Despite a positive start to his golfing journey, it's not all been plain sailing for the European teenager. Combined with his shoulder injury, the 18-year-old revealed he struggled adjusting to Dubai when he first moved to the city. Thankfully he's over that now, but admitted he still has areas to resolve on the course. He disclosed he lacks length off the tee which surprised me. As a teenager aspiring to become a professional, admitting that other people your age hit it past you must hurt. The maturity to vocalise your shortcomings on camera at a young age will undoubtedly put the European in better stead as he chases his dream. That dream is one many young aspiring pros have, but the harsh reality is that few will actually achieve it. The margins at the top level of this sport are so incredibly slim. But Scialanga, with his understanding of the game both on and off the course, is one of the few who stand out. He has maturity beyond his years and the swing to match. Dubai may just be about to unearth another young diamond destined for the big time.