Over recent years, Dubai has propelled promising young talent onto big things within the world of golf. Dubai-based teenagers Toby Bishop and Josh Hill have reaped the rewards of the first-rate facilities available in the Middle East, and their development has now opened the pathway of college golf in America. While the pair continue their pursuit of professional Tour golf on the other side of the globe, even more young talent has emerged in the UAE, such as 16-year-old Dominic Morton.
The English teenager has a fascinating story. Upon moving to Dubai less than four years ago, he was an 18 handicapper. Since his move to the Middle East, he now plays off plus two. During his rapid handicap descent, he also suffered a ghastly elbow injury from a bike accident which nearly meant he would never swing a club again. Now, a Scratch Team player at Trump International Golf Club, Dubai, Morton is also chasing the dream of American golf. He spoke to us at Worldwide Golf about his journey.
Worldwide Golf: How did you get into playing golf?
Dominic Morton: I've been in Dubai for four years now. I grew up playing golf, football, athletics, and swimming. Then, all of the competitions started to clash so I chose golf as it was the one I was most passionate about. I grew up playing it and I just fell in love with the game.
WWG: Did you think you could have ever seriously pursued one of those other sports instead of golf?
DM: Yeah, I was always a good footballer. I was really good at swimming. I did cross country for a long time, but I just fell in love with golf.
WWG: Do you think being in Dubai and playing these great courses has helped your game?
DM: 100 percent. I've been in Dubai for four years now. I think when I came to Dubai I was off 18, and Dubai has taken me all the way down to plus two. It's been a big change.
View this post on Instagram
WWG: What made the difference to dropping the handicap that quickly?
DM: The facilities around here are the best and obviously the people. You just get to know a lot of better golfers. Learning off other people has helped me to get better.
WWG: What tournaments have you won in Dubai?
DM: I won the Summer Open recently at Trump International. I'm in the Scratch Team for Trump. We've won that two years in a row. Last season wasn't really my season though, I had big injury on my elbow so I was out for seven months. I wasn't really up for last season, but hopefully this season that can be changed.
WWG: Was that from a bike accident?
DM: Yeah, I had a bike accident where my elbow split in half. I was just messing about with my friends.
WWG: After the accident, did you think you might never play again?
DM: Yeah, when the doctors took my parents out the room to tell them what actually had happened, I was like 'ah yeah, I'm not playing again, no way'. Then, I got told there could be surgery for it and it was the biggest relief I ever had in my life.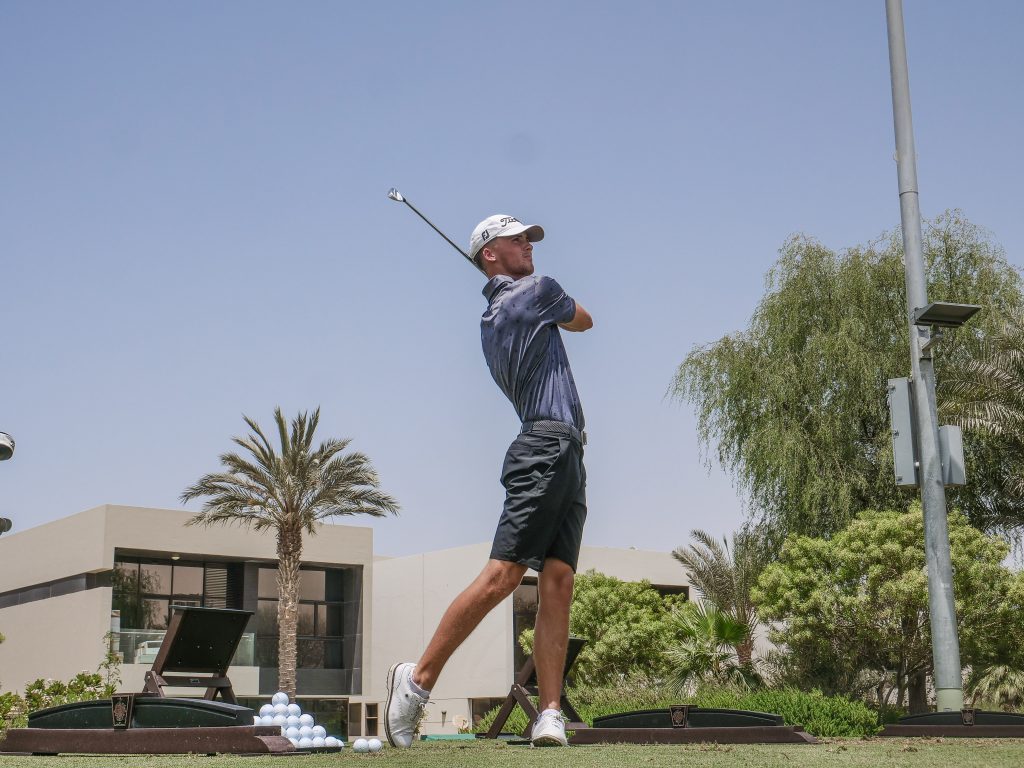 WWG: What about your future plans – is moving to America the goal?
DM: I've wanted to go to the States ever since I was a kid. Seeing other Dubai golfers like Josh Hill and Toby Bishop go recently it's made me want to go even more. It's the lifestyle and seems like the best place for golf, personally.
WWG: How about your recent summer competing in England, what was that like?
DM: I played amateur events at Hillside and Royal Birkdale. Four rounds of golf in two days – it was really tough. I've never walked that far in my life. I'm used to the buggies in Dubai! It was a big struggle. First time ever doing it though, so it was a great experience. I think I was 30th out of around 70 players where I was against the top people in the UK, so it was really good experience.
WWG: Where do you prefer playing – Dubai or England?
DM: Honestly, if I was to grow up playing golf at Royal Birkdale I don't think I would have enjoyed the game as much. The weather is just really unpredictable in the UK. It does what it wants and you can't play golf as much as you can in Dubai, so it's Dubai for me.
WWG: What's the difference between playing in Dubai, in comparison to back home – the courses, the quality of players, the style of golf?
DM: Links golf and the golf here in Dubai is completely different. I think if you're really good at Links golf you've got a really big potential. It's a big difference between the two places. Things like rough, fairways are a lot of thinner. Playing at Trump, we have very wide fairways and wide greens. It's a big change, and something I need to adjust to quickly.
WWG: How do you adjust?
DM: Me and my coach Ian worked on it a lot. Shot shaping, tidying my game up, closing stuff off. Visualising different types of shots and fairways. Just trying to keep it more neutral.
WWG: What specifically are you and your coach, Ian Clark, working on at the moment?
DM: I've been coming too much from the inside recently, so I'm working on fixing that. I've been getting quite stuck in my swing so we've been trying to get me a fade feel with my irons. I got my new set of clubs recently so I've been trying to build a relationship with them. I usually hit a draw but I think it's going to have to become a fade at this point as I'm getting too stuck in positions and I don't like it.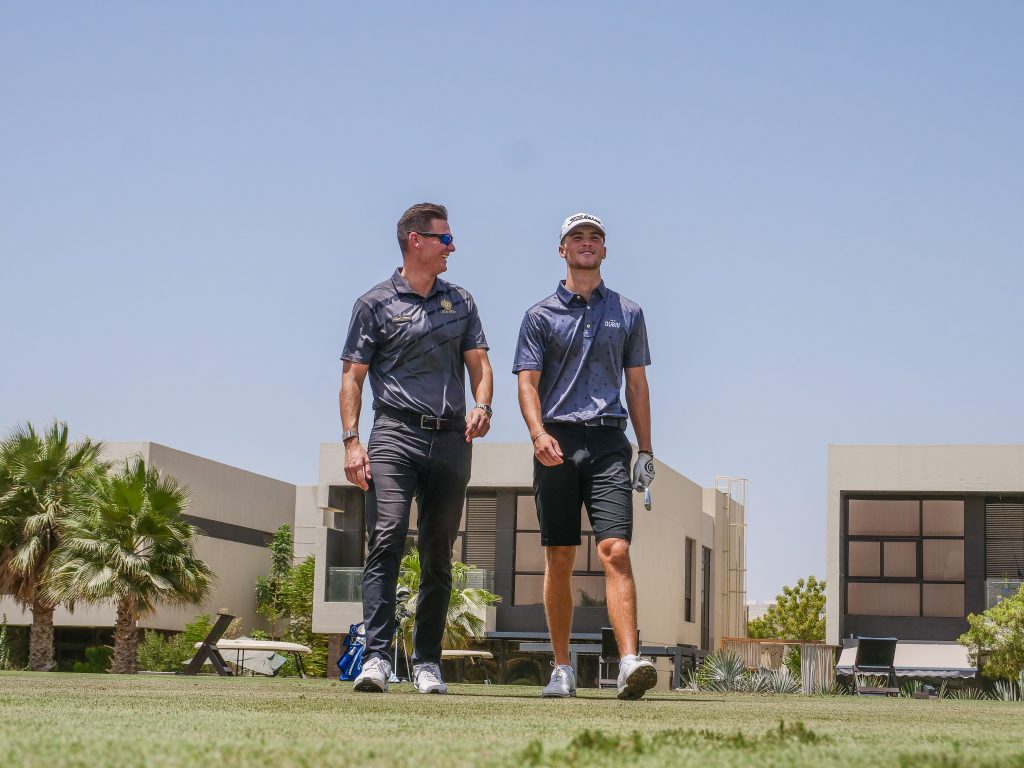 WWG: What about when you were playing off an 18 handicap, were you a big slicer like a lot of us?
DM: Absolutely. A big slice, a big hook. I did everything but straight to be fair.
WWG: So, when did it all really start to 'click' for you?
DM: My first coach when I came to Trump International was a guy called Sven. I didn't really have a coach in the UK, so to have someone to give you advice was helpful. He was the one to first settle out my swing, then Ian came into the equation and it's got better ever since.
WWG: How much are you practicing?
DM: Every day. 18 holes, practice, short game. Everything I can get in. Four to five hours a day. Obviously in the summer heat now it's not that fun, but you've gotta do what you've gotta to do.
WWG: The next generation of Dubai players – who's next to look out for like yourself?
DM: We've got a new Scratch Team in at Trump. There's guy called Matthew De Haus from the Netherlands. Also, Jack White who is one of my good friends I believe he's got good potential at the moment. Freddie Wassink, he's Dutch as well. There are a lot of good players that I play with usually.
WWG: Do you try and replicate any professional swings? Tiger? Rory?
DM: I try and do my own thing, really. I look up to all of them as look where they are now and look where they've been. I always watch the competitions on TV and try and learn off anyone I can to be fair. They've all got amazing swings, all doing really well earning a lot of money.
WWG: What are your eventual career goals and aspirations?
DM: It would be the dream to get right to the very top. That's always been the dream. Even when I was playing other sports it's always been the dream to be a professional golfer. Everyone has their ups and downs sometimes. You just have to conquer through it and carry on.
WWG: Outside of golf what do you like to get up to in your spare time?
DM: I like going to the gym. I do cardio a lot, I like to go running. Hanging out with mates, all the normal stuff most teens like to do.
WWG: And the gym – how important is it for you?
DM: I always liked a good physique. I have a good personal trainer right now, Alan Walters at Emirates Golf Club, so he's been training me quite hard recently.
WWG: How much has your game improved with the fitter and stronger you've got?
DM: I've been hitting it a lot further. Being able to control golf club a lot more considering my strength. It's helping my game a lot more than I expected.