In 2014 Billy Horschel lifted the FedEx Cup trophy, the crown jewel on the US PGA TOUR. He was quite content to earn millions of dollars playing in America and only travelling abroad to tee it up in overseas WGC events. Now he has joined a band of high-profile American stars who have dusted off their passports to enjoy the international spoils on offer on the European Tour. With the NFL season's fixtures forcing the PGA TOUR to restructure their schedule and with four huge Rolex Series events finishing things off for the European Tour, it's understandable that the USA's finest are seeking new horizons. What perhaps could become the foundation of a not-quite global Tour but a 'global schedule.' We caught up with Billy at Wentworth during the BMW PGA Championship to find out if this was just a one-off visit or a future trend.
Worldwide Golf: Arnold Palmer was the only American to win the BMW Championship, at Royal St.George's in 1975, but with you and Patrick Reed finishing in a share of fourth place on 15-under you both achieved the best result ever at Wentworth by an American player. Carding 65 in rounds two and four, you created a record for the lowest round by an American at Wentworth. Your final round 65 was also the lowest score on Sunday. What would it mean to add your name to the trophy alongside Arnold's one day?
BILLY HORSCHEL: It would mean a lot, not just to remember Arnie, but when you think of the players who have won this tournament, it's an historic event. It's comparable to our PLAYERS Championship which I feel is like a 'Major' on our Tour, and the BMW Championship feels like a 'Major' on the European Tour. It's a big event with a lot of tradition behind it. The West Course is unbelievable and this has been a beautiful week. To be able to come over here and add my name to the trophy would truly mean a lot to me. It would show that I am a world player who can play around the globe and win at different spots in the world, not just in America. To be a world-class player, you have to be able to go outside your comfort zone and play in countries and on courses you're not used to, play well and win. That's something I've always wanted to do and, hopefully, I can one day achieve my goal.
WWG: European Tour players play more in America than PGA Tour players play over here. How important is to work both ways?
BH: It helps a lot both ways. It's good for both tours when you have European Tour players playing in America and American players playing the European Tour. When European Tour players come over to the USA, who aren't used to playing in America, the crowds are even bigger. They are excited to see them play. It was good for our Tour when Tommy Fleetwood started coming over, along with Rory McIlroy and Francesco Molinari. Look at the success Matt Wallace has had over the last couple years. He comes over to the States as a new name yet the fans know who he is. The same thing goes for players from our Tour who come over here to play. There are a lot of Europeans who watch European Tour events, who watch PGA Tour golf as well. It's been great to come out here and meet some of the fans who recognise me. It means I've done something well, at least. But it helps to bring both tours up to a level that they can be financially successful and know that the standard of play on both tours is virtually equal.
What a debut!@BillyHo_Golf showed his class…on and off the course! 👏#BMWPGA #ThisIsTheBMW

pic.twitter.com/iQvhwqMiVb

— BMW PGA Championship (@BMWPGA) September 23, 2019
WWG: How excited were you playing your first-ever European Tour event?
BH: I was very excited. I'd been trying to come over to play a few European Tour events during the last few years, but, unfortunately, it didn't work within the existing schedule. This was one of the key tournaments I grew up watching on TV. It has always had a soft spot in my heart. When the schedule changed on both tours with the BMW switching to September, I decided to go ahead and say – sign me up, I'll be there. The European Tour put on a great tournament and the fans add to the atmosphere and everything that encompasses this event can rival the best of the best on the PGA Tour.
WWG: Do you have any fond memories of watching the event as a youngster on TV?
BH: Colin Montgomerie winning it three times on the run (1998-2000). He produced some memorable shots on memorable holes. Watching Alex Noren play an unbelievable final round in 2017 to come-from-behind and win. Matteo Manassero winning in 2013 was another outstanding event. There are so many magical memories from this golf course, and it's proved to be an even better experience in person than it was on TV.
WWG: What were your first impressions playing on the West Course at Wentworth?
BH: The fact that it's just a beautiful golf course struck me first. It's a layout that makes you think all the way around the course. Too many times in America, we just get up on the tees and hit driver. You don't have to really think much about where to hit it. The same is the case on the greens. If you miss the green, it's not really all that important most weeks. Whereas over here, you've got to be smart about where you put the ball in the fairway, especially going into the green. You can put it in some bad spots around the greens and if you miss, it makes it hard to get up-and-down. It's a thinking man's golf course and it's certainly a course that I love playing. I absolutely love playing courses like Wentworth. I got a really good feeling about the course when I arrived, and saw how it had been built into and around the trees. It's just got a nice feel about it.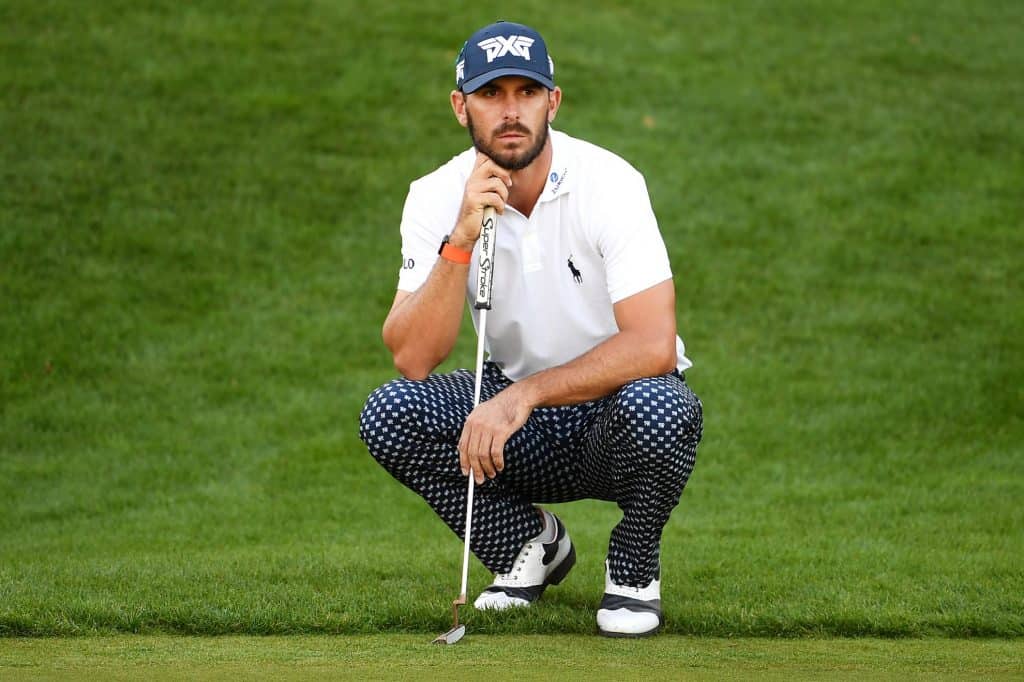 WWG: You won a BMW event, in the USA, at Cherry Hills, and you finished here with a share of fourth place with your fellow countryman Patrick Reed on 15-under with a 65, the lowest score on the final round. What do you think of the BMW?
BH: I've done well in BMW events. Winning the BMW Championship in 2014 at Cherry Hills, one of our FedExCup playoff events, I would have to say, let's just keep playing BMW. Wherever BMW holds an event, I probably should play it. They are a great sponsor. They love the game and they have been in golf for many, many years – and they certainly take care of a lot of good players, as well. Just being able to win an event with a sponsor that truly loves being in the game goes a long way.
WWG: You came over to play the BMW Championship a bit early. How did you acclimatise to the difference?
BH: I felt really good. I always try to come over a day or two earlier than I normally would at an event in America, just to get accustomed to the time difference and everything else. It's a bit difficult for us because we don't normally travel beyond many time zones, maybe three hours in the States during an entire season. We go to Asia occasionally but that's also different. It's unusual for us to do the five-six- seven-hour time changes that the European Tour guys are a little more accustomed to. My body felt good and my game felt good all week. We've been working at home with our teacher, Todd Anderson, and get back into some of the stuff I did well in 2013 and 2014. I just got into some bad habits. I lost about five or six days due to Hurricane Dorian that ravaged the Bahamas, unfortunately, and we got lucky that it didn't cause any damage in Florida. But it still shut down my practice time a little bit.