September 4th was meant to be a day of celebration for Adrian Meronk. After three wins in the last 14 months, including victory at the host venue of last month's Ryder Cup, he was odds on to receive one of Luke Donald's six Captain's Picks for the biennial contest.
But when the Englishman finished announcing Ludvig Åberg, Tommy Fleetwood, Nicolai Hojgaard, Shane Lowry, Justin Rose and Sepp Straka as his six picks to complete the team, it quickly became apparent that September 4th would be one of the gloomiest of Meronk's career thus far.
It left many in the golf industry shocked – how could a player who had such a great year and only narrowly missed out on automatic qualification not get into the team?
Former European Captain Ian Woosnam tweeted that Meronk 'would have made my team', while two-time PGA Tour winner Paul Goydos called the decision a 'crime'.
Meronk was third in the Race to Dubai Rankings at the time of selection. You could argue he was the star full-time player on the Rankings, with Rory McIlroy and Jon Rahm, the two players above him, playing most of their golf on the PGA Tour.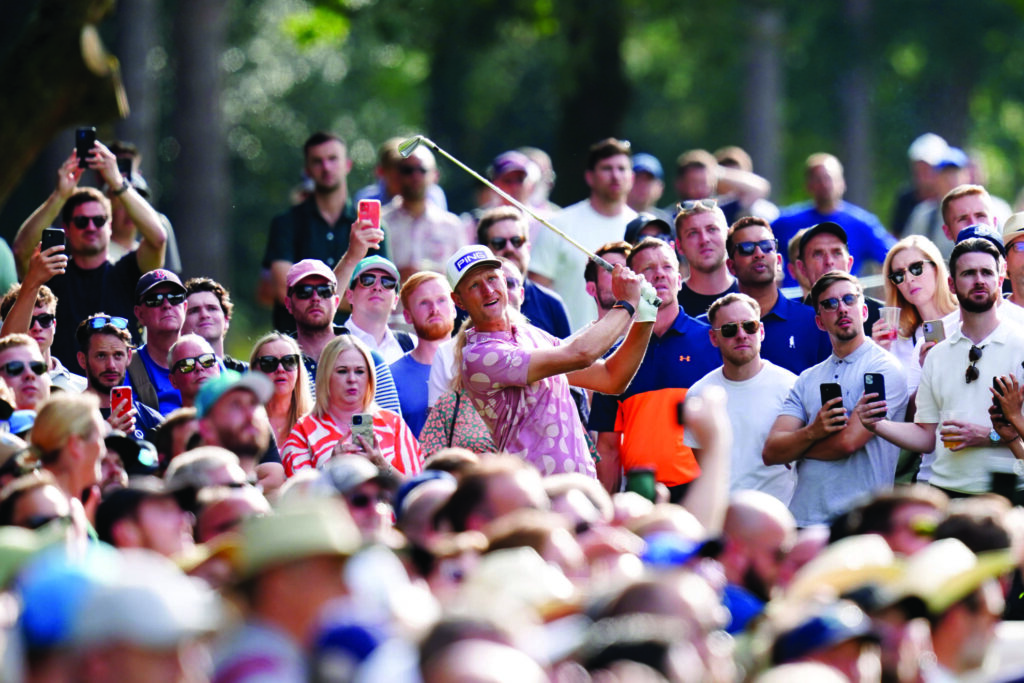 "Obviously I was very disappointed," Meronk told me when we caught up on Zoom after the BMW PGA Championship last month.
"I was feeling a lot of different emotions, from disbelief to sadness and anger. But at the end of the day, I have to just accept it, move on, focus on my golf and set new goals, as making the Ryder Cup side was one of my main goals this year.
"It was hard to swallow, but I'm fortunate enough to have a lot of great people around me to help me get through this situation."
RESET GOALS
Meronk had received the news he wouldn't be making the team the day before, with Donald giving the Dubai-based Pole a call as he made his way back from the Omega European Masters, where Åberg emerged victorious in just his second DP World Tour event.
With the Swede scaling new heights in the mountains and Højgaard finishing inside the top five for the second successive week, was Meronk worried the duo would push him out of the side?
"I had quite a nice finish in Switzerland, so I was feeling quite positive to be honest," he said.
"I was on the train from the tournament when I got the call from Luke, it was a quick call. I couldn't believe it; I felt a little bit sad.
"I couldn't really sleep that night, I just kept thinking to myself 'what could I have done differently?'
"When I got the call saying I hadn't made it, I knew who would be in the team. I knew it was probably between me and Nicolai for the last pick, as he went with Justin (Rose) and Shane (Lowry) for their experience, but what did surprise me was the fact they didn't even try to play the final events to try and qualify on the points list, I found that strange.
"I compared myself to some of the players who received a pick, I thought I had done more than particularly one of them, so I couldn't agree with that decision, but it is what it is."
To rub salt into the wound, the Captain's Picks were announced the same week as the Horizon Irish Open, where Meronk was the defending champion after becoming the first Pole to win on the DP World Tour at the event in 2022.
A typical tournament week for a defending champion consists of many media duties, including a pre-tournament press conference where they are asked about their memories from last year, thoughts ahead of this year's event and a few other generic questions here and there.
The media asked 12 questions in Meronk's press conference, all 12 were about the Ryder Cup snub.
"It was a tricky week for me at the Irish Open and the following week at the BMW PGA Championship as there was a lot of hype around the Ryder Cup with all 12 players, along with the Captain and Vice Captains, playing," he says.
"I spoke to most of the Vice Captains and Luke for a couple of minutes, as he has obviously been very busy so hasn't had much time to chat. Bjorn, Colsaerts and Molinari basically said it's not your time, which is nice but at the time it felt like a pretty easy thing to do. It's nice to have their support though.
"It's the amount of support I've received from everyone else in the game which has been really special. Players, caddies and staff on Tour reached out to me, it was unreal. Pretty cool to see to be honest."
With his dream of becoming the first Pole to play in the biennial contest put on hold for at least two years, Meronk admits he has had to reset his goals for the remainder of 2023.
One of those is to compete against the best by playing regularly on the PGA Tour where he made his debut last year at the Butterfield Bermuda Championship. He's gone on to play four more times in the States during the course of this year, including two starts in signature events at the Genesis Invitational and Arnold Palmer Invitational.
"I felt like I belonged on the PGA Tour, I really enjoyed it," he says.
"You have all the best players in the world competing, so it feels like a Major Championship when playing in the signature events.
"It's a lot more intense than playing in Europe. Course setup is tough, so you have to bring your 'A' game to have a chance to compete. It's a great stage to play on from organisation and logistics to golf course and fans. It's such a massive project week in, week out over there.
"I definitely want to be playing in the States on a weekly basis, I'll do everything in my power to make that happen."
Luckily for Meronk, he will be competing in the States on a regular basis next season, with the 30-year-old currently leading the ten players (not otherwise exempt) that will earn a PGA Tour card for next season through their Race to Dubai ranking.
Just how much he plays Stateside will depend on where he goes on to finish this season, with the leading DP World Tour member, who earns a PGA Tour card for 2024, receiving an exemption into next year's PLAYERS Championship and the Charles Schwab Challenge.
Furthermore, the leading finisher from the current 2023 Race to Dubai, not otherwise exempt through the top 50 of the 2022-23 FedEx Cup standings, will earn a spot into two PGA Tour Signature Events in 2024: the AT&T Pebble Beach Pro-Am and The Genesis Invitational.
If the season were to finish how things currently stand on the DP World Tour, Meronk would secure an exemption into both the Players Championship and Charles Schwab Challenge, but would miss out on a spot in the additional two signature events, with Ryan Fox, who currently occupies third on the Rankings, receiving those.
"It would be massive to get a spot in the PLAYERS Championship," says Meronk.
"As I mentioned, I've had to change my goals for this year after not being selected for the Ryder Cup and being the No.1 ranked player to receive a PGA Tour card through the Race to Dubai is now the priority. I've still got a couple of events to play, and I really want to finish strongly to ensure I get as many exemptions as possible."
With the fields of signature events' anticipated to be between 70-80 players, a place in them is highly sought after given the vast amounts of money and FedExCup points on offer.
The top 50 members from the 2022-23 FedExCup standings will be eligible for every tournament, while other Tour members can play their way in throughout the season via 'The Next 10' and 'The Swing 5.'
The Next 10 refers to the top 10 members in the FedExCup season standings not otherwise exempt into signature events and The Swing 5 is more of a snapshot of players' recent performances — the top five points-earners from the stretch of standard tournaments preceding each signature tournament.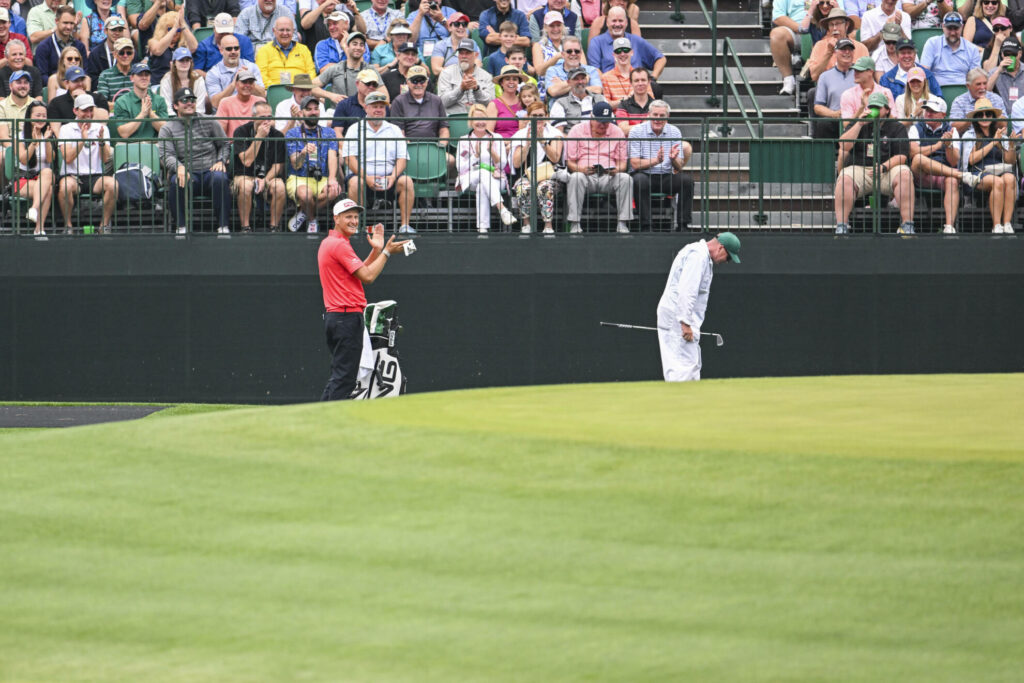 "I'll see what starts I can get when I receive my card, but with such exclusive fields for signature events it's going to be a tough year for those on Tour that aren't playing in them," he says.
"I don't really like that division, it's like a mini league within a league that closes the door to a lot of players. But it is not up to us, so I just need to play my best and see where that takes me. Hopefully I can play my way into those tournaments."
Destination Dubai
With the disappointment of not being selected for the Ryder Cup affecting the mental side of his game, Meronk withdrew from last month's Open de France to take two weeks out for a mental reset before returning to action at the Alfred Dunhill Links Championship.
Once that tournament has concluded in Scotland, the Polish star only has a few more starts left in 2023, with the last of those coming at the season-ending DP World Tour Championship in Dubai – a place he has called home for the last two years.
"I actually miss being there right now, I've not been over since April so I'm looking forward to coming back ahead of the DP World Tour Championship," he says.
"It was definitely the right move for me and has helped me raise my game. I think it's the best place for Tour players to spend their winter time to be honest. The weather, courses and practice facilities are great – it makes our lives so easy."
With 2000 Race to Dubai points on offer to the winner of the fifth and final Rolex Series event of the season, Meronk could still mathematically catch McIlroy at the top of the Rankings and become the first Pole to clinch the Harry Vardon Trophy if he were to win again before the finale.
He would need to topple McIlroy and co at the Greg Norman-designed track to stand any chance of lifting the prestigious trophy in front of the tens of thousands of fans.
"The Earth course feels like a home course for me, as I spend most of my time there when basing myself out here," he says.
"I like this track, but I remember struggling with the grass and the layout when I first played there, it takes a bit of getting used to. I'm much more familiar with it now and I treat it like a home course. I'm really excited to be playing there again – I cannot wait to get going there next month.
"It would be amazing to win the Race to Dubai. Obviously, Rory is quite a way ahead of everybody, he's had another amazing year…again! But we will see what happens, I'll be trying to get as many points as possible. To become the first Pole to win the Race to Dubai would be pretty special."