I am super excited for the opportunity to go to the Olympics this summer. To represent Spain in Tokyo was one of my goals this year, and after having some difficulties earlier this year I wasn't certain, but with Sergio Garcia and Rafa Cabrera Bello deciding not to go – I am going to be there.
I am thrilled to be able to have this experience because I think it's as big as it gets in the world of sport. It's not only about golf, it's about the whole experience of playing for the love of the sport and sharing that with many great athletes. It's just going to be amazing and I can't wait to go there already!
It would be extremely special to put a medal on the board for Spain, and I'm sure the Spanish team will bring some medals and it will be a great achievement for all of us as a team, but for me to achieve something like that in the golf would be super cool.
Next stop, #Olympics pic.twitter.com/kPP6zLtNiG

— The European Tour (@EuropeanTour) July 24, 2021
More than anything I just really want to keep growing as a sportsman and as a golfer and learn from other athletes and sports. It has been a while since I have been with Jon Rahm, he is someone who does things pretty well and I want to keep learning from him as he is doing really well. It's going to be a great experience for me to take notes and also enjoy sharing facilities with other sportsmen from my country and other countries. If it was another time we would be able to go sightseeing but that won't be the case with COVID-19.
I am probably going to be one of the few golfers who will attend the Opening Ceremony, which is seven days before the golf tournament kicks off, which I think will be a lot of fun. When I had to give the planning to the Spanish Federation I decided to make my way to the ceremony because I thought it would be pretty cool to be involved, even though there will be some restrictions due to COVID-19, I think it's going to be something to look forward to and that I wouldn't want to miss.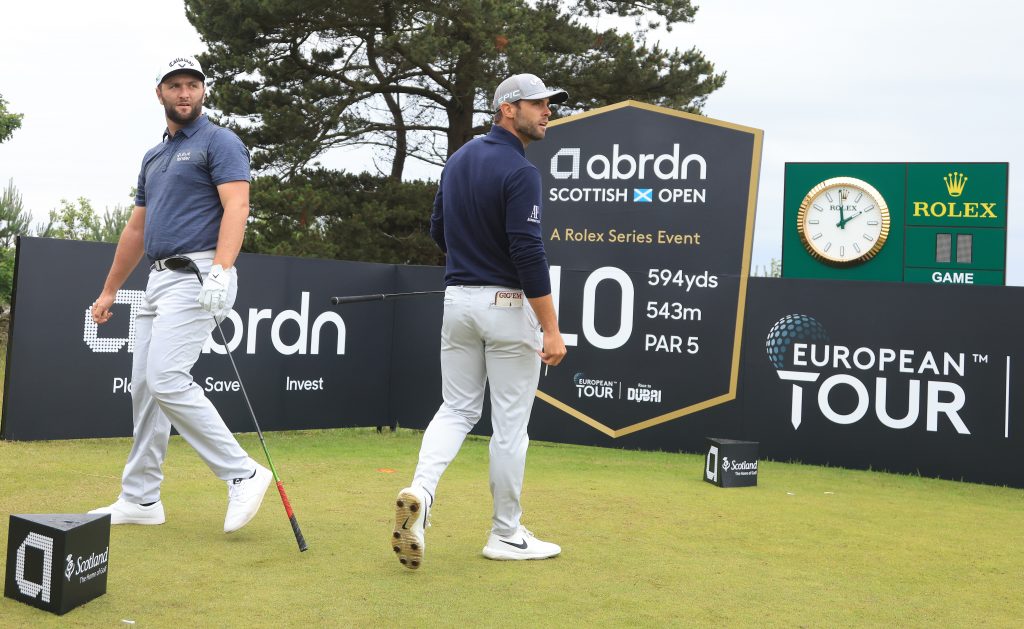 Back in 2016, in Rio, I wasn't really following the golf during the Olympics, when I watch golf on TV I usually only watch the Majors. I heard that the course wasn't in great condition but I don't really mind that, it's the same for everyone and I spoke to a few players who went to Rio and they said that was a great honour and a great experience for them to share the field with good athletes from the same country. So I would say that golf being in the Olympics is something very special, because it's a sport that carries a lot of good values and I don't see why it shouldn't be there, and judging by the field I think a lot of people think the same way. A lot of important players want to be part of it and be part of the Olympics history along the likes of Michael Phelps.
Restrictions in Tokyo
We won't be able to visit anything else apart from the Olympic Village and the golf course, I am only allowed to bring my caddie with me, which is a shame because I would love to share something that important with my loved ones and the team. I will just have to explain to them how it is – but nowadays these restrictions are the norm, I am just hoping we won't have a lot of traffic because I heard we will be an hour away from the course and with traffic it might even be more delays. We will just have to bear with the rules and see how it goes.
Jon is also on the team and I know him really well, we grew up together playing in the national team. It's a very cool story as we are the same age and we played all the events together growing up, so it made sense that we would meet again on a team together and it's great to have that experience with him, especially with the way he has been playing, performing and maturing, becoming a dad this year and winning the US Open – it's remarkable what he has been achieving so far. I look forward to learning from him and seeing what he does well and hopefully we will both have a great tournament, it's going to be a fantastic week for us.
I know other Spanish athletes who will compete in Tokyo, I went to a high school where all of the boys and girls there are athletes and I have a few friends who I haven't seen in a while that will be in the team, we keep in touch and we all are very excited. It doesn't matter what sports you are playing, it's just really special to be part of the Olympics. I have a few friends in the synchronised swimming, in the grass field hockey and a couple in the track and field and I look forward to meeting many others because I am sure we will all come together as a big team. It's fantastic to be able meet new people and great athletes from Spain.