The R&A has launched an exciting pilot initiative in collaboration with the Golf Foundation to introduce golf into local primary schools in the Middle East.
The R&A Unleash Your Drive in Schools Programme is a six part beginner golf programme delivered by teachers who have been trained by PGA professionals and are supported by easy-to-use resources and equipment to provide weekly golf lessons to students.
These classes will feature enjoyable golf games, skill challenges, and nine mental resilience tools designed to aid students in mastering a new sport and nurturing life skills that contribute to long-term mental well-being.
Upon completion of the six-week block, students will be awarded a certificate. Those interested in advancing their golf skills further can opt to participate in national golf federation junior programmes or  those offered by local golf clubs.
The programme is set to launch in schools after PGA professionals and teachers recently received training at the Tommy Fleetwood Academy at Jumeirah Golf Estates and Yas Links Golf Club so that school pupils in the UAE, Jordan, Oman, Lebanon and Bahrain will soon be able to benefit from the programme.
Unleash Your Drive was developed and tested by the Golf Foundation in Great Britain and Ireland and recently launched by its president, Nick Dougherty, with the aim of reaching every school. This builds upon its work over the last ten years to introduce golf in a fun and friendly way to five million young people, with more than 10,000 teachers, volunteers and sports leaders trained to deliver beginner sessions.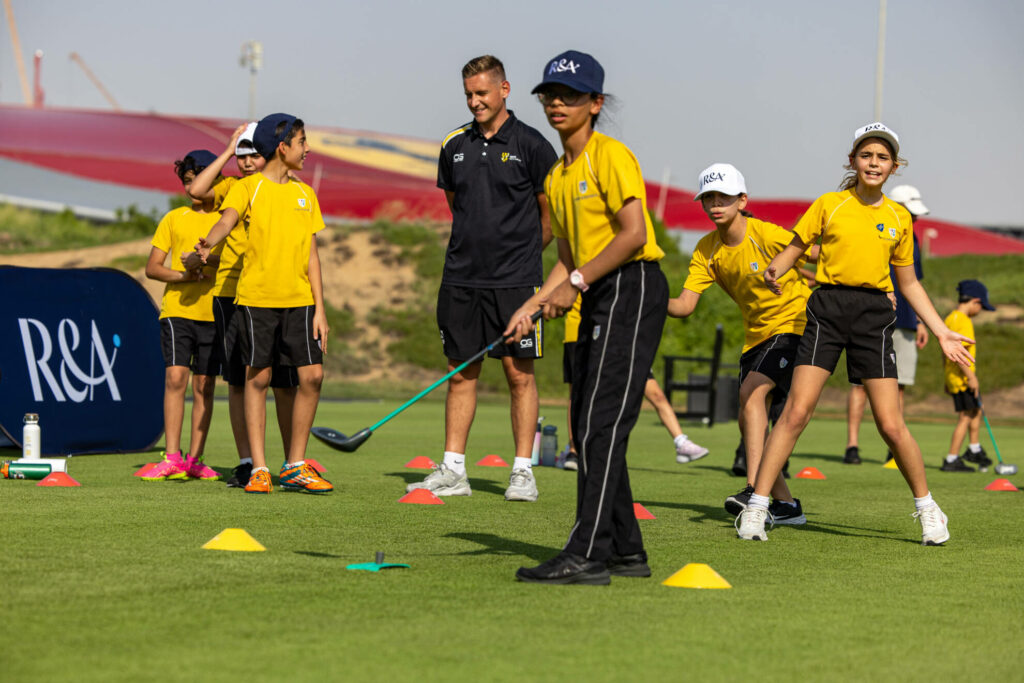 Neal Graham, Regional Development Manager – Middle East & India at The R&A said, "Unleash Your Drive has proven to be a real hit with young people in Great Britain and Ireland thanks to the great work of the Golf Foundation and so our aim is to replicate this success in expanding the programme internationally and introducing the sport into schools throughout the Middle East.
"The programme will provide opportunities for more young people in the region to experience golf through a tried and tested approach which enables teachers to deliver sessions and then encourage pupils to junior programmes offered by national federations and golf clubs. We believe that this will boost the number of young people playing golf and inspire them to enjoy the sport throughout their lives."
Martin Crowder, Head of Development at the Golf Foundation added, "We are incredibly proud of Unleash Your Drive and the work we have done to help young people in Great Britain and Ireland learn to play golf and improve their mental health. When The R&A asked us about launching the programme internationally we knew the benefits it could bring to even more children and so we were delighted to collaborate with them on the training of PGA Professionals and school teachers in the Middle East. We look forward to seeing its continued success and expansion globally."
General Abdulla Alhashmi, Vice Chairman of the Emirates Golf Federation said, "The EGF and UAE Education Authorities have been working together on developing golf in physical education for a number of years. With the support of The R&A and the UAE golf clubs participating in the Unleash Your Drive in Schools Programme, we expect more golf in schools. Introducing children to golf is integral for the growth of the sport and using physical education as a platform is a great pathway."