By Rick Bevan
I've lost count of the number of times I've exclaimed during a summer round on one of the Middle East region's multitude of fine courses: "When are they going to introduce air conditioned golf buggies?"
You've all been there. Red faced, sweat dripping out of every pore and becoming wearier with every passing hole as the relentless desert sun bears down on you. Summer golf in this part of the world can be a real battle of attrition. But no more. A saviour is upon us, just in time for the mercury reaching unpalatable levels, in the form of the Fresair S6 cooling unit.
The sleek and easy-to-install units can reportedly cool the air temperature in the buggy by up to 40 degrees Fahrenheit and they're being imported from the US by local Callaway and Mizuno distributor Precision Golf with plans to introduce them at clubs across the GCC.
Make A Difference
The first units in the region are being tested at Dubai Hills and Emirates Golf Club so I visited the former to see if they really do make a difference.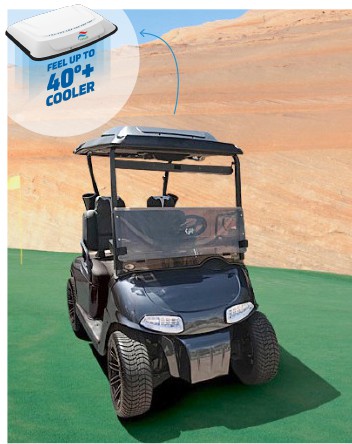 Standing only around 4 inches tall mounted onto the roof of the buggies, it would be easy to miss the attractively designed cooling system if you weren't looking for it, blending in as it does with the cart on which it sits. A key factor in the Fresair's suitability for use on a golf course is that, unlike traditional air conditioning units, it runs off tap water rather than refrigerant and is efficiently powered by the buggy's own battery.
You just fill up a water tank that sits on the back of the buggy, switch it on and away you go! Air is pulled into the roof mounted unit and forced through a moist fibrous pine filter which is circulated with the water and fed back out into the cart through a control unit on the inside of the roof through four adjustable vents which driver and passenger can position on their face or body (or down the back of the neck in my case.)
So, does it work? Yes, it really does! Whether it cools the cart by 40 degrees is open to question but it certainly takes the edge off the blazing summer heat and makes for a much more pleasant golfing experience.
I usually suffer a literal 'meltdown' over the closing holes of a midday summer round due to the blistering heat sapping away my energy levels. However, during my round in the Fresair S6 installed buggy, I was delighted to retain my distinctly average level of golf to the end!
Fresair S6 units are also available for personal use priced at AED 8,500 + VAT. For more information please email: [email protected]