Worldwide Golf's Scott Grayston catches up with Stephen Deane, who has been one of the most recognisable and reputable teaching professionals in the UAE for over a decade thanks to his work at Emirates Golf Club.
Deane has recently been promoted to the Head of Academies at Dubai Golf and is now based at Jumeirah Golf Estates. Here he reflects on his time at Emirates Golf Club, what his new role entails and the exciting improvements that Dubai Golf are making:
"I was with Emirates Golf Club for over 12 years and during that period I developed a great connection with Pete Cowen and he passed on a lot of his knowledge to me," says Deane. "With all the drills and the shadowing of the work he does with some of the top players in the world, it's been a phenomenal experience.
"When I first started at Emirates Golf Club, the Academy was in association with Pete Cowen but then in 2017 it switched over to the Peter Cowen Academy, Dubai.
"This was originally launched at Emirates Golf Club and Dubai Creek Golf & Yacht Club, and when Dubai Golf took over Jumeirah Golf Estates, we launched the academy there too.
"My role changed when this happened just over a year ago as I became the Head of Academies at Dubai Golf. I'm now based at JGE and manage the three Peter Cowen Academies in Dubai. It's been absolutely fantastic at Jumeirah Golf Estates, meeting all the new members and working with the team of teaching professionals here.
"The Academy here feels like more of a learning environment and almost like a library because it's calm, so it's easy to focus and put your head down and study! There's not 100s of people down here bashing balls on the range, you have students working on their game.
"It's a lovely environment to coach in. I started being based at Jumeirah Golf Estates a week before the COVID-19 lockdown began and have been here for the last four weeks since the lockdown eased, and have thoroughly enjoyed coaching here. It's a great facility and I would definitely recommend people to come along and try it.
Get into Golf Programme
"My role here is to improve the options for people to get into golf within the UAE. We want to grow the game in the region so have launched a 'Get into Golf Programme' which is a reasonably priced at 495AED and you get a month's coaching. There are four to five classes every day that you can come to for a month, which are being held by our interns. We are passing on a lot of the Pete Cowen movement pattern drills and not simply expecting the beginners to pick up a golf club and be able to hit it straight away.
"The fundamentals need to be taught before anything else. There's a brilliant learning structure in place here that is easy to follow and will give the beginners the perfect introduction to the game. Once beginners have been given the accelerated learning drills, we then get them to start swinging the club. It works incredibly well and the response we've received for this programme is fantastic.
International Golf Schools
"Last year at the Academy, we did the first ever performance school with Pete Cowen where we had 10 students who flew in to spend three days with Pete. We are going to do the same again this year because that worked really well. We are also going to launch international golf schools, which nobody has done in the region before. There will be multi-day options where you play with a pro on the course and check out all areas of your game and your swing mechanics.
"This is something different which I think people will love. Rather than people coming for one lesson a month, you come for a three-day golf school – then you don't have to come back again for a few months. That's an exciting launch for us later this year in September or October. I think both local and international students will benefit massively from this.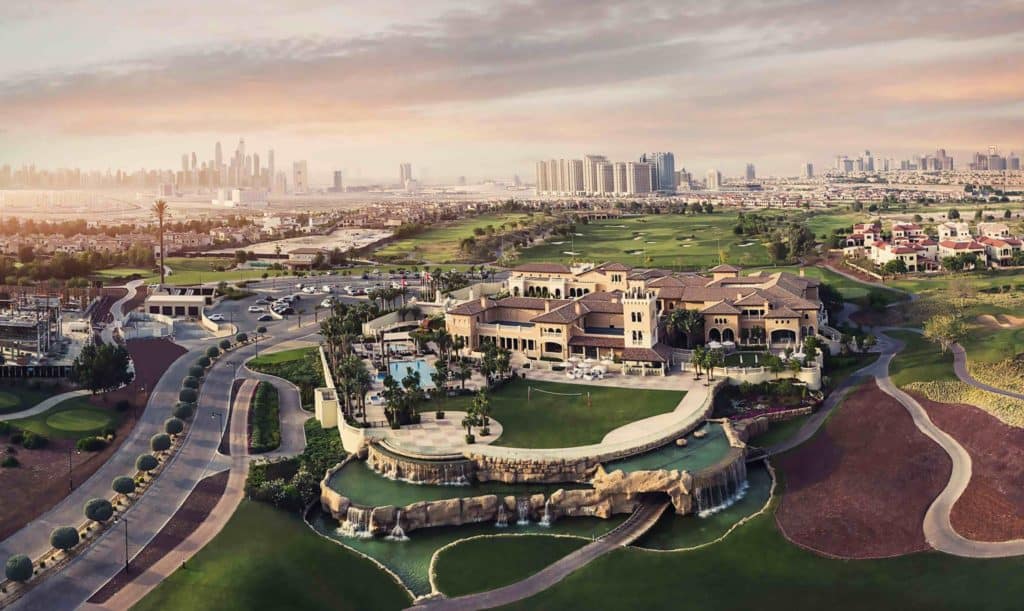 Best hitting surfaces in the region
"We are also improving the teeing ground at the Academies so we have the best hitting surfaces in the region. Come September we will have world-class hitting surface and the best technology you can find in the studios. Everything is already great, but we want it to be the best. We are spending a lot of time with the greenkeeping team and want to improve the targets on the range and improve the experience for all of our members and guests.
A summer of golf is coming up. Dial in your game with our popular Academy Summer Packages.

Learn more at https://t.co/Vpmax9yp4v pic.twitter.com/Vr7oII6qQE

— Jumeirah Golf Ests. (@JGEGolf) June 9, 2020
Always learning
"Another part of my role is to provide training for the teaching professionals so I pass on all the knowledge to the young interns and I really enjoy this element of the job. I've learnt so much over the years and it's great to help others excel in their coaching careers. Pete helps the more senior staff when he's over, so the environment is brilliant because everybody is always learning and improving.
Junior Elite Programme
"At Emirates Golf Club, one of my passions was developing the Junior Elite Programme which we started seven years ago. We developed some brilliant golfers and some of them went on to University in America. Last year we flew out to California with the kids and played some tournaments and visited the Tiger Woods Foundation. That was a brilliant experience and was the pinnacle of my time with the juniors at Emirates Golf Club.
"I want to bring that knowledge and information across to the younger ones at Jumeirah Golf Estates. Alastair Brown and Jonathan Craddock will look after the juniors at Emirates, but I will still keep an eye on them. We are planning to get the juniors over from Emirates to JGE on a Friday and have a morning session, then get them to play an 18-hole competition on either the Earth or Fire course with the juniors at Jumeirah Golf Estates. This will be an excellent day of golf for all the top talented juniors in the region."