---
---
After six long years the PGA Professionals of the UAE finally have their hands back on the Dubai Golf Trophy after a dramatic final day at Emirates Golf Club.
Starting the final day singles with a one point advantage, the professional team got off to a slow start with the amateurs picking up three points in the opening four matches with Yash Majmudar and Hugo Garcia winning their matches while Craig Vance and Max Burrow both picked up a half to put the amateurs in control for a seventh successive triumph.
But the pros quickly responded by picking up 4.5 points from the next five mates to wrestle control back, but Toby Bishop, David Guinee, Tom Nesbitt and Jonathan Selvaraj put the amateurs back in contention before Purna Sharma came from behind against Barry Pavic to secure victory for the professionals.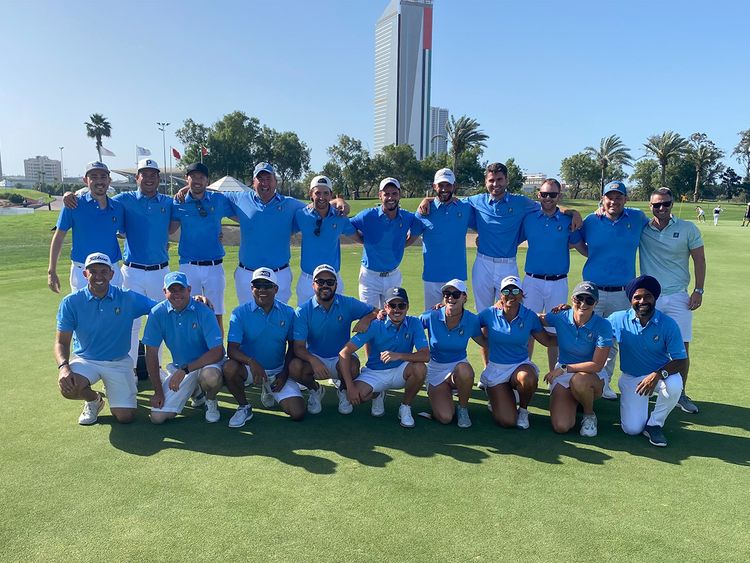 The duo were the last pair on the course and it had looked like Pavic was going to win to secure a draw having been 1UP through 16, but Sharma pulled level on the penultimate hole before halving the last for a memorable one point victory over the Majlis.
Non-playing pro captain Michael Major said: "This year has been extra special as we welcome professional Olivia Jackson (Emirates Golf Club) as our first lady in this annual match as one of our 16 first team members and well done to Jackson Bell (Jumeirah Golf Estates) who has been out of action for 15 months with a knee injury. Finally, a big thank you to Dubai Golf for their sponsorship along with the Emirates Golf Federation and ProSports International as well as to my Vice-Captain of the pros Jack Woods, who has been so supportive in my role this year. We wish Jack all the best for the 2023 Captaincy."