Imagine going to the driving range, smashing 50 or so balls then having to go and collect them all. It certainly would not happen at one of the prestigious clubs in the UAE, but for Sasinathan Savthivelu it was part and parcel of playing golf in Sri Lanka as a youngster. The 27-year-old now has the luxury of using the best facilities at Saadiyat Beach Golf Club, where he works as a Player Assistant, which has helped him become a scratch golf and edged him closer to achieving his dream of becoming the first Sri Lankan to secure a DP World Tour card. Worldwide Golf's Thomas Wragg caught up with Sasi to get an insight on his golfing journey and what the future holds for the big-dreamer.
Worldwide Golf: How did you first start playing golf in Sri Lanka?
Sasi: I used to be a caddie at my local club in Kandy and I fell in love with the sport as I watched the players take on the course. One of the guests then gave me a golf set to play myself, I played more and more and really enjoyed it. When I was young I didn't have anything to help me learn the game so I watched people playing and then I just started hitting balls like they do in cricket, before another guest gave me a mobile phone to watch YouTube. I would watch clips of players hitting the ball – that's basically how I learned the game. In Sri Lanka I never had a coach or took any lessons, I just learned the game from picking up bits and pieces from player's swings online and down the golf club.
Is there anyone in particular that you'd watch on YouTube?
Sasi:  Rory McIlroy is my favourite golfer so I'd usually watch him, but I started off watching the great Butch Harmon. I'd watch all the tournaments that Rory was playing in and pay attention to his chipping, putting and full swings. My favourite thing about his game was his driving, I love watching him smash the ball down the middle of the fairway!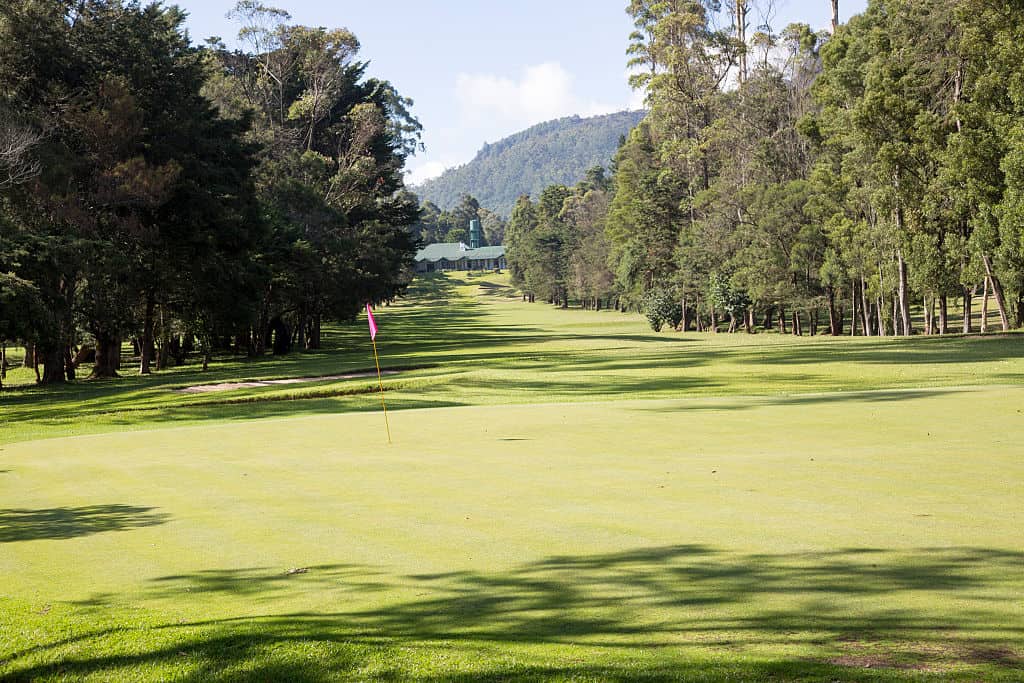 What are the quality of the golf courses like in Sri Lanka?
Sasi: It's not like here, if you hit 50 balls then you'd have to bring the 50 balls back to the pro shop!  That's why many Sri Lankans won't head to the range, we'd rather just get out on the course as you could spend hours trying to find you ball if you went wayward off the tee. The golf course I played on was very narrow so you had to hit it straight every time, if you go right or left then you'd lose the ball, so the players wouldn't use a driver, they would use irons and 3 woods to keep the ball on the fairway. 
When I came to the UAE I could see a big difference; you use the driving range, you don't need to bring the balls back as there are people who would do that and the golf course is always in amazing condition. Back home you don't see 'tournament condition' golf courses while in the UAE you always see the courses in perfect shape, even if you play a normal game you feel like you are playing in a tournament so that improves your game.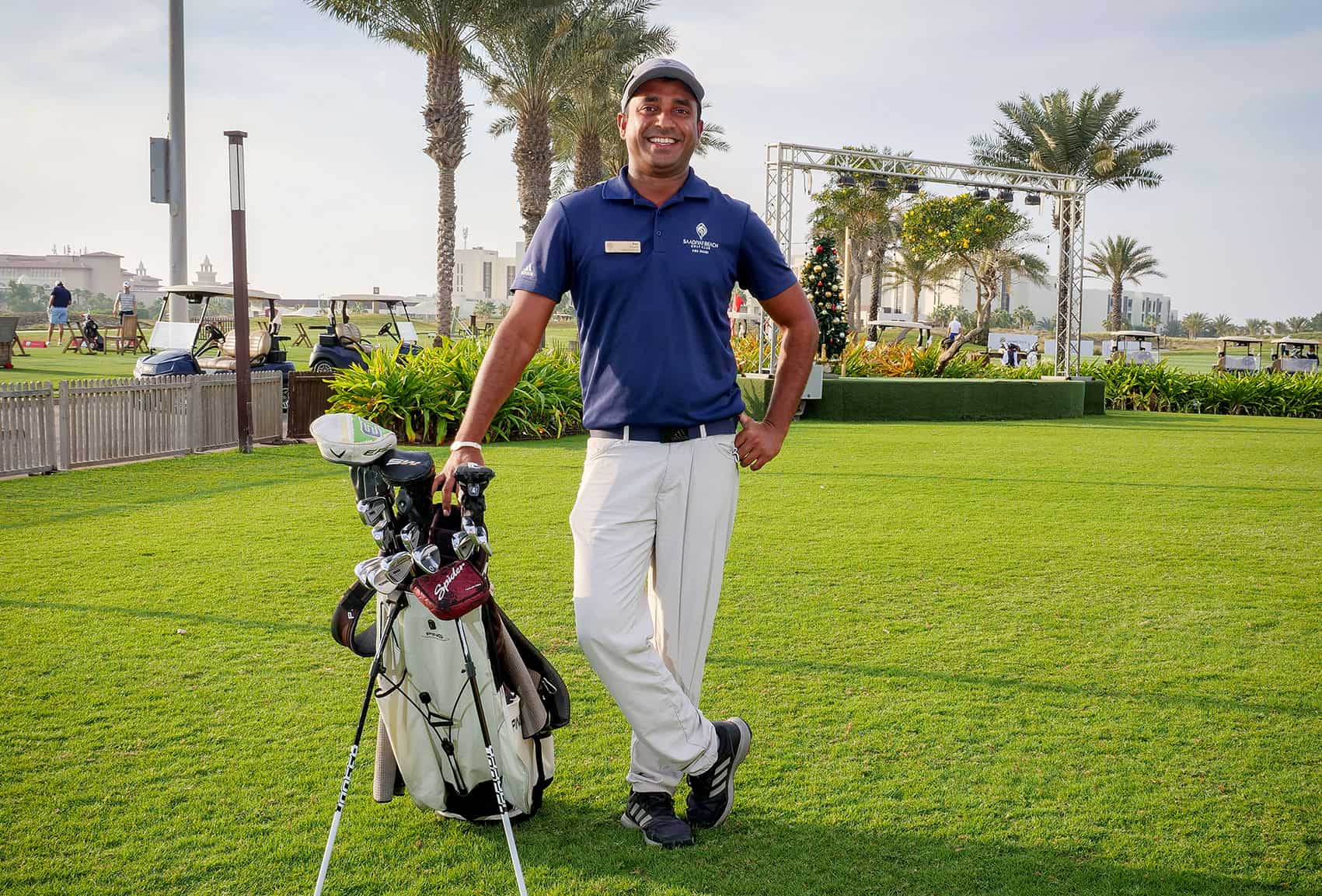 How did you get the job at Saadiyat Beach Golf Club in 2015?
Sasi: While I was caddying in Sri Lanka my friend messaged me on Facebook saying that he got me a job in Abu Dhabi and I accepted immediately because I'd have the opportunity to play lots of golf, it's very expensive back home and if you're a caddie you don't make much money to live there. The salary is good but most importantly I get to play golf, I can play at all the courses in the UAE, so I'll be working as a staff member and I can play at any golf course if I ask the managers to book the tee time. Back home you could only play three golf courses while in the UAE you can play at more than 20 courses.
How much has your game improved since moving to Abu Dhabi?
Sasi:  When I was back home I was playing off 10, I came here and I saw the course and the facilities and I told myself that I need to work hard to get my handicap to scratch. During the first year I just hit some balls and got to know a few people, then I met Martin Robinson who's the first coach I had in my life.
Jaco Stander also gave me a hand and told me that I don't need lessons and that I'm hitting the ball straight every time but I told him that I want to improve more, so he just gave me tips about the backswing and the swing path. Then later on I got to know more people who work in Saadiyat and they helped me with my long and short games, they gave me free lessons so that encouraged me to work more and play golf, and then I started playing in tournaments where I managed to get my handicap to +1.
Now you've got your handicap down, what is your next goal?
Sasi: My goal remains the same and that is to become a professional golfer – that's what I told myself when I left Sri Lanka. Nobody knows what is happening with the MENA Tour next year, but I want to play a schedule on there as an amateur to get more tournaments under my built and learn from some of the professionals on there. I'll also be entering the Abu Dhabi Amateur Championship once again, I had to miss last month's edition but I'm looking forward to playing next year and hopefully earning a spot in the Abu Dhabi HSBC Championship where I could potentially meet my idol Rory McIlroy.
How supportive have Troon and Saadiyat Beach Golf Club been of your goals?
Sasi: They have been so great in helping my trying to achieve my dreams. When I'm not working I'm out on the driving range or playing one of the courses and everyone is always there to lend a hand. I couldn't have asked for a better club to work at, so I'll always be eternally grateful of everything they have done for me.
If you were to make it as a professional, where you would you like to play your golf?
Sasi:  We have four Sri Lankans playing on the Asian Tour so that is definitely an option but I want to become the first Sri Lankan to secure a DP World Tour card. I know there's a lot of hard work needed to achieve that goal, but I will do everything in my power to make that happen.