Ahmad Skaik added another string to his bow at the weekend by not only becoming the first Emirati to captain a team at the Dubai Golf Trophy but also leading the Amateur Team to a sixth successive victory in one of the country's most eagerly anticipated events.
The stage was set for a resounding victory on the first day after the Amateur Team cruised to a 7-1 victory in the afternoon fourballs following the morning's tied foursomes, which gave them a comfortable 11-5 lead heading into the singles.
"We had a very good finish to the fourballs by winning 7&1 but we didn't want the team to feel like they had got the job done already so we sent out a message to the players letting them know that it was far from over and we still had to pick up points on the final day," said Skaik.
View this post on Instagram
The message seemed to do the trick with Josh Hill getting the amateurs off to a flying start with his third point in as many games with a commanding 6&5 triumph over Malcolm Young, before Skaik added the second point of the day with a 6&4 takedown of Trump's Phil Waine.
The professionals weren't going to give in that easy, though, as Luke Plumb, Louis Gaughan, Captain Mike Bolt, Graham Forbes, Dong Lee, Ryan Smith and Tom Ogilvie all put vital points on the board for the UAE PGA Professionals, while Sujjan Singh lost the 18th hole to half his match with Arjun Gupta.
"I think I was 3 UP through four and on the fifth hole I looked up at the leaderboard and saw that Josh has won his match – but under him all the pros were leading," added Skaik.
"I was leading my match but the next three were all going the way of the pros – I got very nervous and couldn't believe what was happening. I had to put my phone away and just focus on my own game dig deep as a captain to perform and get my point and then push the others behind me."
Just as it looked like the professionals might be able to pull off the great escape, the Amateur Team fired back by winning five of the last six matches with Steven Kelbrick, Max Burrow, Niklas Korjonen, Viggo Sorensen and Jake Wiltshire all winning to seal the six-peat with a 18.5 -13.5 triumph.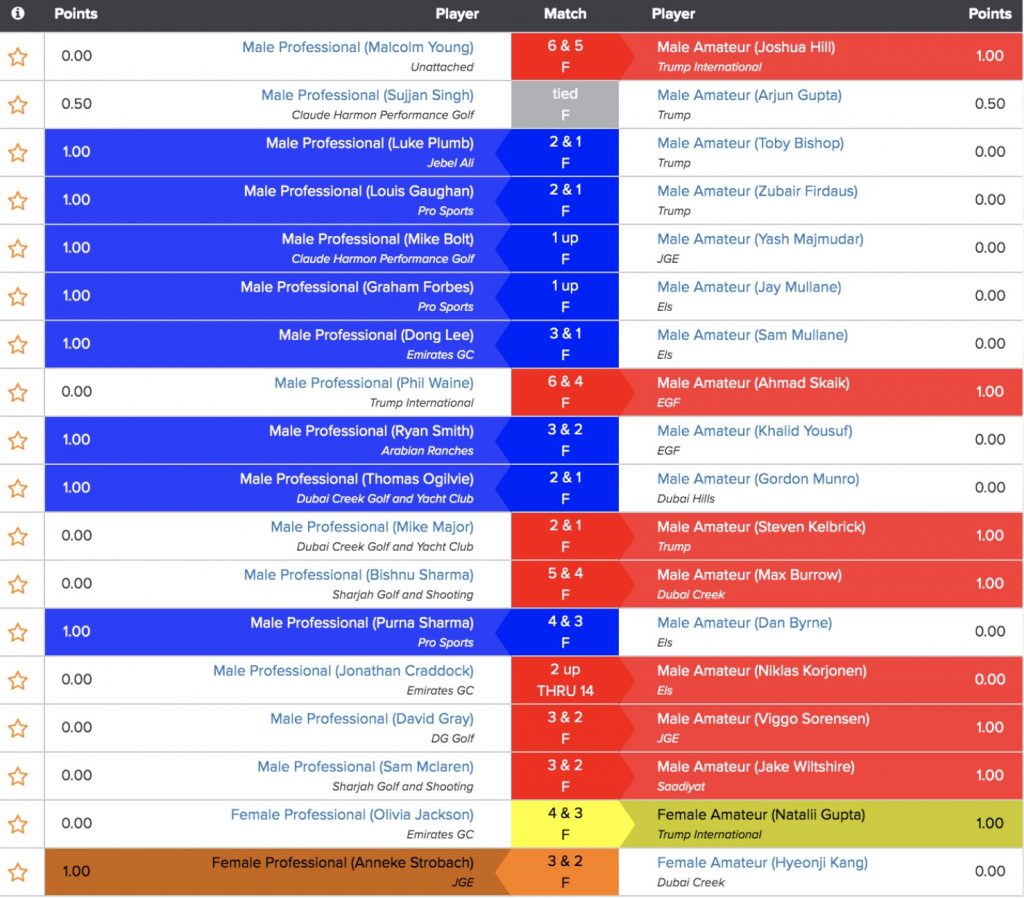 "It felt amazing to get the win and captain the team," continued Skaik. "At first I didn't really want to do it because it's out of my comfort zone, but I figured that sometimes you have to put yourself in uncomfortable positions and I actually really enjoyed it, so I want to thank Steve Kelbrick for the opportunity and the whole team for their support throughout the season.
"It was another great Dubai Golf Trophy, this event is always brilliant and I think we had seven new players playing this year and now they know why we make a big deal out of it!
"I'm proud of every single player, they all contributed this week and they all did well especially Josh, Niklas and Steve who contributed maximum points. There were seven new players and they were all inexperienced in this event so it's good to see that we have up and coming players who are able to perform under pressure.
"It was very good fun and to be the first Emirati captain was very nice and I wish everyone the best of luck next year."
There was also joy for the amateur women as Hyeonji Kang and Natalii Gupta sealed a 3-1 victory against Anneke Strobach and Olivia Jackson in an exhibition match. Those four will all be gunning for a spot in the main event next year, with women set to be integrated into the teams for the first time in the event's 22 year history.