Al Ghazal Golf Club is one of the last sand golf courses remaining in the world, never mind in the United Arab Emirates, but that might not be the case for much longer as it is closing  indefinitely after 20 years of providing a near-unique playing experience.
Al Ghazal GC, an 18-hole course adjacent to Abu Dhabi airport, will be shutting its doors from August 1, 2017.
The course is owned by the expanding airport and they are seeking new operators.
"I am informed this may take three to four weeks but I am unsure of any further details," said Rory Young, the outgoing operations manager and golf professional at the club, to The National.
Young oversees the management company that runs the course.
The contract with the airport ended on Sunday 30 July and both parties were unable to agree new terms, he said.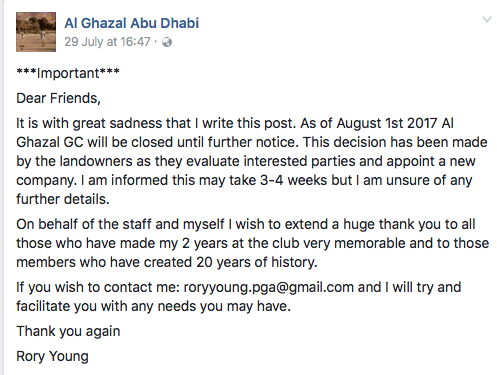 It is uncertain if a new golf course will open at the site.
There has been the occasional rumours of them greening the course, but Young believes this is unlikely.
Al Ghazal is also home to Saracens Rugby Club and it is thought Saracens will be offered new contracts to keep operating. The remaining staff at Al Ghazal are looking for employment elsewhere.
Al Ghazal Golf Club was formed in 1997 by members of Abu Dhabi City Club when that sand course converted to grass.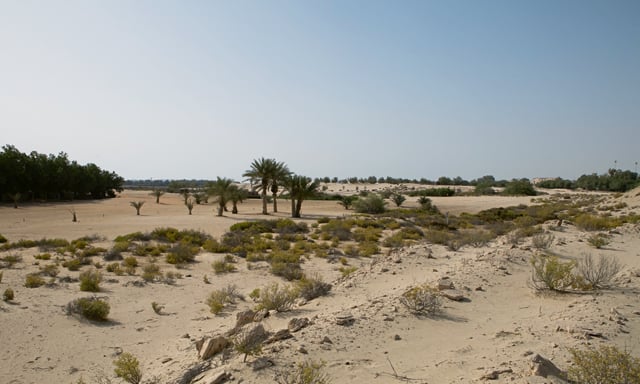 Some of those players are still playing at Al Ghazal. "We have players who have been here for a long time and everyone is just sad at what's happened," Young also said to The National.
Al Ghazal is considered a challenging course where players also have to weave their way around an archaeological site.
It hosted the World Sand Golf Championship in 2004 and 2005. Sand golf is part of UAE history and originated in the pioneering oil days. Greens are "browns", an oil and sand composite, while a piece of astroturf is carried around from which to hit the ball. The only other sand courses are now in Al Ain, Al Dhafra in the Western Region and Sharjah.